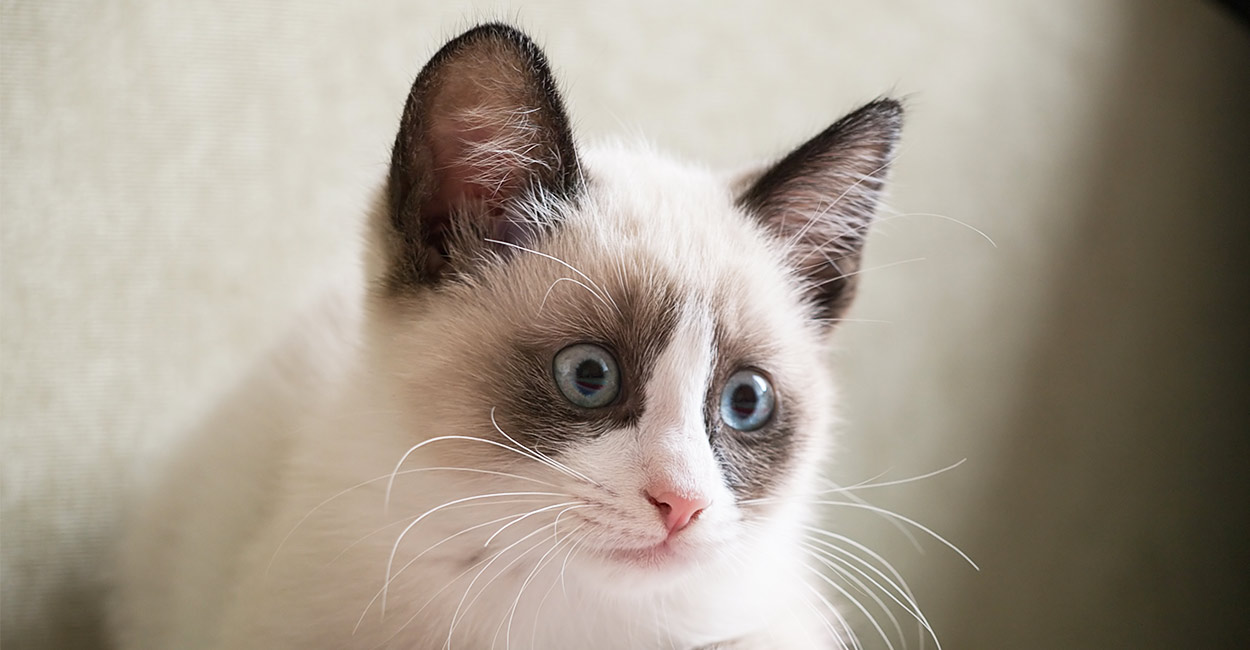 The Snowshoe cat breed sounds so exotic, doesn't it!
And rightfully so, for this is a very rare breed of cat that owes its existence solely to Dorothy Hinds Daugherty, a Siamese cat breeder with an eye for the unusual.
Today, the Snowshoe cat is still quite rare, but is slowly gaining in popularity both for its unique coloration and its equally whimsical personality.
This breed will draw a crowd but will always come back home to you…
The Snowshoe cat is known to bond very closely to its "person" in a way that is often described as "being owned" rather than "owning."
Read on to learn all about this fascinating cat breed!
What is a Snowshoe cat?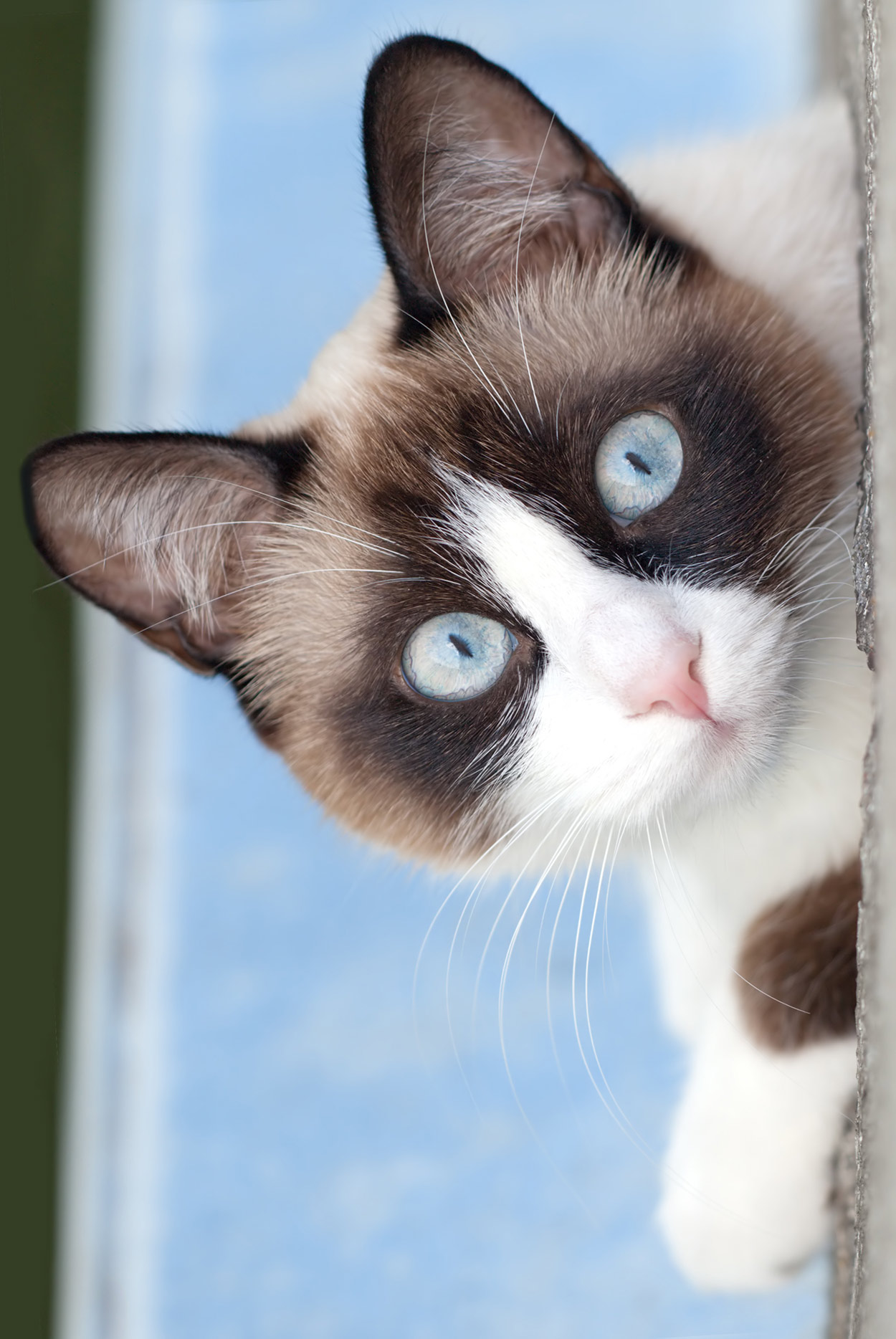 The Snowshoe cat is sometimes also referred to as the "Snowshoe Siamese," a nod to its unusual beginnings in the midst of a litter of Siamese kittens!
When Ms. Daugherty went to check on her latest litter of Siamese kittens, she discovered three kittens with perfect white-booted feet, which were originally called "silver laces."
The pointed Siamese coloration along with the little white booties so charmed her that she set her mind to creating a new breed with these exact markings.
Ms. Daugherty's next litter was the result of pairing one of the white foot kittens with an American shorthair cat who sported tuxedo markings.
This led to the characteristic inverted "V" markings on the faces of today's Snowshoe Siamese cats.
Tracing the first Snowshoe kittens to the modern day
From there, the breed lineage continued to evolve in fits and starts, nearly dying out in 1977 and then experiencing a resurgence of interest.
This led to the breed eventually becoming recognized and established with multiple cat associations in the States and in the UK.
Today, the Snowshoe Siamese cat continues to be a cat breed that challenges even the most experienced feline breeders – it is just that difficult to replicate!
For this reason, and because this is still a young (developing) breed overall, it may take a bit of a hunt before you find a Snowshoe kitten to call your own.
The good news is, breeders and enthusiasts alike say it will be well worth your wait!
Snowshoe cat size
So how big does the Snowshoe Siamese cat grow?
In this interesting cat breed, the adult male will generally outweigh the female by at least two pounds.
The adult female Snowshoe cat will weigh anywhere from 7 to 10 pounds.
An adult male Snowshoe cat will weigh anywhere from 9 to 12 pounds.
Snowshoe cat colors
The Snowshoe Siamese cat coloration is complex to breed but simple and elegant to behold.
Snowshoe kittens are born pure white, with the point coloration only beginning to show up starting around the third or fourth week of life.
Most Snowshoe adults will continue to get darker coloration as this cat grows up.
This process can even continue throughout life.
Seal point and blue point are both the most common coloration, but this cat can also develop lilac, chocolate brown and red point coloration.
The four paws are white booties.
Facial "freckles" and splashes of white on the chin, stomach or throat may also appear with age.
Snowshoe cat appearance
The distinctive inverted "V" marking on the face begins near the eyes and spreads out as it moves down the muzzle.
This cat's face is sometimes described as a classic "apple" shape, reminiscent of the Victorian Siamese cat breed, or as an equal-sided triangle with high cheekbones.
The large round eyes of this cat are a striking sapphire blue.
Adult Snowshoe cats are muscular and strong but lean – athletic and balanced.
Some breeders describe this cat's body shape as "rectangular."
Your Snowshoe cat's ears and paws will be medium size and triangular in shape like his head.
All in all, whether your Snowshoe cat sports lilac, red, chocolate, blue or seal point coloration, you will be sharing your life with a very beautiful cat!
Is the Snowshoe cat hypoallergenic?
The idea that any feline could possibly be hypoallergenic is a compelling one – but unfortunately it is a myth.
The myth likely arose because of the link between pet dander and human allergies.
However, it isn't dander alone that causes allergies in people, but a protein secreted in the cat's saliva, skin and urine too.
About 10 percent of people have a significant allergy to this protein, while others may be affected to a lesser degree.
Because the protein is produced whether the cat sheds a little or a lot, there is really no truly hypoallergenic cat breed.
Snowshoe cat personality
This cat's personality can vary from cat to cat – some Snowshoe cats are more outgoing and social while others tend to be more reserved and shy around newcomers.
TICA (The International Cat Association) describes three distinct personality types among these cats: shy, bossy-nice and caregiver.
Regardless of where your cat falls along this personality spectrum, you can count on your particular Snowshoe cat being very loving and connected to you, her "person."
This cat is highly intelligent and can be vocal about letting you know what she wants and needs.
Is a Snowshoe cat good with families?
Because this cat is affectionate and people-oriented overall, this is a good cat breed to select if you have children or other family pets.
Snowshoe cats so enjoy being with their families they may even join you for a swim in the family pool if the opportunity arises.
The Snowshoe cat also has one particular talent many owners remark on: she can quickly figure out how to open doors!
One hypothesis suggests that the Snowshoe cat learns to open doors so easily because this is not a cat breed that will do well when left alone for long periods of time.
If you have a daily schedule that requires being away from home for hours at a time, you may want to bring home two Snowshoe kitties or consider a different cat breed.
Snowshoe cat lifespan
The Snowshoe cat can live anywhere from 12 to 15 years, making this cat one of the longer-lived cat breeds.
Your Snowshoe cat's diet, exercise level, enrichment, lifestyle and genetics can all have an influence on how long your cat will live.
Preventative veterinary care is also a very important part of helping your cat to live the longest, healthiest possible life.
Snowshoe cat health
The Snowshoe Siamese cat comes from a mixed genetic lineage that includes the Siamese cat and the American Shorthair cat.
Like all felines, there are certain genetic health conditions that are more common in some breeds than in others, and the Snowshoe cat is no exception.
What is interesting about this newer cat breed is that there are no breed-specific genetic health issues that have been identified as of yet.
However, as the breed is so new and rare, this is more likely to be due to a lack of data than a lack of genetic health issues.
Thus, the best way to pre-screen for heritable health issues is to look at the two more established breeds present in the Snowshoe cat: the Siamese and the American Shorthair.
Siamese cat health concerns
The Siamese cat breed is one of the most ancient and revered cat breeds on the planet.
Perhaps because the breed is so well-established, these cats also have certain known heritable health issues.
(To learn more about all aspects of the Siamese cat breed, take a look at our complete breed review).
Progressive retinal atrophy (PRA)
This condition directly stems from cat breeds with limited genetic diversity and can lead to blindness.
There is a genetic test available for this disease, and breeders should screen potential parent cats before mating them them.
Hypertropic cardiomyopathy
Cats that inherit this condition of the heart often begin to develop signs during kitten-hood.
This condition causes thickening in the ventricle walls, which makes it harder for the heart to do its job.
Echocardiography can detect the thickening.
Aortic stenosis
Aortic stenosis is a confirmed genetic condition that causes thickening in the heart's aortic valve walls.
A heart murmur is often the first diagnostic sign and can occur in young kittens.
Echocardiography can diagnose the condition.
A good Snowshoe cat breeder will keep details of incidences of heart disease in both sides of your kitten's family tree.
Chronic bronchial disease
Sometimes called feline asthma, this condition can affect Siamese cats more than some other breeds.
Inhalers and medications can help to manage the condition.
Gangliosidosis GM1
This heritable neurological disease can cause widespread damage throughout the CNS (central nervous system).
Vision problems, movement and balance difficulties, tremors in the head and neck, fatigue and weight loss are all symptoms.
Often this will show up when a kitten is only 2 months old.
Cancer
The Siamese cat is single-coated, which means his skin has less protection from the sun, parasites and injury.
This makes skin cancer, especially mast cell tumors, a greater risk for indoor-outdoor Siamese cats.
Lymphoma (lymphatic cancer) and thymoma (chest lymphatic cancer) are also risks.
Convergent strabismus
Convergent strabismus, or crossed eyes, is still common in Siamese cats.
It is not functionally troublesome but can make your cat look a bit cross-eyed – like he is squinting.
Feline hyperesthesia
This heritable condition causes your Siamese to be increasingly sensitive to sun, touch and sound.
Skin rippling, self-mutilation and crying are all signs your cat may be struggling with hypersensitivity to sensation.
Hydrocephalus
"Water on the brain" disease causes a kitten to be developmentally delayed due to brain damage.
There is currently no genetic test for kittens or parent cats to detect the disease.
Megaesophagus
This heritable condition occurs when the esophagus doesn't contract properly to move food from the throat down into the stomach.
Over time, this causes the esophagus to become longer and your cat to vomit.
Amyloidosis
This protein build-up can cause dangerous clogs in organs and tissues, particularly in the liver.
Tissue biopsy is the typical diagnostic procedure.
American Shorthair cat health concerns
The American Shorthair cat breed is the best example of an "American born and bred" cat breed.
This sturdy, hardy cat breed comes from a working background as a ratter aboard ships.
However, as with all breeds, the American Shorthair does have some possible genetic-based health concerns.
Hip dysplasia
Medium to large felines are more likely to suffer from hip dysplasia, an inherited condition where the hip socket is malformed.
Surgery can correct the condition.
Reputable breeders should be able to prove the parent cats are free from hip dysplasia.
Hypertropic cardiomyopathy
Cats that inherit this condition of the heart often begin to develop signs during kitten-hood.
This condition causes thickening in the ventricle walls, which makes it harder for the heart to do its job.
Echocardiography can detect the thickening.
Snowshoe cat breeders
Snowshoe breeders are becoming more common, but the Snowshoe cat is still quite rare, especially outside of the United States.
For this reason, you may find there is a waiting list for all available Snowshoe kittens.
Any Snowshoe cat breeder you work with should be able to provide you with proof the parent cats have tested negative for known genetic-based health conditions that have such tests.
Snowshoe cat rescue is another option if you are having trouble finding Snowshoe kittens or an adult cat.
Snowshoe kittens
Because of the rarity of this cat breed, the Snowshoe cat price won't be at the low end of the range!
You can expect to be asked to put down a deposit if you want to wait for a kitten.
Typical deposit price ranges from $50 to $100 but could be higher.
This deposit may or may not be refundable if you remove your name from the list.
Snowshoe Siamese kittens may cost anywhere from $750 to $1,800 or higher.
The price may increase or decrease based on the kitten's gender, coloration, birth order, lineage and demand for kittens.

Is a Snowshoe cat right for me?
Caring for a Snowshoe cat is perfect for cat-lovers who love the unusual.
Best of all, their unlikely appearance is matched by an exceptional personality.
Many owners of this breed say they can't imagine life with any other breed of cat!
They are rare though, so waiting for one (and paying so much for one) might not make sense to the average casual cat owner.
Either way, we hope this article has helped you decide.
Are you owned by a loving Snowshoe cat?
Are you searching for a Snowshoe cat of your own or have you already found your white-booted feline love?
Drop us a comment to share your story!
Sources
Pounds, H., et al, "Snowshoe – Introduction," The International Cat Fanciers Association, 2018.
Rowe, L., "Snowshoe Breed: Synopsis," The American Cat Fanciers Association, 2018.
Dunstall, J., et al, "Snowshoe Profile," Snowshoe Cat Club, 2018.
Butt, A., et al, "Do hypoallergenic cats and dogs exist?," The Annals of Allergy, Asthma and Immunology, 2012.
Beall, L., DVM, "Snowshoes," Aubrey Animal Medical Center, 2017.
Kornreich, B., DVM, PhD, DAVCM, et al, "Hypertrophic Cardiomyopathy," Cornell University College of Veterinary Medicine, 2016.