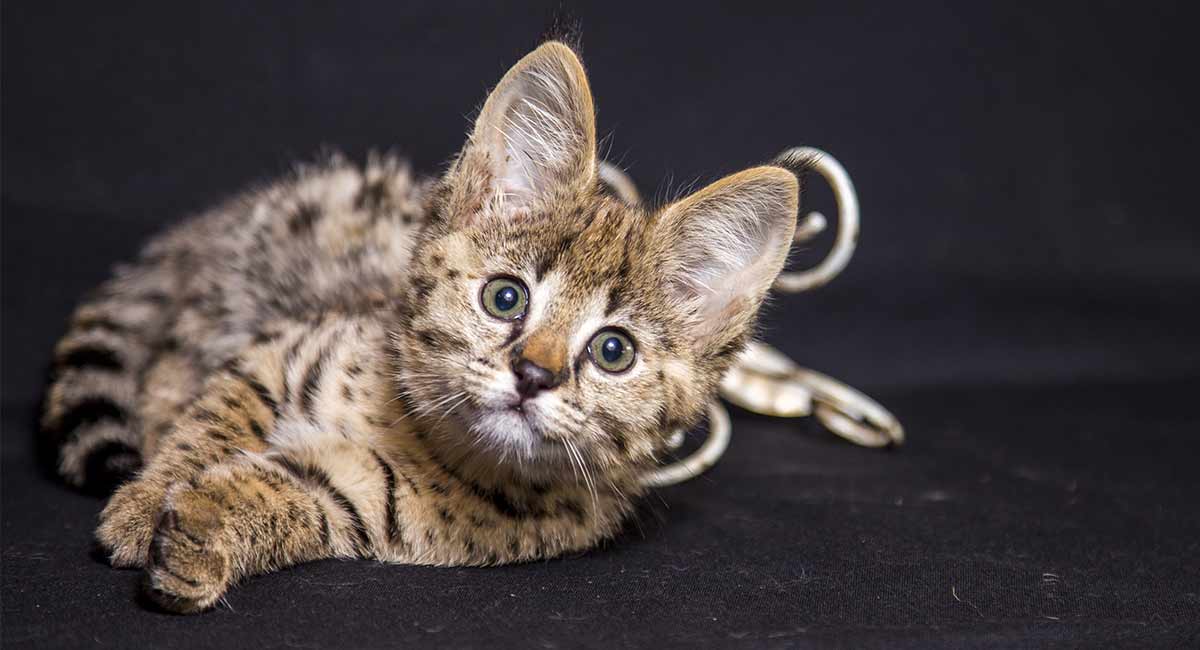 Savannah cats are great pets for busy homes that don't mind a bit of a mess and love planning enriching activities. The Savannah is a wild cat hybrid, and as such can be quite feisty. They are loyal and entertaining, but being partly wild makes them an extremely enthusiastic cat with a need to run and jump. They require the right kind of owner to handle and entertain them to avoid destruction!
Contents
Pets Through The Generations
This wild cat mix was created by cross-breeding a African servals with a domestic shorthair cats. The descendants of these matings have also been bred with Eqyptian Maus and Ocicats to introduce or fix desirable qualities.
Savannah cats were developed to make a cat that looks like a serval but with the behaviors of a domestic feline. Each generation is given a filial number to tell you how far back their closest serval ancestor was. An F1 Savannah has a serval parent, an F2 Savannah has a Serval grandparent, and so forth. So the lower the F number the less of an easy pet they will be.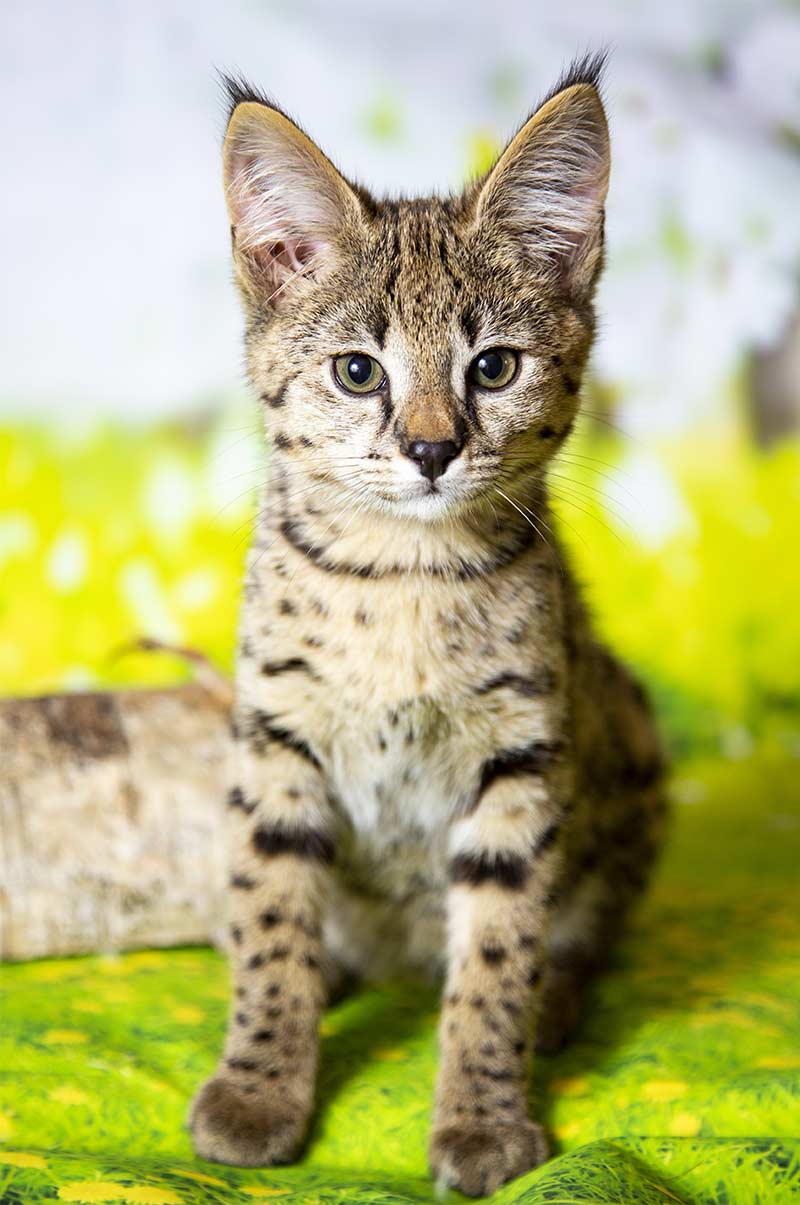 What makes a good pet cat?
A good pet cat is one that suits your personality and lifestyle, and fits comfortably into your household and daily schedule. When choosing a pet cat, it is essential that their disposition and care needs appeal to you, as well as their looks.
Research the breed of cat you want thoroughly using our breed guides, to decide if it is an active cat you desire or one that is more sedate, especially if you have young children.
Other factors to consider include grooming and overall health.
Long-haired cats require regular grooming whereas a short-haired cat is easier to maintain and makes less of an impact on your carpet when they shed.
Some breeds are prone to certain hereditary conditions and diseases, so consider this when choosing your favored choice of cat.
As well as being distressing to watch, treating cats with avoidable health problems can also be very expensive.
What does a Savannah cat look like?
The Savannah cat has an exotic, cheetah-like appearance with a spotted pattern coat, that comes in a variety of colors.
He can be up to twice the size of your usual domestic cat, but not bulky – quite the opposite!
He is renowned for his long body and long legs, short thick tail, large tall ears situated right at the top of his head along with distinctive hooded eyes revealing dark tear duct lines.
How big do Savannah cats get?
The size of a Savannah cat depends on the generation. An F1 generation is the largest and can weigh anything from 17 to 30 pounds, standing up to 18 inches at the shoulder.
Later generations tend to be smaller as their wild inheritance becomes watered down.
Are Savannah cats friendly?
This cat loves being around people and often described as beinga dog in a cat's body, greeting his owner at the front door then following them from room to room.
They also adore playing and swimming in water! In the wild, servals often hunt by snatching fish out of the water, and it's clear these instincts haven't disappeared in the Savannah cat.
Active and playful, the Savannah cat requires lots of interaction with their owners, often playing jokes on them.
A good sense of humor and plenty of patience is essential for sharing a home with these mischievous cats!
Are Savannah cats dangerous?
Because Savannah cats have the wild genes of the African serval, many people consider them dangerous.
Early generations with a high proportion of serval DNA have a far less predictable temperament than fully domestic cats.
Even after several generations, they are far more accomplished hunters than the average domestic moggy. If they get to roam outdoors this can be a disaster for local wildlife.
In response, some countries have restrictions on owning Savannah cats below a specified filial number, or require you to take out a licence to own one. And in certain States in the USA they are illegal.
Check your local legislation before finding Savannah breeders!
Most pet Savannah cats are F8 or beyond, meaning they only have a very small amount of wild DNA left.
The vast majority of these cats are no more dangerous to people than any other domestic cat.
Grooming and Coat Care
Savannah cats have a short coat so only require occasional brushing. Gently brushing kittens from a young age and rewarding their cooperation is a good way to teach them appropriate domestic behaviors.
Continuing to sit with your Savannah every week for once over with a paddle brush will also give you a chance to check their overall condition and spot problems like weight loss and skin conditions quickly.
No cat is entirely hypoallergenic. Savannah cats still produce the FelD1 protein in their skin and saliva which triggers an allergic reaction in people with cat allergies.
However, Savannahs are low-shedding, and anecdotally produce a less-than-average amount of dander.
Are Savannah cats healthy?
Savannah cats are generally healthy. However, they do have a smaller than average liver due to their serval ancestry. This makes them more prone to side effects of certain medications.
Hypertrophic Cardiomyopathy (or HCM, caused by thickening of the heart walls) is a common concern in purebred cats and often found in some breeds that are crosses of domestic and wild cats.
However, the Savannah is no more prone to HCM than any other hybrid cat.
Possibly the biggest health concern with these wild hybrid pets is finding a vet with the right experience to treat them. Find out how close your nearest suitable vet is, before you take the plunge!
Lifespan
The Savannah cat lives between 12 to 20 years depending on their generation. This is longer than the typical domestic housecat.
Are They Easy To Feed?
F1 and F2 generation Savannah cats are more likely to have the eating habits of a wild serval.
This can make them decidedly picky about eating pre-prepared cat foods, and less able to digest them comfortably.
Many Savannah cat breeders recommend feeding your Savannah a raw meat diet, or a diet supplemented with some raw food, but is not essential.
Your Savannah cat can safely eat commercial dry or wet cat food provided it uses top quality ingredients, contains high levels of protein, and is grain-free.
To help you find the right diet, visit our review of the best Savannah cat foods.
How much is a Savannah cat?
Savannah kittens are extremely expensive with the price depending on the generation.
A female first generation serval-domestic cat cross can cost up to $20,000.
These cats are best left to breeders with experience of looking after wild animals!
Male Savannah cats are usually sterile until the F4 or F5 generation (an important evolutionary adaptation to prevent hybrid animals being created all over the place).
So their value peaks a few generations after the value of females, since the most valuable cats are those with excellent breeding potential.
Moving down the family tree, an F8 kitten can cost around $700 depending on how closely they resemble the sought-after serval blueprint.
Do they get along with other cats?
In the wild servals are highly solitary. But in this respect the friendly Savannah cat seems much more like their domestic ancestors!
Does their good nature stretch to other cats?
This will depend very much on the individual. Servals are fiercely territorial, and your Savannah cat might inherit their distaste for sharing their space.
They also have a high prey drive, which could potentially be disastrous around smaller animals.
When Savannah cats do along with other cats it is usually with those of a similar activity level and nature, such as another Savannah, a Siamese, or Abyssinian.
Are Savannah cats easy to care for?
Savannah cats are highly active and extremely intelligent so needs lots of physical and mental stimulation.
A Savannah cat requires plenty of toys to play with and will even play fetch and learn tricks.
Be sure to provide cat perches and trees around the house for him to jump on.
Most owners believe their Savannah cats don't have the homing instincts to get back if they are allowed out, and therefore don't let them roam outdoors.
These unusual cats also have a high value if they are recognized by a cat thief.
As a result, many owners only let their Savannah out in an enclosure with a secure roof, or walked on a leash.
Potential Problems
Although loyal and loving, there are certain things regarding the Savannah cat that potential owners should be aware of before buying one. They are notorious for opening doors and cupboards, chewing wires and destroying plants, so you should childproof your home!
The Savannah cat wants your individual attention, so if you have small children it might be wise to wait until they need less of your time.
The highly intelligent Savannah can soon figure out how to open the lid of a small pet's enclosure, so think carefully about keeping hamsters, birds and fish safe.