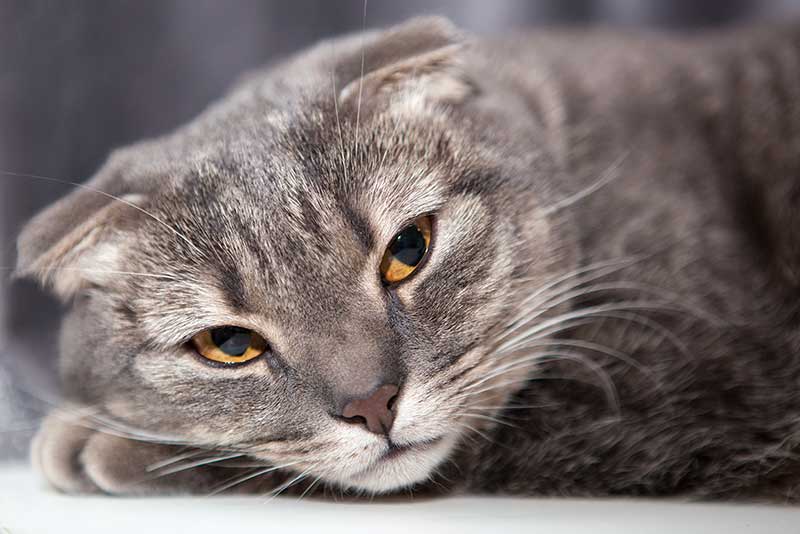 Scottish Fold cats have large eyes, and rounded ears that tip forwards towards their faces.
They are intelligent, affectionate, and playful cats. This loving personality and cute appearance has contributed to their recent popularity.
But those unusual ears come at a high price. And it's not just a financial one, but a health one too.
For such a well known breed, they've not been around for very long at all either.
In fact, Scottish Fold cats can all be traced back to one single cat, born around sixty years ago.
Scottish Fold History
As you'd expect from the name, the Scottish Fold cat breed was first produced in Dundee, Scotland.
A shepherd noticed this cat was born with a mutation that affected the cartilage in her ears, and asked the owner if he could have one of her kittens.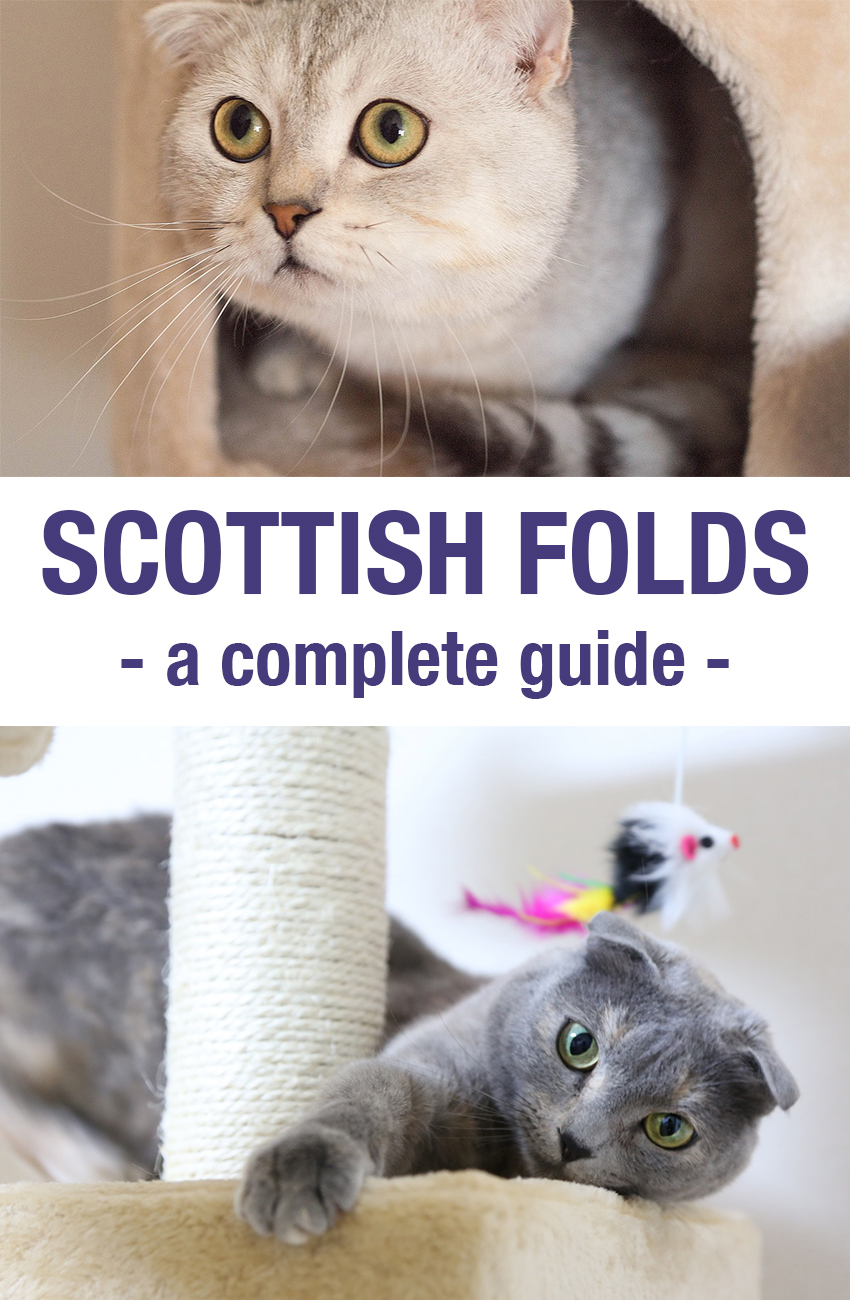 From this kitten, Susie, a white barn cat, the Scottish Fold breed was born.
The shepherd consulted a geneticist, who helped him to breed dozens of kittens from Susie in a very short period of time.
Development of the Breed
Just a few years later there were over thirty folded kittens born, and as many unfolded too.
The Scottish Fold cat was granted championship status by the Cat Fanciers' Association after relatively few years, in the late 1970's.
Outcrossing is allowed in this breed to the American Shorthairs and British Shorthairs.
The Scottish Fold however has maintained a unique look, with a short dense coat, round pads and a short nose.
Scottish Fold Personality
This is a cat packed with charm.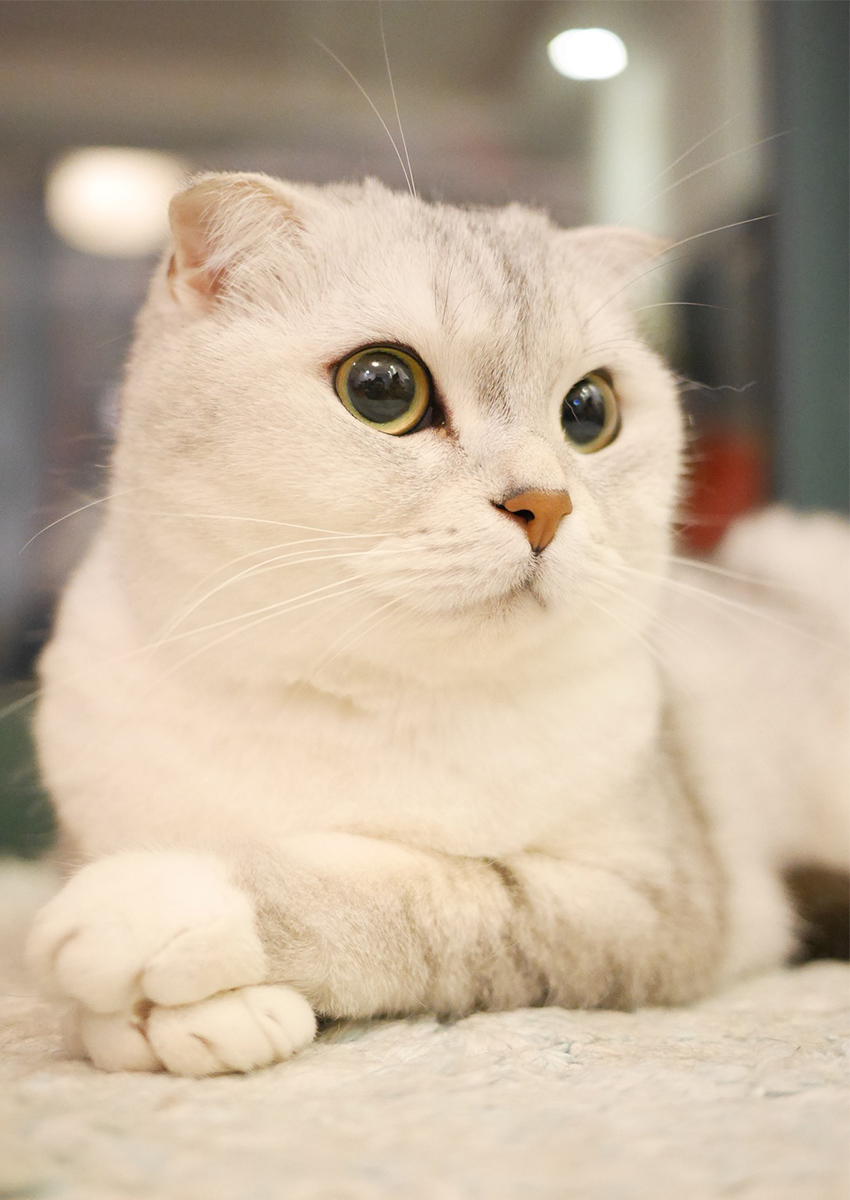 These lovely cats actively seek out and clearly enjoy human company.
They all display some fun expressive behaviors.
Frequently found standing up on their back legs, or laying flat on their backs on the floor.
These intelligent and interactive cats love to play too, often enjoying cat puzzles and even games of fetch.
Limited Movement
However, Scottish Folds can also suffer from a limited range of movement.
This is due to the genetic mutation that causes their ears to fold.
It doesn't just impact their ears. It affects other parts of their body as well.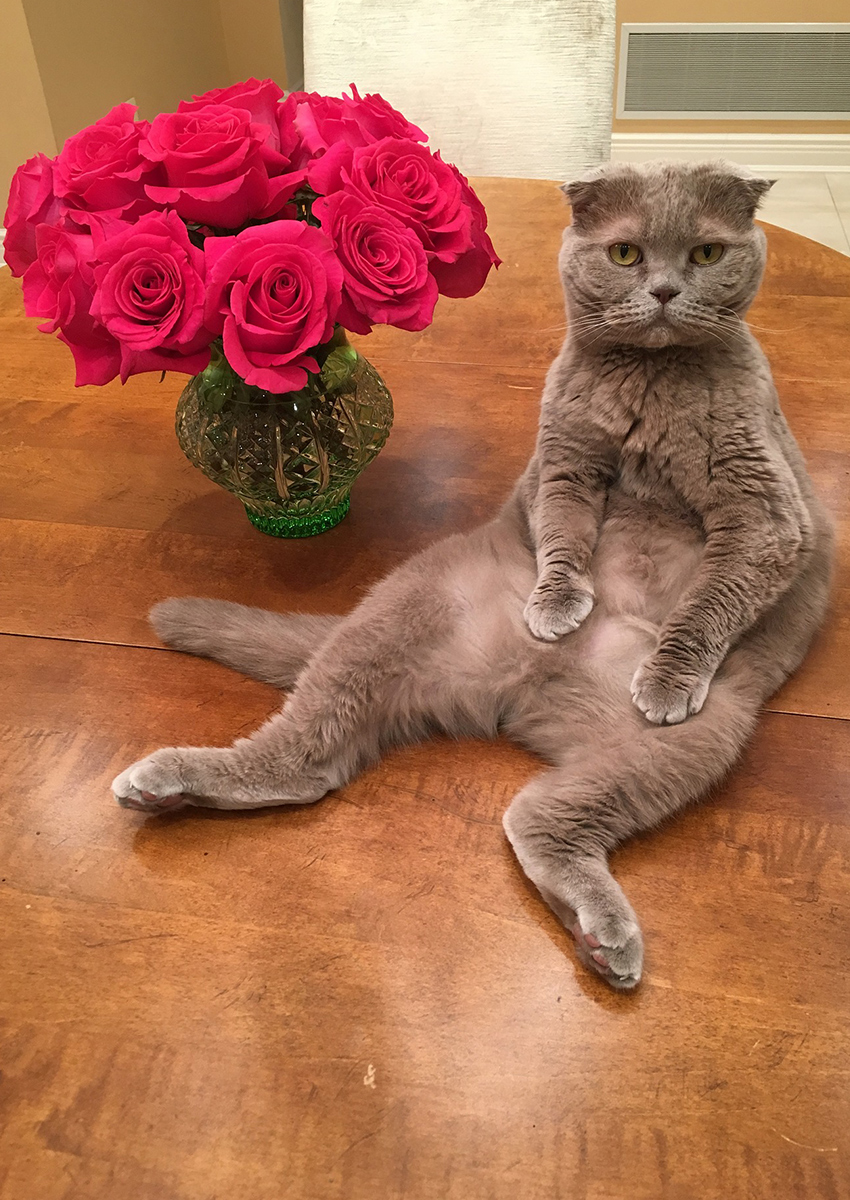 These are sweet, kind cats that thrive on companionship.
The only downside of this is that they are therefore not an ideal choice if you work full time or spend much time away from the house.
Scottish Fold Characteristics
Scottish Folds are often compared in appearance to little owls, with their fluffy coats and tilted ears.
At birth these ears will stand up as cat ears normally do.
But from three weeks to three months of age the mutated cartilage will stop holding them in place.
Giving them the characteristic folded appearance.
The tips of their ears are more rounded than most other cat breeds.
The Scottish Folds ears can range in position from a single fold, to a double or triple fold. This denotes the extent of the fold, where the single is a tilt halfway up, a double is a fold at this height and a triple lays close to the cats head.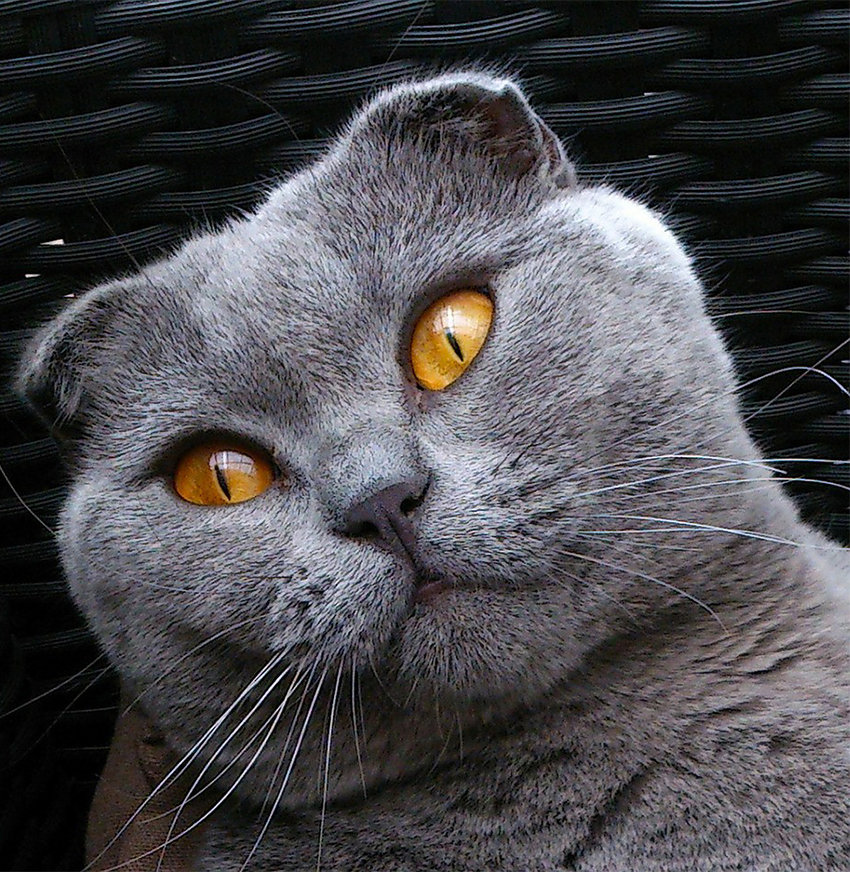 Not All Have Folded Ears
However, not all the kittens in a litter of Scottish Folds will necessarily have the mutation that causes their ears to tip at all. And in fact these cats are vital to the breeding programme, as we will see in the health section below.
They are not particularly vocal cats, but their voices when heard are slightly tinny, with a chirpy, soft range.
Scottish Folds come in long and short haired varieties, with the long haired sometimes being referred to as Highland Fold cats.
They have long tails, that can sometimes have a rounded tip.
Scottish Fold Size
Scottish Fold cats will weigh anywhere from 8 to 13lbs when they are fully grown, making them a medium sized cat breed.
You will need to restrict your Scottish Fold's diet appropriately to prevent unhealthy weight gain.
Scottish Fold Colors
Scottish Fold colors are numerous, including:
Bicolor
Particolor
Solid
Tabby
Tabby and white
They can have blue eyes or eyes of differing colors.
Scottish Fold Care
Ear cleaning is essential for Scottish Fold cats, due to their tipped over ears.
Check their ears daily for signs of dirt, discolouration or anything that could be causing discomfort.
You might also like to wipe their eyes once a day with a damp piece of cotton wool, to reduce discolouration of the fur under the eyes.
Scottish Fold Grooming
Grooming for Scottish Folds depends on their coat length.
Those Scottish Fold cats with shorthair need a weekly comb, but long haired Highland Folds should be brushed at least two or three times a week to prevent matting.
Scottish Fold Health
Perhaps unsurprisingly, the big issue when it comes to Scottish Folds is related to their distinctive ears.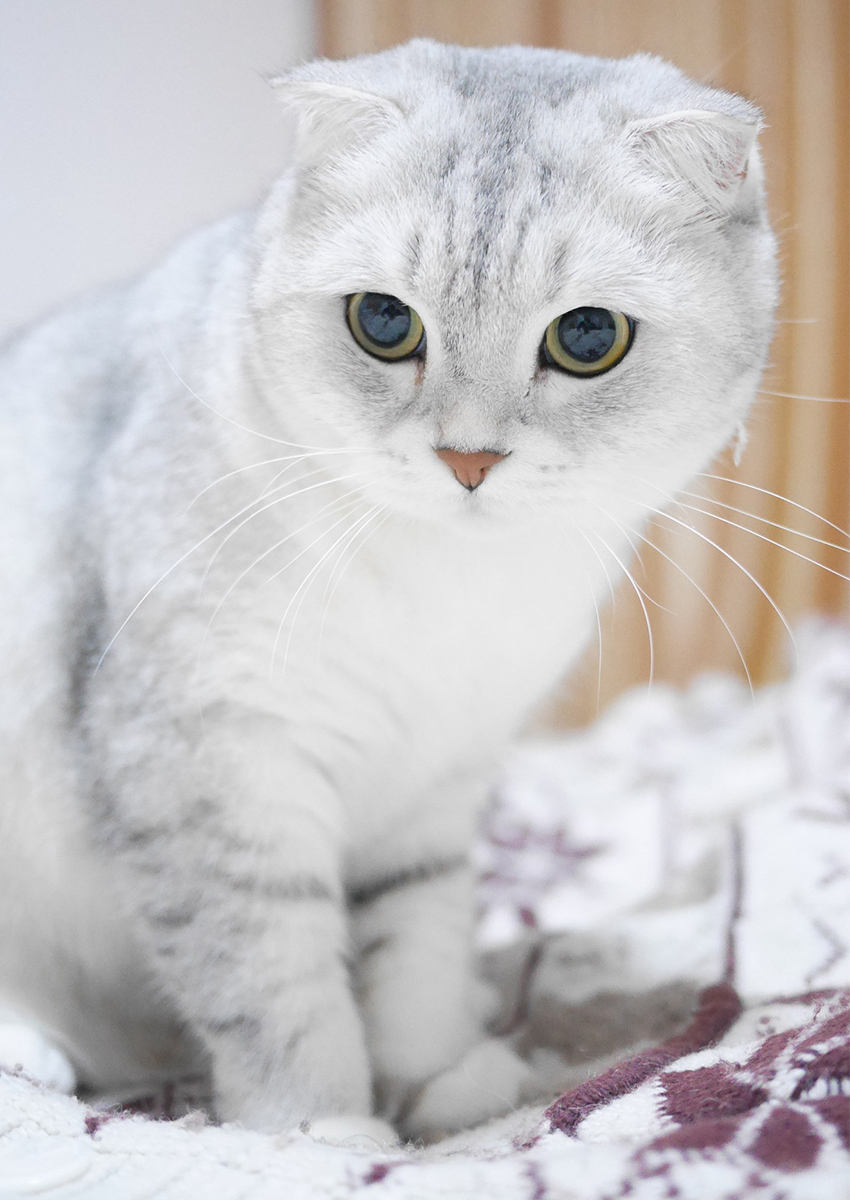 Although Scottish Fold ears might look cute to lots of people, they come at a price to the cat.
Tipped ears are not just hard for the cat to keep clean, they provide a more attractive environment to bacteria.
It is essential to check a Scottish Fold's ears and clean them daily to reduce the chances of discomfort or infection.
But it's the hidden problem related to their ears that can cause Scottish Folds the real problems.
Osteochondrodysplasia
It's quite a mouthful, but Osteochondrodysplasia (OCD) is something you need to know about if you are thinking of buying a Scottish Fold kitten.
The genetic mutation that causes their ears to bend in this characteristic way, does not only affect their ears.
Some people believe that every Scottish Fold has OCD to some extent.
Degenerative joint disease
OCD affects the cartilage throughout their bodies. Most commonly the tail, ankles and knees.
Scottish Folds can therefore suffer from painful, crippling degenerative joint disease.
This causes the bones to fuse, preventing them from having normal range of movement.
You can somewhat reduce the impact of joint problems by keeping your cat at a healthy weight.
But there is no getting away from this being a nasty condition, that you won't know how badly your kitten will be affected by as she grows.
Polycystic Kidney Disease (PKD)
Your cat has two kidneys, which act as important filtration units, cleaning waste products from your cat's bloodstream.
Polycystic Kidney Disease (PKD) is a condition where normal kidney tissue is replaced by cysts, impairing kidney function and ultimately ending in kidney failure and the death of the cat.
PKD is inherited – passed down from mother and father cats to their kittens, and there is a genetic test available.
Familial Hypertrophic Cardiomyopathy (HCM)
Scottish Fold cats are also susceptible to familial hypertrophic cardiomyopaty (HCM).
A heart condition which results in a thickening of the walls of the chambers of the heart, and reduces heart function.
HCM causes poor health as the heart struggles to provide the cat's body with oxygen.
It can sometimes result in heart failure.
This means that it is important that you see test certificates for this condition too, before purchasing a kitten
Scottish Fold Genetics
There are three genetic types for Scottish Folds relating to their cartilage and folded ears.
No Mutated Genes
They have no fold to their ears and are least likely to have cartilage problems.
They are like a Scottish Fold in appearance and personality in every other way.
One Gene Copy
These kittens have only one copy of the mutated gene.
They are thought to have noticeable joint problems later in life, but to be less affected earlier on. They may have folded ears.
Two Gene Copies
Breeders are warned to avoid breeding two folded Scottish Folds.
Those kittens with two mutated gene copies are likely to have joint problems throughout their lives.
They will all have folded ears.
How Long Do Scottish Fold Cats Live?
It is claimed that Scottish Fold cats live on average anywhere between 11 to 15 years, depending upon where you look.
Debatably this breed has a long lifespan for an unhealthy cat type, because the health problems affecting these cats are not life limiting.
This does not take away from the fact however that these problems can be very limiting in terms of quality of life.
Scottish Fold Kittens
Scottish Fold kittens are incredibly cute, but also quite hard to come by.
You also need to be aware of what you are taking on when you buy one.
Make an informed decision about whether you are happy to commit to a cat with a high possibility of joint problems and ongoing discomfort.
Scottish Fold Breeders
Scottish Fold breeders should only ever breed from one parent with folded ears and one without, to help reduce the chances of degenerative joint disease.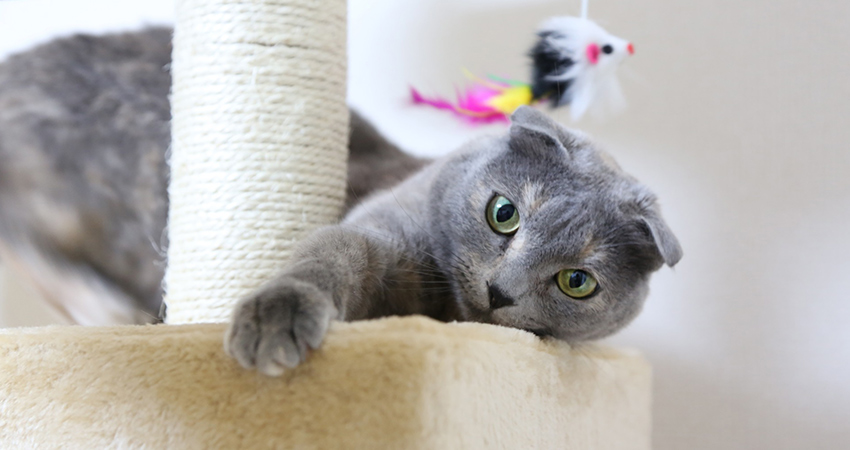 Many breeders will be producing kittens with a view to showing them.
This means that they will want to select the most likely show candidates from the litter.
For this reason you will often find that Scottish Fold kittens are not available until they are 12 – 16 weeks of age.
This is because the breeder won't know the extent of their ear folds until that time.
At the point you collect your kitten the breeder should have already had them microchipped and given their first vaccinations.
Scottish Fold Price
Scottish Folds are rare, especially those with tipped over ears. They therefore demand a very high price.
Remember when you buy your cat however that the cost is not just the purchase price, but the ongoing cost of paying for insurance, health care,
In the USA Scottish Folds cost $1,000 to $2,000.
You will pay a lot less for a straight eared Scottish Fold kitten, and they are more likely to be healthy too.
They will still have the same overall appearance (minus the tipped ears) and wonderful personality.
Is A Scottish Fold Cat Right For You?
These cats get on very well with other animals, children and adapt comfortably to most living situations.
They do however have a high need for attention and interaction, so are only suited to homes where somewhere is in for most of the day.
Scottish Folds have special requirements in terms of ear care.
And those with entirely tipped ears are quite hard to come by as the mutation is fairly rare.
The most important factor you will need to consider however is the possibility of degenerative joint disease.
Cute Ears vs Bad Health?
Serious joint problems arise as a direct result of the mutation that causes ears to tip.
Take the time to consider whether you are comfortable playing a role in a breeding programme that cultivates a gene purely on the basis of it's cute ear tip.
One that may well cause these cats an uncomfortable and painful life as a result.
If you love their general appearance and temperament, then a straight eared Scottish Fold will have the best chance of a happy, healthy life.
Scottish Fold adoption is a great way to get this cat without contributing to the problem.