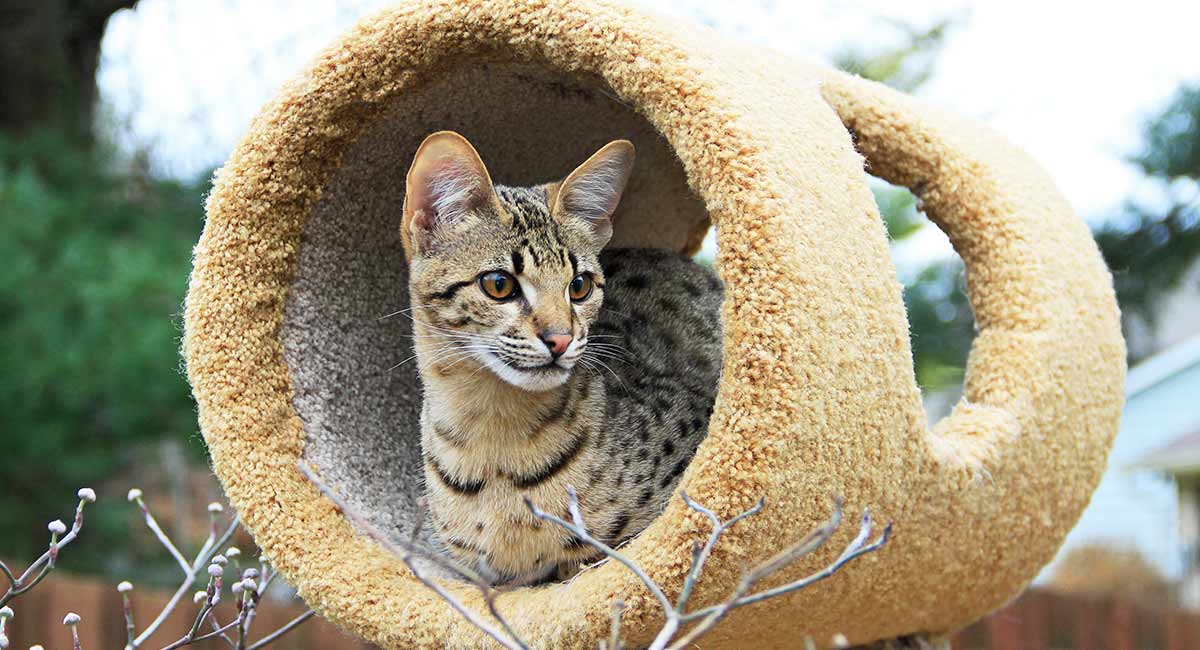 In this article Alison Page scouts out the best toys for Savannah cats to keep your kitten or adult cat occupied for hours.
If you're the proud owner of an unusual Savannah cat, you're extremely lucky!
You may also be wondering what makes the best toys for Savannah cats.
Wonder no more – we've got you covered.
All of these products were carefully and independently selected by the Happy Cat Site team. If you decide to make a purchase from one of the links marked by an asterisk, we may earn a small commission on that sale. This is at no extra cost to you.
Savannah cat toys
The Savannah cat is a wild hybrid, in other words a crossbreed between domestic and wild cats.
In fact a Savannah cat is actually a cross between a domestic cat and a wild African serval cat.
Whilst this certainly comes across in their appearance and temperament, most Savannah cats are usually several generations removed from their closest serval relative. Read our complete guide to the Savannah cat breed to find out more about how this works.
Like many other breeds of cats, the Savannah cat does love a good game and has a very lively and active personality.
Many Savannah cats spend their whole lives living inside. We'll look at why this is later the case in this article.
So, how do you go about choosing the best toys for Savannah cats?
What are the best toys for Savannah cats?
The best toys for Savannah cats are durable, interactive and entertaining.
These wild cat hybrids love to act on their hunting instincts, and toys which bring these out are ideal. Especially for a breed so commonly kept indoors. And we've found the top options.
So, how do you entertain a lively, curious kitty who spends his life indoors?
With this in mind, let's investigate what might make the best toys for Savannah cats.
Choosing the best Savannah cat toys – what do they need?
Savannah cats have an unusual, endearing appearance with their huge serval's ears and leopard spotted coat.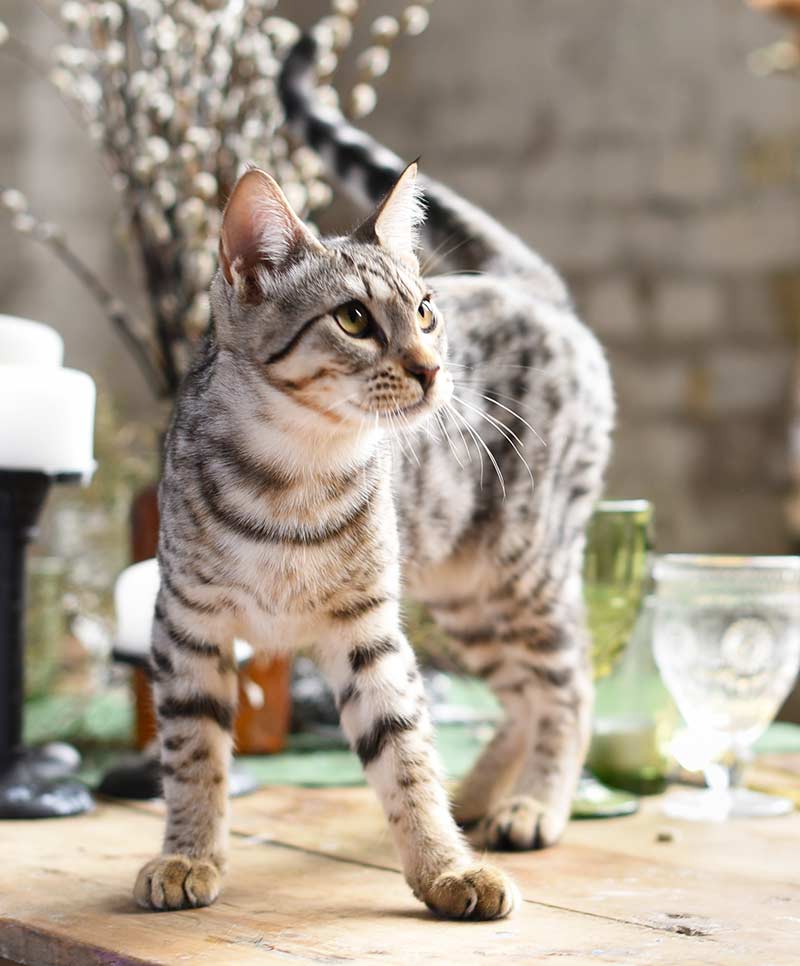 Savannahs are somewhat bigger than their domestic relatives, depending on how closely related they are to their wild cousins.
Their unusually long legs give them a somewhat ungainly appearance at first, but in fact they are anything but!
When it comes to having fun and playing, Savannah cats are lively, intelligent, and quick-witted.
They love to hunt and chase things and are most entertained by toys that are interactive and challenging. Savannahs also love to play a game that involves you too!
One thing you'll notice immediately about the Savannah cat is his ability to jump!
In the wild, their serval cat cousins use jumping as part of their hunting technique, and your domestic Savannah has inherited this trait.
Why are Savannah cats usually indoor-only cats?
With their eye-catching, unusual spotted coats and distinctive exotic appearance, the Savannah cat has a value on the open market.
Most Savannahs have coats with a background shade of golden brown. However, more unusual colors include smoke, black, and silver, and all of these can command a high price.
For this reason Savannah cats can be a target for thieves, so many owners choose to keep them indoors only.
Whatever you decide for your Savannah cat, it's important to protect him by having him microchipped, even if he never goes outside.
Drawbacks of being an indoor-only Savannah cat
Indoor cats can often become overweight. With less space to run, jump and climb in, it's harder to burn off calories.
A fat cat can suffer serious health problems as a result, including diabetes and arthritis.
Providing your indoor Savannah cat with lots of toys to keep him active can help to keep in healthy and in shape!
So, you can see why finding the best Savannah cat toys for your stay-at-home kitty is so important for his happiness and enrichment.
What makes the best Savannah cat toys?
Their intelligence and natural hunting instinct make interactive cat toys a great choice.
Savannah cats also have great fun playing with remote control toys.
Chasing after a remote control toy is the perfect way to exercise your kitty and stimulate his wild, hunting side without decimating the local wildlife population!
So, let's dive in and have a closer look at what's out there in Toyland for your exotic furry friend!
Best toys for Savannah cats – remote control toys
Remote control toys are a great solution for cat entertainment if you are out at work all day.
You don't need to be home in order to operate the toys, and your cat can enjoy playtime whenever he wants to, even when you're not there.
Here are our favorites:
HEXBUG Nano Robotic Cat Toy
The nano robotic bug* is a great remote control Savannah toy!
The brightly colored bug scurries around with amazing realistic actions, pulling his feather tail along behind him, immediately captivating your curious Savannah and triggering his hunting mode!
The batteries last for ages and your cat will be endlessly fascinated by this toy.
Colors are randomly selected when you order, so you can't specify.
Note that the bug only works on hard surfaces, so won't be suitable for your cat if your home is fully carpeted.
Hex Bug Mouse Cat Toy
This has to be one of the best toys for Savannah cats that we found!
The furry mouse moves just like a real rodent*, scuttling randomly, pausing, starting, and stopping at will!
The mouse is even able to negotiate around your furniture and out of corners, righting itself automatically if your curious kitty flips it onto its back.
The mouse comes with batteries included.
The only thing that spoils this toy is that it can't be used on carpeted floors.
Best toys for Savannah cats – interactive toys
Interactive cat toys are designed to stimulate your cat's natural behaviors of chasing and hunting.
An outdoor cat will get much of this stimulus from his environment, but indoor-living cats do not enjoy the same benefits.
Interactive cat toys should provide stimulation for all of your Savannah's senses; sight, taste, smell, touch, and hearing.
Many of these toys reward your cat at the end of the "hunt" with a food treat, just like the real thing!
Clever cats like Savannahs can quickly become bored, and interactive cat toys are a brilliant way of keeping them interested and motivated to play.
Yofun 3 in 1
Interactive Cat Toy

Your bright and sparky Savannah cat will love this interactive toy*!
The ball spins automatically, while simultaneously shooting out beams of red light.
Wands with tantalizing feathers are attached to the tumbling ball, and an integral treat dispenser randomly drops your kitty's favorite treats as the toy spins.
The toy is designed to shut-off automatically after 10 minutes.
Friends Forever Interactive Cat Laser Toy
This laser pointer toy rotates*, allowing a laser pattern to move across the floor and walls of your room, triggering the natural hunting instinct of your Savannah cat.
The toy runs on batteries and doesn't require a mains plug, so there are no potentially dangerous cables to worry about.
The toy is designed to shut-off automatically after 15 minutes.
Made in the USA, this is a quality product that comes complete with a money-back guarantee if you're not satisfied with your purchase.
YoFun Interactive Self Rotating Cat Toy
This is another great toy for a house cat who loves to chase after things!
The ball cleverly moves around your home* without stopping, flashing a red light to grab your kitty's attention.
When the ball bumps into a wall or a piece of furniture, it simple changes direction to keep the game moving!
You can safely leave the toy switched on all day while you're out at work, happy in the knowledge that your Savannah is busy and getting plenty of exercise.
Three sets of batteries are included with this toy.
Best toys for Savannah cats
Savannah cats are intelligent kitties who are full of life and fun.
Whether your Savannah lives exclusively indoors or not, you can keep her fit and healthy by giving her plenty of fun toys to play with while you're out.
The best Savannah toys will encourage your cat to move about and burn off energy.
Battery powered interactive and remote control toys are a great solution – they give your cat an outlet for their natural hunting instincts, and they won't get tired before your cat does!
What are you favorite Savannah toys?
Do you have a Savannah cat toy purchase you're especially pleased with?
We would be really interested to learn what Savannah toys your cat loves, especially if you bought any of those we've picked out here!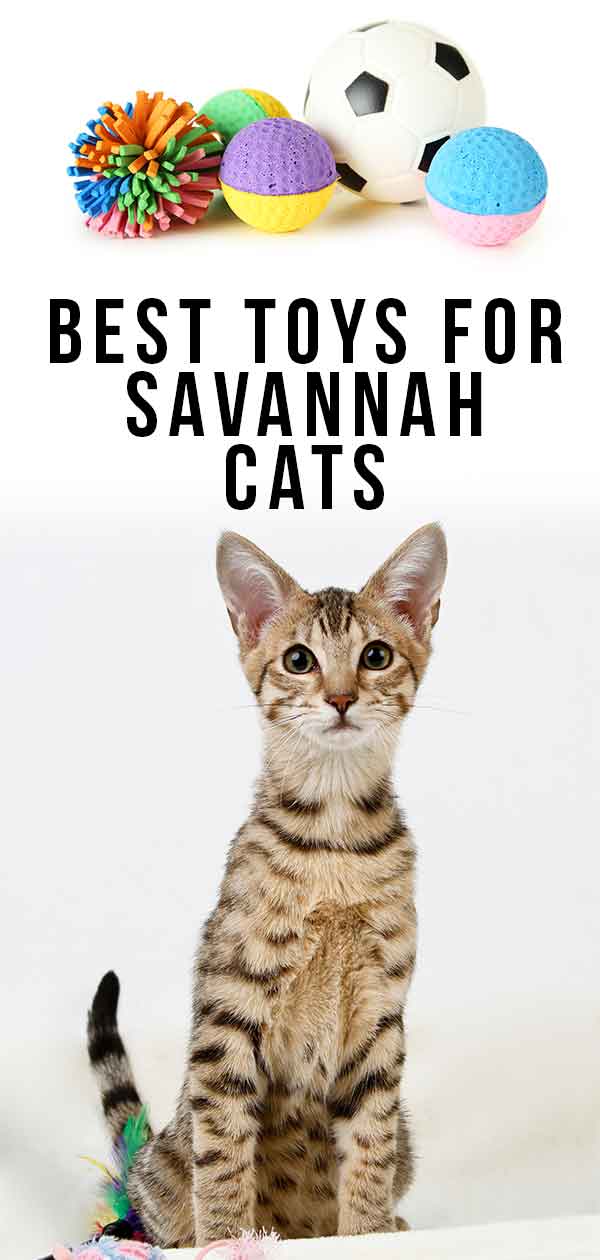 Affiliate link disclosure: Links in this article marked with an * are affiliate links, and we may receive a small commission if you purchase these products. However, we selected them for inclusion independently, and all of the views expressed in this article are our own.
References and further reading
US Humane Society, "Cat Toys"
Blue Cross, "How to Play with Your Cat"