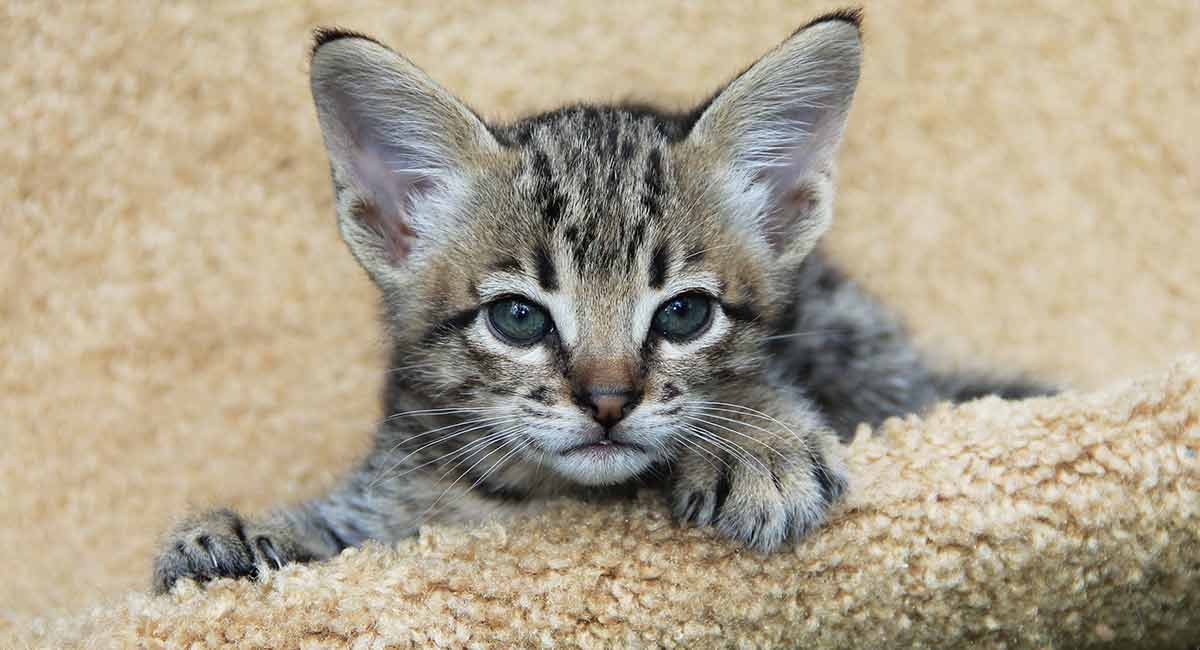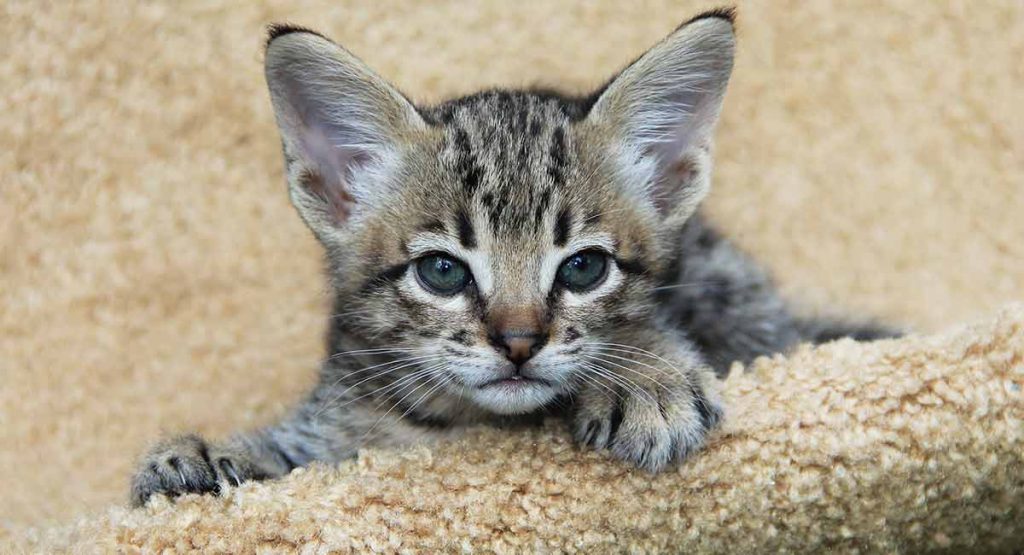 How Big Are Savannah Cats? Your Savannah Cat Size Guide – From F1 And Beyond!
As one of the world's newer cat breeds, the Savannah cat is gaining in popularity among lovers of exotic cats.
As you may know, the Savannah is not your standard domestic cat – he has wild African Serval in his lineage!
Since a Savannah is created by crossing a house cat with the much larger Serval, how big will a Savannah cat be when they're born and when they're full grown?
In this guide, we'll get into the size difference between a Savannah and "normal" domestic cats, as well as how big you can expect each of the seven possible Savannah generations to get.
How Big Are Savannah Cats?
Savannah cat size depends upon the generation.
As a wild cat hybrid, your Savannah cat can be as big as a Serval or as small as a domestic cat.
They range from 11 pounds, 11 inches tall to a staggering 30 pounds, 70 inches!
How do you know how big your Savannah cat is going to be?
What combination of breeds creates a Savannah cat?
A first-generation Savannah is created by breeding a domestic cat with a wild cat called the Serval, found in Africa.
(To learn more about the Serval and other wild or wild-looking cats, check out our article about Cats That Look Like Leopards!)
Subsequent generations of Savannahs are created by breeding a Savannah with another domestic cat, or by breeding a Savannah with another Savannah.
These generations are described using filial numbers ranging from F1 (first generation) to F7 (seventh generation).
As the number of generations increases, the resulting Savannahs have less Serval influence; each generation has fewer Serval genes than the generation before.
Serval cat size vs. domestic cat size
If you've ever seen a picture of a Serval cat (or a real one, for that matter), then one of the first things that you probably noticed is how long their legs are and how much larger they are than domestic cats.
After all, domestic cats typically weigh between 7 and 11 pounds (although I must admit, my domestic shorthair mix is currently 12 pounds!) and stand between 9 and 10 inches tall at the shoulder.
Some large cat breeds, such as the Maine Coon, reach 15-20 pounds (or more, in some instances). They may be a few inches taller than the aforementioned standard.
However, even large house cats pale in comparison to the standard Serval size.
According to the Queensland Department of Agriculture and Fisheries, Servals may weigh anywhere from 28 to 42 pounds (males tend to be larger) and are about 23.5 inches at the shoulder.
With the above measurements in mind, you may be wondering how large a cat with Serval blood, such as a Savannah, will be.
The answer is that while Savannahs tend to be tall, long-legged, and lean, each individual's size depends largely on their breeding and what generation they are.
We'll tell you how to approximate the size of a mature Savannah in upcoming sections.
How big are Savannah kittens?
We cannot say with accuracy how big Savannah kittens will be, as their size at birth may reflect the size of each of their parents.
However, as with any breed of kitten, it's possible that you will not be able to tell just how large a Savannah cat will be by looking at his birth weight and height.
After all, a small kitten may grow up to be a large representative of a breed.
Conversely, a large kitten may grow up to be an average-sized representative of a breed.
Ultimately, genetics make the final determination on Savannah cat size.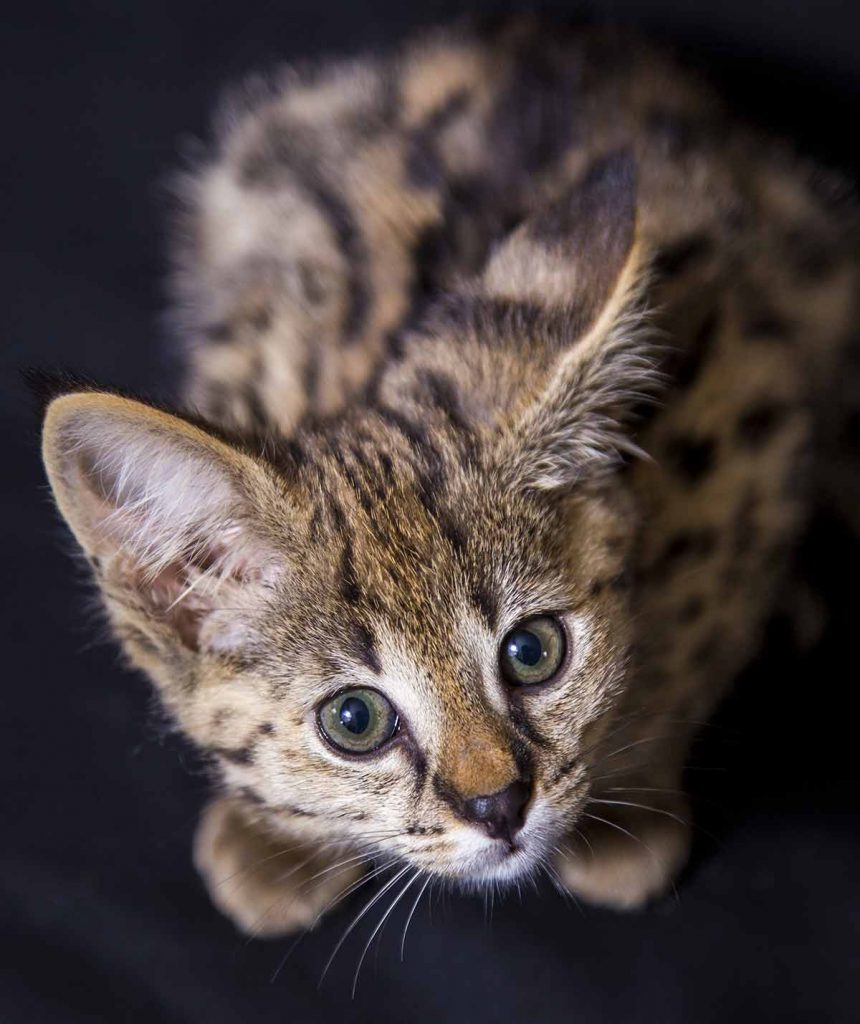 How big are Savannah cats In Later Generations?
As we've mentioned a few times throughout this article, a full-grown Savannah's height and weight will depend largely on his generation and how close he is, genetically speaking, to his Serval relative.
Generally, F1 Savannahs, which are 50% Serval, and F2 Savannahs, which are 25-30% Serval, are the largest Savannahs.
It's a toss-up with F3 Savannahs, as they still have 12/15% or more Serval in their blood.
They may still be a bit larger.
As a result of their being further from their Serval heritage, F4-F7 Savannah generations tend to stay smaller, although they commonly still appear lankier than a "normal" house cat.
(However, it is possible that you may have a large later-generation Savannah. DNA is just funny sometimes!)
How Big Are Savannah Cats When They Are Full Grown?
Although we've established the above guidelines, it's still rather hard to predict a Savannah cat's mature size.
This is because genetics play a lead role.
Many Savannah cat breeders do not guarantee a size for their Savannah kittens, since genetic diversity makes the final outcome hard to predict, regardless of the cat's generation.
Because of the lack of certainty in Savannah cat size, and to help confirm any trends in size by generation, the Savannah Cat Association asked a variety of Savannah cat owners to submit their cats' generation, sex, height, and weight.
I've used that study as a reference for the following Savannah cat sizes by generation.
As the study was relatively small and there is a lot of room for size fluctuation, as we've already discussed, please read the sizes as approximations.
They are not meant to be read as hard guidelines.
F1 Savannah cat size
It's generally accepted that the F1 Savannah is the largest of all Savannah generations, which makes sense, given its close genetic relationship to the Serval.
Male F1 Savannahs may reach 25-30 pounds, with females weighing in about 10 pounds less.
Their average height is between 16 and 17 inches tall at the shoulder, although it's certainly possible that an F1 could be closer to their Serval parent's height of 23.5 inches.
F2 Savannah cat size
Since F2 Savannahs are one quarter Serval, they also tend toward the Serval's end of the size spectrum.
Male F2 Savannahs may reach 14-20 pounds, with females trending just a few pounds less.
Their average height is about 14 inches tall at the shoulder. Again, an F2 Savannah could be larger (or smaller) than these measurements.
F3 Savannah cat size
With just one eighth Serval in their blood, F3 Savannahs may be the first generation to start the decrease-in-size trend, but there's still a 50-50 chance that they'll retain the larger size.
Male F3 Savannahs may reach between 15 and 20 pounds, with females a few pounds less.
Their average height is between 13 and 14 inches tall at the shoulder.
Definitely allow for some size variation, as even one eighth of Serval genes has the potential to create an "oddball" which doesn't conform to these size ranges.
F4 Savannah cat size
Because they have just one sixteenth or less of Serval in their blood, F4 Savannahs are considered to be the first generation of "purebred" Savannahs.
Male F4 Savannahs mature to between 15 and 17 pounds, with mature females staying around 12-15 pounds.
Their average height is likely to be about 11 inches, give or take an inch or two on either end of that range.
Due to the variance in genetics in the F4 generation, it's possible that you'll get a Savannah that is smaller than the above measurements.
Chances of an F4 being larger than the above measurements start to decrease here.
F5-F7 Savannah cat size
For F5, F6, and F7 Savannah cats, you can generally expect them to stay in the size range of 11-13 pound and 11 inches tall or less.
In other words, later generations are more likely to grow to roughly the size of a large domestic house cat.
Though later Savannah generation sizes are easier to predict than early generations, we cannot stress enough that even F5, F6, or F7 Savannahs can be taller or heavier than their expected size range.
How big are Savannah cats – a summary
The Savannah cat is the result of combining a wild African Serval cat with a domestic cat, or by breeding a first or later generation Savannah with another Savannah.
This results in multiple generations of Savannah cats, each with a certain amount of Serval genes in their DNA.
Since the Serval is very large (taller, not always heavier) when compared to the house cats that many of us are familiar with, folks who are interested in purchasing a Savannah may be concerned about just how much a Savannah kitten will grow.
Based on their generation and genetic relationship to their Serval ancestor, a Savannah kitten may grow to be tall and heavy like a Serval. Or they may be a bit smaller, but with the Serval's same lanky appearance.
However, even careful breeding can result in the occasional large Savannah when a smaller Savannah was expected, and vice versa. Therefore, the question "How big are Savannah cats?" is truly a loaded one!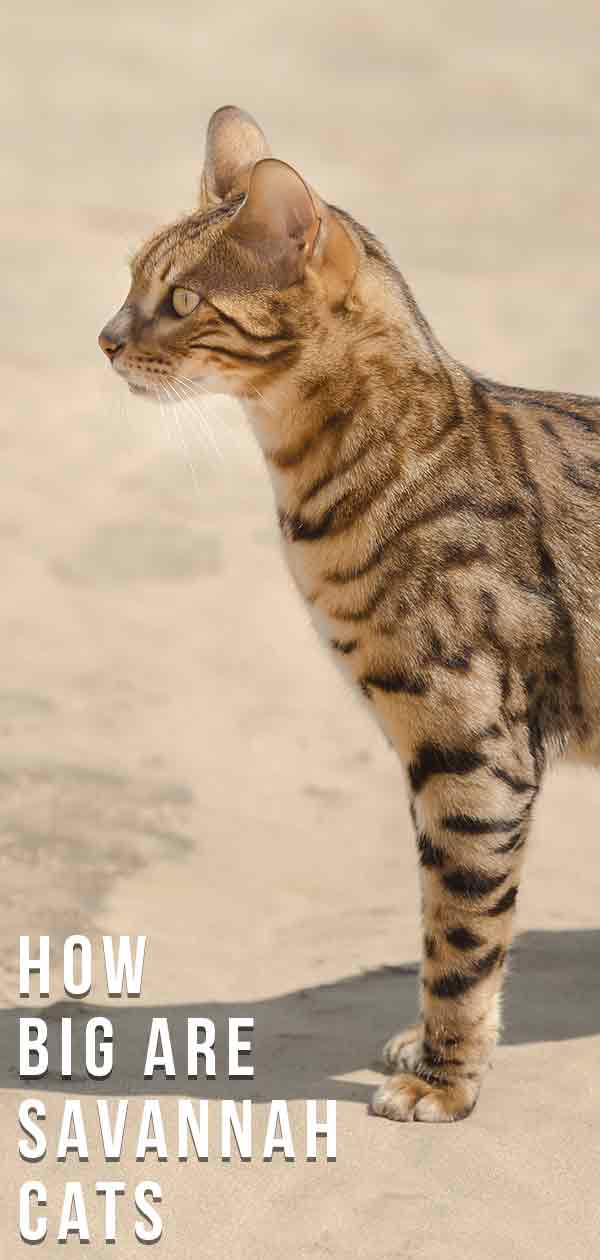 References
Markula, A., Hannan-Jones, M., Csurhes, S. "Invasive Animal Risk Assessment: Serval Leptailurus serval."