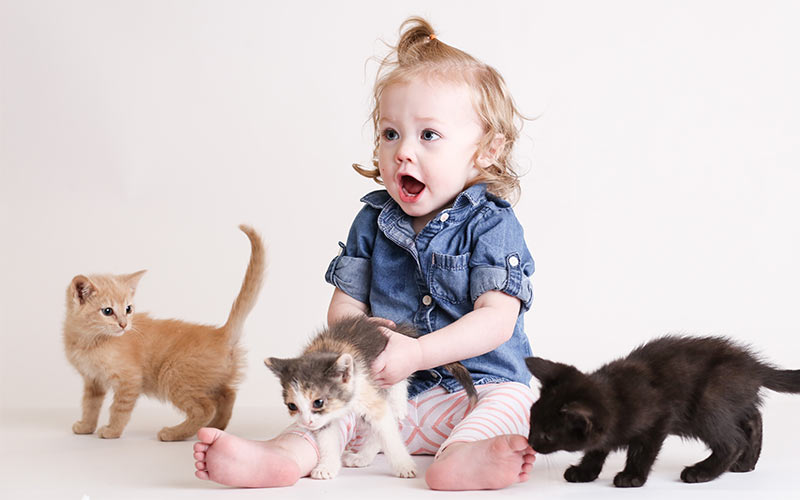 Cats That Don't Shed. A Guide To Hypoallergenic Cat Breeds. Including Top Tips For Cat Allergy Sufferers, And Low Shedding Cat Breed Lists.

If you love cats but get itchy, sneezy and wheezy when they're near, you might be looking for cats that don't shed.
But is your cat's hair the real culprit in allergies and asthma related to cats?
If you eliminate shedding, you'll eliminate the problem, right?
Well, not so fast.
We need to look at what's in your cat's hair that is causing that reaction.
In this article we'll explore what to expect in low shedding cats and hypoallergenic cats.
We'll also look at the major cause of allergic reactions to cats, the lowest shedding and most hypoallergenic cat breeds and tips on maintaining an allergen-reduced home.
Are There Any Cats That Don't Shed
Let's get straight into the issues at hand. You are probably reading this article because you are looking for cats that don't shed. And we've got some bad news for you.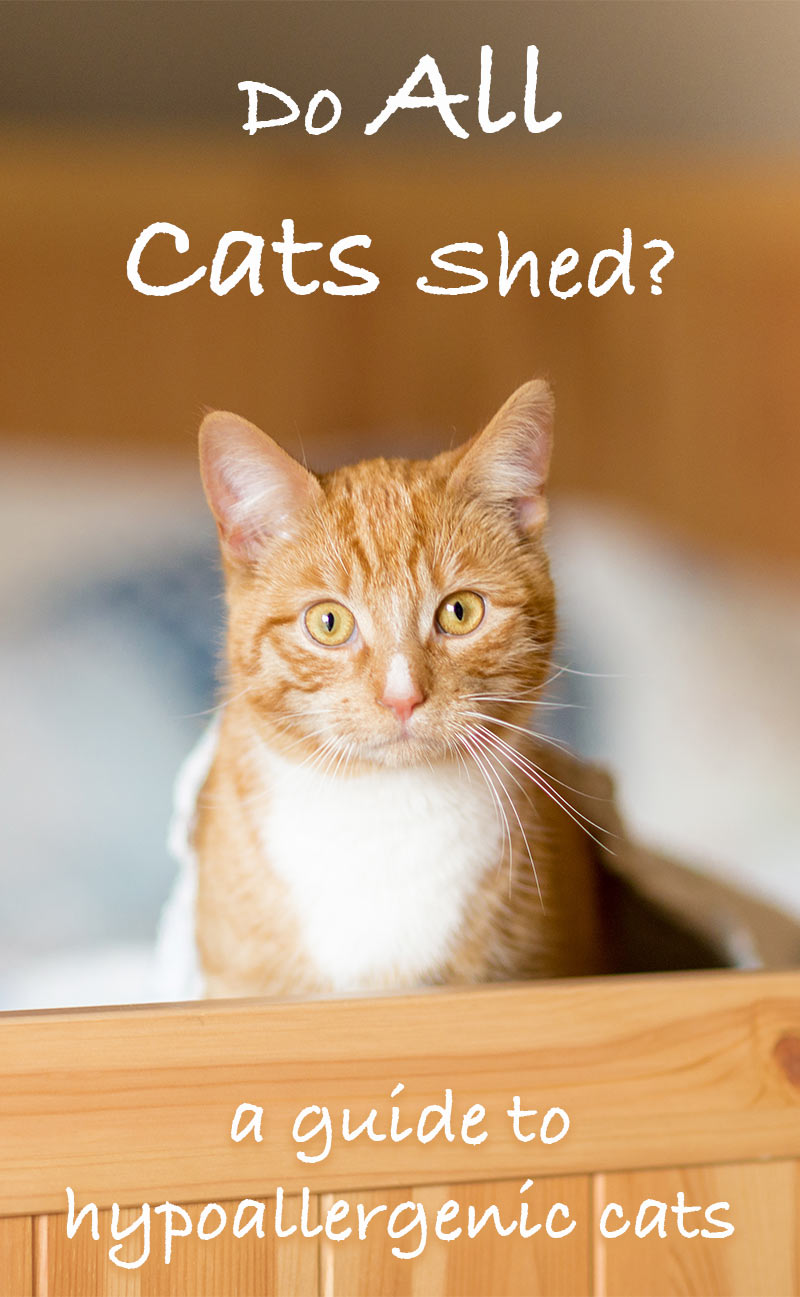 The first thing to know is there are no such things as completely non shedding cats.
If your cat didn't shed, his pores would clog, his fur would become matted and his overall health would decline.
Cats That Don't Shed
There are no cats that don't shed. But it isn't all bad news. You can get low shedding cats.
While there are truly no cat breeds that don't shed, a low shedding cat produces less hair to clean around the house and may aid in reducing allergic reactions.
Cats That Shed The Least
The benefits of low shedding cats are less clean up, easier grooming and reduced allergies.
Let's take a closer look at that last point.
While cat hair is often cited as the culprit in allergic reactions, there is actually one key protein to blame – identified as Felis domesticus 1 (Fel d 1).
Brace yourself for a bit of science!
Fel d 1
Fed d 1 is the primary protein related to allergic reactions to cats. Studies show more than 60% of affected cat allergy sufferers have a reaction to this protein.
Unfortunately, your cat is covered head to tail in Fel d 1. The offending protein is produced by your cat's sebaceous, lacrimal and salivary glands.
Sebaceous glands produce oily secretions called sebum. That waxy oil spreads throughout your cat's skin which keeps his skin lubricated and aids in waterproofing.
Lacrimal glands produce tears and aid in keeping your cat's eyes healthy.
And of course salivary glands produce saliva that your cat spreads on his fur when he is grooming.
Fel d 2, 3 and 4
While the Fel d 1 protein has been identified as the major cat allergen, other minor allergens noted as Fel d 2 through 4 have also been identified.
Therefore, reduction or elimination of Fel d 1 protein exposure alone may not be enough for allergy sufferers to tolerate a cat.
So when we're talking about low shedding to aid in allergy relief, what we're really aiming for is a way to reduce exposure to the offending Fel d proteins.
If that was a bit too much science for you, don't worry. Let's put things back into plain English.
Low Shedding Cats
Since your cat's fur carries allergens, a popular method for cutting down Fel d 1 exposure is to select a low shedding cat.
Let's take a look at cats that shed the least.
Then we'll look at the most hypoallergenic cats.
Cats typically grow three types of hair.
Down hair (undercoat); awn hairs (longer, thicker strands that make up most of your cat's coat); and guard hairs (longest hairs – designed to protect the undercoat.)
Cat Breeds That Don't Shed – Hairless Cats
Sphynx, Peterbald and Donskoy are "hairless" cat breeds.
Although they appear hairless, they can produce a soft down and some hair around the face.
Nonetheless, there are no lower shedding cats than these.
You can find out all about the most popular hairless cat, The Sphynx Cat, here.
Which Cats Shed The Least – Curly Haired Cats
Rex is the designation of cats with fine, short, curly hair. The Rex cats are bred to lack guard hairs. The remaining down and awn hairs become curly and lay close to the body.
For cats that shed the least, look for curly haired breeds such as the Cornish Rex, Devon Rex and Selkirk Rex.
It is worth noting the Devon Rex is an absolute attention hound and a real cuddler.
Although shedding may be minimal, you will be in contact with this cat's fur because he will make sure you give him plenty of TLC.
Another curly haired cat choice, La Perms, are a recently developed breed. Any layer of the La Perm's hair can grow curly and particularly around the tail hair can grow quite long. Which hairs curl can vary widely from cat to cat, even within the same litter.
The true coat may not present itself until the kitten is at least four months old and has shed and regrown his coat several times. You may have a tightly woven La Perm with wavy hair or a cat whose curly hair falls in loose ringlets.
If your goal is a low shedding cat, work with a breeder who can select a kitten with a wavy coat and avoid the longer haired La Perms.
Like the Devon Rex, La Perms are lovers so be prepared to have this cat on your lap and give him lots of attention.
Low Shedding Cats – Short Haired Cats
The list of low shedding short haired cats reads like an exotic travel guide – Bombay, Siamese, Abyssinian, Russian Blue, Bengal.
Their short hairs are noted for lower shedding and are also desirable for their easy to maintain coats which require minimal brushing and bathing.
But shedding and hair length are not always related.
Low Shedding Cats – Longer Haired Cats
Just as some short haired cats can shed a lot, there are longer haired breeds less prone to excessive shedding.
Cats such as the American Bobtail or the Norwegian Forest Cat are low shedding longer haired breeds. For best results, these cats should be regularly groomed for enhanced shed control.
Ragdolls are a unique low shedding breed. They have been bred to grow primarily guard hairs with little to no undercoat. Less hair production and proper grooming make the sweet faced ragdolls a desirable long-haired low shedding breed.
Low shedding does not particularly correlate to being hypoallergenic. Indeed, the Ragdoll cat hypoallergenic connection is not established.
You can find out all about grooming your long haired cat breed here.
Hypoallergenic Cats
Just as there are no truly non shedding cats, there are no completely hypoallergenic cats.
But while shedding is easily quantified, the degree to which cats are hypoallergenic is widely debated and speculative.
When considering a cat for hypoallergenic qualities, be prepared for trial and error. And beware of claims that the cat you purchase will not cause an allergic reaction.
As discussed, the biggest culprit in allergies is the Fel d 1 protein. So in order to truly eliminate allergens, a breeder would have to eliminate the production of that protein.
Claims Of The Best Hypoallergenic Cats
Claims of breeding cats who are low-producing and non-producing of Fel d 1 have been made for more than 10 years. Yet none have been forthcoming with evidence of how they have created low-allergen producing cats.
Companies selling these allergy friendly cats claim their cats are tested for the amount of Fel d 1 protein they produce. Cats found to have low markers for the protein are either sold as is or are bred to produce similarly low-Fel d 1-producing kittens.
While that sounds like a good strategy, the results don't support it.
An ABC News report, "Man Behind Hypoallergenic Cats," exposed the practices of the company Allerca Lifestyle Pets which sold hypoallergenic cats from 2004 to 2011. The claims of successfully providing hypoallergenic cats were eventually debunked as their cats were found to be no more hypoallergenic than any other cat.
Likewise, Felix Pets claims their cats will be "truly allergen-free," but as of this date are only offering investment opportunities and a waiting list for their miracle cats.
If you decide to purchase a cat sold as hypoallergenic, be prepared to spend upwards of $5000 or more. And if you have an allergic reaction, be prepared for a stressful return process – for you and kitty.
Hypoallergenic Cat Breeds
Take heart, cat allergy sufferers. Although no cat is completely hypoallergenic, there are some breeds found to be less offending.
Let's take a look at some of the best choices and some surprisingly non-allergy friendly breeds.
List Of Hypoallergenic Cats
This list of hypoallergenic cats, as explained previously, doesn't contain those that are technically totally hypoallergenic cats.
But it does contain some good bets for owners wanting lower shedding breeds.
A relatively new breed hailing from Russia, the Siberian is a large, very furry cat. According to the CFA, "some Siberians have a lower than average occurrence of Fel d 1 in their saliva," making them a desirable breed for allergy sufferers.
Find out more about the exotic cat breeds here.
Balinese and Siamese
Because of their sleek short hair people often wonder, Are Siamese cats hypoallergenic? In fact, there is no evidence to support that claim.
However, the exotic Balinese cat, often called the long-haired Siamese, is noted for producing less Fel d 1 protein.
Find out more about the Siamese Cat Breed here.
For Balinese or Siberians, verify Fel d 1 levels with your breeder.
Cornish Rex and Danish Rex
As noted, Rex are low-shedding cats and thus have earned their reputation as hypoallergenic. While low shedding is desirable to cut down on allergens spreading throughout your home, these breeds are not noted as lower Fel d 1 producers.
Sphynx
Surprisingly, Sphynx, like other hairless breeds, are not always a good choice for allergic cat fanciers. While shedding is not a concern with hairless cats, there is no evidence they produce less allergens.
In fact, hairless cats produce all the secretions of haired cats. That allergen-rich oily buildup is completely exposed – not hidden under fur – so these cats may be even more likely to exacerbate allergy symptoms.
Find out more about Sphynx Cats here.
Top Tips For Cat Allergy Sufferers
Data as to what age and what level of exposure leads to allergy suffering is not conclusive but we can offer some tips for selecting the best cat and maintaining an allergen-reduced home.
Before accepting a new cat, spend some time in his environment. Exposing yourself to a cat and his environment exposes you to the greatest concentration of allergens. If you can tolerate this exposure, you're likely to have good results at home.
Select a male cat. Studies indicate males produce less Fel d 1 allergen than female cats, although reasons why are unknown.
Make sure cats tested for Fel d 1 are at least six months old. Protein levels are not yet established in young kittens.
Bath and brush your cat regularly to cut down on loose hair and dander.
Vacuum floors and wash surfaces, particularly those frequented by your cat. The more you reduce buildup of hair and dander, the more you cut back on allergen exposure.
Designate cat-free zones such as bedrooms or rooms with carpet.
Use air purifiers and change filters regularly.
Wash your hands after petting your cat.
Allow your cat to go outside to reduce allergens shed in your home.
If all else fails, you may have to consider not getting a cat or giving up your cat. While this is a hard choice for cat lovers, it is sometimes the only solution for both people and cats. Note that even after your house is cat-free, allergens can remain present for up to six months. Ridding your house of cat allergens is not a quick fix.
Cats That Don't Shed – A Low Shedding Cats Summary
The Fel d 1 protein is the main allergen responsible for allergic reactions and asthma related to cats.
While no cats are truly non shedding or 100% hypoallergenic, some breeds are indicated as lower shedding and less hypoallergenic.
Low shedding is not always an indicator of a hypoallergenic cat.
Beware of claims of totally non-shedding or 100% hypoallergenic cats.
Anyone can develop cat allergies – keep your kitty and his home clean for best allergy-reducing results.
References And Further Reading
Grönlund, H. et al, (2010), "The Major Cat Allergen, Fel d 1, in Diagnosis and Therapy"
Kanchongkittiphon,W. et al (2015), "Indoor Environmental Exposures and Exacerbation of Asthma: An Update to the 2000 Review by the Institute of Medicine"
Chen, C. et al, (2010), "The role of cats and dogs in asthma and allergy – A systematic review"
Jalil-Colome, J et al (1996), "Sex difference in Fel d 1 allergen production"