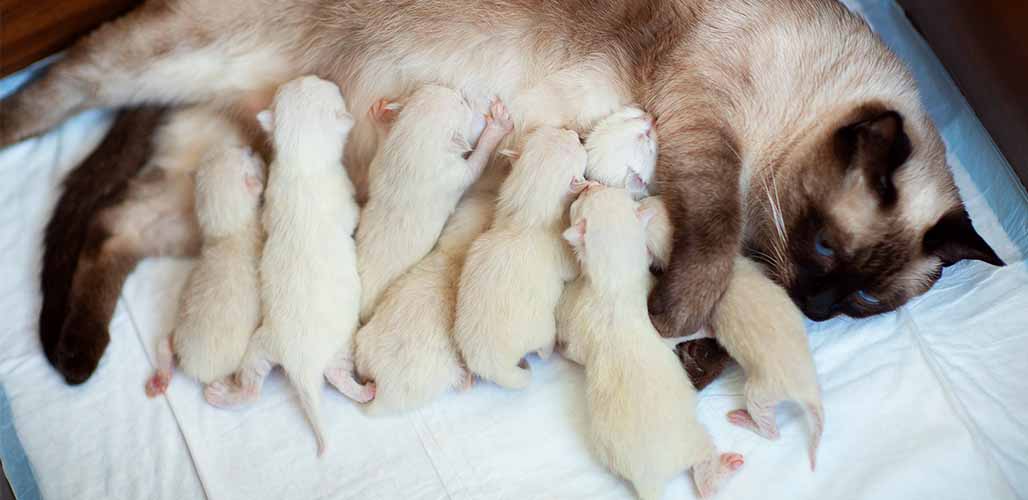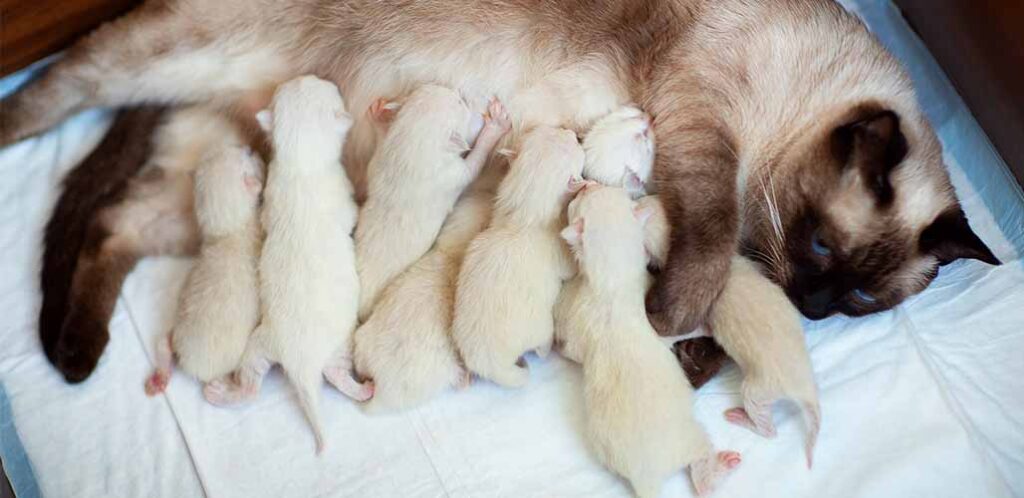 Newborn Siamese kittens have white fur, closed eyes, and folded-over ears. Their tails look shorter in proportion to their bodies, and they can't control their movements very well. They are wobbly, crawling carefully over each other to reach their mom or for warmth. Today we share fun facts about newborn Siamese kittens, what to expect as they grow into adult Siamese cats, and how to help their mother care for them.
Contents
Newborn Siamese kittens look very different to adults when they're first born. So, they'll look very different from their adult selves. And, it can take a few weeks for those features to change to that of an adult Siamese cat. As newborns, Siamese kittens are very reliant on their mom. But, there are a few key care needs that their breeders and owners can help with.
About Siamese Cats
The Siamese breed is affectionate, vocal, and very social. These cats thrive in homes with family members that can dedicate plenty of time to them every day. They are not for owners who spend a lot of time away from home, or who are looking for an independent cat! Siamese cats and kittens are their happiest when they're with you, whether that's curled up on your lap, playing together, or just following you around the house and chatting as you go.
As adults, Siamese are small to medium sized cats. They come in a huge range of colors, though all official shades are pointed. And, it can take Siamese kittens as long as 18 months to fully develop and grow into their adult appearance.
What Do Newborn Siamese Kittens Look Like?
When they're first born, Siamese kittens look like most other kittens. They'll be very small, covered in a thin layer of white fur, and won't move around much, other than crawling to get to their mom. Newborn kittens, no matter what breed, will be born with their eyes closed and their ears folded over.
Over the course of the next few weeks, Siamese kittens will change considerably. Their fur will change color, their eyes will open, and their ears will open. As they age, they will grow into the typical slender, sleek Siamese structure.
How Big Are Newborn Siamese Kittens?
When they are fully grown, Siamese cats will be small to medium. They will range between 5 and 12 lbs, with females most often falling to the lower end of this spectrum than males.
As newborn kittens, they will be nowhere near this adult size. Over the next few weeks, Siamese kittens will undergo a fast period of growth. But, when they're first born, they often weigh well under half a pound! They will fit snugly in the palm of your hand.
What Color Are Newborn Siamese Kittens?
Adult Siamese cats have pointed fur. This is caused by a form of temperature-sensitive albinism. The coolest parts of your cat's body will develop the most intense pigment, creating darker fur. This is why Siamese cats all tend to have darker fur at their points (face, ears, feet, tail) – these are the coolest parts of their body.
However, Siamese kittens won't have this pointed coloring when they're first born. Instead, they will be completely white. Their fur will develop and change over the next few weeks to reveal their pointed coloring. This can start to show up faintly by the end of their first week. But until then, they will all look remarkably similar to one another.
Can Newborn Siamese Kittens Open Their Eyes?
Siamese kittens will have blue eyes, like Siamese cats. But, when they're first born, you won't see their eye color. Newborn Siamese kittens have closed eyes, like all other kittens. This means that they cannot see at all when they're first born.
Like their fur color, kitten eyes will develop over the following weeks. Usually your Siamese kitten will start to open their eyes in their second week of life. But, they will still be very reliant on their mom, sticking close by her side rather than exploring the world around them.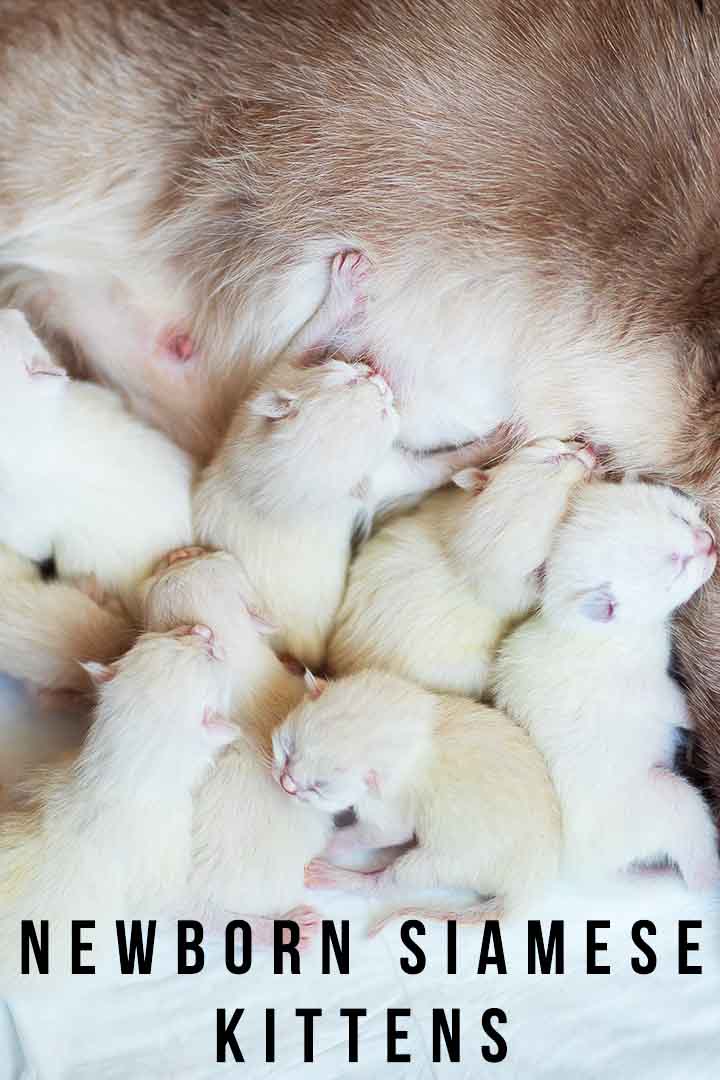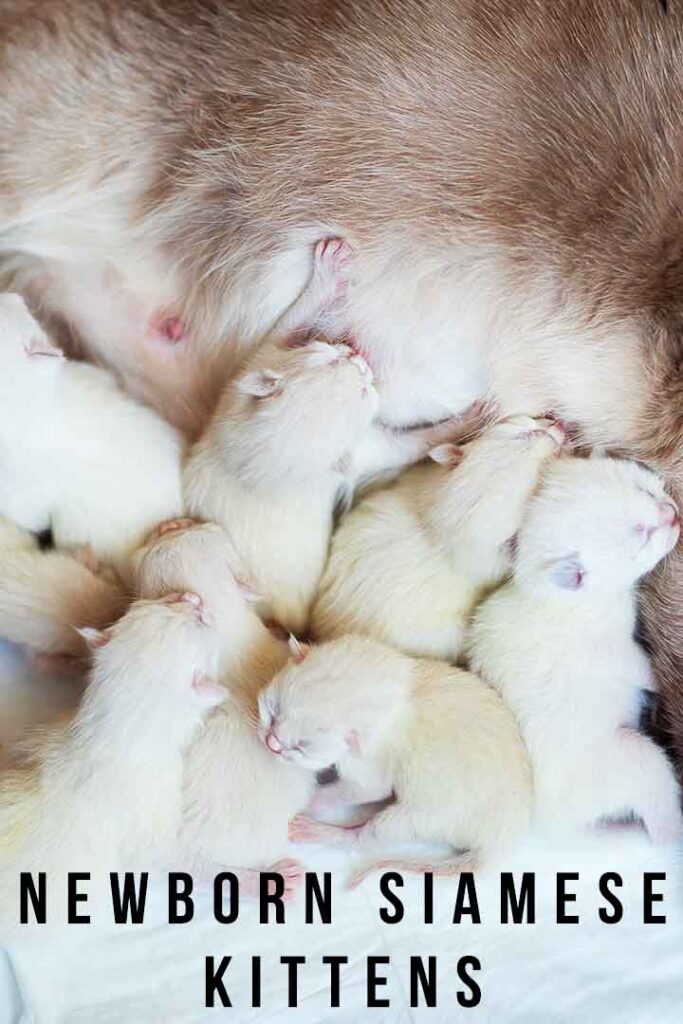 Baby Siamese Kitten Ears and Teeth
When a Siamese kitten is first born, their ears will be folded over. On top of this, they will have no teeth when they are newborns. Over the next few weeks, their ears will unfold, and their baby teeth will grow in. But, kittens might not have their baby teeth until 3 or 4 weeks of age.
Their gums will usually be bright pink, but in their first week of life, you won't see any teeth poking through.
What do Newborn Siamese Kittens Eat?
Over the first few weeks of their life, Siamese kittens are entirely reliant on their mom for food. During their first week, they won't have the ability to move around much. Which is just as well, given that they can't see or hear!
Instead, kittens will stay close to their mom and will only feed on her milk. They won't be weaned onto solid food for a few weeks, until they have considerably more teeth!
Newborn Siamese Kitten Care
As newborns, Siamese kittens are very vulnerable. Not only can they not move around much, see, or hear, but they cannot regulate their own temperature. So, as well as providing them with food, their mom will provide them with plenty of warmth to keep them healthy. Mother cats will also clean up after kittens, licking them to stimulate bowel movements and clean away waste.
Newborn kittens will sleep for most of their day, waking up to eat and go to the toilet. So, their mother will provide most of their care. But there are a few things that breeders can do to help out. This includes providing a gentle heat source for moments when the mother needs a break, or a little more space.
In rare cases where kittens don't have a mom, breeders will need to feed them regularly with a veterinarian-approved kitten formula. They will also need to stimulate their bowel movements and clean up after kittens, as well as keeping them warm. But, this is a rare situation, and should be done with the regular advice and help of a vet.
Can I Buy a Newborn Siamese Kitten?
If you see a breeder trying to sell newborn kittens, the best thing to do is walk away. Kittens are not ready to leave their moms until around 8 weeks of age. As newborns, they're fully reliant on their mom for food, warmth, stimulation – for everything they currently need. Yes it's possible for people to provide those things in rare cases where the mom is not around, but these situations are never ideal. Kittens will always be best kept with their mom and siblings until 8 weeks.
Not only does their mom provide important care in the very first weeks of life, but kittens will learn important social skills from their mom and siblings as they age.
It can be tempting to search for kittens that are younger than 8 weeks, since they're very cute, and their care needs don't sound that hard. But, kittens will always be best living with their mom and siblings when possible before 8 weeks old. Not only will they receive all the care they need from their mom in those earliest weeks, they will also learn important social rules that you would not be able to teach them so easily, such as bite inhibition.
Newborn Siamese Kittens – A Summary
As newborns, Siamese kittens are entirely reliant on their mom. There are a few things that breeders can do to help out, including providing a gentle heat source, but most of their care is done by the mother cat. Newborn kittens aren't able to see or hear, and all Siamese kittens are born white. But, over the next few weeks, they'll grow and change, making it easier to tell them apart!
Do you currently have newborn Siamese kittens at home? Or are you just curious about what you can expect from a baby Siamese?
Readers Also Liked
References and Resources