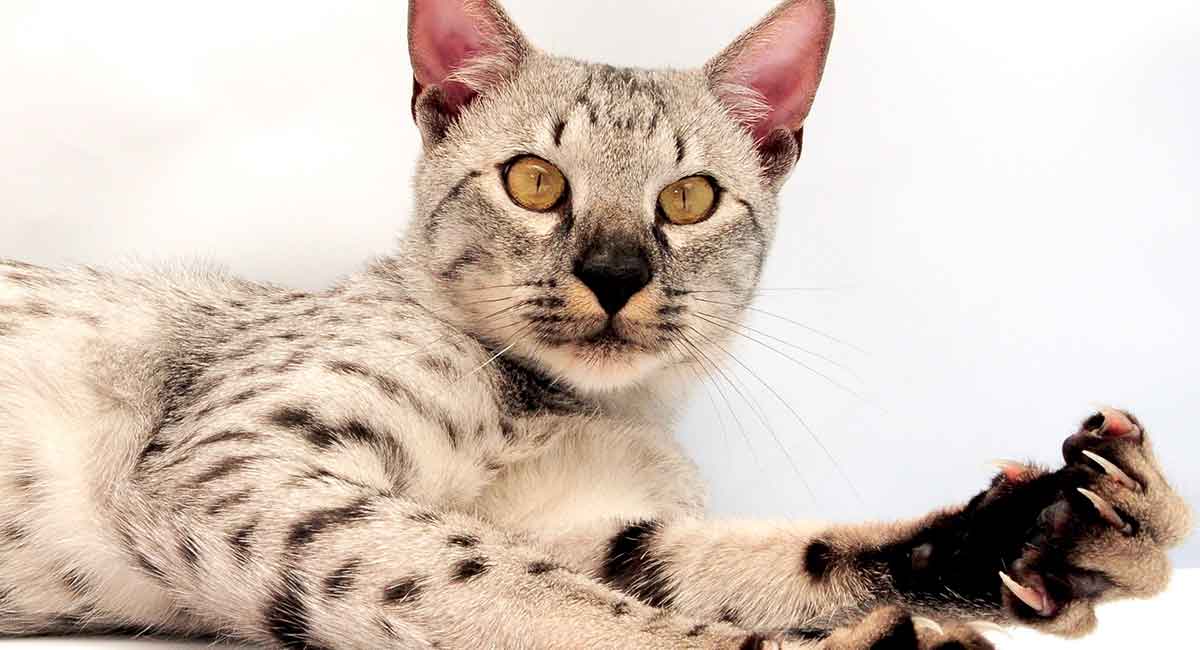 Savannah cat colors can vary a lot from one Savannah cat to the next, but they are always striking!
The Savannah cat breed is a relatively new hybrid cat breed.
Hybrid, because the Savannah cat arises from a pairing between a wild African serval cat and a domestic feline.
So visually, the Savannah cat has an instant "wow" factor owing to its wild DNA.
As if that wasn't enough of a jaw-dropper, the Savannah cat breed is also the reigning Guinness Book of World Records holder for tallest domestic cat breed in the world!
In this focused article, we take a close look at Savannah cat colors to show you the range of colors and markings this unique cat breed can display.
Savannah cat colors and markings
According to the official breed standard, the Savannah cat colors desirable for show include brown, silver, black and smoke.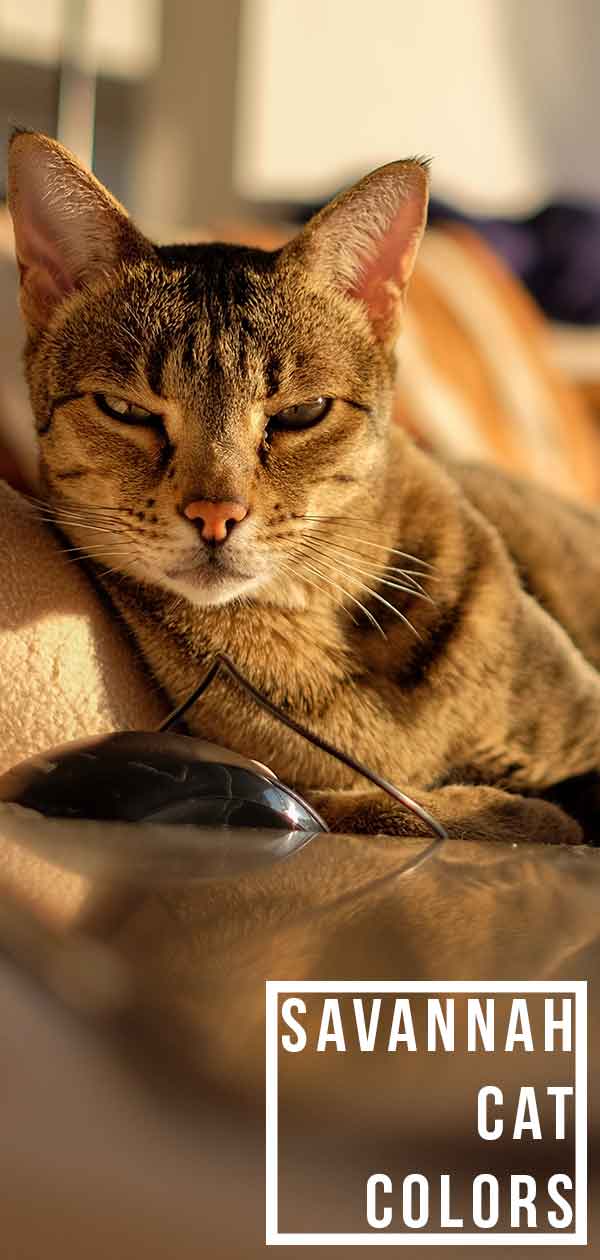 However, any color referencing the African serval cat is potentially acceptable for show.
Additional Savannah cat colors that may not be acceptable for show (but are perfectly fine for a pet Savannah cat) can include snow, blue, white, grey and silver.
Savannah cat markings should be bold and may include spots only or both spots and stripes.
The marble Savannah cat and the spotted Savannah cat are two of the most common patterns for Savannah cat markings.
How Savannah cats earn their stripes (and spots)
How colors and markings are passed along from parent cats to kittens is not always easy to understand or predict, even if you are an experienced feline breeder.
Genetics is a complex study in its own right and there is always something new to learn.
In the following sections here we will take a closer look at how some of the best known Savannah cat colors come about.
Savannah cat genetics: a brief overview
This brief overview of feline genetics will give you a glimpse of the intricacies of professional cat breeding!
It will also give you a deeper appreciation for how very unique and beautiful each Savannah cat – and every cat – truly is!
Chromosomes, genes, allelles
Cats each have 38 chromosomes (19 chromosome pairs).
A kitten inherits 19 chromosomes from each parent. Inside each chromosome are many genes – bits of DNA – that control different aspects of the kitten's growth and appearance.
There may be as many as 20 different genetic instructions that control fur color, fur length, fur thickness, fur pattern and other attributes of a cat's coat.
Some genes are simply present, or not present – the gene for white fur is one of these.
But for some genes, there can also be two slightly different versions – called alleles – which give slightly different outcomes, depending on the combination of alleles a kitten gets from their parents.
It's all these subtle layers of gene expression which mean Savannah cats can come in such a multitude of beautiful colorings.
Coat colors
Interestingly, in spite of the presence of genetic variations, there are only really two basic coat colors: black and red.
Every other cat coat color, from silver to blue, grey to brown, cream to orange, is some variation of either black or red.
White coat color is the sole exception. When a cat has white fur, this means the cat has an inhibitor gene that mutes the expression of any other fur color. Think of it as a can of white paint thrown over everything else.
Of course, there are many cats that don't have white, red or black coat colors.
In fact, most cats, the Savannah cat included, have different coat colors like blue, brown, tan, beige, silver, grey and even lavender.
How do these coat colors arise, you might be wondering!
These different coat colors are based on the interactions of coat color genes.
Coat patterns
There are only three main feline coat patterns: solid, tabby and pointed.
Some genes that code for fur color and pattern are dominant.
This means that a kitten only needs to receive that gene from one parent cat in order to express it.
Other genes are recessive. This means that the kitten will need to get that same gene from both parents in order to show it.
Some gene dilute the effect of other genes. A cat with genes for black fur AND a dilution gene becomes grey, smoke, silver or blue. Diluted red fur becomes cinnamon, beige, cream or rust.
The Savannah cat breed does not display the solid coat pattern at all.
Savannah cats always show a pattern like spots, stripes or spots with stripes. The spots and stripes are variants of the tabby (agouti) coat pattern.
Genetic lingo – dominant, recessive, expressing, inhibiting
There is one more thing to keep in mind as you learn about Savannah cat colors.
Different cat breeds carry genes for different coat colors and patterns, meaning colors that are common in some cat breeds are rare or even non-existent in others.
Savannah cats enjoy an unusual (or should I say unhelpful?) position, because many different domestic breeds have contributed to their gene pool.
So Savannah cats commonly display brown, black, silver and smoke coat colors.
But they can also display snow, lavender, and blue colors, albeit more rarely.
If this all sounds about as clear as mud to you, you are definitely not alone!
Cat genetics can get complicated quickly. Especially if you are trying to produce a specific coat color, or trying to work your way backwards to understand how a kitten ended up with a certain coat color or pattern.
Savannah cat coat colors
Let's take a closer look now at the main Savannah cat coat colors and how they may be altered into their dilute versions.
Brown Savannah cat
The brown coat color is one of the four major coat colors that a Savannah cat may display.
This coloring is the most evocative of Savannah cats' serval ancestors.
Brown can arise in lighter or darker shades across this color spectrum.
Gold and beige, for example, are each considered to be a variant of the dominant color brown.
The rare snow Savannah cat is a dilute of brown, although it often looks closer to white.
The very rare but beautiful lavender Savannah cat is also a dilution of brown. Lavender coloring comes from a specific blend of recessive genes, which means it is easily overwritten if one parent passes on an alternative dominant gene instead.
Black Savannah cat
The black coat color is another one of the four major coat colors that makes a Savannah cat eligible for the show ring.
Even though their spots or stripes are black on back, they are still there, and you can even make them out when your black Savannah cat catches the light.
Black is a dominant color gene. But because the classic tan colors are so popular with Savannah cat owners, black coat genes are kept limited within the Savannah population.
A smoke Savannah, silver Savannah, or grey Savannah cat all display coat colors within the black color spectrum, as does a blue Savannah cat.
Savannah coat patterns
Now let's take a quick look at the main Savannah cat coat patterns and how they may express differently from one kitten to the next depending on which genes are inherited from each parent cat.
Spotted Savannah cat
The spotted coat pattern is the pattern that most closely resembles the Savannah cat's wild African serval ancestry.
For this reason, the spotted coat pattern is considered to be the most desirable in terms of cats destined for exhibition in the show ring.
The spotted pattern can show up in different forms.
The spots themselves may be round or oval, small or large, on their own or interspersed with stripes.
Sometimes the spots will be spaced quite evenly and other times the placement will be irregular.
There can also be a more random appearance of spots of all sizes and shapes and placements.
Marbled Savannah cat
The marbled coat pattern is often mistaken for the spotted coat pattern and many people think it looks the most "wild cat" of all the coat patterns.
However, the marbled pattern, with its larger, irregularly shaped spots and stripes, is not as desirable in the show ring because it actually isn't as true to the wild African serval cat origins of this breed.
Rosettes Savannah cat
The rosettes coat pattern is not eligible for the show ring, but many pet Savannah cat owners just love it.
The rosettes coat pattern is a really "showy" coat pattern – you can't help but notice the striking appearance of the large central oval rosettes and surrounding stripes and smaller spots.
Savannah cat colors
We hope you have enjoyed taking an up close and personal look at the beautiful array of Savannah cat colors and markings!
Savannah cats' serval ancestors are all quite uniform in appearance. But thanks to breeding with a range of domestic cats, Savannah cats now come in multiple colors and patterns.
The genetics behind Savannah cat colors may be complex, but it is also quite fascinating to see their fur and understand is as a window onto the DNA.
Do you have favorite Savannah cat colors and markings?
Are you waiting for a litter to be born and trying to predict what colors they'll be?
Please drop us a comment and let us know!
Sources
Dana, P., et al, "Savannah Introduction," The International Cat Association, 2018.
Smith-Lemire, L., et al, "Savannah Cat Genetics," The Savannah Cat Association, 2018.
Tuck, M., "Savannah Cat – Size, Diet, Temperament, Price," F1Hybrids Savannah Cattery, 2018.
Hummel, H., et al, "Color Patterns," Select Exotics Savannah Cattery, 2018.
Goss, C., "Genetics," Lequoia Savannahs, 2018.
Bizzell, C., "Basic Feline Genetics," The Cat Fanciers Association, 2018.
Wiesenfelder, H., "Cat Chromosome Information," Sciencing, 2018.
Hicks, B., "What color is my cat," TICA Southeast Region, 2018.