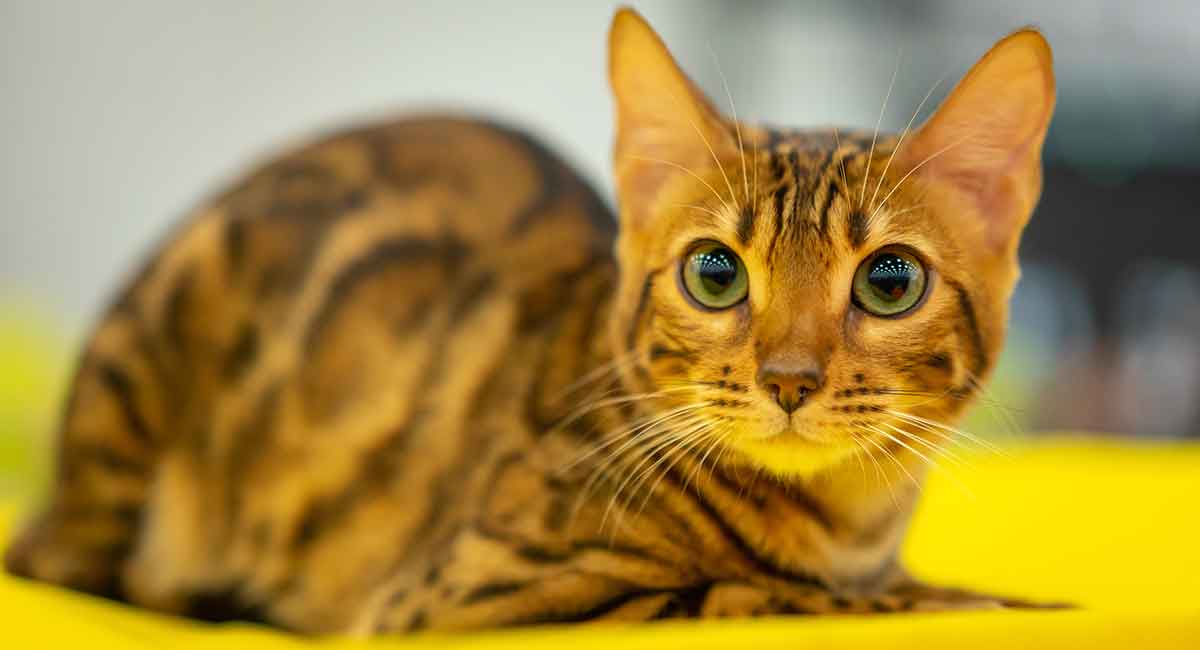 The Savannah cat is an impressive looking breed, and many are searching the internet to find out an average Savannah cat price.
A hybrid between an African serval and a domestic house cat, this breed holds a very striking appearance that many quickly fall in love with.
However, those who have done just a small amount of research into this breed quickly find out that the price of kittens can vary hugely, from $1000 up to around $20,000.
In this article we seek to explain why that is, and what you should expect to pay for any given kitten within this breed.
NOTE: All prices are typical advertized prices for kittens from reputable breeders at the time of writing (September 2018).
How Much is a Savannah Cat?
Savannah cat price may vary significantly from kitten to kitten due to multiple factors.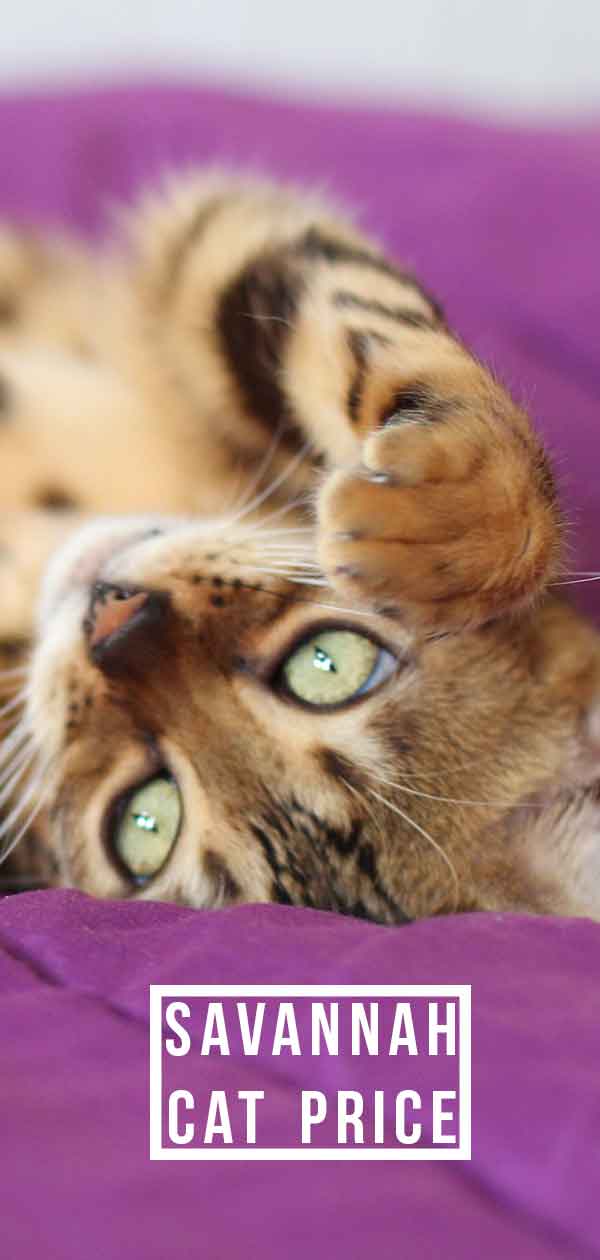 The first factor that significantly affects the price of any given Savannah cat is their filial number.
This refers to how far removed they are from their nearest serval ancestor.
For example, an F1 Savannah cat will be the very first generation of the cross. They will be the kitten of a serval and a domestic house cat, and therefore possess 50% serval DNA.
The following generations are Savannah cats bred with other domestic cats and Savannah cats, meaning the more generations that are bred the more diluted the serval's genetics become within the cat.
For example, an F3 Savannah Cat is two generations down from an F1 Savannah Cat. These kittens have a serval great-grandparent, and the genetics of the serval are less present within this generation.
The Effect of Gender on Savannah Cat Cost
Another factor that affects the cost is the gender.
Male Savannah Cats tend to experience hybrid infertility in early generations within the cross.
It is very unlikely a fertile male will be produced until the 4th or 5th generation down.
This means that in the F1, F2 and F3 generations, only females have breeding value, which significantly increases the cost of them over males.
How Much Does a Savannah Cat Cost – Show Cats vs Pet Quality
Finally, the last factor that may affect price is conformation to the breed standard.
This tends to affect the price less than the filial number or gender (since predicting show quality is something of a gamble at kitten age), but it still has an effect.
Kittens born to show cats, and especially show-winning cats will command higher prices than kittens born to regular pet cats.
F1 Savannah Cat Price
The F1 Savannah cat costs the most money.
A male can be priced around $12,000 – $16,000, while a female can set you back around $15,000 – $20,000.
The reason the prices are so high is that it is actually very difficult to successfully breed an F1 Savannah cat.
A lot of attempts to breed a domestic cat with a serval end in stillbirths or deaths in infancy.
Due to this, it can actually be tough to find an F1 Savannah cat to purchase.
This is doubly true for the females; many breeders will hold onto a female Savannah cat themselves to use for breeding, so they are rarely on sale.
Savannah cats within this generation tend to be the tallest.
They have a high amount of the wild serval DNA and therefore have quite a wild temperament.
F2 Savannah Cat Price
The F2 Savannah Cat has a serval grandfather and still retains a significant amount of serval DNA.
Alas calculating the amount of serval DNA in each subsequent generation isn't as simple as halving the percentage each time.
This is partly due the element of chance in heredity, and partly due to a breeding practice known as back-crossing; breeding Savannah cats from different filial generations, who themselves have different proportions of serval DNA.
F2 Savannah cats tend to be more domestic and social in nature than the previous generation. They tend to be only a tiny amount smaller than the F1; around 1-2 inches.
They range in price from around $4000-$8000, with females of this generation possibly going up to around $9000.
F3 Savannah Cat Price
F3 Savannah Cats are widely believed to be the best of both worlds; the looks of the F1 and F2 with the domestic and friendly nature of the standard domestic cat.
However, they do lose some of the independent, wild traits of the earlier generations that many enjoy.
This generation and further are typically recommended if you have children.
An F3 Savannah Cat price will usually be around $1000 – $4000.
For the first time, male Savannah cats in the generation might be fertile (although it's still uncommon).
A fertile F3 Savannah male will be more valuable than an F3 female, because at last they have the greater breeding value.
F4 Savannah Cat Price, F5 Savannah Cat Price, and beyond…
F4 – F5 Savannah cat price is usually around $1000 – $2500.
While cats of these generations still have the look of servals, they tend to be a lot smaller and stockier like the domestic cat.
They show a temperament very similar to your standard domestic cat too.
Males tend to be regularly fertile within these generations.
Further generations continue to be possible indefinitely, although breeders tend to stop mentioning the filial number beyond F8.
The prices continue to drop at this point, with generations this far usually going for under $1000.
Setting Up for a Savannah Cat
The first few weeks of owning a Savannah kitten are crucial for them to mature into healthy, well-rounded adults.
Within these first weeks, quarantining a Savannah cat in a single room to have one-on-one interaction with their new owner is important in developing a relationship between them.
Otherwise, the cat may mature being rather skittish and nervous.
Kitten-proofing the room you will be keeping them in could incur costs for buying items such as cable tidies to prevent the kitten from gnawing on wires.
This is also the perfect time to litter train the cat, and they will, of course, require a litter box.
The Long-Term Costs of a Savannah Cat
Many people overlook long-term Savannah cat cost, with the high initial purchasing price tending to hold their attention the most.
However, as with all pets, it is important to consider the long-term costs.
Many Savannah cats do well on standard wet food, preferably with a large chicken component.
Providing a high quality diet to a large cat can add a sizeable chunk to your weekly grocery bill.
Savannah Cats need a lot of exercise and mental stimulation daily to be happy.
Therefore, purchasing new toys, scratching posts, and cat trees regularly can be a great way to achieve this.
Owing to their cost, and wild instincts, many Savannah cat owners decide not to let their cat roam outdoors.
However, these large, athletic felines benefit from an enclosed outdoor space to play in every day, so factor in the cost of constructing one if your house proves insufficient.
It's also very important to insure your Savannah cat to avoid potentially expensive vet visits.
While the Savannah cats tend to be a rather healthy breed, they are recognized as a pedigree who are usually a little more expensive to insure.
For early filial generations, you might also wish to find a vet with experience of treating wild-hybrid cats, who may charge more for their expertise.
In Summary!
Savannah cats usually have a very high asking price which is mainly dependent on their filial number and gender.
At the time of writing, F1 Savannah cats can cost as much as $16,000 for males, and $25,000 for females.
Subsequent generations cost less, and prices finally dip below the $2000 mark from around the F6 generation onwards (for pet-quality animals).
On top of their purchase price, you may also pay more for a specialized diet, games and opportunities for exercise, insurance and expert veterinary care.
Like with any pet purchase, it is very important to consider your financial situation and whether you can afford to not just purchase the kitten, but care for it long-term too.
Do You Own A Savannah Cat?
Have there been any hidden costs that you weren't expecting?
Please share them in the comments section below, to others make the best-informed decision possible!
References
The International Cat Association
Davis, BW, et al, Mechanisms Underlying Mammalian Hybrid Sterility in Two Feline Interspecies Models Molecular Biology and Evolution, 2015