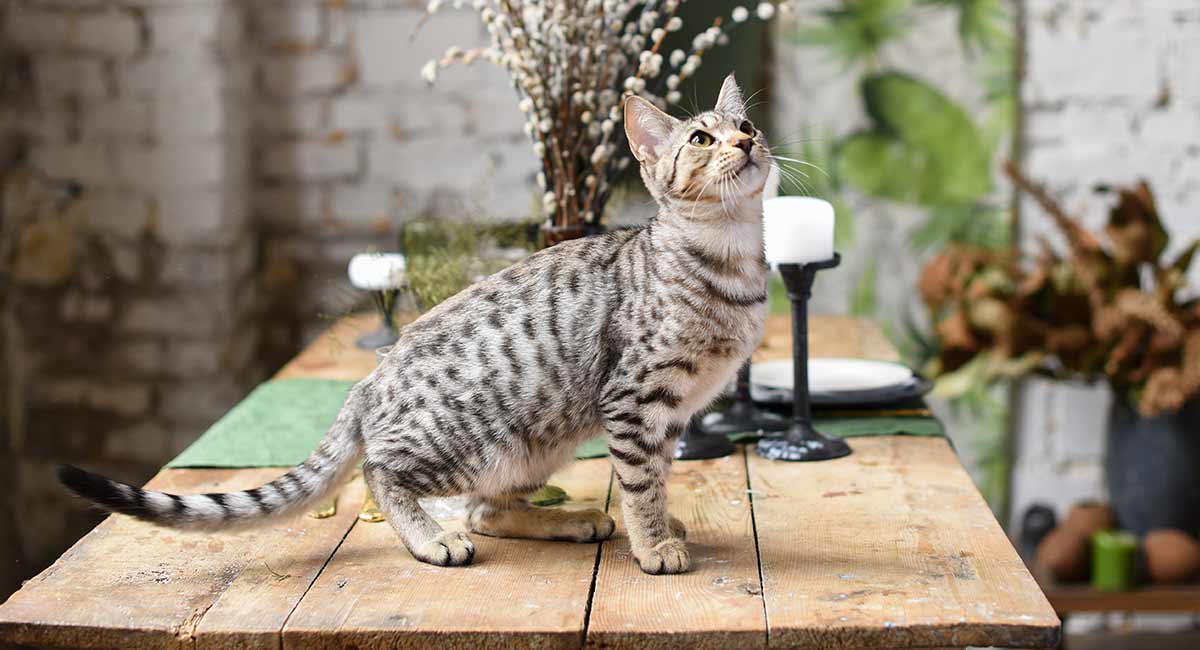 Welcome to our guide to Savannah cat temperament!
We're going explain how being a wild cat hybrid affects Savannah cat personality and get you clued up about the kind of pet that makes them.
The Savannah cat is a relatively new purebred cat.
They began as a cross between domestic cats and servals, which are mid-sized wild cats native to sub-Saharan Africa.
Servals are similar to the better known lynx and ocelot, and feature the same spotted coat.
The cross was first achieved in 1986, by mating a male serval with a domestic female cat.
Since then, the descendants of this, and subsequent domestic cat-serval matings, have be used to found the Savannah breed.
For a full introduction to the Savannah breed and history of how these unique cats went from semi-wild to pampered pets, take a look at our detailed breed review.
Savannah Cat Temperament
Savannah cat's temperament can depend upon their generation. So a first generation Serval mix will be a lot more wild than a fourth or fifth generation cross. Loving, loyal, social and intelligent, these graceful beauties are often compared to dogs.
Today we're going to discuss the Savannah cat temperament in detail.
As you would expect, Savannah cat behavior can differ significantly from your average cat, due to their wild ancestry.
But how much does it really differ? Is it okay to have a Savannah cat as a house pet? Let's find out!
(Diluted) Wild Blood
First and foremost, Savannah cats do have some wild DNA in them, from their ancestor the serval.
With that said, this wild streak is usually watered down through multiple generations of breeding with domestic cats.
Savannah cats are usually designated as F1, F2, F3, etc. This terminology lets you know the generation of the cat.
For example, an F1 Savannah cat has a Serval as a parent, an F2 has a Serval as a grandparent, and so on.
F1 and F2 offspring are larger than later generations (servals are around 3 – 4 times bigger than the average domestic cat), and have more of a wild streak.
They are also very expensive to purchase, subject to tighter licensing laws in many regions, and can be difficult to find.
Most domesticated Savannah cats are F4 or higher, meaning their nearest Serval relative is a great-great-grandparent, and the proportion of wild DNA they carry is relatively low.
The F4 generation is also the first to be considered a distinct breed – a true Savannah cat. F1, F2 and F3 generations are considered more of a wild-domestic cat hybrid.
What does all this mean for Savannah cat personality traits?
The distinction between an early generation hybrid and a later generation "true Savannah" can be an important indicator of a cat's temperament.
The earlier generations have a much more wild temperament, and can be far more unpredictable than the average pet owner would like.
That's not to say they can't make good pets for the right owners, but they are best suited to experienced wild cat keepers.
The F1 Savannah cat temperament requires specialized knowledge, plenty of space, and a lot of patience.
If you haven't had direct experience of looking after a wild cat hybrid before, you should be cautious in getting a F1, F2 or F3 generation (that is, if you can even find one!)
On the other hand, F4 Savannah cats and their offspring have a more predictable, typically-Savannah temperament, which is also closer to that of any other domestic cat.
Thus, for most potential Savannah cat owners, an F4 Savannah cat or later generation makes a more amenable house pet.
Serval Cat Temperament
Since we talk about Savannah cat temperament in terms of degrees of wildness, it helps to understand what kind of wild behavior we mean.
So let's quickly look at serval cat temperament, and the wild characteristics servals bestow on their kittens.
Servals are native to over 35 African countries. They're both predators, and prey animals to larger hunters like leopards and wild dogs.
To survive, they've become quick and agile hunters – they can jump up to ten feet! This means they can catch food in the air and in trees, as well as on the ground.
To avoid attracting the attention of animals they want to eat (and animals that want to eat them!) servals are most active at dawn and dusk, and prefer the concealment of long grasses to open spaces.
They're also solitary and very territorial. Males and females only come together to mate, and young servals leave their mom as soon as they're sexually mature and old enough to hunt.
Adult servals use scent marking and scratching to mark the boundaries of their territory.
Savannah Cat Temperament
Now let's see how those skills learned to survive in the wild translate into Savannah cat personality traits.
Most people looking for a Savannah cat will purchase an F4 Savannah kitten or beyond, so we will focus on those generations.
Some liken the Savannah cat personality to that of a dog. They are loving, loyal and very intelligent.
Savannah cats are known to be quite social and affectionate. They will often meet their owners at the door, and love to be around people.
This is quite unlike the solitary serval, so in this respect their domestic heritage is clearly shining through!
Savannah Smarts
The Savannah cat is also curious, highly intelligent, and very active – all traits that require some patience on the owner's side.
They can grow bored easily, and require lots of mental stimulation. They like to be challenged, and may take well to complex cat toys and difficult training.
Here we can see the hunting talents of their serval forefathers are still there and itching for an outlet!
Savannahs love to play, and can be rather mischievous.
If they grow bored, they can be destructive – knocking things off shelves, scratching furniture, and chewing things up are all favorite activities of a bored Savannah cat.
This could also be motivated by a strong serval-like instinct to mark their territory. Providing lots of scratching posts at the "edges" of their territory (entryways for example) can channel this kind of Savannah cat behavior in an acceptable way.
Savannah Cat as House Pet
If the Savannah cat is kept busy, mentally stimulated and entertained, they can make wonderful pets.
If given enough toys and attention, Savannah cats can adjust to an indoor-only life.
They do enjoy spending time outdoors, however. Some owners have even successfully trained their Savannahs to walk on a leash!
The Savannah cat temperament can vary, but these cats are almost always highly active.
They love to play, run and climb – all skills hard-earned for survival by servals and passed down through the generations.
A happy cat is one with plenty of opportunities to act naturally. For a Savannah, this could also mean lots of cat trees and condos, for climbing and keeping watch from without feeling overlooked.
Some owners describe the Savannah cat as being a lifelong kitten and a stash of suitable toys will enrich their environment and help them play.
Securing Savannah Cat Temperament – The Importance of Socialization
Good breeding practices and proper early socialization are important for any breed, or any animal for that matter. When it comes to the Savannah cat, it's absolutely vital.
Because these cats have more wild heritage and wild instincts, they need more help and more training to learn how to behave as domestic animals.
Thus, it's very important for potential owners to research reputable breeders. This may involve paying a premium, but the increased cost will be a worthwhile investment.
Look for Savannah kittens who have been exposed to other animals and humans from a young age in order to learn confident social skills.
This is particularly important for earlier generations with more serval DNA, as their wild instincts require more adjustment to domestic life.
Savannah Cat Personality – The Bottom Line
F1 Savannah cat temperament is very difficult to predict. These cats have a mix of wild and domestic instincts which can be contradictory and confusing even for them!
For that reason, they are best kept by experienced handlers.
Once a family tree has become established, later generations of Savannah cats are more reliably and uniquely "Savannah-ish" in their characteristics.
Overall, the Savannah cat can be a loving, playful, social and entertaining breed.
They are also very active, and can become destructive if they grow bored.
They are certainly not the easiest breed to care for, but with the right outlets for their instincts and energy, they can be very rewarding for the right owner.
Do You Have a Savannah Cat?
How would you describe their personality?
Have you ever been able to compare the temperament of Savannah cats across different generations?
We'd love to hear your thoughts!
Please share them in the comments box.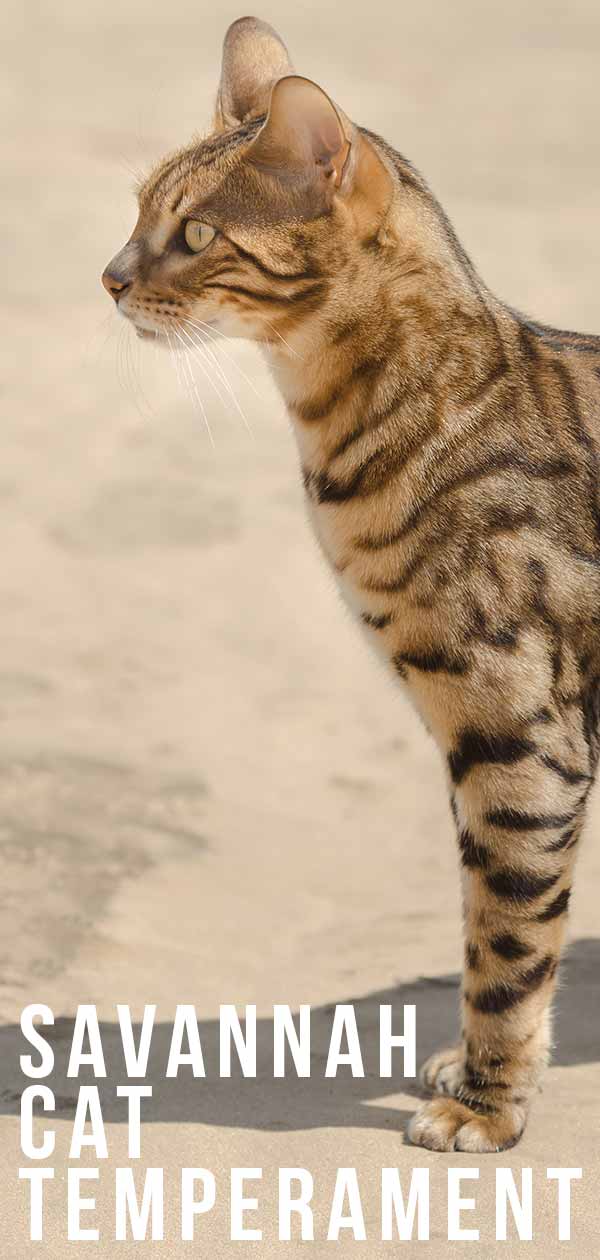 References
Daniels, M. J., & Corbett, L. Redefining introgressed protected mammals: when is a wildcat a wild cat and a dingo a wild dog? Wildlife Research, 2003.
Sunquist, M., & Sunquist, F. Wild cats of the world. University of Chicago Press. 2017.
Tabor, R. Understanding Cat Behavior. David & Charles Limited. 1997.
"Serval", African Wildlife Foundation.
"Serval", Animal Diversity Web, University of Michigan Museum of Zoology.