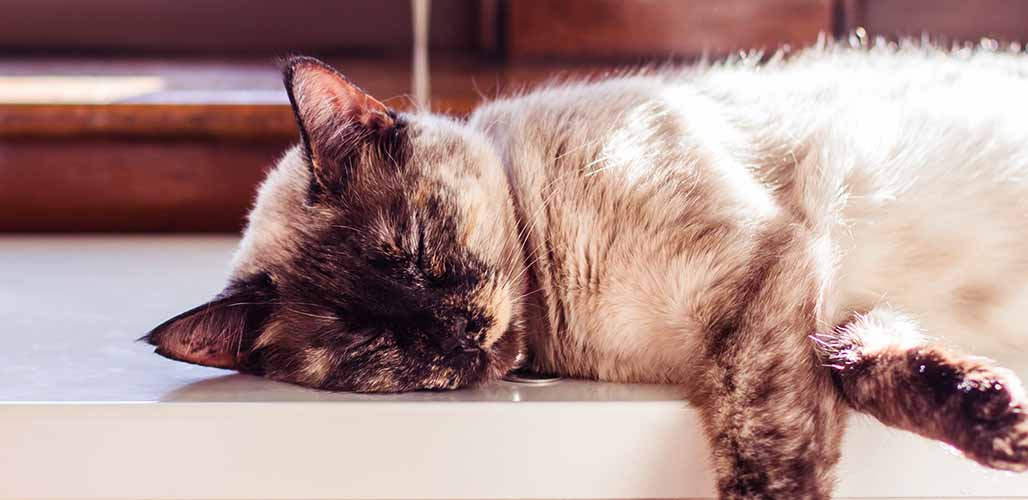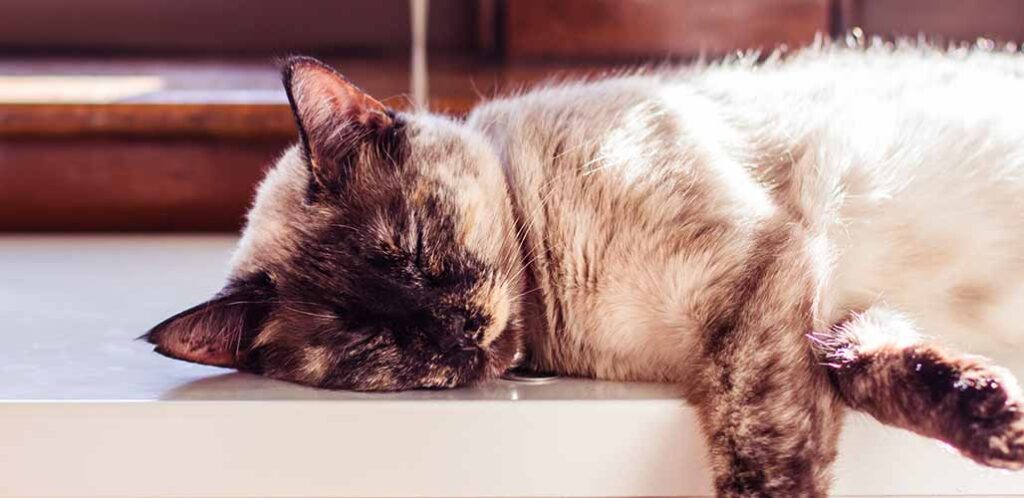 The tortie point Siamese cat is a unique and rare variation of the pedigree Siamese breed. They have a pale coat with a dark tortoiseshell pattern of mottled coloration on the face, ears, feet and tail. Tortie points come about through complicated breeding, with random and unpredictable results. These lightly built, active cats are affectionate and incredibly chatty. Today we'll look at how tortie point Siamese kittens are bred, what their personalities are like and whether these incredibly unusual kitties make good pets.
Contents
When it comes to the Siamese cat, most people picture an elegant kitty with a sliver-gray coat and blue eyes. But while many people are familiar with other color variations in this breed, few may know the tortie point Siamese.
What is a Tortie Point Siamese?
Traditional Siamese cats have a solid coloration in the area where the fur is a different color from the rest of the body. In contrast, a tortie point has a distinctive tortoiseshell pattern in these areas. But no two tortie point Siamese cats are the same, and the tortoiseshell mottling is entirely random and unpredictable.
Tortie point Siamese kittens are born white, developing the points on their body fur a few months later. But like other Siamese cats, the tortie point has deep blue eyes, triangular-shaped ears, and a long pointy tail.
History of the Tortie Point Siamese Cat
The Siamese cat is undoubtedly one of the oldest cat breeds in the world, originating during the 14th century in Siam (now Thailand), which is how it got its name.
These stunning cats were exclusive to the Siam royal family, but it is also believed they guarded sacred Buddhist temples. The rulers of Siam held the Siamese cat in such high esteem that anyone who dared to capture one faced the death penalty, which is most likely why they didn't appear in Europe until the 19th century.
During the 1940s, breeders attempted to produce Siamese cats in different colors from the standard ones of seal, blue, chocolate, and lilac point. The first known tortie point came about during the late 1940s but didn't gain recognition as a proper Siamese until 1966.
Breeding a Tortie Point Siamese
It took breeders many attempts to get the tortie point coloring, and their efforts were unsuccessful initially. Complications arose from the challenge of working with the red coloration linked to the X chromosome. To put it simply, the tortie point Siamese occurs when a female cat carrying the orange gene mates with a male cat that doesn't have the orange gene.
Tortie Point Siamese Genetics
The genetics of the tortie point cat takes some explaining. Those who know anything about genes understand they are carried on chromosomes.
Cats have two chromosomes: X and Y. Female cats have two X chromosomes (XX), whereas male kitties have one X and one Y. You will only find the orange gene carried on the X chromosome and, when present, turns black or dark coloring on a male cat into cream, apricot, and red.
On the other hand, a female cat must inherit orange genes on both X chromosomes to get cream, apricot, and red points. Still, if its second X chromosome has a different gene version, it will only change half the pigment to one of the red shades, so other colors are expressed, creating the mottling effect.
Tortoiseshell cats are mostly always female. A male tortoiseshell cat is a genetic abnormality, with most found to be sterile. The XY pattern would be XXY instead, which is extremely rare.
Tortie Point Siamese Colors
The tortie point comes in seven different varieties. These include:
seal tortie point
blue tortie point
chocolate tortie point
lilac tortie point
cinnamon tortie point
fawn tortie point
caramel tortie point
Seal Tortie Point
The seal tortie point is one of the most popular variations of the tortie point cat. Its body color can be fawn, cream or off-white with mottled seal brown and red points.
Blue Tortie Point
The blue tortie point is the diluted version of the seal tortie point. The body color is glacial white with mottled light blue and cool-toned cream points.
Chocolate Tortie Point
The body color of the chocolate tortie point is ivory white, characterized by milk chocolate points and speckled with shades of red.
Lilac Tortie Point
The lilac tortie point is the dilute version of the chocolate tortie point. The body color is off-white and has lilac or pinkish gray points speckled with cool-toned cream.
Cinnamon Tortie Point
Like the chocolate tortie point, the body color of the cinnamon tortie point is ivory white with warm cinnamon brown points speckled with shades of red.
Fawn Tortie Point
Fawn tortie points are the diluted version of the cinnamon tortie point. They have off-white bodies with pale rosy mushroom points mottled with shades of cream.
Caramel Tortie Point
When a dilute tortie point has endured further dilution, it results in the caramel tortie point. The body color is off-white with brownish-gray points mottled with shades of apricot.
Are Tortie Point Siamese Cats Purebred?
The GCCF first recognized the seal tortie point in 1966, and in 1971, they also approved blue, chocolate, and lilac points. Subsequently, in October 1993, the cinnamon, caramel and fawn tortie points achieved recognition and, later on, champion status as well.
Several cat registries worldwide recognize the tortie point Siamese, including The International Cat Association (TICA) and the American Cat Fanciers Association (ACFA). However, the Cat Fanciers Association (CFA) in the USA does not acknowledge the tortie point as an official point color of the Siamese cat, only solid points like seal, chocolate and blue.
Does the Tortie Point Siamese Cat Make a Good Pet?
The tortie point is blessed with the same attributes as any other Siamese cat: extremely affectionate, playful, intelligent, active, and vocal, who become very attached to their owners. However, they dislike being left alone and can develop separation anxiety.
The tortie point Siamese is a unique and stunning cat that makes excellent companions but is only suitable for those who can spend plenty of time with them. They love company and, being intelligent, need to be constantly amused. Remember that most tortie point Siamese cats are female, so you are unlikely to find a male one.
Learn More About Siamese Cat Colors
Resources
Takaaki Ishihara. Cytological Studies on Tortoiseshell Male Cats, Cytologia, 1956.
Schmidt-Kuntzel et al. A Domestic cat X Chromosome Linkage Map and the Sex-Linked orange Locus: Mapping of orange, Multiple Origins and Epistasis Over nonagouti, Genetics, 2009.
Centerwall et al. An animal model for the XXY Klinefelter's syndrome in man: tortoiseshell and calico male cats, Europe PMC, 1975.