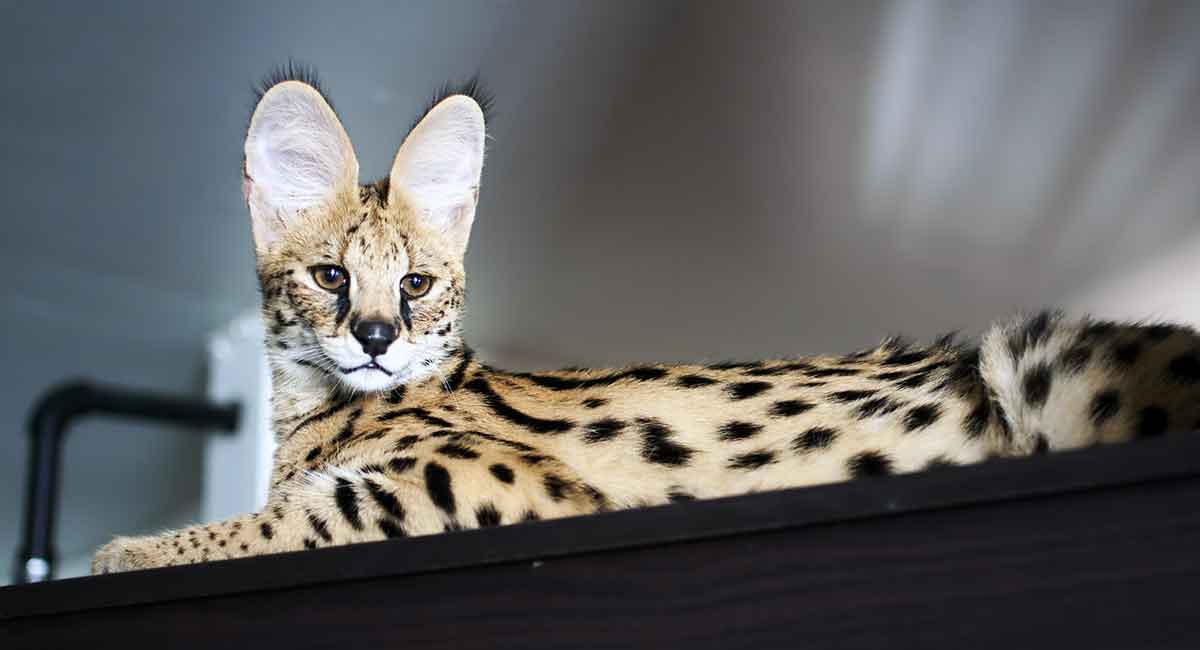 Where do Savannah cats come from?
If you are seeing these gorgeous, statuesque felines for the very first time, you might actually think they are wildcats!
In fact, the story about where do Savannah cats come from does have some wild cat influence.
As it turns out, these singularly lovely domestic cats had quite an unusual start in life.
In this article, we take you on a journey back to the Savannah cat origin.
Let's learn all about where Savannah cats come from and how the breed began!
Where do Savannah cats come from: a surprise hybrid kitten
In 1986, an unusual pairing took place.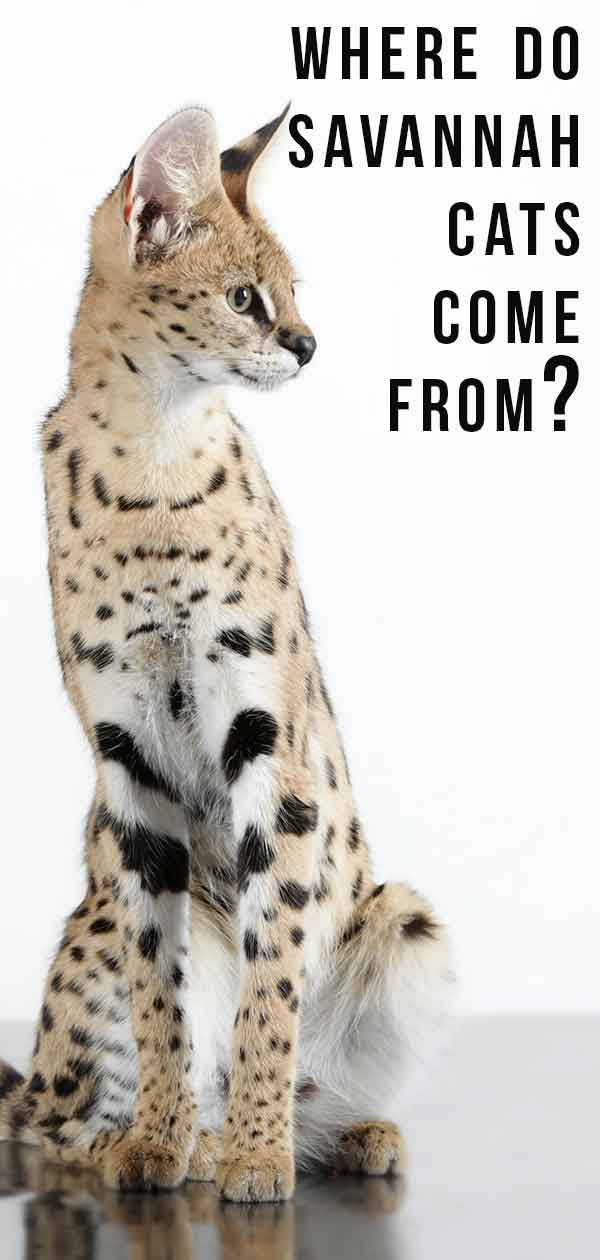 Despite being not all that long ago, contemporary accounts of the exact details are a little conflicting. As we shall see, this is probably due to a degree of ill-feeling between the key players.
What we do know is that a breeder named Judee Frank agreed to look after a male African serval cat named Ernie.
Ernie, taking advantage of opportunity, mated with one of Ms. Frank's Siamese females.
When the kitten was born, no one was more surprised than Ms. Frank!
However, Ernie's owner, fellow breeder Suzi Mutascio, demanded that Ms. Frank return both Ernie and the kitten.
(Which is possibly why they've never agreed quite the same version of events since.)
Savannah cat origin: the next generation
Once back home, Ms Mustacio named her previously unseen hybrid Savannah. This moniker would eventually pass onto the whole breed.
Savannah grew up to be a very beautiful and very picky girl.
She rejected one suitor after another, until finally she met Albert II, a Turkish Angora male cat, owned by breeder Lori Bushko.
It was love at first sight, and Savannah and Albert II produced two large, healthy kittens – one boy and one girl.
These two kittens then became the very first F2 (second generation) Savannah cats.
Where do Savannah cats come from: early breeding efforts
In 1989, both of Savannah's kittens were rehomed to Patrick Kelley.
Mr. Kelley couldn't do much on his own to continue the new Savannah breed due to the laws regarding owning and breeding exotic animals in his home state of California. But he was determined to ensure the breed's survival.
He worked hard to locate an interested breeder to continue developing the Savannah cat breed.
The new breeder, Joyce Sroufe, lived in Missouri and had lots of expertise with breeding exotic felines, including lynx, cougars, caracals and servals.
Mr. Kelly convinced Ms. Sroufe to begin breeding Savannah cats, and in 1994 she produced her first litter of F1 Savannah kittens.
Mr. Kelley was able to find homes for both kittens and Ms. Sroufe began additional breeding efforts.
At the time of writing, Mas Sroufe's founding cattery is still a leading birthplace of Savannah cats.
Where do Savannah cats come from: formal breed registration
Mr. Kelley's passion for Savannah cats led him to contact The International Cat Association (TICA) to inquire about gaining formal recognition for the new Savannah cat breed.
In 1996, Mr. Kelly, Ms. Sroufe and another breeder, Karen Sausman, drafted the first formal breed standard, called the "Savannah Standard."
The trio submitted this draft breed standard to TICA for review.
However, TICA then decided to freeze admissions for new cat breeds while it reorganized its new breeds program. This meant the application for Savannah cat recognition was denied.
It would take four years before TICA was finished with their internal reorganization, and the Savannah cat breed was finally issued formal breed recognition status in 2000.
Beginning in 2001, Savannah cat breeders were granted permission to exhibit their cats in the show ring.
This allowed the new Savannah cat breed to get quite a bit more exposure to breeders and enthusiasts from around the world!
Where do Savannah cats come from: breeders unite
In 1999, three years into the TICA reorganization, a loosely organized group of Savannah breeders began to connect and share information about their breeding efforts online.
The dedication of these Savannah enthusiasts earned them the nickname "the eighteen."
Today, those eighteen breeders are considered the founders of the Savannah cat breed, and the driving force behind Savannah cat origin.
Where do Savannah cats come from: today
Back in 1986, if you had asked the question where do Savannah cats come from, the answer would have been restricted to the United States.
Today, if you ask the question where do Savannah cats come from, the answer is all around the world!
Once the Savannah cat was recognized by TICA and admitted to the show ring, other breeders who saw the Savannah cat fell in love with the new breed and began their own breeding efforts.
The Canada Cat Association issued the Savannah cat formal registration and exhibition status in 2006.
In 2012, TICA granted the Savannah cat Championship status – its highest level of breed recognition.
Today, Savannah catteries exist in Europe, Asia, Mexico, Russia, Canada and the United States.
The new breed is still young by feline breeding standards. But the Savannah cat's worldwide acceptance suggests this feline breed has a very bright future!
Where do Savannah cats come from: your pet Savannah
Savannah cats themselves have a lot to do with this cat breed's acceptance and success.
Not only is the Savannah cat gorgeous to look at, but this cat breed has a truly winning personality!
Whilst early generations retain many wild characteristics, many F4 Savannah cats and their descendents have settled comfortably into domesticity.
These offspring are smart, curious, playful, devoted and loving. Their fans say they remain kitten-like throughout their lives and make charming pets.
Savannah cats may have a short history to date, but they have distinguished themselves in every way since that first kitten in 1986.
Where do Savannah cats come from?
We hope you have enjoyed this glimpse back in time to Savannah cat's origins!
If you'd like to know more about this surprise hybrid which took the world by storm, why not take a look at some more of our articles focusing on them. Starting with our complete guide to the Savannah Cat.
Are you involved in Savannah cat breeding?
Please share your experiences of launching a new wild hybrid with us!
The comments box is down below.
Sources
Baskin, C., "Serval Facts," Big Cat Rescue, 2015.
Tuck, M., "Savannah Cats: The World's Tallest Cat Breed/History," F1Hybrids Savannah Cattery, 2018.
Dana, P., et al, "Savannah Introduction," The International Cat Association, 2018.
Smith-Lemire, L., et al, "Savannah Cat History," The Savannah Cat Association, 2018.
Mustacio, S., "Blast from the Past: the Very First F2 Savannahs," Feline Conservation Association, 2007.
Kelley, P., "Breeders – Savannah Cats," Savannah Cat, 2018.