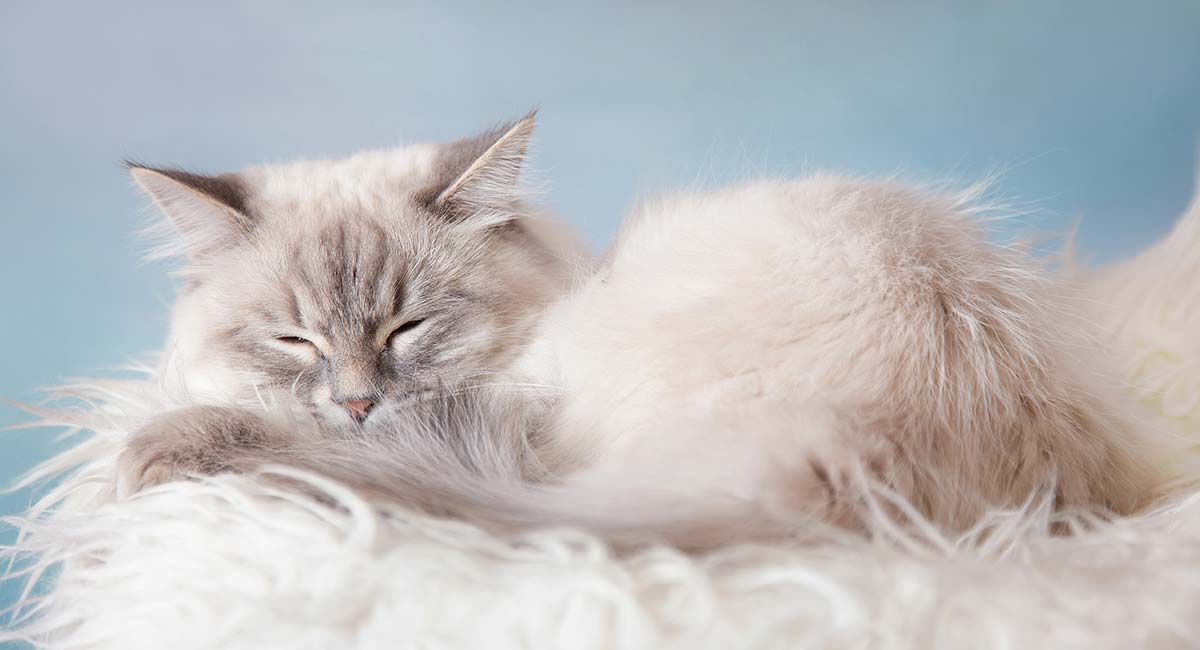 I am a huge fan of the doll face Persian cat. They take the wonderful personality and coat of the pedigree Persian, but give them a healthier face shape. Much like the purebred Persians of old before selective breeding stunted their facial features, the doll face Persian has a prominent nose and jaw. This makes it easier for them to breathe, eat, see and even regulate their body temperature.
Contents
Where Do They Come From?
The Persian is one of the oldest cat breeds in the world. Many people believe these cats have Persian or Iranian origin. However, there is some mystery surrounding the breed's exact origins. Some believe that ancient Egyptian hieroglyphics reference this breed.
Their distinctive long hair is believed to be the result of a natural gene mutation. However, it was their striking appearance that caught the eye of Pietro Della Valle, an Italian nobleman credited with importing them to Italy in the early 1600s. By the mid-1800s these cats were popular throughout Europe and by the late 1800s they had made their way to the US.
Until the late 19th century these cats did not have the flat-face that is now a signature of the breed. Instead, they featured a nose that was slightly shorter than other breeds, but in proportion to their facial structure.
The Evolution of the Doll Face Persian
Over time, cat breeders modified the Persian into its present‐day appearance by artificial selection. Today, the forehead, nose, and chin are in vertical alignment when viewed from the side .
Big eyes, round cheeks, and a large forehead are other defining features of the modern Persian. Unfortunately, having a flat face causes a condition known as brachycephaly.
This means they have shortened nasal cavities which can cause upper respiratory and breathing problems, particularly in hot, humid weather.
Prominent eyes are another brachycephalic trait. This leaves them prone to eye injuries and other problems, such as excessive tearing and staining.
Peke Faces
Some people refer to these cats as the peke‐face Persian, in reference to the Pekingese dog, another pet with a brachycephalic head structure.
These cats can be subject to acute health issues that can severely impact their health and quality of life. Despite this their shortened faces and snub noses are deemed desirable qualities by many people.
What's worse is that these structural deformities have been increasingly accentuated over time.
This is now considered the standard by the Cat Fanciers' Association. Persian cats who do not have the flat-faced appearance are known as doll face Persians.

Doll Face Persian Appearance
Other than not having a flattened face and short nose, the doll face Persian looks like any Persian cat.
They have a small, rounded head, with a shorter nose than other cat breeds, but not as flat as their peke‐face counterparts.
Sweet expressions have earned them the name, doll face Persian.
These medium-sized, felines typically weigh between 7 and 12 pounds. Standing from 10 to 15 inches tall, their bodies are stocky and short.
This breed is known for its long flowing fur that can grow up to 10 inches long in places. White is probably the most popular color and they're the only ones who have blue eyes.
Eye and Coat Color
They can also have copper eyes like all other doll face Persians, or occasionally one blue and one copper eye. Other solid colors include:
black
blue
red
cream
chocolate
lilac.
Persians come in so many colors and patterns that they've broken into divisions for competition purposes according to the CFA. In addition to Solid this includes:
Silver and Golden
Shaded and Smoke
Tabby
Parti-color
Calico and Bicolor
Himalayan.
Do They Have The Same Temperament?
Not only are doll face Persians beautiful, they also possess a friendly, calm, and loving personality.
They're known as being very people-oriented and love to crawl into your lap for some long petting sessions. Luckily, these cats are easy to handle, because life with a Persian means daily grooming.
Doll face Persians are generally happy cats with a laid back, cool cat attitude. These undemanding creatures simply want to love and be loved. Even as kittens they're quiet, and as they grow you'll rarely hear them make a sound other than a perpetual, pleasing purr.
Most doll face Persians will want to be indoors, spending their days sitting quietly or curling up next to you on the sofa. They aren't particularly playful and may be sensitive to loud noises.
Doll Face Persian Health
Since doll face Persians don't have the short face normally associated with the Persian breed, they can breathe easier and tend to experience fewer respiratory issues. However, like all purebred cats, they're at risk for certain health conditions.
Polycystic kidney disease is an inherited condition in which multiple cysts form in the cat's kidneys.
Present from birth, these cysts grow larger over time, often culminating in kidney failure.
Unfortunately, Persians have the highest incidence of PKD. When buying a kitten, it's important that both parents have been DNA tested clear for this condition.
Hypertrophic cardiomyopathy is a cardiac condition that causes the walls of the heart to thicken. It's the most commonly diagnosed heart disease in all types of cats.
Persian cats are also at risk for fungal skin infections, such as ringworm.
Their long coats are believed to be related to why forms of dermatophytosis are more severe for this breed.
Hip dysplasia, portosystemic shunts, hairballs, and urinary tract stones are also health concerns associated with the doll face Persian.
Grooming and Shedding
It should come as no surprise that the doll face Persian is a high maintenance pet. Their glorious coat will need to be groomed on a daily basis.
As long as you're dedicated to this regular routine, grooming should take no more than 10 minutes a day. However, you must be diligent, otherwise their silky, flowing fur can easily become matted and unmanageable.
Using the proper brush can help keep their shedding under control. A bath once a month is also recommended to keep your glamour puss looking their best.
Like all cats, the food you give your doll face Persian must be high in protein from real meat sources, including organs. Check the ingredients to ensure there are no fillers, artificial additives, or by-products.
Rescuing an Adult Cat
Choosing to adopt a doll face Persian from a shelter offers a number of benefits. Older felines will usually have been health checked by a vet and have their shots.
Although they're unlikely to have a pedigree certificate, adoption fees will be much less expensive than buying from a breeder. Best of all you'll be providing a beautiful cat with a forever home.
On the downside, it may be hard to locate a doll face Persian, since they're rarer than the flat-faced variety, but it will be worth the wait.
Doll Face Persian Kittens
Locating a doll face Persian from a breeder will likely be more difficult, since this variety is less popular than the flat-faced version.
We recommend that you take a kitten home between 8 to 12 weeks. Choose a kitten with a normal shaped face that is not flattish to avoid respiratory and other conformational problems.
A repeatable breeder will happily introduce you to the kitten's parents and siblings and show you where they're living. They should also answer any questions you have.