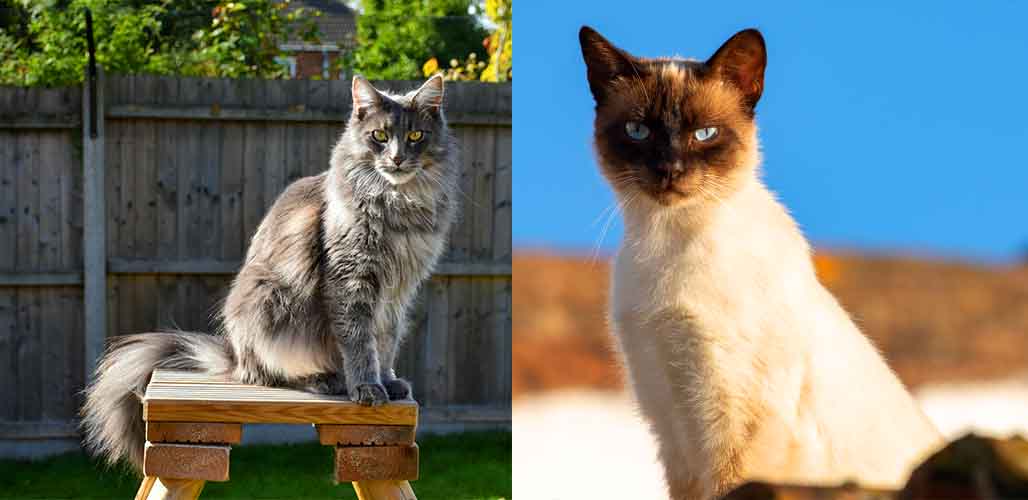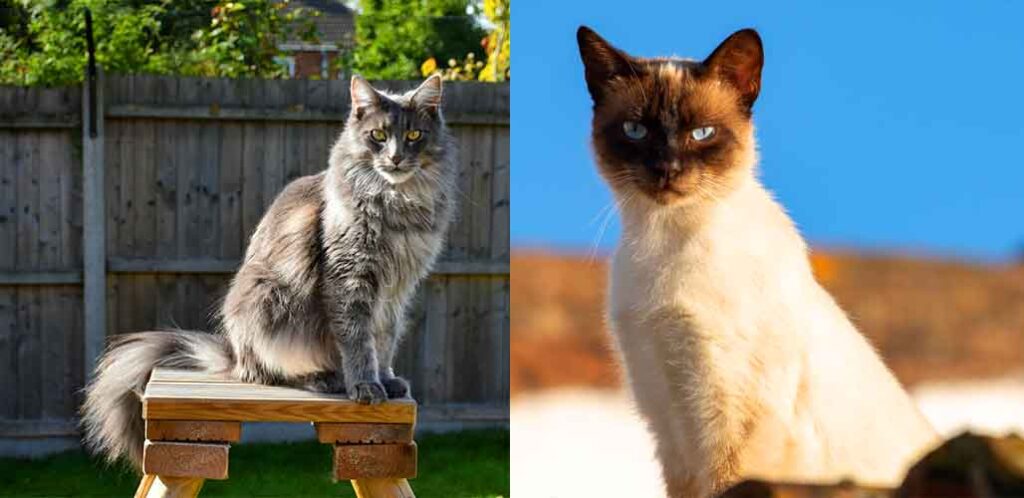 Can you imagine a Maine Coon and Siamese mix cat? You might as well try merging Venus and Mars or winter and summer as to combine two such unlikely cat breeds! And yet these breeds have some surprising similarities as well. I've discovered there's a lot to love about the Maine Coon Siamese mix cat. This is a unique hybrid that brings together two of the most iconic cats in the modern feline world. In this guide, I'll bring you up close and personal with this mix so you'll know what to expect, and whether one of these cats is right for your home.
Contents
The Maine Coon and Siamese Mix
Crossbred cat breeding sounds like something new and different in the world of companion felines. But really it is nothing new at all. Nearly all modern companion cat breeds have evolved through human-assisted selective breeding. This means breeders have deliberately crossed different purebred cat breeds together to achieve a desirable blend of traits and characteristics.
What makes this process so interesting is that even the most genetically knowledgeable cat breeders cannot predict exactly what genetic mix each kitten will inherit from each purebred cat parent. This is true even between kittens born in the same litter. So, to learn what you might be able to expect from a Siamese and Maine Coon mix, you need to examine both of the parents.
Maine Coon and Siamese Mix Size and Weight
The Maine Coon cat is generally acknowledged to be the biggest domestic purebred cat breed. Maine Coon cats also routinely dominate the Guinness Book of World Records list in the "longest cat breed" category. Adult male cats can weigh anywhere from 13 to 18 pounds and adult females may weigh anywhere from nine to 13 pounds. A fully grown three to five-year-old Maine Coon cat can measure anywhere from 19 to 40 inches tip to tail and stand 10 to 16 inches tall.
Siamese adult cats will typically weigh between six and 15 pounds depending on gender and lineage. From tip to tail, they may measure anywhere from nine to 14 inches long and stand up to 11 inches tall from paw pads to shoulder tops.
Most importantly, where the Maine Coon cat is bulky with a rectangular body shape, the Siamese cat breed is known to be lean and lithe in every way. This means your Maine Coon Siamese mix cat may grow up larger or smaller, taller or shorter, leaner or stockier, depending on which genes your cat inherits from each purebred parent cat.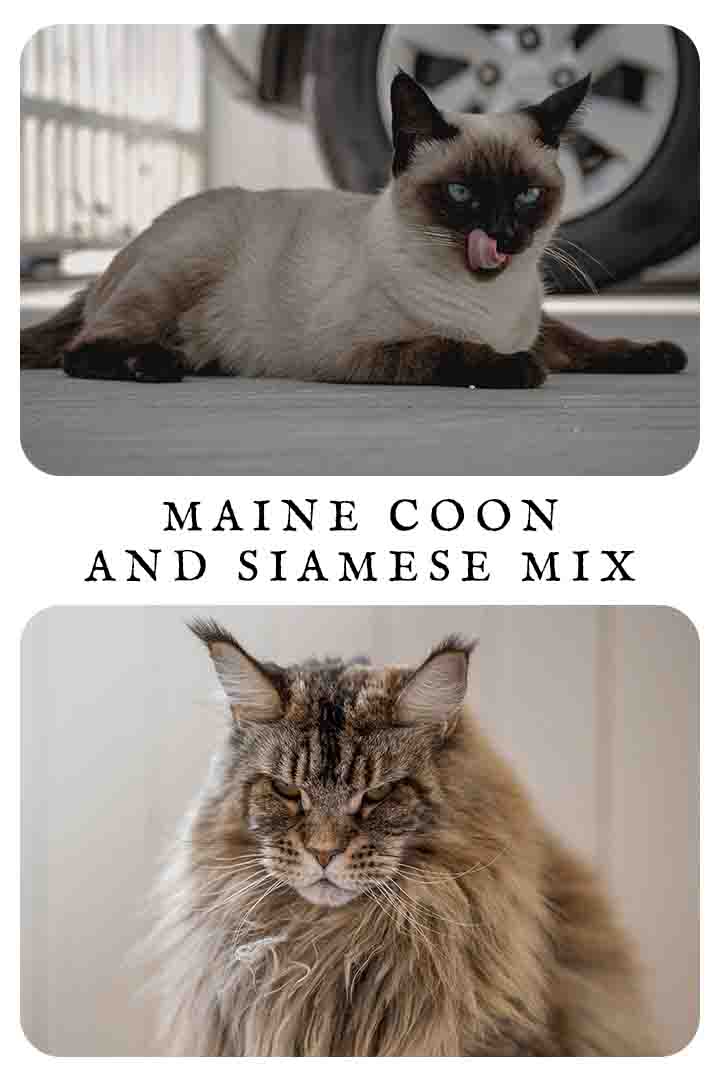 Maine Coon and Siamese Mix Personality and Temperament
If you have ever met a Maine Coon cat, you probably already understand why this breed is the state of Maine's official state cat and also the country's first official indigenous show breed of cat. Maine Coon cats definitely do not lack for personality – so much so that many fans of the breed will go so far as to describe them as "the dogs of the cat world."
Interestingly, this is also where the Siamese cat breed and the Maine Coon cat breed personality traits line up to perfection. Siamese cats are very social too!
This means it is easier to predict the Maine Coon Siamese mix personality and temperament than any other trait. You can expect an endearing kitten or rescue cat who will want to be with you constantly. Your Maine Coon Siamese mix will be smart, loyal, affectionate and vocal. This cat also won't tolerate being left alone very well, so plan accordingly if you are out of the home a lot.
Maine Coon and Siamese Mix Coat Type and Colors
The Maine Coon cat can be bred in a whopping 75 different coat color combinations and patterns. These cats are also known for their thick, shaggy, luxurious long fur coats. In contrast, a purebred Siamese cat will always display certain distinctive features, including a sharp color contrast between a light coat and darker color "points" on ears, tail, facial mask and lower legs and paws. And the Siamese cat always has a short, flat, neat coat appearance.
In most cases, interbreeding a colorpoint cat breed like the Siamese with a non-colorpoint breed like the Maine Coon will produce non-colorpoint kittens. However, Maine Coon cats do carry a rarer recessive colorpoint gene, so it is still possible to produce colorpoint kittens.
When it comes to the all-important question of shedding, it is important to know that Maine Coons shed a great deal and Siamese cats are a lower shedding breed. Working with a later-stage (F2 or later) feline breeder can help ensure you choose a lower shedding kitten.
Maine Coon and Siamese Mix Health
Like all purebred cat breeds, Maine Coon cats can inherit certain genetic health issues. Heart, spine, joint, kidney and digestive issues are all known issues in this breed. The average life expectancy in this breed is around 13 to 14 years.
Siamese cats have a known history of asthma, lymphoma and tumors, pica, joint dysplasia, eye issues and various metabolic diseases. Siamese cats generally live about 15 years. All of the health issues from both parent breeds have the potential to pass down to your mixed breed kitten.
How to Find a Healthy Kitten
Before committing to a kitten, you should verify that your Maine Coon Siamese mix cat breeder has completed all known pre-breeding genetic tests on the parent cats. A reputable cat breeder will also give you an initial guarantee of good health. Typically, this requires you to take your new kitten for a well-cat initial veterinary exam within a certain time frame after taking possession.
With these safeguards in place, you can feel much more confident that you have selected the healthiest possible Maine Coon Siamese mix kitten.
Is the Maine Coon and Siamese Mix Cat Right for You?
The Maine Coon Siamese mix cat breed is truly a cat apart. With a universally captivating personality even with the potential for great variation in appearance from one kitten to the next, you will share your life with a cat unlike any other on the planet.
But, it's worth bearing in mind that the kittens this mix produces can be unpredictable. It's hard to predict the exact traits your kitten will inherit. You can go a long way by looking at the parents, but it's still not a guarantee. So, your care needs might have to be quite flexible until you're familiar with your cat.
Do You Have a Maine Coon and Siamese mix?
This mix is quite uncommon in the cat world, but it's sure to start becoming a popular sight. Especially when we consider the love that the Siamese and Maine Coon breeds receive separately. Do you already have this combo at home, or are you still searching for your ideal kitten?
Other Breeds and Guides You Might Like
Are long haired breeds all heavy shedders?
References