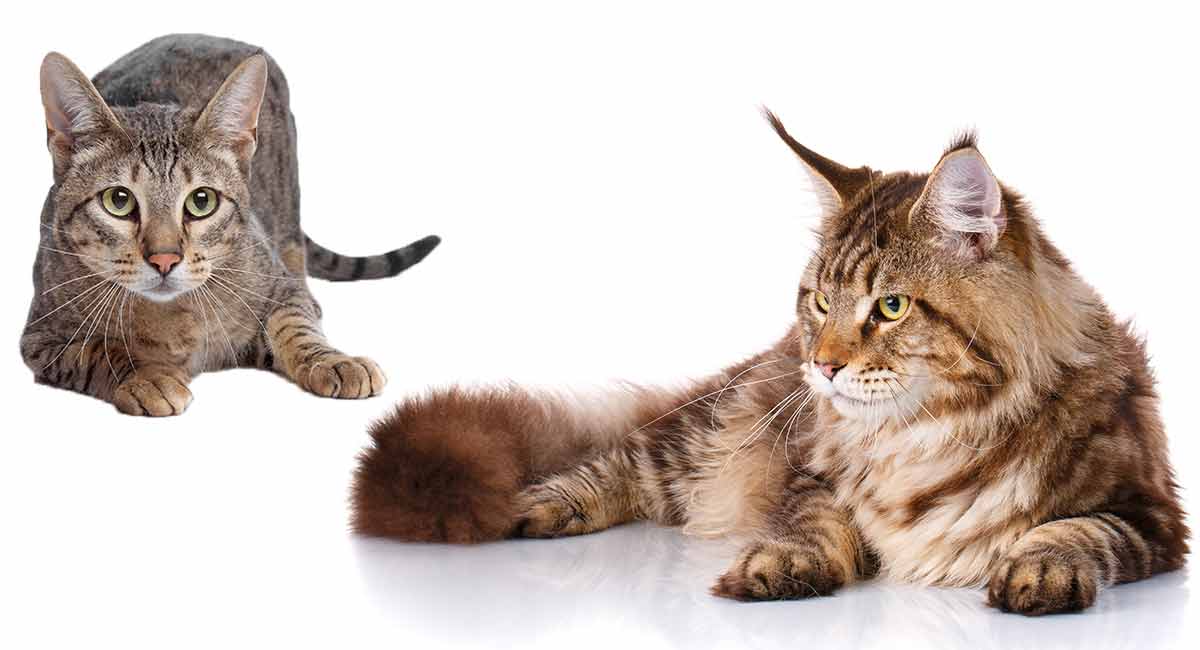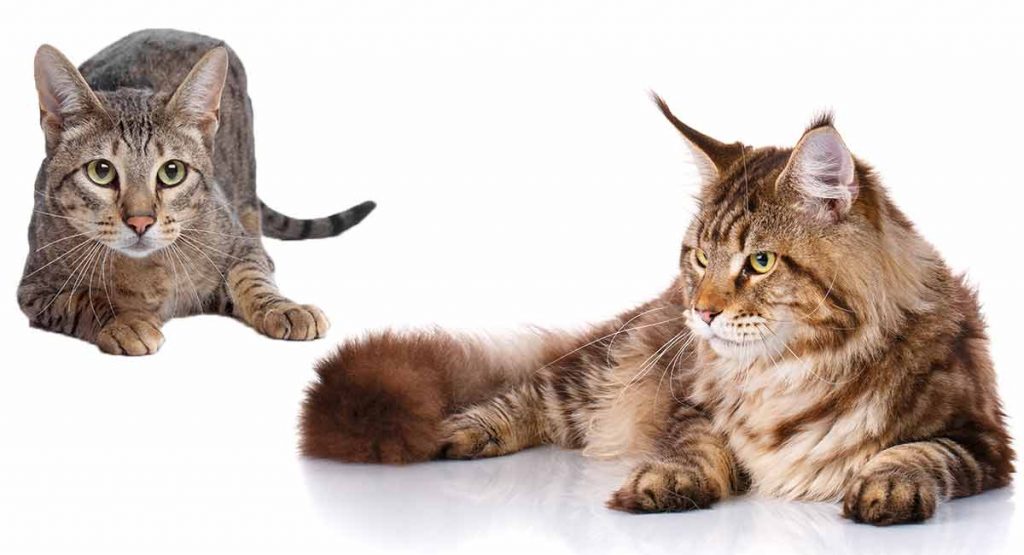 When it comes to getting a new cat, many owners know that they want a large breed, but they aren't sure about the Savannah cat vs Maine Coon.
Fortunately, we've assembled this guide to help you choose between these two huge cat breeds.
Savannah Cat vs Maine Coon – Which Pet to Choose!
The Savannah cat and Maine Coon have both increased in popularity over the last few decades.
Both the Maine Coon and Savannah cat are great choices, but they're very different.
The issue of Maine Coon vs Savannah cat depends on your lifestyle and what you want from a feline companion.
What Is the Difference Between Savannah Cats and Maine Coons?
The Savannah cat is one of the youngest pedigree cat breeds, but the Maine Coon has a far longer history.
The Maine Coon dates all the way back to the 1800s, originating in Maine.
They are believed to be descended from British ship cats, and continued to serve that purpose as well.
The breed is known for their fluffy coat, tufted ears, and ringed bottlebrush tail.
Savannah cats are hybrids of the domestic cat and the serval, a spotted wild cat native to Africa.
The first Savannah cats were bred in 1986. However, a member of this breed isn't considered a true, purebred Savannah cat until the fourth generation.
Their ancestry gives the Savannah cat a wilder appearance than most domestic cat breeds and depending upon the generation of hybrid a potentially wilder personality too.
It has a long legs, large ears, and a slim body with a short, spotted coat.
Savannah Cat vs Maine Coon Size
Maine Coons are famous for their large size, with males ranging in weight from 13 to 18 pounds and females ranging between 8 to 12 pounds.
Their large stature and fluffy coat can hide excess weight, which can be dangerous for the cat.
It's important to take your Maine Coon to the vet regularly to make sure it's maintaining a healthy weight.
The long legs and body of the Savannah cat make it seem larger than they actually are.
Though very tall, Savannah cats are also quite slender and tend to range in weight between 7 and 15 pounds, similar to most domestic cat breeds.
Savannah Cat vs Maine Coon Shedding
Shedding is a common concern for anyone seeking a new cat.
With two undercoats and a long guard coat, you might expect the Maine Coon to shed heavily, but you'd only be partly right.
In comparison to most shorthair cats, including the Savannah cat, the Maine Coon does shed quite a bit. But it doesn't shed as heavily as most other longhair breeds, like the Persian.
In contrast, the Savannah cat is a moderate seasonal shedder, similar to other shorthair cats.
Savannah Cat vs Maine Coon Grooming
Because their coats are so different, grooming of the Savannah vs Maine Coon is also very different.
The Savannah cat's short, coarse coat is very low maintenance.
Only occasional brushing is needed, primarily to remove debris or aid shedding.
The Maine Coon's long coat can be prone to tangle if not taken care of.
They need to be brushed at least twice a week to keep their fur shiny and healthy, as well as to reduce shedding.
You'll also need to take care to remove anything stuck in the cat's fur.
Fortunately, the Maine Coon's sweet temperament makes it typically very easy to groom.
Maine Coon vs Savannah Cat Temperament
The Maine Coon has an affectionate personality, but doesn't demand attention.
Maine Coons enjoy spending time with their family, but tend to prefer hanging out alongside them over cuddling.
They don't mind being left alone for a work day, but will likely be a bit more affectionate when their owner returns.
Maine Coons are relaxed and mellow, but can be wary of strangers.
Savannah cats, however, have a personality that hints at their wild lineage.
They are very athletic and highly intelligent, and therefore require plenty of toys and other appropriate outlets for their attention.
Otherwise, owners may not appreciate the destructive ways their Savannah cat chooses to entertain itself.
Savannah cats are excellent jumpers and love to explore, so owners need to make sure their entire home is safe for their cat.
Nothing is too high for a Savannah cat.
When not playing, Savannah cats enjoy following their owners around their home.
Savannah cat vs Maine Coon food
Feeding a Savannah or Maine Coon cat is similar in that they both require frequent meals as kittens, and a good quality food.
However, Maine Coon owners are often advised to give their cats special food due to their size.
Maine Coon kittens can have special dietary requirements too.
After all, they start off life as larger babies and grow even more than their Savannah friends.
Savannah cats can thrive on a regular high quality cat food, but it should ideally be one that promotes their health as an active intelligent breed.
Savannah Cat and Maine Coon Health
Compared to cats from older breeds, Savannah cats are quite healthy.
Most health problems are a result of hybridization and occur in early generations, before the cat is technically considered purebred.
Savannah cat pregnancies can be dangerous in early generations because domestic cats and servals have different lengths of pregnancies.
This make miscarriages and stillbirths relatively common among Savannah cat pregnancies, and can lead to developmental issues that are fatal to newborn kittens.
Hybrid male sterility (HMS) is universal among male Savannah cats of the first two generations, and is common among males of the third generation.
Sterility doesn't have a negative impact on any other aspect of the cat's health, so it's only a problem if you'd like to breed your Savannah cat.
On the other hand, males with HMS are far cheaper than other Savannah cats, so if you'd be neutering your male anyway, adopting one with HMS can be a great option.
Hypertrophic cardiomyopathy (HCM) is the only known medical condition for Savannah cats that isn't due to their hybrid status.
HCM occurs when a cat has an enlarged heart, impeding function and potentially leading to heart failure.
Maine Coons have more health problems, largely due to the lack of genetic diversity in the breed.
HCM is also common among Maine Coons.
Hip dysplasia, which occurs when the hip joint does not properly form during gestation, is often found.
Spinal muscular atrophy (SMA) may also occur. SMA is characterized by the degeneration of neurons in the spinal cord, leading to difficulty moving the rear half of the body.
The breed may also be prone to develop cysts in the kidneys.
Savannah Cat vs Maine Coon Cat – Which Pet Is Best
That depends on you. Savannah cats are good pets for the right home, and so are Maine Coons. But their needs differ.
Are you prepared to deal with lots of shedding and grooming?
Do you prefer a low key cat to a playful explorer?
Are you able to manage a cat with long term health issues?
Additionally, Savannah cats are very expensive, even compared to other purebreds, so is a Savannah cat attainable with your budget?
And finally, Savannah cats are illegal in many places due to their wildcat DNA. Check your local laws before you commit to your kitten.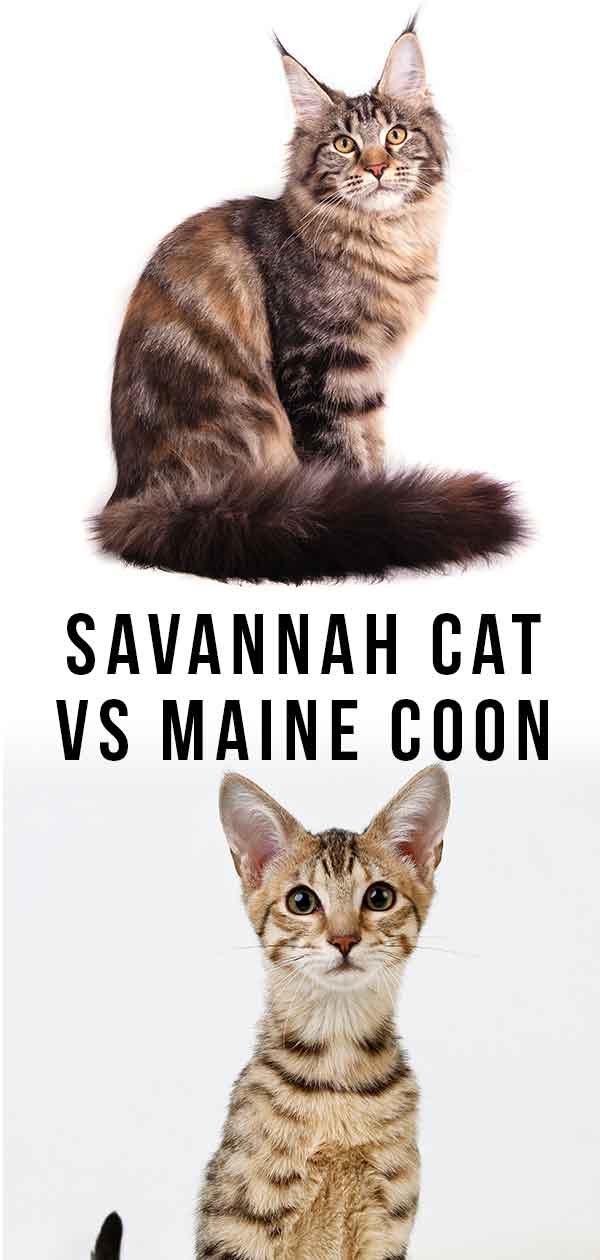 Sources & Further Reading
Boyd, L., et al. "Survival in Cats with Naturally Occurring Chronic Kidney Disease (2000–2002)." Journal of Veterinary Internal Medicine, 2008.
David, B. "Mechanisms Underlying Mammalian Hybrid Sterility in Two Feline Interspecies Models." Molecular Biology and Evolution, 2015.
Gelberg, H. "Purkinje fiber dysplasia (histiocytoid cardiomyopathy) with ventricular noncompaction in a savannah kitten." Veterinary Pathology, 2009.
Gundler, S., A. Tidholm, & J. Häggström. "Prevalence of myocardial hypertrophy in a population of asymptomatic Swedish Maine coon cats." Acta Veterinaria Scandinavica, 2008.
He, Q. et al. "Inherited Motor Neuron Disease in Domestic Cats: A Model of Spinal Muscular Atrophy." Pediatric Research, 2005.
Keller, G. et al. "Hip Dysplasia: A Feline Population Study." Veterinary Radiology & Ultrasound, 2005.