The best toys for Ragdoll cats are entertaining, appeal to their natural instincts, and stay safe even when under attack by their sharp teeth and claws!
Owners of these unique creatures know that their feline's intelligence and activity levels require toys that will keep their brains and bodies busy.
But, there's a lot of choice out there. Sorting high quality picks from cheap, easily broken toys can be tough.
So, we've done the work for you. If you're looking for the best toys for Ragdoll cats, you've come to the right place!
All of these products were carefully and independently selected by the Happy Cat Site team. If you decide to make a purchase from one of the links marked by an asterisk, we may earn a small commission on that sale. This is at no extra cost to you.
Ragdoll Cat Toys
Ragdolls are a special cat breed.
This popular pedigree kitty has a beauty all its own, plus brains and personality in abundance!
If you've ever held a Ragdoll, you know where the name comes from: these blue-eyed moggies tend to go delightfully limp when cuddled!
What are the best toys for Ragdoll cats?
The best toys for Ragdoll cats appeal to their natural hunting instincts.
They are also best used near to the ground as these kitties aren't keen climbers.
With these Ragdoll characteristics in mind, we're going to review the best toys for Ragdolls in an array of categories, and within a variety of price ranges!
Want to know more about this wonderful kitty? Be sure to check out our complete breed review.
Best toys for Ragdoll cats – chasing games
Unusually among cats, Ragdolls are often reluctant climbers and don't tend to seek out high places.
Remote control toys are one way to provide a plethora of happy play options, down at ground level.
They allow you to interact with your kitty, provide a sophisticated play alternative, and require kitty to get a bit of healthy exercise as he plays.
Alternatively try engaging your Ragdoll's urge to hunt with one of these fun toys.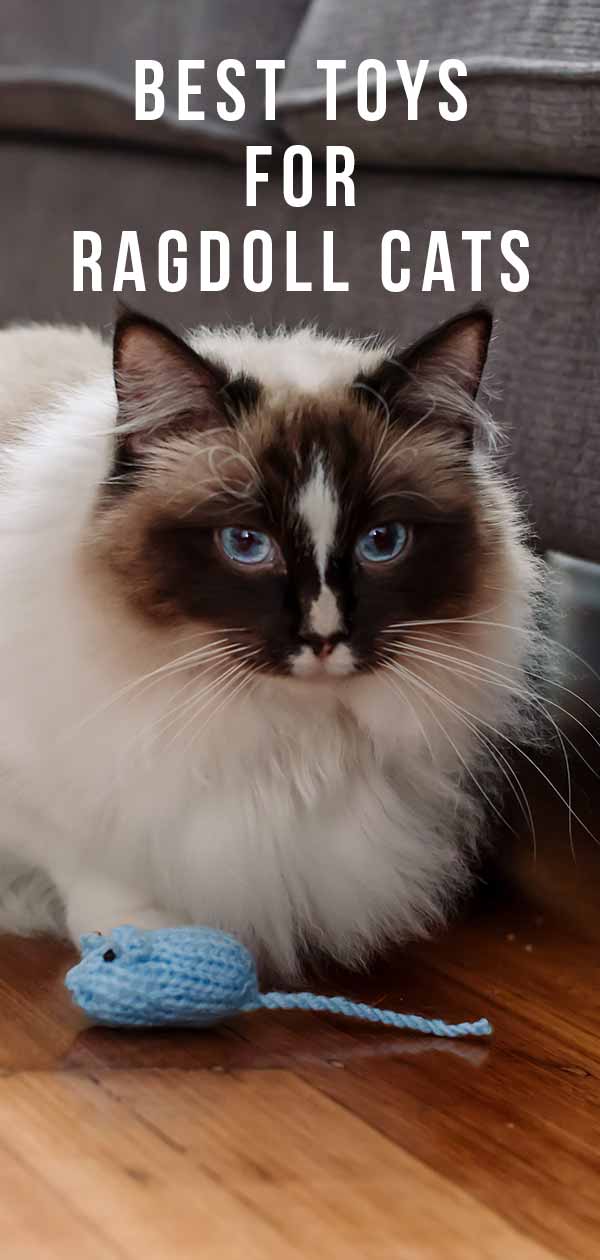 Doskocil Looney Loops
Ever watched on bemused as your Ragdoll swiped a plastic bottle lid off the counter and away under the fridge?
You'll know that anything which skitters across the floor is cat game gold.
These loop toys* are simpli
city itself, but they're carefully designed to spring out of your cats reach and bounce across hard floors.
This will keep the pursuit going for longer and longer!
Spot Colorful Springs
Another deceptively simple toy which gives your Ragdoll the chance to use all the skills and behaviors she'd employ if she were really catching prey.
These eye-catching springs* get great reviews, and best of all they're cheap to replace.
Best toys for Ragdoll cats – interactive category
Interactive cat toys are a great alternative for kitties with a taste for collaborative play, and owners with a taste for economy!
Here some of the best interactive toys for Ragdolls:
Easyology Amazing Roller Cat Toy
This amazing, three level cat toy* will provide hours of entertainment for kitty, but it's easy enough for a child to assemble!
The heavy-duty black tower track with multicolored balls is high quality plastic material and has a money back guarantee.
The three balls can be removed for individual play, or used within the tower leading kitty to believe she is chasing lightning-quick prey.
The sturdy toy can be used unsupervised as there are no tiny parts to present a chocking hazard.
Yofun 3 in 1 Interactive Cat Toy
This battery operated cat toy has all the bells and whistles*: a laser light, a food dispenser, 360 degree rotational spin, and colorful spinning floppy "ears" atop an upright wand.
It is safe for use when you are not in the room as the toy automatically shuts off after 10 minutes.
It is made of non-toxic and environmentally friendly plastic material, making it safe for people and pets.
The 5 milliwatt light is considered safe by the U.S. Food and Drug Administration.
SmartyKat Hot Pursuit Cat Toy
Do you have a smarty cat who loves chasing mice?
This ingenious and simple cat toy* is sure to delight your little one.
Beneath a circular fabric cover a rotating wand spins about, with a bushy tail on the end that peeps out every so often to tantalize your cat.
Moving lights and two speeds allow you to customize the toy for maximum fun.
Replacement wands are available and the toy comes with a guarantee. The toy does need to be shut off manually.
For more on all the best interactive cat toys, check out our article here.
Best toys for Ragdoll cats who live indoors
These bird and mouse-like toys will give kitty a sense of being outside! Here some of the best toys for indoor cats:
YOFUN Interactive Cat Toy 360 Degree Self Rotating Ball
Your cat will find this rolling ball* fascinating!
The battery operated ball spins and meanders on a path of its own, and veers off in a different direction when it encounters a wall, chair, etc.
The ball has three packs of batteries. Owners can manually turn it on and off.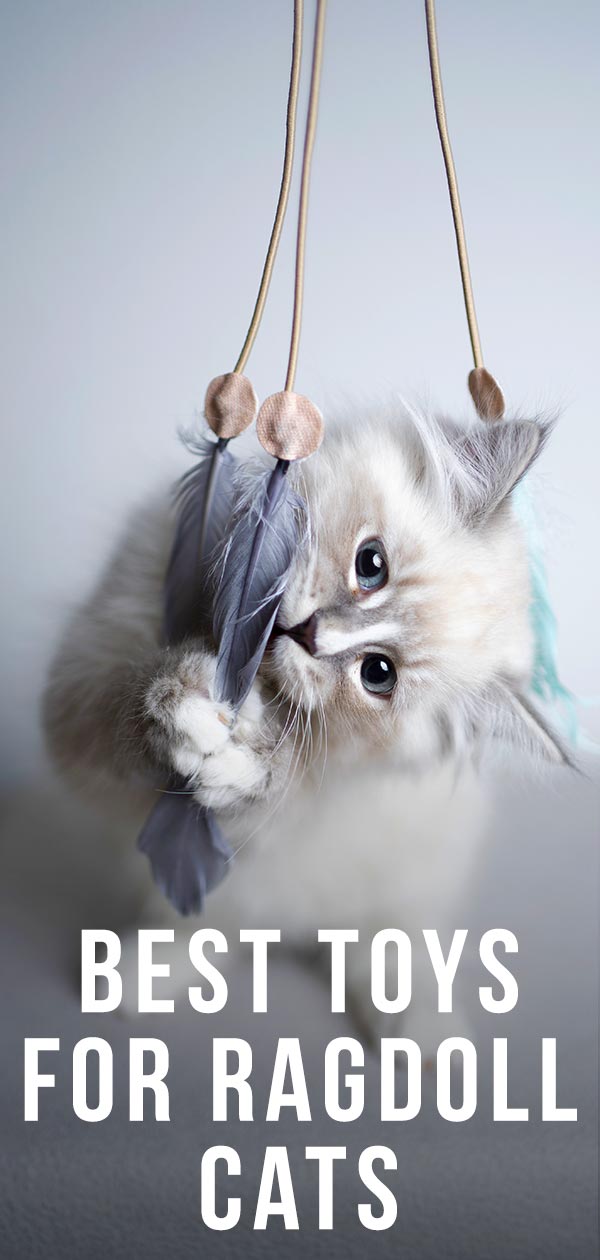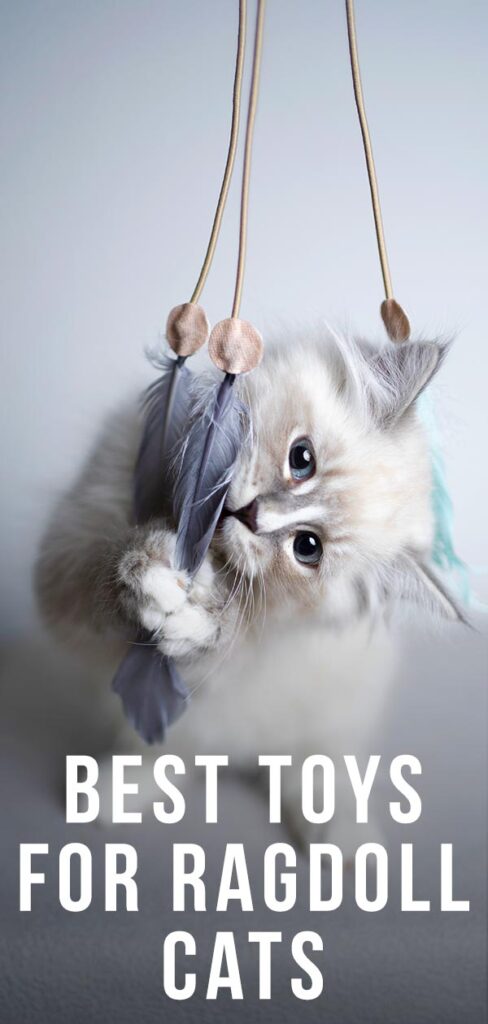 Pet Fit For Life Multi Feather Teaser
If the last wand was a winner with your cat, this one takes it a step further with interchangeable dangly bits*.
The strong, resilient wand has a bundle of feathers on the end, and a flick of the wrist mimics a bird jumping about.
MMP Pet Puzzle Toy
Outdoor cats find problems to solve at every turn, so that all of life is a game.
Choosing puzzle toys that take patience and concentration to win a prize is a great way to recreate this for indoor cats.
Intelligent Ragdoll cats especially love puzzle toys to pit their wits against.
This wooden puzzle toy*is great for Ragdolls.
Best Toys for Ragdoll Cats
We hope you enjoyed our guide to the best toys for Ragdoll cats.
Do you have a Ragdoll cat toy to recommend?
Readers Also Liked
Affiliate link disclosure: Links in this article marked with an * are affiliate links, and we may receive a small commission if you purchase these products. However, we selected them for inclusion independently, and all of the views expressed in this article are our own.