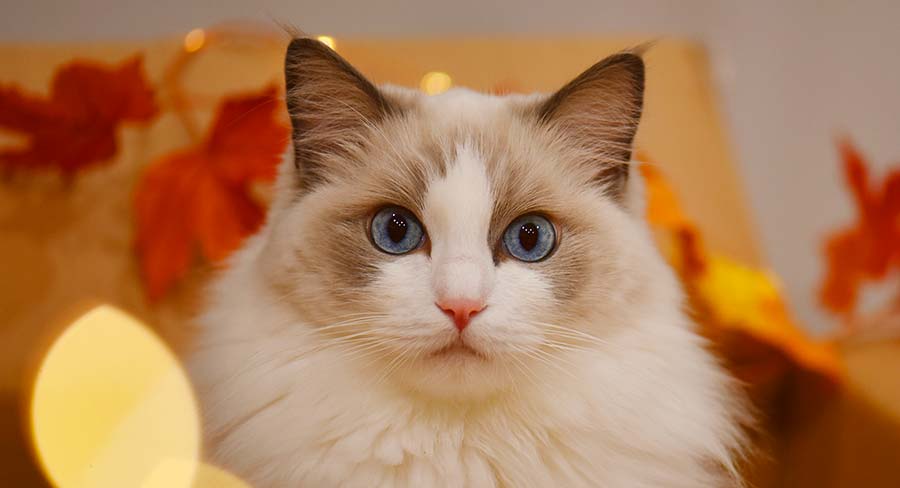 A blue bicolor Ragdoll will have white and blue fur across their body. They will usually have white on their faces, paws and legs, chest and stomach. Blue fur on cats might not be the color blue as you'd imagine it! Rather than a sky blue, it is more of a silvery grey, very light in color. There won't be a huge contrast between the blue and white coloring on this cat. Like any other Ragdoll, this variety will have blue eyes and fluffy coats. They tend to be friendly, playful, and intelligent cats that get along well with children and other pets.
Contents
What is a Blue Bicolor Ragdoll
A Ragdoll is a cat breed that emerged in the 1960s. So, compared to some, this is a relatively modern breed. The name "Ragdoll" comes from the cat's tendency to go limp in its owner's arms when picked up, like a child's doll.
"Blue bicolor" simply refers to the coloring of the Ragdoll cat. It's an accepted color according to the Radgoll's breed standard, so blue bicolor Ragdolls can be entered into shows. Bicolor cats have two colors on their bodies, one of which is white. The white markings usually sit in very specific places on the cat's body. In this instance, the other fur color is blue. Rather than blue as we might know it, this shade is more of a muted, silvery grey. In fact, without knowing official terms for cat coloring, you might be surprised to see just how grey this "blue" shade is!
Other than their coloring, a blue bicolor Ragdoll will be the same as any other cat in the breed. This includes their general appearance and temperament.
What Do Blue Bicolor Ragdolls Look Like?
In their general appearance, a blue bicolor will be the same as any other Ragdoll. They are large cats with well muscled bodies. They have modified wedge shaped heads and big, blue eyes. These cats have medium to long coats, although the exact length can vary from one individual in the breed to the next. To the touch, their fur will be silky smooth, which is one of the biggest appeals of this breed.
A Ragdoll's coloring won't be fully developed until around 3 years old. In fact, when they are kittens, most Ragdolls are completely white. So, you might not notice any real differences for a few weeks. But, when fully developed, a blue bicolor Ragdoll will have blue coloring on its head, ears, body, and tail. They will have an inverted V shape of white on their face, as well as white on their chin, chest, stomach, ruff, feet and legs! Their paw pads will usually be pink, but may have some other coloring.
Are Blue Bicolor Ragdolls Friendly?
Blue bicolor Ragdolls will have the same overall temperament as any other cat in the breed, even though studies have shown people often believe light colored cats are more friendly! Personality in the Ragdoll breed will naturally vary from one cat to the next. But there are a few general traits you can expect, no matter what their coloring.
Ragdolls are friendly and confident cats, especially when well socialized as a kitten. They will be generally relaxed and happy around the house. Although they won't be as clingy as some breeds, they will enjoy being around their owners, as well as receiving some affection. They tend to be very relaxed and patient cats, which make them a great choice for households with young children or other pets. But, they won't necessarily be the right breed for you if you're seeking a cat that will want to spend all hours of the day playing, or if you want a chatty cat.
This friendly, intelligent breed is often also compared to dogs! Since many owners have succeeded in teaching their Ragdolls little tricks.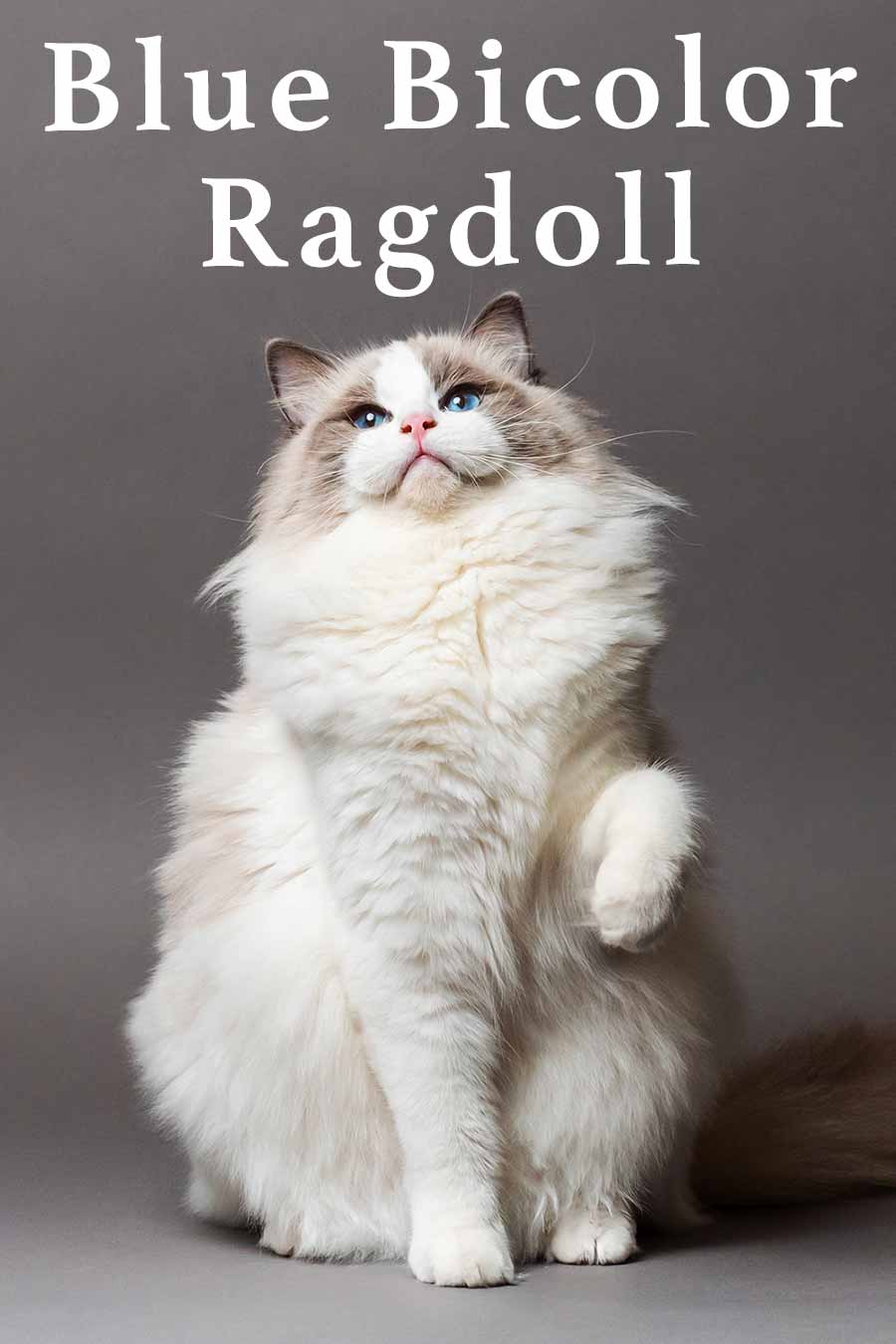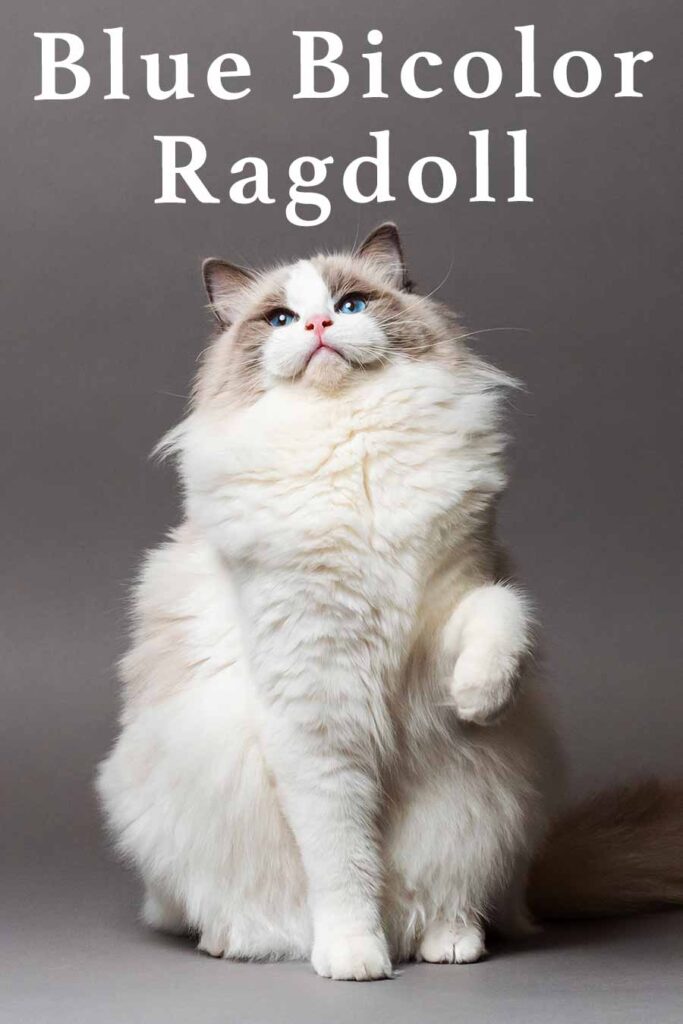 Blue Bicolor Ragdoll Kittens
When Ragdoll kittens are born, they will be completely white. But, their coloring will start to show before 8 weeks – when they will be starting to go to their new homes. So, you will know if you have a blue bicolor cat before bringing them home. Ragdolls are quite popular, due to their appearance and their lovely temperament. So, prices can be quite high, and you may need to go on a waiting list for a reputable breeder.
Good breeders will screen for health issues, and will only breed from unaffected cats.
Prices for blue bicolor Ragdoll kittens will vary depending on factors like location, demand, and parentage. As a general idea, kittens will cost at least $500, often more.
Other Ragdoll Colors and Patterns
Blue isn't the only color that can appear on a bicolor Ragdoll cat. In fact, the Ragdoll breed standard states that all pointed colors are possible on this breed. If you love blue coloring, here are some other variations in the Ragdoll breed that you might like:
Blue Bicolor Ragdoll
The blue bicolor Ragdoll cat is a popular version of a much loved breed. These cats suit family homes just as much as homes with a single owner. As long as they receive enough mental stimulation and company, they will be a happy and friendly addition to your house.