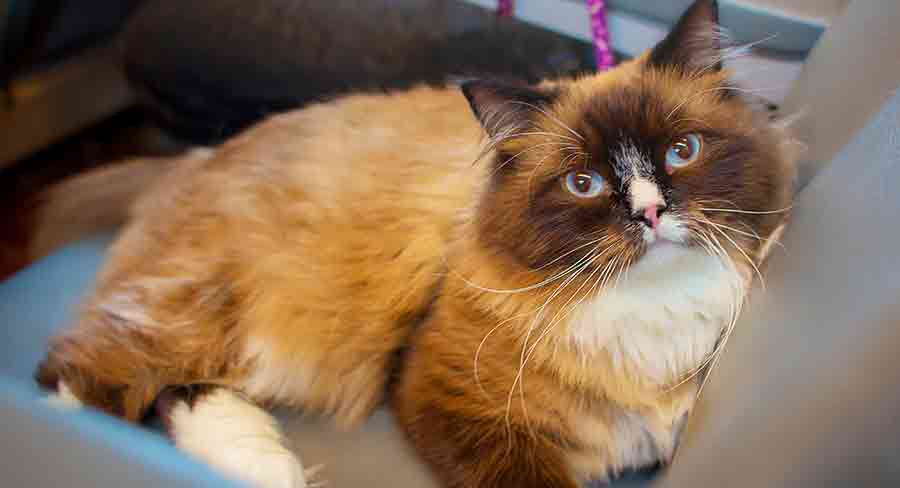 The Mink Ragdoll is a specific bloodline, or strain, that stretches back to the original cats that created the breed. The term "mink" comes from the texture of this cat's fur. Their fur feels even softer and smoother than a regular Radgoll's. Mink Ragdoll fur also tends to be more vibrant in color than a regular Ragdoll's. And their eyes will be aqua rather than blue.
Contents
Mink vs Regular Ragdoll Cat
A Mink Ragdoll cat descends from some of the oldest, original Ragdoll cat bloodlines. So, a Mink Ragdoll is still a pure Ragdoll cat and can still be TICA registered. Minks are not a separate breed. But, that doesn't mean that every Ragdoll cat is a Mink Ragdoll.
Within the breed there are two different bloodlines, or types, that breeders tend to focus on. Alongside Mink, you have the traditional Ragdoll bloodline, which is quite a lot more common than the Mink variety. The main differences between Mink and Traditional Ragdolls are in fur type and coloring. Their temperament, average size, and care needs will be the same as any other Ragdoll cat. So, if you think the Ragdoll breed as a whole suits your family, a Mink Ragdoll could too.
How The Appearance Differs
Since the main way a Mink Ragdoll differs from the traditional bloodlines is in appearance, what can you expect a Mink Ragdoll to look like? The Mink mainly differs in its color and the texture of its fur. Generally, in size and overall appearance, it will be similar to the traditional Ragdoll. So, many people struggle to tell the two apart! Especially if they're not comparing two cats from different bloodlines next to one another.
As a general rule, Mink Ragdolls have much softer fur than traditional Ragdolls. The color of their fur also tends to be much more intense, like someone has turned the contrast right up on a photo of a normal Ragdoll cat! Aside from this, their eyes will also be a giveaway. Traditional Ragdolls tend to have blue eyes, but a Mink Ragdoll cat's eyes will have aqua eyes with more of a green hue than just blue.
Mink Ragdolls can come in the same standard colors as traditionals. But, as we've mentioned, the colors may appear more vibrant. Some of the most popular shades are blue, seal, and chocolate. But, any Ragdoll colors are possible.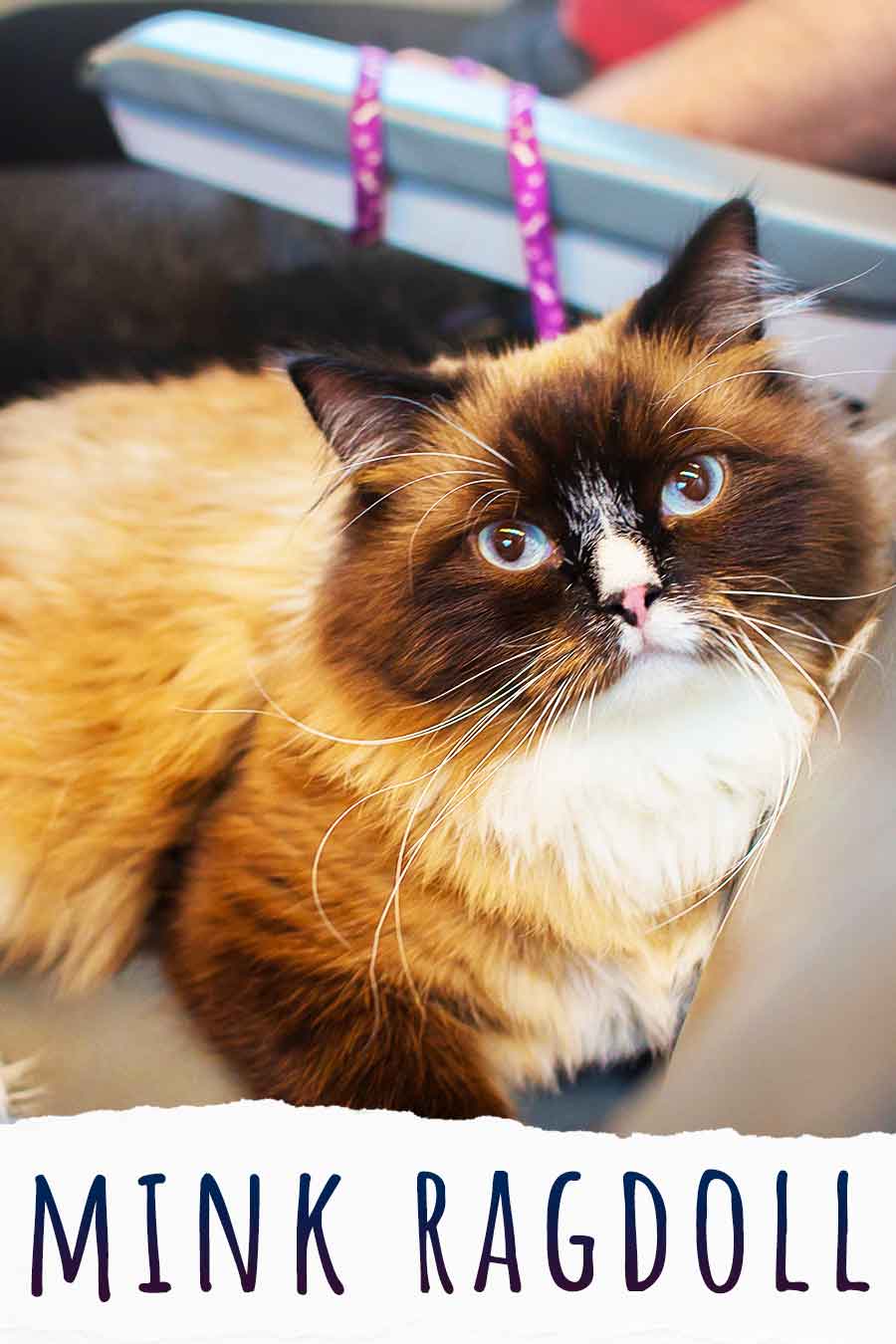 Mink Ragdoll Temperament
A Mink Ragdoll will have the same personality type as any other Ragdoll cat. But, whilst we can give you an idea of what this is like, it's important to remember that all cats are individuals, and some may vary from this!
Ragdoll cats are friendly, loving, and relaxed. They will enjoy spending time with their family, and are known to be affectionate, particularly when socialized well as kittens. Ragdolls are known for their calm temperaments, so if you're looking for a cat breed that you can relax with, this could be a great choice. They won't suit homes where they are left alone for long periods, as they love company!
Generally, Ragdolls can get along well with other pets and with children. But, it's important to teach any children in your household how to interact with cats properly. This will help you to avoid any misunderstandings or accidental injuries. Ragdolls are tolerant cats, but it's still important that young kids know the right way to play with these trusting kitties.
Are They Hypoallergenic?
Studies have shown that no cat breed is truly hypoallergenic. The allergens that cause allergy symptoms can be found in your cat's dander and saliva. So, when they groom themselves, this will transfer to their fur in saliva. And, that will spread throughout your house whenever your cat sheds.
Ragdoll cats don't shed as much as you might expect, considering that they are a long haired breed. But, they will still shed a little as it gets warmer in the year. And, since they are long-haired, you may need to groom them to eliminate any knots and tangles from their fur. This means getting up and close with the allergens that can trigger allergy symptoms. If you suffer from cat allergies, a Mink Ragdoll might not be right for you.
Mink Ragdoll Kittens
As kittens, traditional Ragdoll cats will be white all over. In contrast, Mink kittens will have color in their fur. So, breeders will be able to see when a litter has Minks. This is why some breeders will charge more – because they will know at a glance which kittens are Minks. But, it's important that you choose a reputable breeder who prioritises health over all else. Make sure you go in person to see where the kittens are kept, and to see what the temperament of the mother cat is like. Ask plenty of questions!
Are Mink Ragdoll Cats Rare?
Many breeders choose to avoid breeding Mink varieties. So, it may be hard to come across these cats. But, at the same time, you should be wary of any breeders marketing their kittens as "rare", "special", or "uncommon". Especially if they are using these terms to boost the price of their Mink kittens. This could be a sign that you're speaking to a backyard breeder that is putting profits above anything else, including your cat's health, lineage, and temperament.
Mink Ragdoll cats can be harder to breed, as even breeding two Mink adults together can product traditional Ragdolls. But, it's still important to put finding a reputable breeder at the top of your list. Even if they specialize in Mink Ragdolls, make sure they prioritise health and proper care over all else.
Are They Good Pets?
The Mink Ragdoll cat will suit the same households as a traditional type. The main differences between these two bloodlines lies in their coloring and the texture of their fur. They will have the same temperament and care needs.
Do you have a Mink Ragdoll at home? Or do you prefer the traditional Ragdoll coloring? We would love to hear your experiences with this breed in the comments!