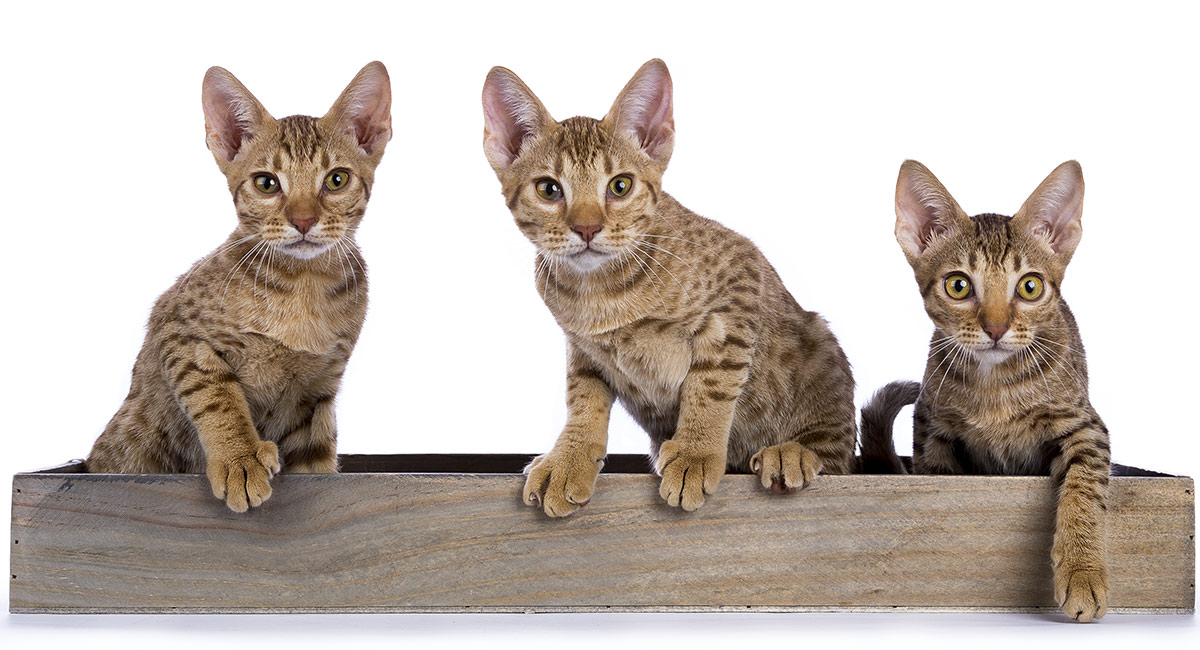 The Ocicat has the natural confident personality of the Siamese cat and the Abyssinian's curiosity, full-throttle love of life and affinity for heights. The influence of the American Shorthair has given this cat a naturally powerful, athletic, medium-to-large cat body too. If you love watching nature shows that feature beautiful, graceful wild cats, you will just love the Ocicat cat breed! It is all wild good looks combined with domestic cuddliness. A stunningly attractive cat that never fails to turn heads and generate questions from eager onlookers.
Contents
What is an Ocicat?
The Ocicat is a registered breed that arose from cross-breeding the Abyssinian, Siamese and later the American Shorthair cat. A product of a breeder's attempts to produce Siamese kittens with Abyssinian color points (coloration on ears, paws, tail, face).
While the breeder eventually achieved her original goal, along the way a lovely little ivory colored kitten with gold points also appeared. The breeder's daughter promptly dubbed it an "Ocicat" after the wild cat with similar coloration, the Ocelot. Future breeding attempts produced more Ocicat kittens, and CFA (Cat Fancier Association) registration soon followed.
In no time at all, the Ocicat developed its own international fan base and became an acknowledged and popular registered cat breed in its own right. While the Ocicat is still considered one of the lesser known cat breeds, among cat breeds Ocicat (nickname "Oci") still regularly ranks in the top 25 most popular cats in the United States, and is currently listed as #11 on that same list!
Ocicat Colors
A purebred Ocicat will always have its trademark dark oval spots and a short haired coat. However, beyond these color and coat staples, Ocicat colors can range from a lavender Ocicat to a silver Ocicat and many more equally exotic coat colors as noted here. As well, every so often an Ocicat tabby cat coloration will appear in a litter of Ocicat kittens.
It is thought this comes from the American Shorthair influence in the lineage itself. However, the tabby color is not permitted to compete in categories in competitions. In the same way, the CFA notes that Ocicats may at times display stripes, ticks, points or solid colors.
Keeping It Official
Today, the CFA recognizes 12 Ocicat competition-eligible colors in total: six standard colors and six in silver-toned versions of those same colors. Standard colors include:
Tawny.
Chocolate.
Cinnamon.
Blue.
Lavender.
Fawn
Silver tones include:
Silver.
Chocolate silver.
Cinnamon silver.
Blue silver.
Lavender silver.
Fawn silver.
Is the Ocicat Hypoallergenic?
If you are wondering, "are Ocicats hypoallergenic?" it is important to know that research studies to date have concluded there is no such thing as a truly hypoallergenic cat. This is because the allergic reaction cats cause in some people arises from a protein allergen contained in cat dander, and all cats produce at least some minimal amount of cat dander naturally.
However, there are cat breeds known to produce less of a certain protein allergen called "Fel d 1." The Ocicat is one of these breeds. For this reason, you can technically consider the Ocicat hypoallergenic, or at least as hypoallergenic as any cat can be!
Another plus in the Ocicat's favor from an allergy standpoint is its short, tight, smooth haired coat. Ocicats do not shed much naturally and their coat is easy to maintain. A weekly brushing should suffice during much of the year. Some Ocicat breeders also like to rub a soft chamois cloth over their cat's coat after brushing. This literally "polishes" the Ocicat's coat, giving it a magnificent rippling "wild cat" gleam.
How Big Do They Grow?
Ocicats are so graceful and athletic in their appearance that, in spite of being considered a medium to large cat breed, many people are shocked the first time they actually pick up an Ocicat. The truth is, Ocicat weight comes from what is under that lithe and lovely coat.
Strong and sturdy dense bone structure plus a well-developed musculature worthy of any award-winning athlete. In terms of a weight range, adult Ocicat females typically weigh in at between six and nine pounds. Adult Ocicat males, on the other hand, may weigh 15 pounds or more.
Do They Have Good Pet Personalities?
Outgoing. Smart. Playful. Confident. Energetic. Devoted. Loving. Adaptable. Sociable. Affectionate. These are some of the most common terms used to describe the Ocicat personality. Ocicats are reliably fabulous family cats and love to be involved in an active family's home life. They are especially good pet cats for homes that include young children and other animals.
Ocicats are also surprisingly willing to learn and abide by household rules (such as not jumping up on countertops). If you've ever dreamed of playing fetch with your cat, walking your cat on a leash, or teaching your cat to solve puzzles and open doors, the Ocicat is just the right pet cat for you!
While the Ocicat in general is very confident and adaptable, the Ocicat temperament is such that these cats may fail to thrive if left alone frequently. If you have your heart set on having an Ocicat but you know that work or life will take you out of the home a lot, the next best option is to get your Ocicat a companion (either a cat or a dog is fine so long as the two get along well).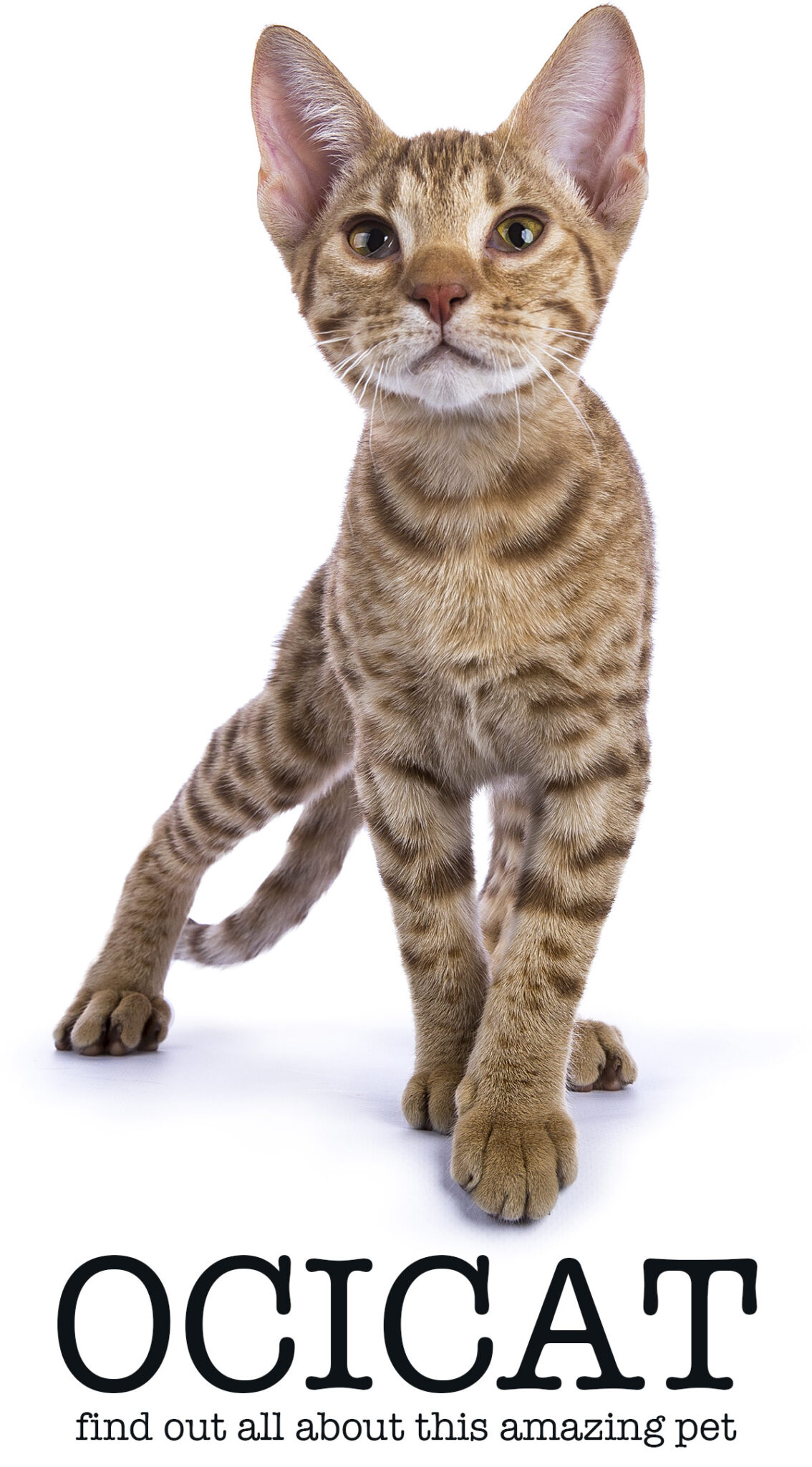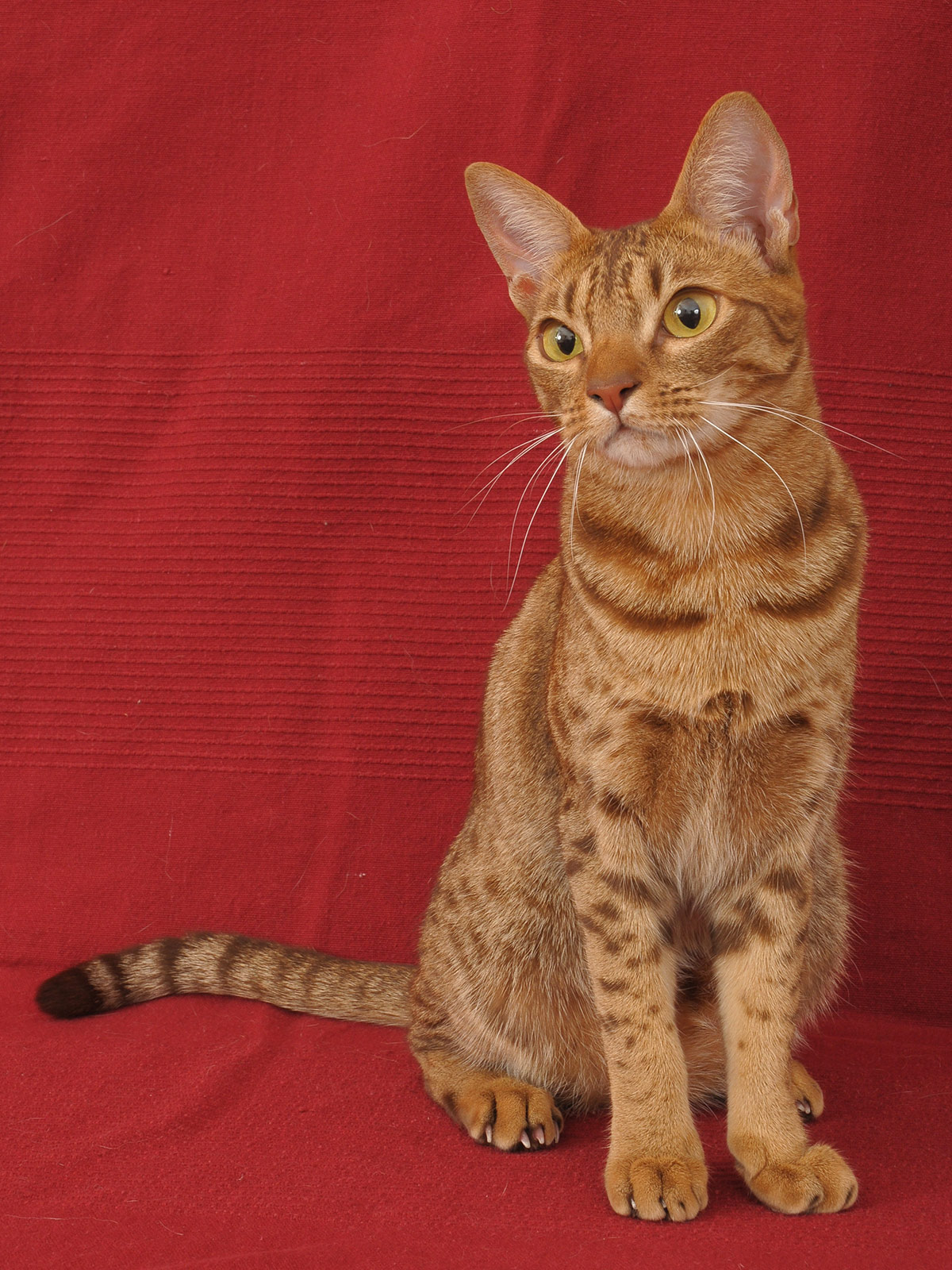 Ocicat Health
There are several breed-specific health issues that Ocicat kittens can inherit from the breed's Abyssinian, Siamese and American Shorthair lineage. Because there is no way to know for certain how this genetic mix may present in any single Ocicat kitten, the only way to detect whether a kitten is a carrier for or may develop a genetic health issue is to do genetic testing.
Health Testing Parents and Kittens
Ask the breeder or adoption/rescue organization if genetic testing has been done on the parents or on the kitten. If the answer is yes for either, ask to see the results. If the answer is no, ask if you can do genetic testing before committing to purchase or adopt the kitten. Your veterinarian can run tests to look for known health concerns across the Ocicat lineage.
For joint and disc-related health issues, it may not always be possible to detect these in a kitten so early in life. Here, ask your veterinarian if/when X-ray tests can be done to verify hip, knee, elbow and overall joint health in your kitten. As a safeguard, ask the breeder to verify (with written proof) that both parents have been rated at least "fair" (ideally, "good" or "excellent") on joint health.
While the following breed-specific health list doesn't represent the full spectrum of all possible health issues and concerns your Ocicat kitten may face in life, these are the major known genetic (inherited) health issues that may possibly be present based on the Ocicat's triple-breed lineage.
Abyssinian cat breed genetic health issues
Early onset of periodontal disease.
Excessive neurological-based grooming (Hyperesthesia syndrome).
Kneecap dislocation (Patellar luxation).
Degenerative eye disease (Progressive retinal atrophy).
Hemolytic (red blood cell-related) anemia (Pyruvate kinase deficiency, or PKD).
Kidney failure (Renal amyloidosis).
Siamese cat breed genetic health issues
Congenital defects of the heart (aortic stenosis, cardiomyopathy, et al).
Asthma.
Respiratory illness / bronchial disease.
Liver failure (Hepatic amyloidosis).
Upper eyelid defects (agenesis – failure to develop in the womb).
Feline OCD (psychogenic alopecia).
Oversensitivity of the skin (feline hyperesthesia syndrome).
Neurological ear imbalance (vestibular disease).
American Shorthair cat breed genetic health issues
Enlarged heart (Hypertrophic cardiomyopathy).
Heart murmurs.
Hip dysplasia.
Obesity.
Real World Health
Beware of any breeder who states that their Ocicat line is free from all genetic diseases and all health issues in general. This simply isn't possible, no matter how clean a breeder's lineage may be. All cats have some health issues, just like all people have some health issues. There is one other critical point to keep in mind when purchasing or adopting an Ocicat.
For general purposes, hybrid cat breeds such as the Ocicat have access to a wider and more diverse gene pool than do purebred cat breeds. This can actually help lessen the risk of certain inherited health issues for these hybrid cats. So don't let yourself become overwhelmed when reading through this list of possible health issues.
Remember, this is just for your knowledge so you can select an Ocicat kitten who will have the best possible chance of a full life with you. With a little help from a reputable breeder and/or rescue or adoption organization and your family veterinarian, you can look forward to a long, happy, healthy life together with your new Ocicat companion!
Are They Long Lived?
Happily, the pet Ocicat lifespan ranges from 12 to 18 years, with an average being around 15 years. Your Ocicat's diet, activity level, enrichment options and overall lifestyle can greatly influence the Ocicat lifespan.
Narrowing Down Breeders
For most people, choosing between Ocicat breeders boils down to one part research and one part gut intuition. Of course, depending on where you are located, you may have fewer or greater numbers of options when selecting a breeder. For areas where there are no Ocicat breeders locally, it is also possible to work with an out of town breeder. This is becoming more common today, especially with breeds like the Ocicat that fewer breeders work with. Once you have a short list of Ocicat breeders, the following steps will help you decide which breeders to talk with further:
Research online to see what others say about the breeder.
Give a call to local veterinarians and pet stores to see if they are familiar with that breeder.
Contact local/national cat organizations and ask if they have any information on that breeder.
Carefully review the information on the breeder's website, including their policies for releasing a kitten to a new owner and what is included with each purchase.
Ask that breeder for referrals to past clients you can speak with.
Visit the breeder's facility to make sure it is clean and professional.
By working step by step, you can narrow down your choices to the top two or three breeders. Your advance research now will prepare you to move quickly when the next litter of Ocicat kittens becomes available through your first choice breeder.
Ocicat Cost
The Ocicat price you pay will vary quite a bit based on whether you decide to purchase your kitten from Ocicat breeders or pursue Ocicat adoption or Ocicat rescue options instead. If you decide to purchase your kitten from a breeder, these are some of the many variables that may cause costs of purchasing a kitten to be higher with one breeder or another:
Breeder reputation.
Breeder expenses for a given litter.
Kitten's parents (especially if one or both is a major competition winner).
Coat coloration.
Demand for Ocicat kittens in your area.
Included extras (vaccinations, spay/neutering, de-worming, health guarantee, et al).
Kitten gender, coloration and age.
It is always a good idea to research Ocicat cost trends in your local area while you are searching for an Ocicat kitten to purchase.
In general, Ocicat cat price can range anywhere from $300 to $800 or more. Kittens on the lower end of the price spectrum may be runts, tabbies, ineligible for showing for another reason or simply undesirable for further breeding.
Ocicat Kittens
Ocicat kittens are reliably cute. For this reason, many cat lovers find that actually picking out one kitten from the litter is the hardest part of the entire process! "Cuteness" is also the main reason you don't want to work with any breeder that doesn't offer (at a minimum) each of the following:
A six to 12-month initial health guarantee.
Proof of vaccinations and de-worming.
An option to return the kitten if things do not work out.
A facility tour to ensure the breeder's operation is clean and professional.
Unwillingness to release any kitten until 12 to 14 weeks of age to ensure proper early socialization and full weaning.
The chance to meet the kitten's mom and dad and spend some time with each.
The option to have your own veterinarian examine the kitten AND do genetic testing before you commit to the purchase.
The invitation to call/email if you have questions after you bring your new kitten home.
Making Your Choice
Not all breeders will give you a choice of kittens. some will feel they are best placed to make the match. If they do however, feline veterinarians offer some additional tips to increase your chances of picking out the friendliest, healthiest Ocicat kitten:
Look for a kitten that exhibits no fear and approaches you with curiosity and interest.
Choose a kitten that is playful and energetic and wants to engage with you in floor play.
Pick up the kitten – squirming is fine, but hissing or nipping is not.
Check the kitten's eyes, ears, teeth, privates, paws and skin/coat and note if you see any areas of concern such as watery eyes, ear mites, sneezing, discharge, bare skin, et al.
If you have kids, bring your kids along and see how the kitten interacts with them.
While it might be tempting to just succumb to a kitten's looks or cuteness, you are making a commitment to your new Ocicat kitten that could represent the next decade or two of your life! Taking the time to really get to know a kitten both in personality and health history will help ensure you know what you are committing to and are as prepared as you possibly can be to care for your new kitten.
What About Rescue?
For Ocicats that were originally purchased through a breeder, it is common for the breeder to agree to take back the kitten if the new home situation doesn't work out. However, every so often, a breeder-born Ocicat cat or kitten will come to a rescue organization.