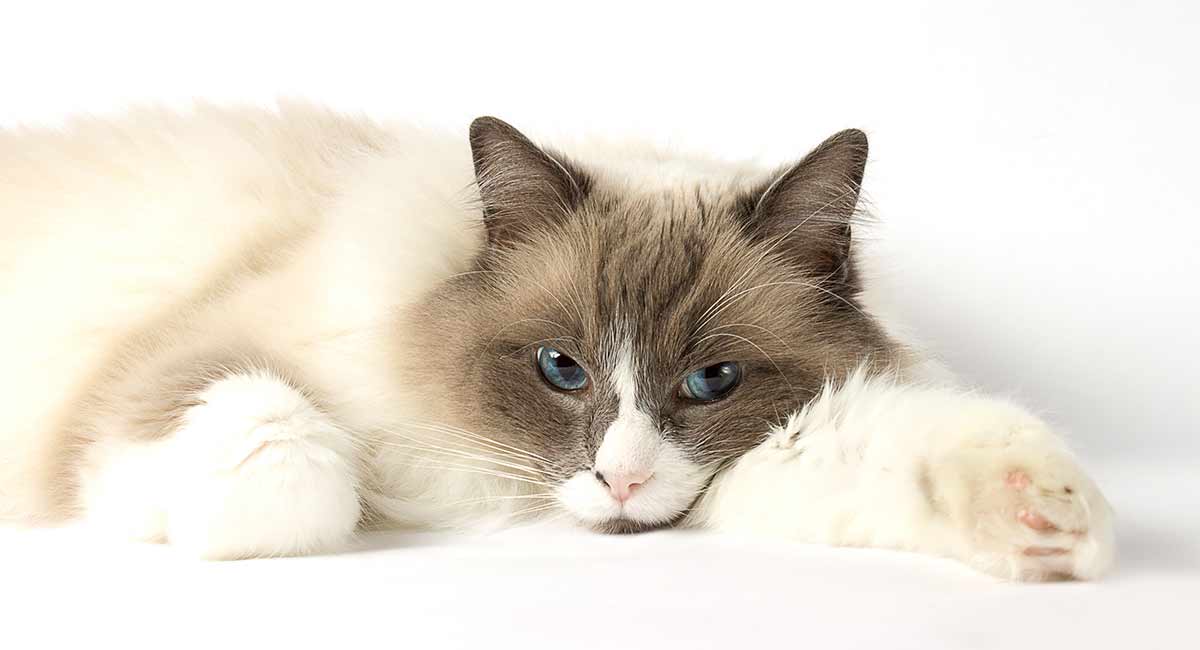 The loveable Ragdoll cat temperament is just one many reasons why this breed holds second place on the list of the most popular cats in America according to the Cat Fanciers' Association.
Even more amazing is that it only took this cat a handful of short decades since being registered to get there!
Truly, the Ragdoll cat is as beautiful on the inside as she is on the outside.
Perhaps it is fitting that this breed's origins remain enticingly mysterious – in some ways nearly as much legend as it is fact.
What is the typical Ragdoll cat temperament?
Ragdoll cats are commonly thought to be very loving. Unlike most cats, they are happy to be picked up and carried around in your arms. They prefer to stay at ground level, and are expert snugglers with their owners. Enjoying following you around the house, just waiting for a fuss.
In this article, we get up close and personal with the Ragdoll cat temperament, personality, traits and overall awesome cat-titude.
Our goal is to help you decide whether the Ragdoll cat is the right feline companion to add to your family!
A brief history of the Ragdoll cat
Many Ragdoll cat enthusiasts don't realize what an unusual history this cat breed really has.
Let's take a look! First, we will do a quick rewind back to the 1960s in Riverside, California.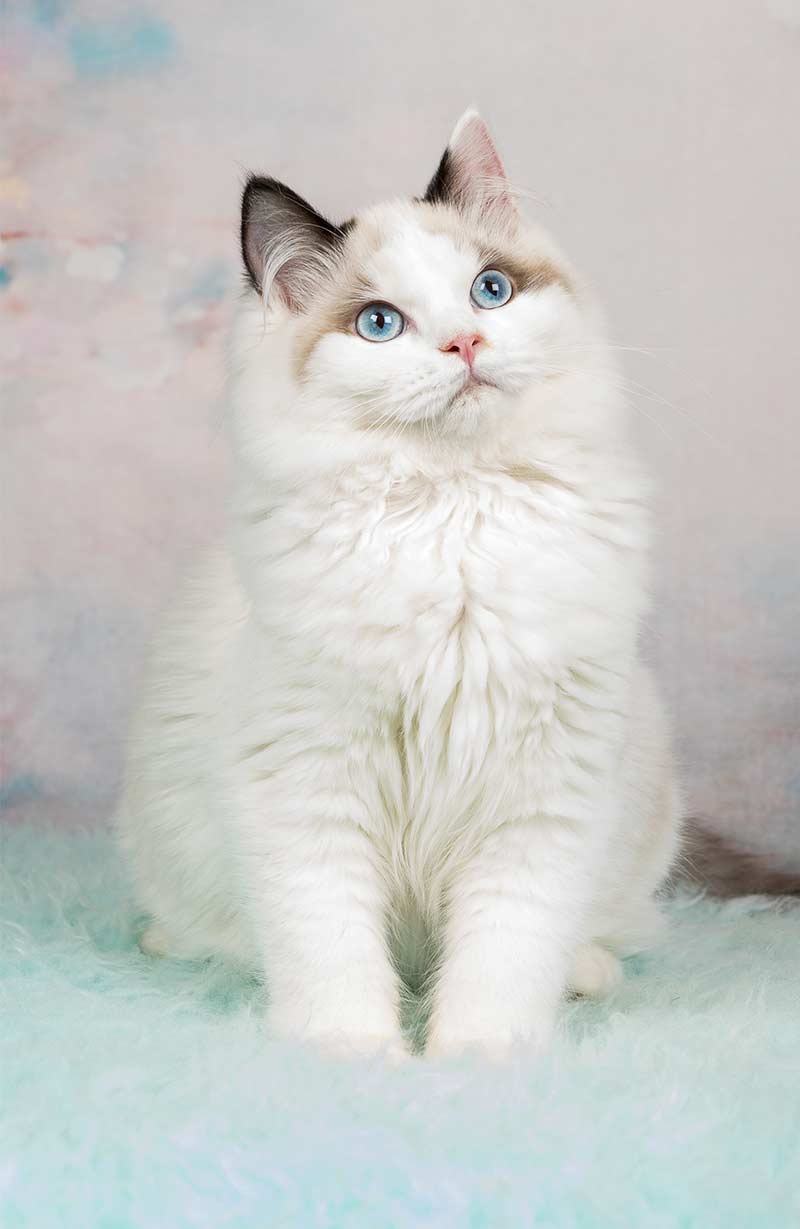 A semi-feral stray cat with an erratic temperament named Josephine was in the habit of wandering the streets and periodically breeding with a local pet male cat.
One day, poor Josephine was hit by a car and was taken to a local animal clinic for treatment.
When Josephine was released from treatment, her temperament had noticeably changed.
From that point forward, her kittens also picked up the new calmness and docility of their feline mom.
New beginnings
Ann Baker, an accomplished breeder of Persian cats, took note of both the unusual looks and laid-back temperament of Josephine's subsequent litters of kittens.
She used these kittens to begin her own breeding program, calling the new kittens "Ragdolls."
Ms. Baker registered the new cat breed and then launched the International Ragdoll Cat Association, trademarking the new cat breed name and establishing her own detailed breeding criteria for the Ragdoll cat breed.
Today, the neatest thing about the Ragdoll cat line continues to be how reliably the calm, docile, dog-like Ragdoll temperament transfers from one generation to the next.
Ragdoll cat traits
As myth and legend would have it, the Ragdoll cat's name arose from this cat's tendency to go limp like a ragdoll when picked up.
While not every breeder today buys into this myth, these cats can be sufficiently large in adulthood to simply appear to be spilling over the edges of their person's arms or lap when held!
For this very reason, Ragdoll cats have also picked up the nickname of the "puppy cat" because they just really love to be held, cuddled and loved.
Ragdoll cats also have other unusual traits that can seem more dog-like than cat-like.
For instance, Ragdoll cats often prefer to remain down low to the ground rather than climbing up onto everything in sight.
Ragdolls also get along well with people of all ages, with the family dog and even with other cats.
Notably, Ragdoll cats also like water – it is not uncommon for owners to discover this for the first time when their Ragdoll cat jumps right into the bath with them!
Finally, Ragdoll cats are surprisingly trainable. If you have ever seen a cat walking on a leash or playing fetch, chances are good you were watching a Ragdoll cat at play!
Ragdoll kittens temperament
Even the most casual internet search for "Ragdoll kittens temperament" will turn up distinctly un-cat-like descriptions like "snuggle buddy," "delightfully surprising," "the cat who thinks it's a dog" and "relaxed good nature."
So many enthusiasts can't be wrong….and neither can the CFA's number two ranking!
All Ragdoll kittens have blue eyes when they are born, and their eye color does not change as they grow up.
Ragdoll kittens do not mature quickly, either – often these cats are not fully grown until they turn four years old!
Ragdoll kittens can display several coat colors and patterns, which can be intriguing to study if you have an interest in genetics.
This unusually diverse set of possible color combinations and markings also gives a nod to this cat breed's poorly documented beginnings – it is thought there may be Persian, Burmese or even Birman DNA mixed into the Ragdoll cat's gene pool.
Ragdoll cat vocalizing
If you are used to cats who like to talk, the Ragdoll cat temperament may be a surprise – these cats are surprisingly quiet.
However, they "talk" in other ways, and many Ragdoll cat owners report that these cats will run to the front door just like a dog to greet you when you come home!
This can also make the Ragdoll cat a pretty great cat breed choice if you live in a space with shared walls such as a condo or an apartment complex.
While your Ragdoll cat will meet you at the door and follow you from one room to the next, he will do it quietly – your neighbors won't even know you have a pet cat!
How to know if the Ragdoll cat is for you
One aspect of the Ragdoll cat temperament that can be a deal-breaker for some owners is this cat's intensely social nature.
You can't leave a Ragdoll cat alone for long periods of time every day. If you have to work, consider bringing home a second Ragdoll cat so each will have companionship while you are away.
Also, this isn't an issue of temperament, but Ragdoll cats are also about the furthest thing from non-shedding as you will find.
While some cats have short, close coats that shed relatively little during the year, the Ragdoll cat has a long, silky coat that will shed year-round, and more intensely with the changing of the seasons.
Grooming helps but won't ever eliminate the issue.
For even more information about Ragdoll cats, their health, lifespan, and care needs, take a look at our complete breed review to help you decide if this friendly feline is right for you.
Ragdoll cat temperament
We hope you have enjoyed reading through this brief overview of the Ragdoll cat temperament, personality and traits.
As you can see, there's a lot to love about the Ragdoll cat temperament.
Ragdoll cats are definitely lovers, not fighters. They get on well with grown ups, children and other pets alike. They're eager to please when you're playing games, and follow their people round like wide-eyed shadows. They even like water!
If you can provide your Ragdoll cat with suitable companionship while you are gone and you are able to tolerate the shedding, these cats have a quiet, docile, loving, dog-like nature that reliably "wows" both cat owners and dog owners alike.
If you've ever dreamed of having a dog in a cat body, the Ragdoll cat can absolutely take you there!
Do you have a Ragdoll cat?
We would love to hear your comments and experiences of life with a Ragdoll cat!
How would you sum up the Ragdoll temperament, and do you think we've done them justice here?
Please drop us a comment to share your story and wax lyrical about your cat – we love to hear from our readers!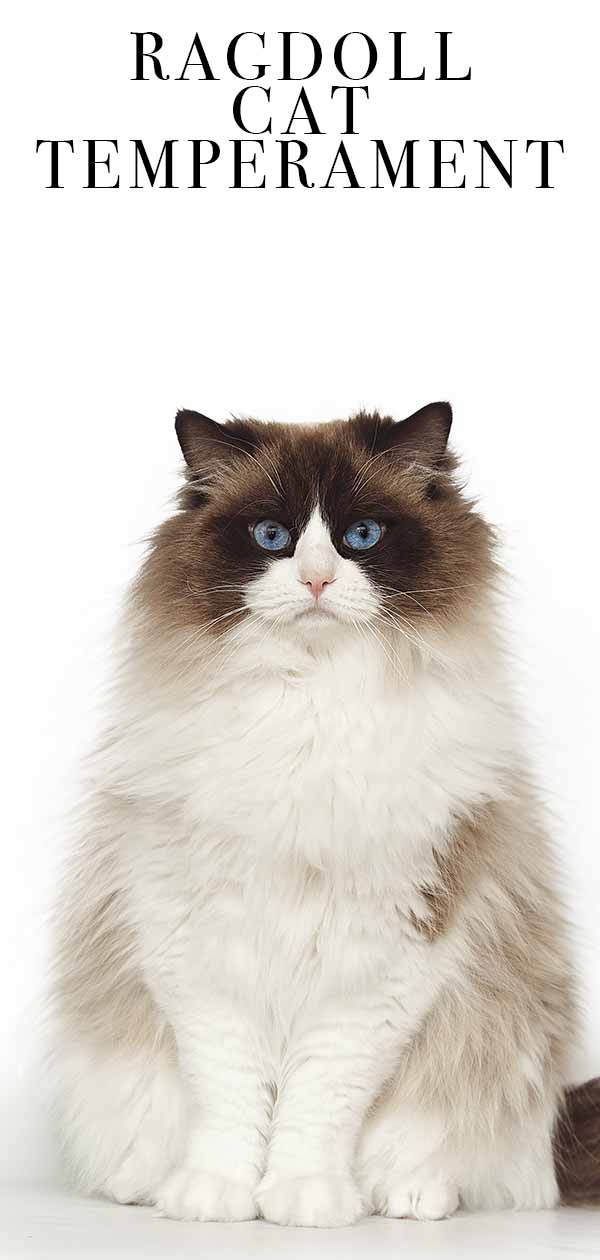 Sources
Kolencik, M., "About the Ragdoll/The Cat Fanciers' Association Announces Most Popular Breeds for 2017," The Cat Fanciers Association, 2018.
Stadter, A., et al, "Ragdoll Introduction," The International Cat Fanciers Association, 2018.
Antin, B., et al, "Ragdoll Cat Breed Information," VCA Animal Hospitals, 2018.
Edwards, A., "Portrait of the Ragdoll Breed," The British Ragdoll Cat Club, 1987,
Zap, C., "Best Cat Breeds for Apartment Living," Realtor, 2015.