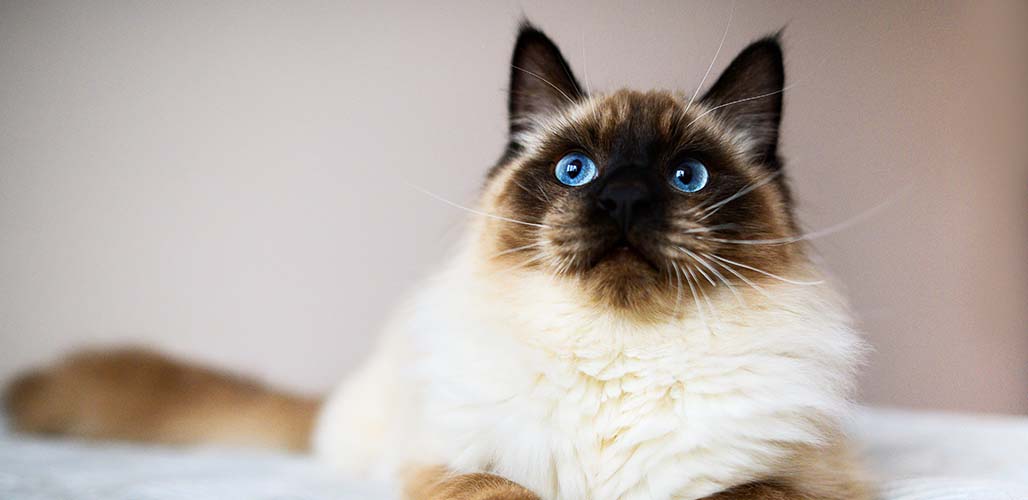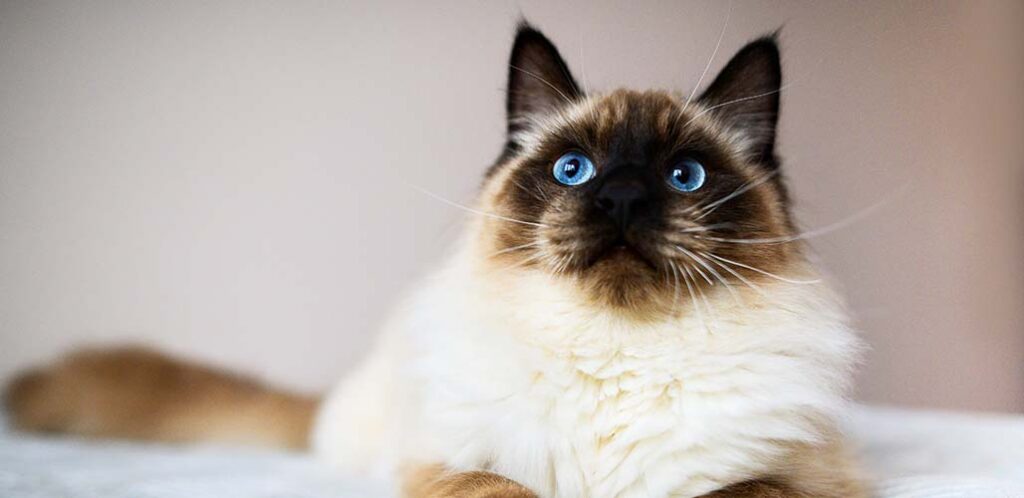 A seal point Ragdoll will have blue eyes and wonderfully soft fur. Their coat is a deep, rich brown at their extremities and lighter on the rest of their bodies. Like all other Ragdoll cats, the seal point variety is known for its amicable, gentle and playful temperament. These cats can suit families with young children, or individuals looking for a social, affectionate pet.
Contents
What is a Seal Point Ragdoll?
A seal point Ragdoll is a purebred Ragdoll cat who will share all of the same general traits of the breed. This includes their temperament, size, shape, and so on. The only thing that will set them apart is the color of their fur! But, seal point Ragdolls, like all other varieties, have pointed fur that is darker at their extremities.
The Ragdoll cat breed's earliest ancestors were bred in California in the 1960s. Ann Baker, the breed's founder, used a pure white longhaired cat and a seal point mitted male to establish the first cats. So, seal point coloring harks back to the earliest Ragdoll ancestors!
What Do They Look Like?
The main trait that separates a seal point Ragdoll cat from other varieties is the color of its fur. Seal point Ragdolls will have very dark brown coloring at their extremities – their face, legs, tail, and ears. The rest of their body will be a lighter, contrasting shade. Like other Ragdolls, the seal point variety will have medium length fur that is very soft to the touch.
Some people confuse the chocolate and seal point Ragdolls. But, seals have much darker brown points than chocolate point Ragdolls. Chocolate points will be a lighter, warm brown, rather than the deep rich brown found on seal points.
These cats are a large breed. So, as adults, they will weigh between 10 and 20 lbs. Females are usually smaller than males, but size will vary from one Ragdoll to the next. All Ragdolls have large blue eyes, triangular ears, and a fluffy tail. Since they are quite large cats, they can take up to four years to reach their adult size.
Seal Point Ragdoll Patterns
A seal point Ragdoll cat will simple have seal-colored extremities over a lighter base shade. But, these Ragdolls can also come in slightly different patterns and points. Here are some that you might encounter:
Solid point: These Ragdolls will have solid seal points that are all one shade. Seal points like this are a deep, rich brown, darker than chocolate points.
Tortie point: These Ragdolls have red and cream coloring alongside the seal at their points.
Tabby/lynx point: These seal Ragdolls have tabby stripes at their points.
Mitted: Mitted seal point Ragdolls have the same seal points as solid point Ragdolls, but they will also have white coloring on their blaze, chin, front feet, back legs, chest and belly.
Bicolor: These seal Ragdolls have a white inverted V on their faces, white chins, chest, stomachs and ruffs. They can also have white feet and legs, and a white saddle over their backs, but other than this coloring, their points will be seal.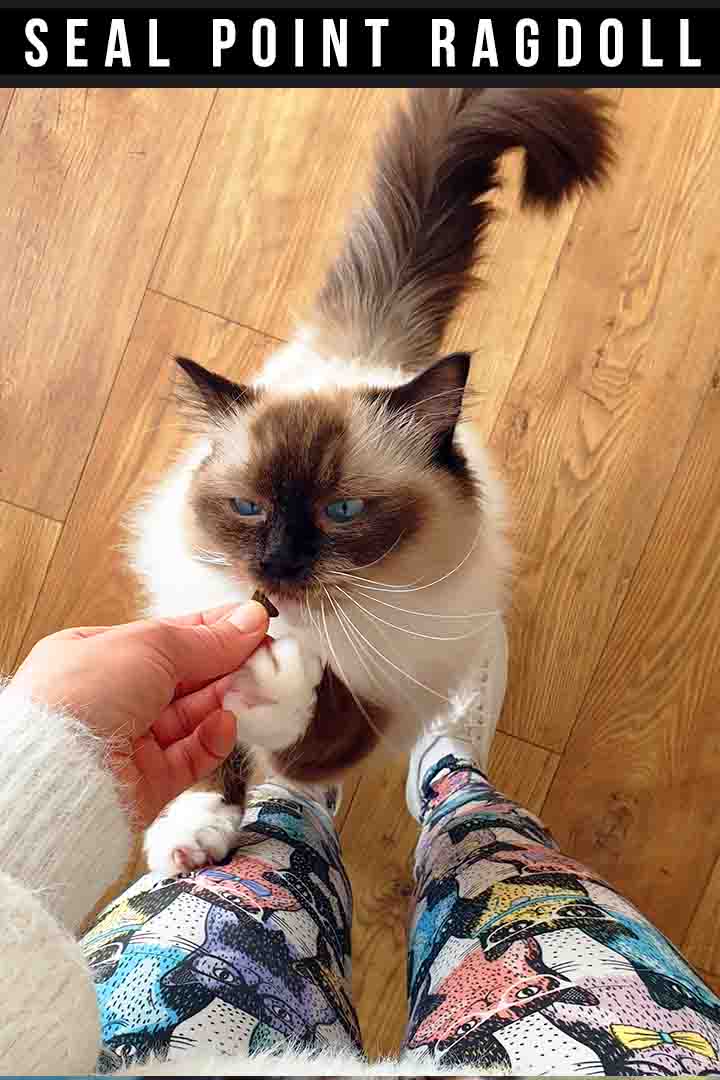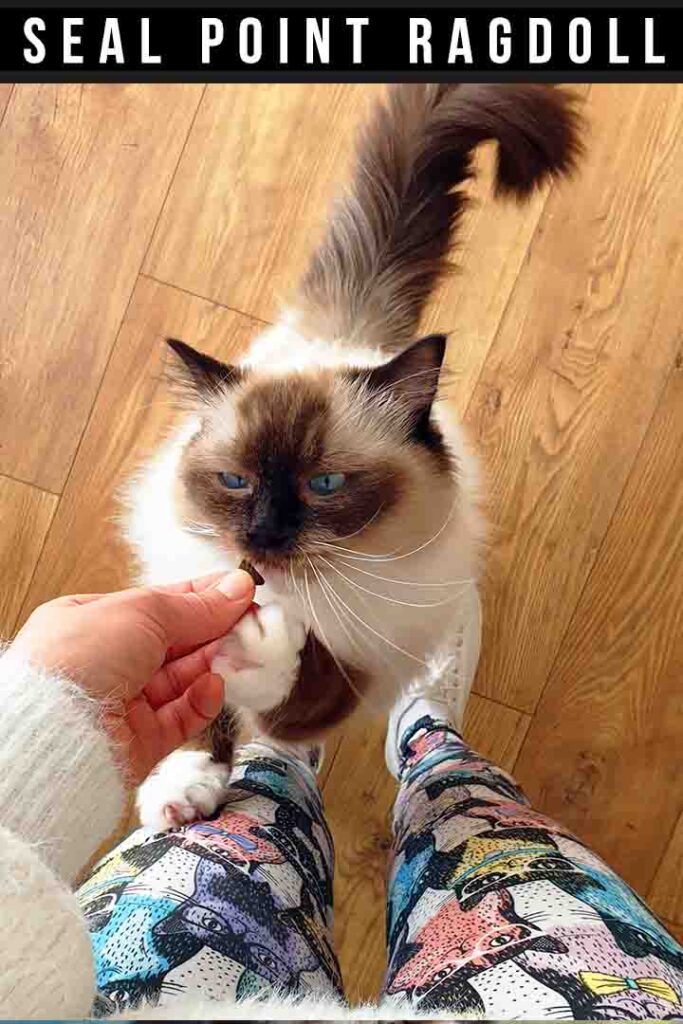 Are They Rare?
All Ragdoll cats are pointed, so this specific coat pattern and color distribution is not rare. All Ragdolls have it! And, seal as a shade is not uncommon, especially when compared to paler, dilute colors, like fawn, blue, or lilac. Seal is one of the original Ragdoll colors, so it's not too hard to find it in your search for a kitten.
The frequency of seal pointed Ragdoll cats near you will depend on a number of factors. This can include the popularity of the breed as a whole, the type of breeder (some will specialize in certain colors, etc), how far you're willing to travel, and so on. So, it may seem like seal point Ragdolls are rare if you're struggling to find one, or having to go on a waiting list! But, in reality this is quite a common color for the breed.
Are They Friendly?
One of the major selling points for the Ragdoll breed is their personality. Ragdolls, no matter what color their points are, are known for being clever, affectionate, and friendly cats. Because they're so sweet and gentle, Ragdolls make great candidates for almost every home, whether or not you have kids, or other pets.
Potential Health Issues
Like all of our pets, Ragdolls are prone to certain health issues, no matter what shade their points are. It can help to familiarise yourself with these problems so you are able to recognise the early symptoms. Here are some health problems that are more common in Ragdoll cats.
Hypertrophic Cardiomyopathy (heart disease)
Eye problems
Kidney disease
There are health tests available for some of the Ragdoll's major potential health issues. So, a big part of getting a healthy seal point Ragdoll lies in finding a good breeder. But, with great daily care and a good breeder, many Ragdolls will live well into their teens.
Finding Seal Point Ragdoll Kittens
Some Ragdoll breeders will specialize in certain colors, such as seal point. But, others will simply be focused on the breed as a whole, without worrying about the color of their kittens. It's important to note that all Ragdoll kittens are born white, and it can take up to two years for a kitten's color to mature. But, breeders can use the kittens' parents to estimate their adult color, and even the proportion of colors in a litter.
Above all else, you want to find a reputable breeder that health tests their Ragdolls before breeding from them. On average, Ragdoll kittens can vary from as little as $800 to as much as $2000. Factors that will influence this can be the color of kittens, pedigree status, breed popularity, location, and more.
The best Ragdoll breeders will ask you plenty of questions to ensure their kittens are going to go to a good home.