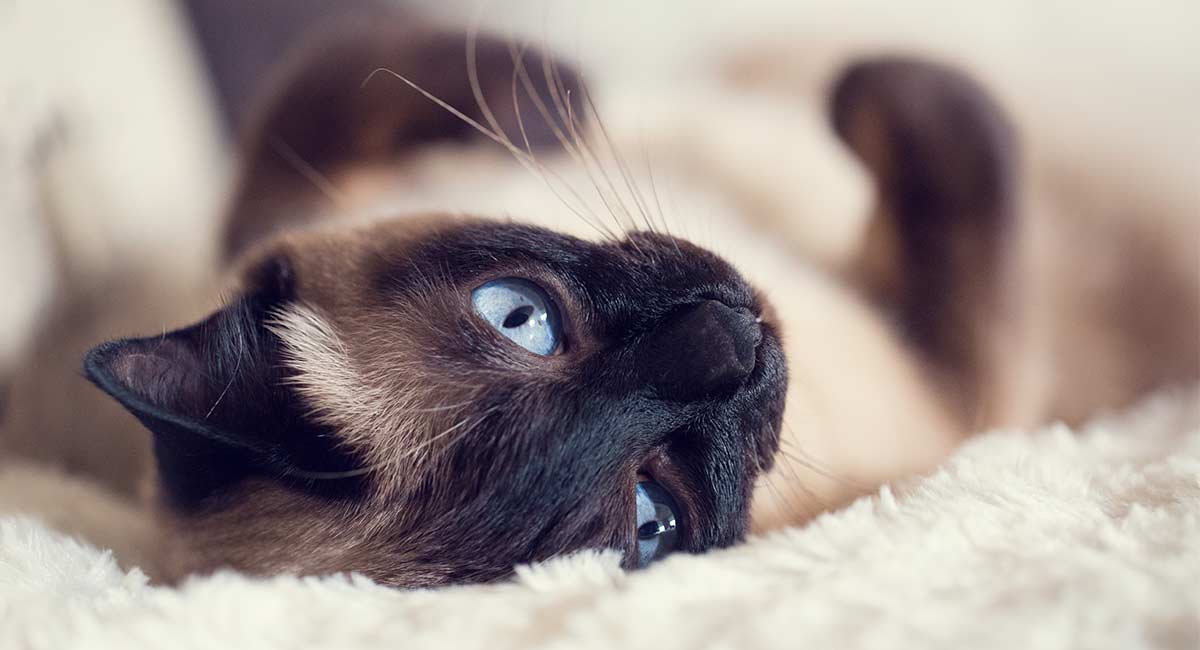 Are Siamese cats hypoallergenic? With its long, silky coat, the Siamese cat sure doesn't look like it would be a good candidate for a hypoallergenic cat breed!
But here, looks can sometimes be deceiving.
While the phrase "hypoallergenic cat" is not technically the most correct explanation, there is a reason why selecting a Siamese cat may be a better choice if you or someone in your family suffers from pet-related allergies.
Read on to learn the scientific answer to the question, "Are Siamese cats hypoallergenic?"
Are Siamese cats hypoallergenic?
Before we can accurately answer the question of if Siamese cats are hypoallergenic, we first have to debunk a persistent myth.
The myth is that any pet – dog or cat – can be truly "hypoallergenic." But how did this myth even arise in the first place?
Rewind back to the 1980's for a moment when the Labradoodle was born.
It began with Labradoodles
This particular dog, a cross between a Labrador Retriever and a Standard Poodle, was intended to serve as a guide dog for a blind woman whose husband was dangerously allergic to pets.
But one thing led to another, and as word spread, Labradoodles became the first so-named "designer dog," a new hybrid breed born of two different purebred dog parents.
Demand for the Labradoodle soared and other breeders began working to develop new hypoallergenic dog breeds.
But did cats follow…
Then in 2004, a company named Allerca announced that it had just created the world's first hypoallergenic cat.
Not surprisingly, this news generated similar levels of excitement and preorders went through the roof.
Unfortunately, it only took a couple of years for owners of the new hybrid cat breed to figure out that Allerca's claims of breeding a new hypoallergenic hybrid cat were, well, too good to be true.
Meet Fel d 1 (the cat allergy protein)
Research today tells us that there is no way to breed out the underlying reason why some people experience allergies when they come into contact with dogs or cats.
In cats, this underlying reason is a protein called Fel d 1, and it is a protein that all cat breeds produce to some degree through their urine, saliva, and skin.
When cats groom themselves, use the litter box, or shed out their coat, the Fel d 1 protein gets distributed into the environment.
It also gets on your hands when you pet or groom your cat or clean the furniture, the cat bed, or the litter box.
However, there is a way to limit your exposure to Fel d 1, and one way is by choosing a pet cat that sheds less.
In theory, a cat that sheds less hair will release less Fel d 1 into the environment over time, meaning you will encounter fewer allergy triggers.
Do Siamese cats shed?
As luck and DNA would have it, Siamese cat shedding is less than many other cat breeds – some of which have much shorter hair!
Here, it is worth mentioning that this, too, has become a pervasive myth – that short-haired cats are closer to hypoallergenic than are long-haired cats.
It is the reverse that is actually closer to the truth.
The cat's long hair is thought to hold the allergen-provoking protein, Fel d 1, closer to the cat's skin, trapping it on the body of the cat and releasing less of it into the surrounding environment.
As immunologists explain, when the cat is female, long haired, light colored, and sheds less, what this adds up to is a recipe for fewer and less severe bouts of pet-related allergies!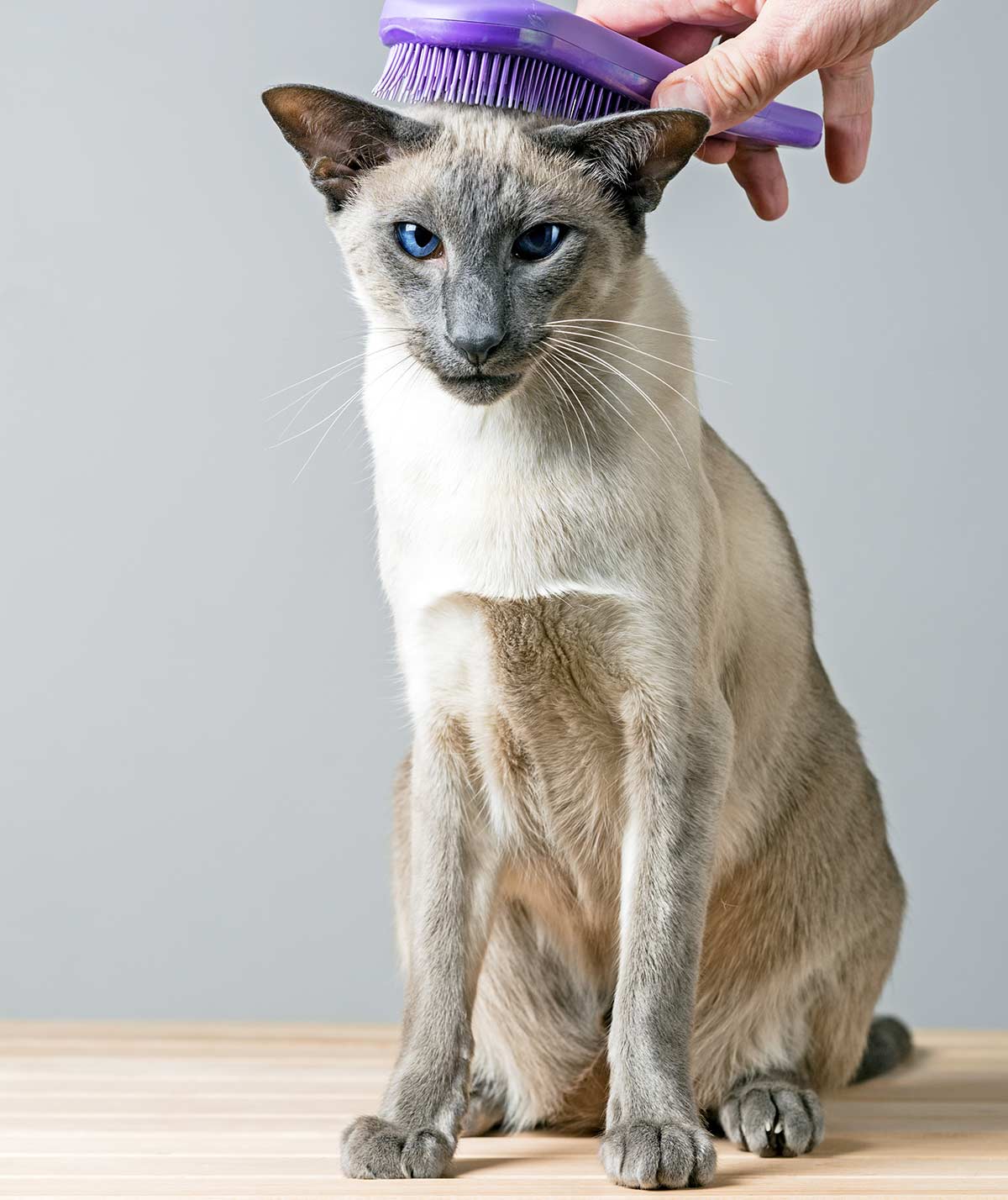 Low shedding cat breeds
The general consensus among immunologists and veterinarians is that these cat breeds are the least likely to provoke pet allergies:  the Balinese, the Bengal, the Burmese, the Devon Rex, the Cornish Rex, the Javanese, the Russian Blue and the Siberian cat.
Siamese shedding is less than many other cat breeds.
But does this mean that you will be able to live allergy-free if you bring home a blue point or seal point Siamese hypoallergenic cat?
Unfortunately, thanks to the Fel d 1 protein, you may still have some allergy symptoms even if you bring home a low shedding cat breed like the Siamese or one of the other low shedding cat breeds.
Are Siamese cats hypoallergenic?
So now you know that the answer to, "Are Siamese cats hypoallergenic?" is no.
But then again, no cat breed is truly hypoallergenic!
What the Siamese cat has going for it (aside from this cat breed's stunning looks and winning personality) is that, despite the long coat, the Siamese cat will shed less than many other pet cats.
So if you have pet allergies but you really want a pet cat, consider a Siamese!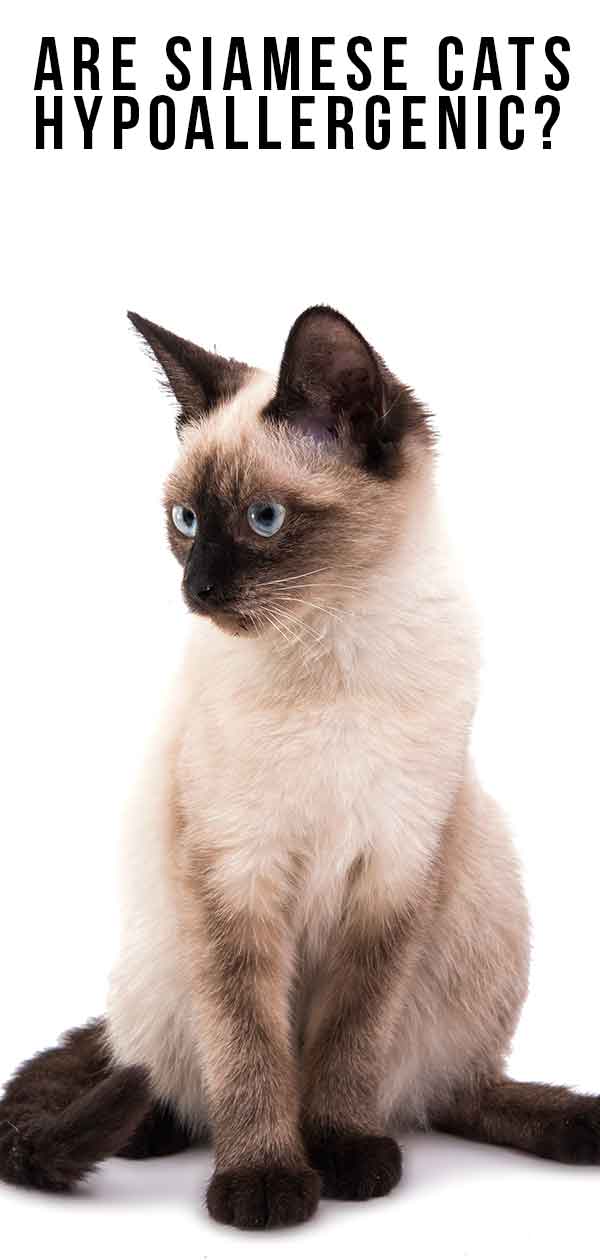 Readers Also Liked
References and Further Reading
Lockey, R.F., DVM, "The myth of hypoallergenic dogs (and cats)," JACI Online, 2012. 
Heath, C., DVM, "The Truth About "Hypoallergenic" Pets," Vet Harmony Clinic, 2016. 
Grant, B., "The end of hypoallergenic cats?," The Scientist Magazine, 2009. 
Feldweg, A., MD, "The Truth About Cat Allergies," Everyday Health, 2006.  
Coren, S., PhD., DSc, FRSC, "A Designer Dog-Maker Regrets His Creation," Psychology Today, 2014. 

Couture, E., DVM, "The Best Cat Breeds for Managing Allergies," Ambassador Animal Clinic Greenville, 2017.