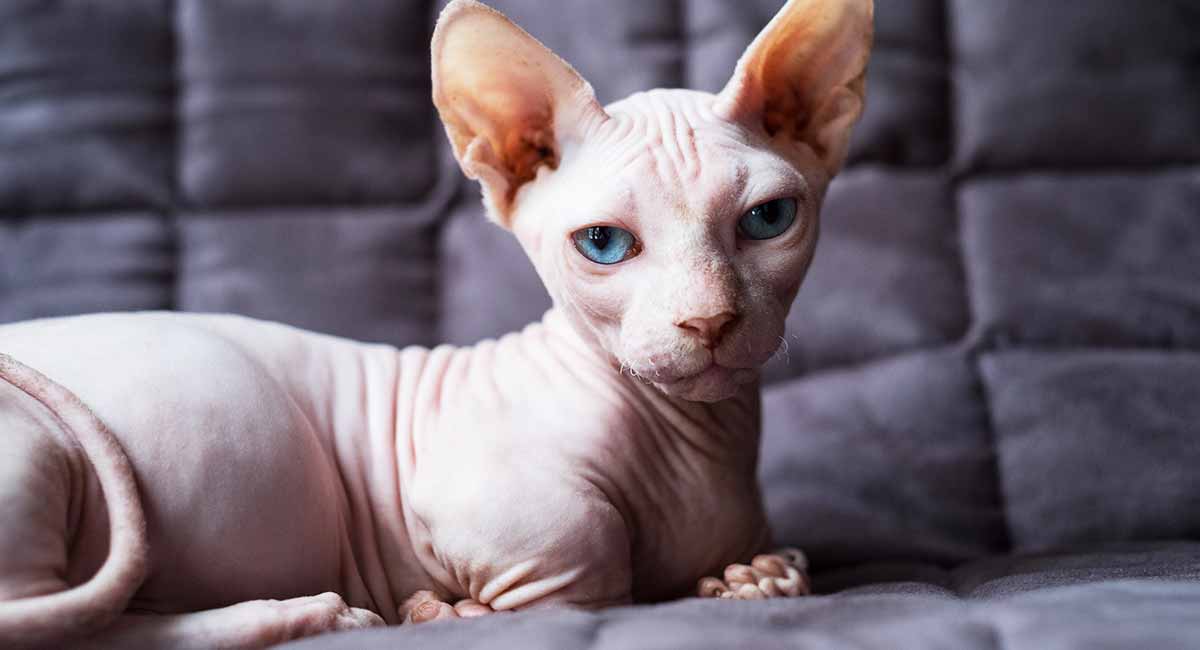 The Bambino cat is a mix between the Sphynx and Munchkin breeds. This hybrid is either a completely hairless cat, or has light, downy fur. It also often has the shorter legs of the Munchkin cat. This gives it a very distinctive look, but unfortunately comes with some serious health concerns. Bambino kittens are social and friendly, like their parent breeds. But they won't be able to jump as high as other breeds, and their legs will tire easily.
Contents
What is a Bambino Cat?
It seems like a new cat breed pops up every few weeks nowadays. The current flavor of the month is a curious hairless dwarf called the Bambino. By combining the hairless skin of the Sphynx and the short legs of the munchkin, breeders have obtained some unique results. To some of us this cat might look odd, and to others it's perfect. That's kind of the point. The popularity of these weird breeds seems to be fueled in equal parts by adoration and intrigue.
The jarring aesthetic of the Bambino bald cat was definitely the goal of these efforts. But what else is going on behind the scenes with this unusual kitty? Unfortunately, breeding for a distinctive look can often lead to dire health implications.
How Did They Come About?
Bambino means baby in Italian, and it's not difficult to see where this name came from. The Bambino cat's hairless form almost resembles a newborn, as some are completely bald. If they do have it, bambinos hair is usually a very light, downy fluff.
This is the result of some fairly recent cross breeding. The Sphynx breed started when a hairless kitten was born in Toronto, 1966. The lack of fur was caused by a genetic mutation. This cat, as well as other hairless cats, were bred with normally-coated cats to produce the Sphynx breed. In an attempt to avoid inbreeding, breeders mixed a large variety of hairless and haired cats. And this created the Sphynx breed we can see today!
Munchkin cats get their smaller stature from a genetic mutation called pseudoachondroplasia, or dwarfism. Dwarf cats have been around since the 1930s. They were less common during the Second World War, but started to be seen again across the world in the 1950s. The Munchkin as we know it today comes from a cat, in 1980s America, that had very short legs.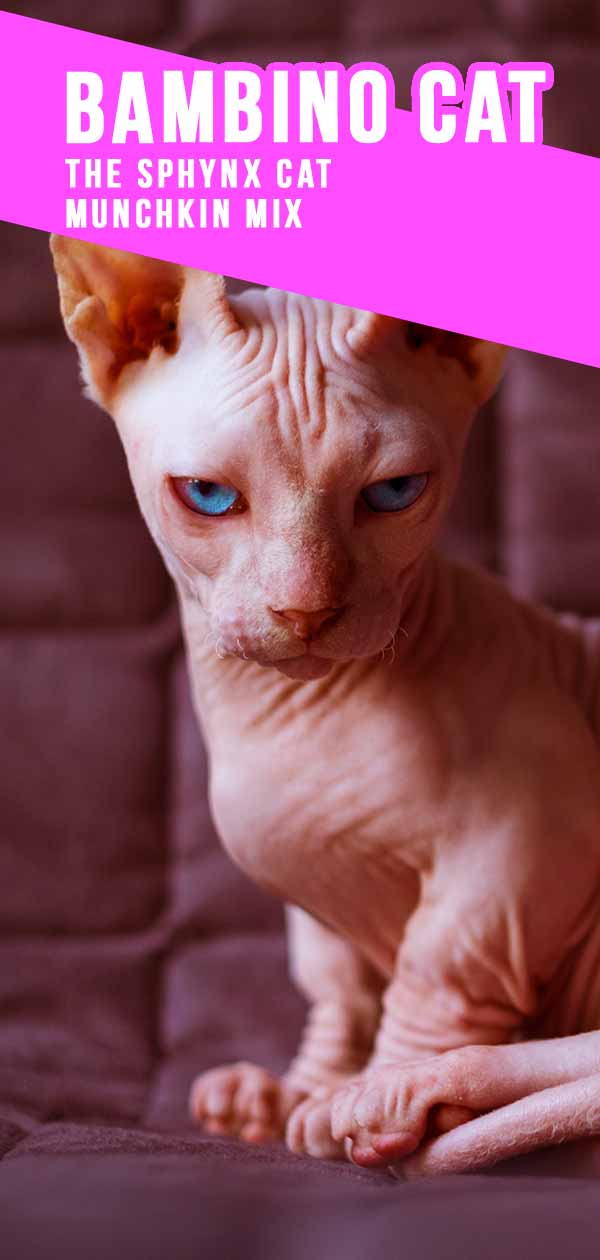 What Do They Look Like?
Because this cat is a mixed breed, you can expect it to weigh somewhere in between its parent breeds. Both Sphynx and Munchkin cats are described as medium-sized, despite the Munchkin's shorter legs. So, you can expect your Bambino cat to be the same.
They are likely to have shorter legs than a regular Sphynx, thanks to the Munchkin parent.
Bambino Colors and Coats
Not all Bambinos are completely hairless. Although they have this appearance, they can be covered in a light downy fluff. But just because this mix is hairless doesn't mean that it can't come in a variety of colors. The Sphynx cat can show any colors known to domestic cats. Similarly, the Munchkin cat comes in a huge variety of colors.
Are Bambinos Hypoallergenic?
You might be drawn to a hairless cat breed if you are allergic to kitties. But it's really important to know that although you might think a hairless cat is hypoallergenic, they are not. Dander, which consists of pieces of dead skin, is what flares up cat allergies.
You might well find a hairless cat causes you as many problems as a fluffy cat. Try to spend time with your cat before bringing them into your family to see if they would cause you any problems as a pet.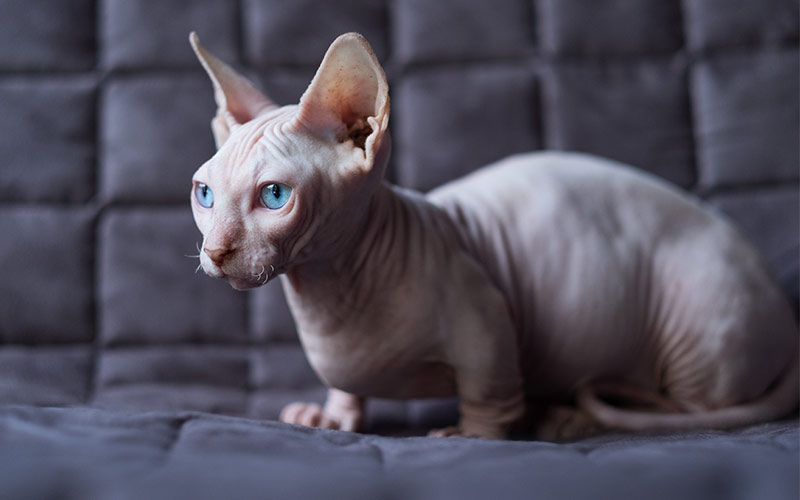 Bambino Cat Personality
Bambino cats are reportedly sociable and friendly. This stands to reason as it matches the demeanor of both of their parent breeds. They are often playful and entertaining, so they're sometimes considered by parents wanting a cat for their children.
However, even though Bambino cats are supposed to be among the friendliest breeds, you should always use caution. Young children should be supervised when playing with pets to make sure no harm comes to either. Especially those with so many health problems.
Can Bambinos Go Outside?
There are a couple of reasons why Munchkin Sphynx cats are best staying indoors.
Firstly, their ability to be mobile and move in a typically cat-like fashion will definitely be hampered by their short stature, however. Their little legs may get tired out quite quickly. And they certainly won't jump as high as a normal cat.
This is probably just as well, because part of cats amazing ability to survive long falls is due to their legs. Shorter muscles and tendons in the legs will mean less shock absorbency for your kitty. Keeping your Bambino indoors can help to keep them safe from any large drops.
Another reason why Munchkin Sphynx cats should be kept indoors is their lack of fur. Fur blocks harmful UV rays. So hairless cats like the Bambino can suffer when left in the sun. Keeping your cat indoors can  be a good way to avoid this.
Health Problems
Unfortunately for Bambino cats, their parents exposed them to a myriad of potential health issues. Predominantly as a result of their distinctive appearances.
Sphynx cats have a well recorded risk of heart disease among other problems to do with their lack of fur. Hairless cats need ideally to be washed weekly, as their hair cannot distribute the oils their skin exudes. Build up of oil can clog a cats pores and cause nasty skin conditions.
If this wasn't bad enough, bambinos have it much worse than other hairless cats. The shortened limbs come from their other parent breed, the Munchkin cat. Proponents of short-legged cats are keen to mention that it stems from a naturally occurring mutation. This mutation is called pseudoachondroplasia, a type of dwarfism. However, natural does not mean good. They are not very agile, and have the potential for severe spinal and chest issues.
Bambino Cat Lifespan
Bambino cats haven't been around long enough to accurately state their life expectancy. Munchkins and Sphynx cats live on average fairly unremarkable, 13 and 14 year lives respectively. Make sure your cat is regularly checked by a vet in case any of the above mentioned health complications arise.
We have to use Munchkins and Sphynx cats to estimate because the Bambino cat breed has only been around for just over a decade. Whether or not Bambinos are within their parents' range remains to be seen. Unfortunately it's just too soon to tell.
Bambino Kittens and Breeders
As with all cats, the Bambino cat price often depends on the breeder. We had a look around and found some listed in the US for around $2,000! This isn't surprising; designer cat breeders often charge dizzying prices. Bambino breeders are no exception.
They also demand a very high level of care, so that's extra work for the breeder. Which they will pass on to you when the kitten is sold.
It's important to remember that the skin care routine with hairless cats starts from day one, and is especially important in their first few months of life. This is because kittens are much more susceptible to infections than adult cats.
Rescuing a Bambino Cat
If your heart is truly set on owning one of these dwarf cats, you may want to consider rescuing an adult. This can be a good way to give an older cat a second chance at a happy home. But also stops encouraging breeders to breed more potentially unhealthy kittens.
The more people that buy these bald cats, the more breeders will deliberately pass on these harmful genetic mutations. While they command such a high price, supply will meet demand. Of course, its entirely up to you. But in our opinion the price you pay (or rather, that the Bambino cat pays) is too great.