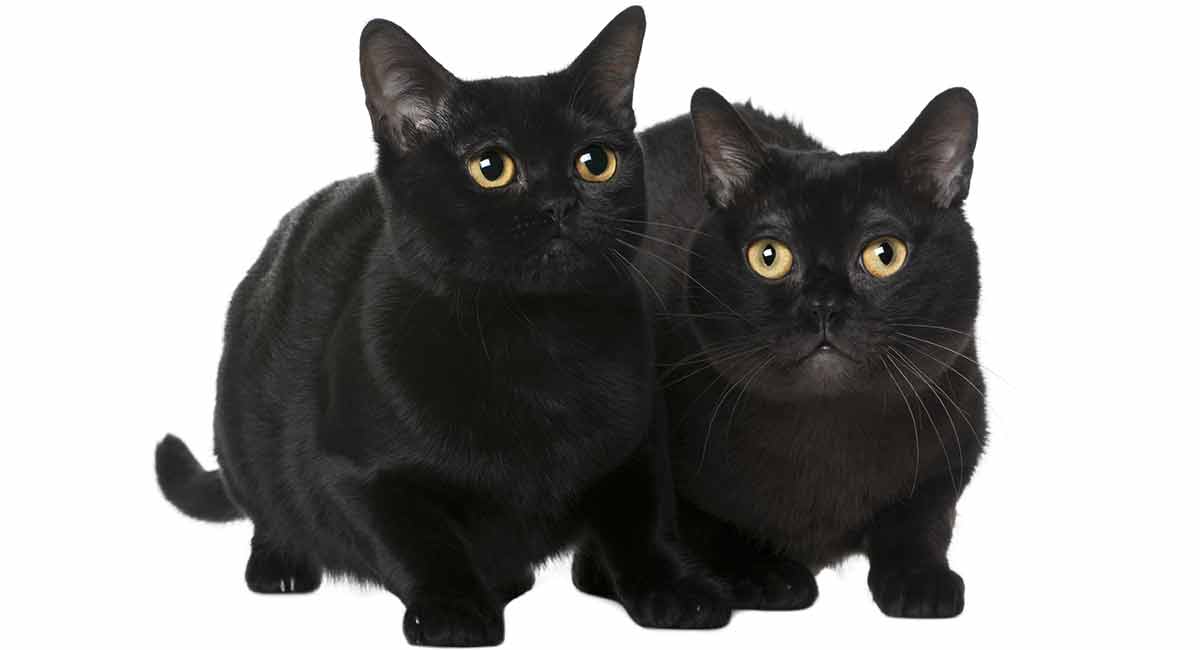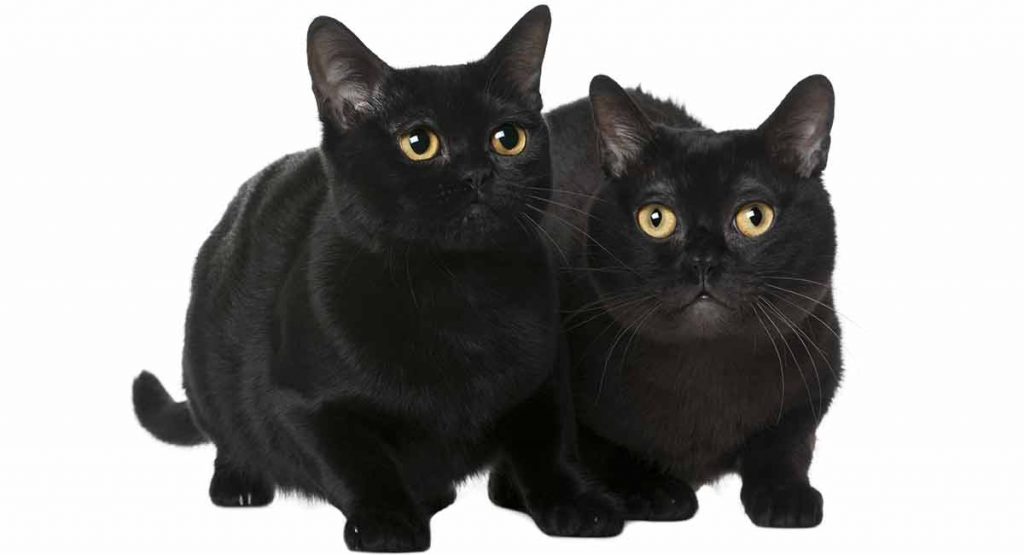 Welcome to our guide to the Bombay cat personality.
In this article, we will look at the origins of this striking creature and explore the Bombay cat personality in detail.
Our full guide to the Bombay looks at this fine feline in depth. But what about the Bombay cat personality, specifically?
In order to contemplate the Bombay cat temperament, we should first look at his origins.
The Bombay Cat – A Brief History
It all started when a breeder named Nikki Horner from Kentucky in the USA wanted to produce a cat that resembled the majestic Black Panther.
She began to realize her dream in the 1950s, mixing a black American Shorthair male with a champion sable Burmese female.
Years of selective breeding thereafter led to great success.
Ultimately, it resulted in the magnificent jet-black, copper-eyed Bombay cat that we see today.
A British Bombay also exists, bred from a Burmese and a black British Shorthair.
The main difference between the American and the British Bombay is eye color.
Green eyes are permitted in the British version, whereas this vivid color is a disqualification in the show rings of the USA.
The British Bombay cat personality, however, is much the same as his cousin across the pond.
Nowadays, breeders looking to continue the line of this special kitty prefer to outcross with Burmese rather than Shorthairs.
This is because the coat texture and body shape of the Burmese are more desirable than the American and British Shorthairs.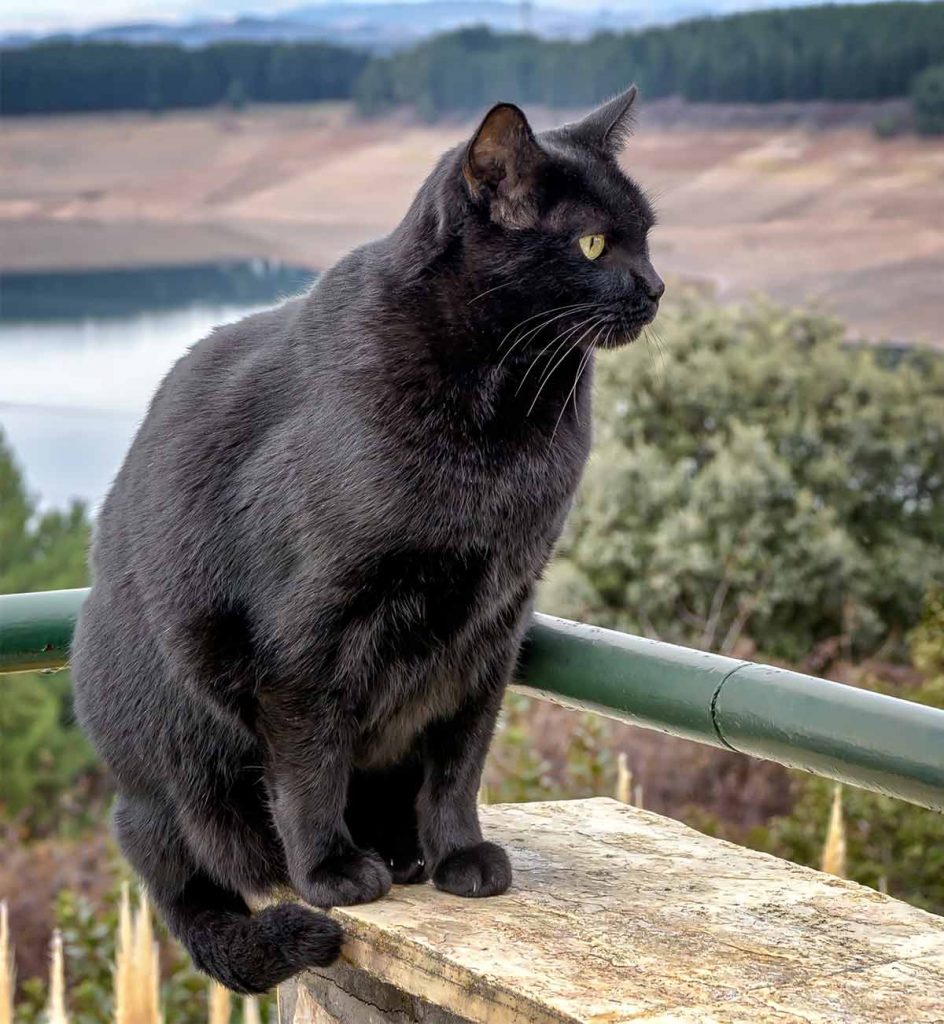 Bombay Cat Personality Traits
While the ambitious American breeder sought to create the appearance of a wild cat, the Bombay cat breed personality is anything but wild.
Remember that this mini-panther was created from two laid-back domestic breeds.
The American Shorthair is very clever, and is generally quiet and good-natured.
The spirited Burmese tends to be a people cat and is extremely loving to his family.
The Bombay personality, therefore, is highly likely to be intelligent, gentle and affectionate.
The Bombay cat personality is said to be most similar to the Burmese.
As the Burmese is the preferred outcross, this similarity will undoubtedly increase over time.
Does the Bombay Cat Make A Good Family Pet?
More akin to a lap dog, this furbaby demands attention and expects to be fussed over by his humans all of the time.
Unlike many cat breeds, he is certainly not aloof and loves to be held and stroked.
The Bombay can also be leash trained, further supporting his pup-like personality.
He is good with children, as long as little ones are taught how to behave around pets.
This is a clever and inquisitive little chap who loves to learn and play.
Teach him tricks or how to play fetch for a fun-filled afternoon.
He will be just satisfied with a plain old feather or a simple piece of string as with an expensive toy.
If you're too busy for playtime, interactive toys with treats to retrieve and cat towers to climb will help to keep your active moggy happy.
Just don't leave him to entertain himself for too long.
Will the Bombay Cat Personality Suit Me?
Due to his friendly and sociable nature, Bombays can fit in with all sorts of households.
He will crave attention and so will do best where someone is at home during the day.
This puss is positively unhappy if left alone for long periods.
Apartment dwellers need not worry as the Bombay's calm nature makes for an excellent indoor cat.
It's probably wise to keep your treasured pet inside anyway to avoid illness or injury from the outside environment or other cats.
Their fabulously sleek and low-shedding coat makes the Bombay desirable for even the most fastidious of households. Allergy sufferers may also benefit from this.
Amazingly tolerant of other animals, including dogs, this unfazed feline could be ideal for multi-pet households.
Bombays are delightfully comical and are bound to keep all of the family entertained.
They are typically vocal and so will converse with you often, whether you like it or not.
Despite his predator-like appearance, this mini-panther forms deep bonds with his family and is one of the most loving cat breeds out there.
Does this sound like the perfect puss for you?
We do hope that this piece will assist with your decision as to whether you are drawn to the Bombay cat personality.
We would love you to share your Bombay cat stories with us. Do let us know in the comments below.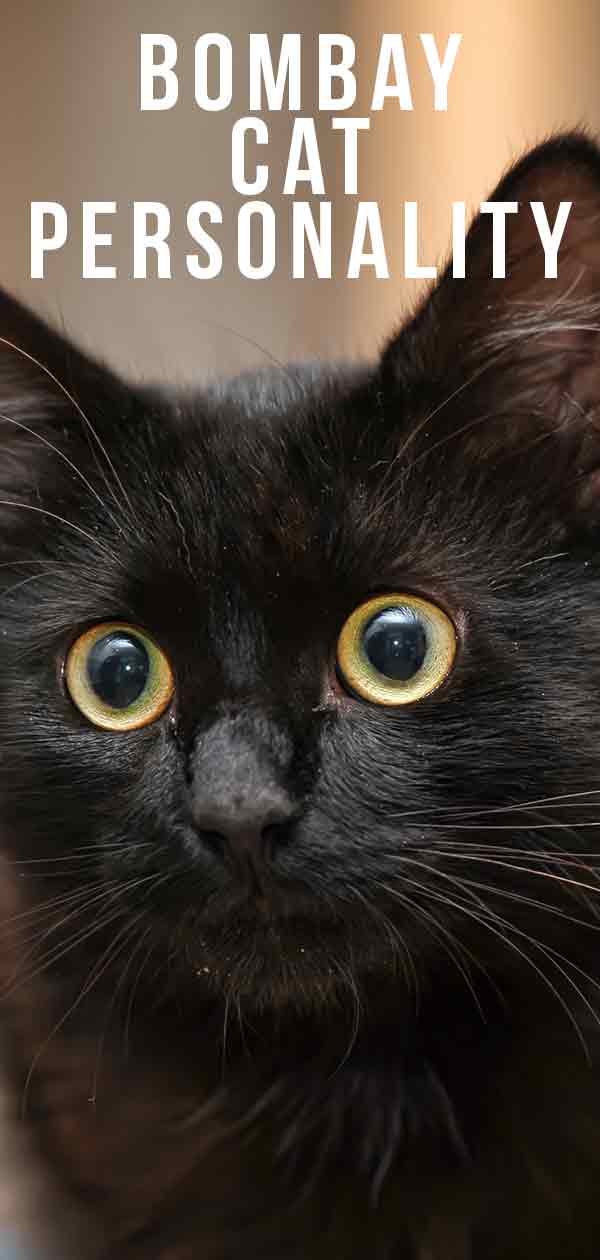 References and Further Reading
The Cat Fanciers Association – About the Bombay.
Bombay and Asian Cats Breed Club – The Bombay and Asian Cat.
The International Cat Association – Bombay.
American Cat Fanciers Association – American Shorthair Breed Synopsis.
The Governing Body of the Cat Fancy – Burmese.
J. Wilhelmy et al. 2016. "Behavioral associations with breed, coat type, and eye color in single-breed cats." Journal of Veterinary Behavior.
D. Turner et al. 1986. "Variation in domestic cat behavior towards humans: A paternal effect." Animal Behavior. Volume 34, Issue 6.
C. Litchfield et al. 2017. "The 'Feline Five': An exploration of personality in pet cats (Felis Catus)." PLOS ONE.
M. Delgado et al. 2015. "Human Perceptions of Coat Color as an Indicator of Domestic Cat Personality. A multidisciplinary journal of the interactions of people and animals."
J. Feaver et al. 1986. "Method for rating the individual distinctiveness of domestic cats." Animal Behavior. Volume 34,
Issue 4.
J. Siegford et al. 2015. "Validation of a temperament test for domestic cats." A Multidisciplinary Journal of the Interactions of People and Animals.
J.Bradshaw et al. 2012. "The Behavior of the Domestic Cat."