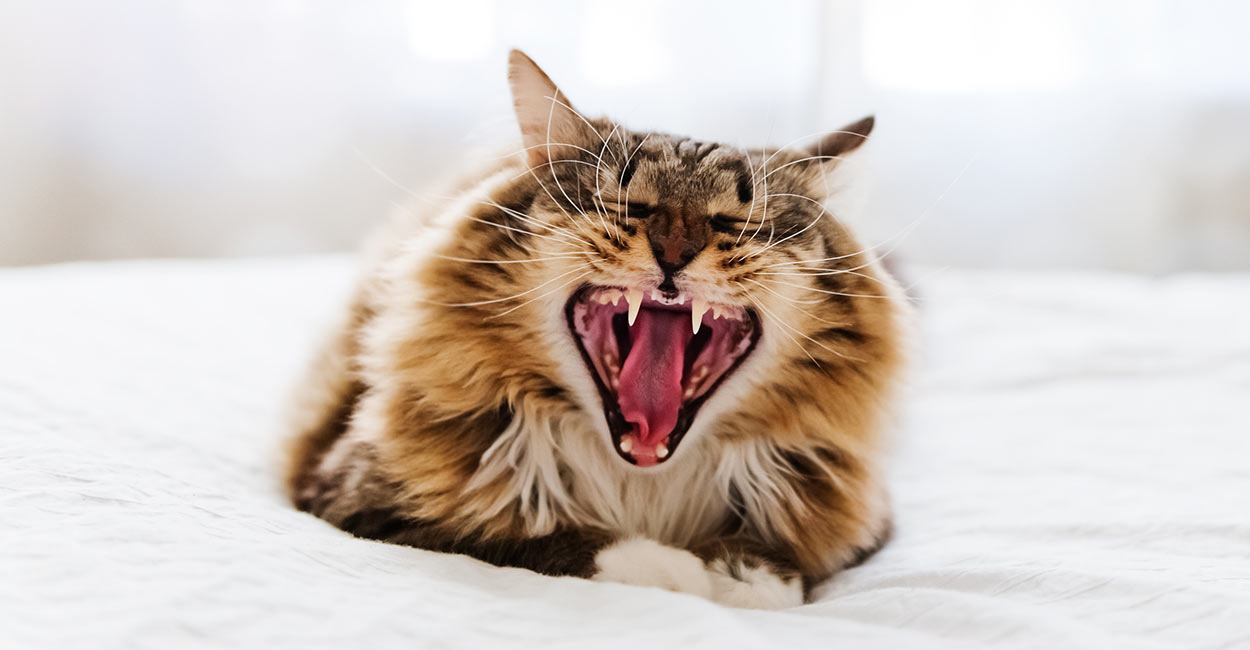 How much do you know about cat teeth problems?
If you have a cat, it is a good idea to "brush up" on cat dental care!
From cat baby teeth to your cat losing teeth, choosing a cat toothbrush, and everything in between, there is a lot of information to cover regarding cat teeth problems.
So, let's jump in and answer some commonly asked questions.
How Many Teeth Do Cats Have?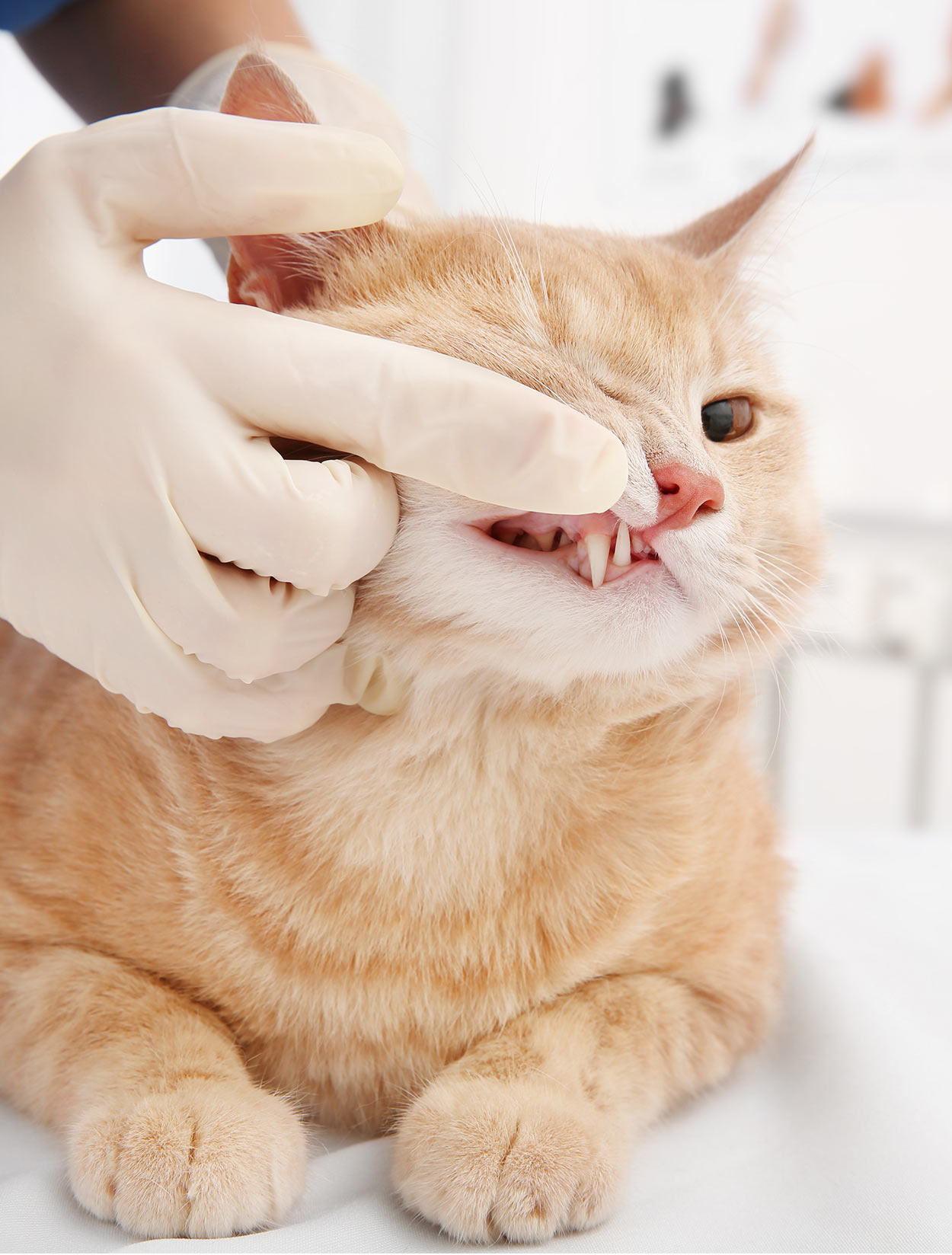 Just like us, cats have baby teeth and adult teeth.
Kittens have 26 baby teeth known as deciduous teeth, which they lose, and then they go on to have 30 permanent adult teeth.
Their baby teeth will start appearing at around three to four weeks of age.
By the time the kitten is 4 months old, all their baby teeth should be present.
After a couple of months these baby teeth will be replaced by permanent, adult teeth.
A kitten will usually have all their adult teeth by around six or seven months of age.
Cat Teeth and Teething
While your kitten is teething, there may be signs of discomfort or tenderness around their mouth area.
They may not be very interested in food, and they might even drool a little.
They may also want to chew on things; just like human babies!
So, if you notice this behavior, there is no need for alarm.
You should check inside your kitten's mouth during this teething period to make sure everything is going along smoothly, however.
If you notice two teeth coming out of the one socket, take your kitten to the vet.
Cat Teeth Problems: Retained Baby Teeth
When two teeth come out of one socket – the baby tooth and the adult tooth – this is known as a 'retained tooth'.
Retained cat baby teeth most likely need to be operated on.
If the retained tooth is not removed, the adult tooth may grow at an inappropriate angle.
This can cause dental hygiene issues, mouth sores and can even affect the development of your cat's jawbone.
Healthy Cat Gums
Gums are a great indicator of your cat's overall health.
So, it is important to know what healthy gums look like, and what unhealthy gums could mean.
Healthy cat gums are a coral pink color, and smooth.
If they look red or swollen, there are dental problems lurking.
Likewise, if your cat has pale gums, yellowish gums, or blue gums, you should take kitty to the vet for a check-up.
These colorations can indicate anaemia, liver disease and heart disease/respiratory problems respectively.
Black Spots on Cats' Gums
You may be worried if your cat has developed black spots on their gums.
These spots may also be present on your cat's eyelids, lips and nose.
However, it is most likely that these spots are harmless pigmentations.
The condition is referred to as "lentigo" and is essentially the kitty equivalent of freckles.
Just like freckles, though, it is wise to take your cat to the vet to double check that none of these marks are malignant.
Cats can develop melanoma, which will obviously need to be treated quickly.
If your kitty is tortishell, ginger or calico, they are more likely to have lentigo.
These spots will tend to increase as your cat ages.
Cat Gum Disease – Periodontal Disease in Cats
One study conducted in 1993 found that over one-third of cats brought to the vet for dental check-ups had some form of periodontal disease.
Cat gum disease usually occurs because of plaque build-up and subsequent bacterial infection, or as the result of a virus.
We will learn more about these conditions later in this article.
Cat Bad Breath – Is It A Cat Mouth Infection?
If you have ever had the 'privilege' of a cat yawning in your face, you will appreciate that a cat's breath doesn't exactly smell of roses.
But it shouldn't be that bad that it makes you gag.
Bad breath is a sign of gum and/or dental problems such as gingivitis, periodontitis, or stomatitis syndrome.
Needless to say, you will need to visit the vet to diagnose and treat the cause of this most affronting problem.
Cat Bleeding from Mouth
Discovering blood coming from your cat's mouth can be an alarming experience.
A cat bleeding from their mouth must see a vet, even if you already know the cause, in case they need protective antibiotics for example.
Your cat's mouth may be bleeding due to a trauma, or due to a foreign body in the mouth.
So, make sure you check your cat's head and mouth (if kitty will let you), and relay the information to the vet so they can proceed with an appropriate course of treatment.
If the bleeding is not the result of trauma, there are multiple reasons your cat could be bleeding from the mouth.
Other causes include gingivitis, periodontitis, or feline odontoclastic resorptive lesions.
Cat Mouth Sores
One common cause of ulcers in a cat's mouth is chronic ulcerative paradental stomatitis.
There are many reasons that this condition can develop.
Generally speaking, it is believed that the condition is a result of the cat's immune system overreacting to bacteria and plaque in and around the cat's teeth.
Keeping your cat's mouth clean is an effective way of preventing this condition from occurring.
Ulcers in the mouth could also be a symptom of a virus.
Feline calicivirus, feline herpesvirus, feline panleukopenia, feline leukemia virus, feline immunodeficiency virus are all potential causes.
If your cat has sores in its mouth as a result of a viral infection, they will also show other symptoms such as lethargy and fever.
Gingivitis in Cats – Red Gums in Cats and Other Symptoms
One of the most common gum diseases is cats in gingivitis.
Gingivitis is caused by a build-up of plaque on the teeth.
Bacteria proliferate in the plaque, leading to infection.
The good news is that gingivitis need not lead to permanent damage.
But it needs to be treated promptly.
Otherwise, it can lead to periodontitis, a far more serious condition.
If your cat has developed gingivitis, their gums will appear red and inflamed.
Their breath will likely smell bad, and their gums may also bleed when touched.
Cat Gingivitis Treatment
In order to treat gingivitis, your kitty's teeth and gums will need a really good clean.
One that only a vet can do.
Your cat will need to go under general anaesthetic, as not only do the teeth need to be cleaned, but the gums will also need careful attention.
If you have ever tried to give your cat a pill, you will know that cats do not take well to anything being put in their mouth.
Your vet may also apply a sealant to the surface of the teeth to aid in healing.
Your cat's teeth will need to be kept in good order after the clean, as the gingivitis will only return if dental hygiene is not maintained.
If your cat's teeth do not improve, your vet will need to investigate whether there are other underlying causes of the gingivitis.
Some potential causes could be diabetes, immune system problems or cat scratch fever.
Cat Teeth Problems – Periodontitis
Periodontitis refers to a condition in which the gums, ligaments and bones in the mouth are left with permanent damage.
This condition generally occurs due to buildup of plaque and tartar.
First, the cat will develop gingivitis, and if this is not treated, some cats will go on to develop periodontitis.
If the condition of your cat's gums has deteriorated to this point, your kitty will likely be displaying other symptoms such as fever, discomfort and swollen lymph nodes.
An abscess may also have developed, either in the gums or in the tooth.
An abscess will ooze pus when prodded.
Diagnosing and Treating Periodontitis
Your vet will likely perform an x-ray and other examinations to determine the degree to which tissue and bone has been lost due to the infection.
Like cat gingivitis treatment, treatment for periodontitis involves a thorough clean of your pet's teeth above and below the gum line.
It is imperative that this is followed up by maintenance at home as directed by your veterinarian.
It is worth noting that conditions such a gingivitis and periodontitis rarely occur in cats with clean teeth.
So, keeping an eye on your cats chompers and taking measures to keep them clean goes a long way to prevent anything from happening in the first place.
Cat Teeth Problems – Endodontic Disease
Endodontic diseases are those that affect the structure of the teeth themselves.
The causes of endodontic disease can include trauma and tooth decay.
Signs of endodontic disease can be hard to spot, as cats will often try and hide the symptoms.
This means once the disease has reached the stage that your cat is visibly ill, the disease may be quite advanced.
The best way to spot the disease early is to have your cat's teeth checked regularly by your vet.
Signs to look out for include: loss of appetite, tooth sensitivity when touched or tapped, and teeth that are an unusual color, such as a grey or reddish-brown.
Cat Tooth Abscess: What to Do If You Notice a Cat Tooth Infection
We talked about abscesses earlier in this article, as they can form in the gums.
Well they can also form in the tooth.
Most commonly, an abscess in the tooth is the result of your cat's tooth "dying", because of an injury, or a dental fracture.
If you notice swelling or pus around a tooth, take your cat to the vet for an examination.
Your vet may want to perform a biopsy to make sure the swelling is not due to a tumor.
Cat Broken Tooth
You might assume that "diagnosing" a broken tooth in your cat's mouth would be fairly straightforward.
A broken tooth is hard to miss, right?
My boy had a broken tooth; the top half of one of his lower canine teeth was snapped off for who knows how long before the vet picked it up in his regular check-up.
Thankfully, the tooth didn't die, and the injury itself clearly hadn't affected his ability to eat.
So, all was well in the end. But I was shocked that I missed it.
Treating a Broken Cat Tooth
If the tooth injury had extended into the tooth pulp, root canal surgery or a tooth extraction may have been required.
If the injury was severe and bones had been fractured, further measures would need to have been taken to stabilize the area and to ensure everything healed in the correct position.
As I learnt, paying extra special attention to your cat's teeth and gums is something kitty parents need to be especially conscious of.
Is There Any Value in Dental Cat Food and Cat Dental Treats?
One of the easiest ways to help maintain your furry friend's dental health is by paying attention to their diet.
There are numerous ways in which diet can aid in maintaining dental hygiene.
A report published in 2006 states that foods which contains proteins, minerals, vitamins and other supplements (such as those with anti-bacterial or anti-inflammatory properties) play an important part in not only the maintenance, but also the development, of healthy teeth and gums in animals.
Preventing Cat Teeth Problems With Good Diet
Aside from the nutrients that food provides, the texture of the food your cat eats plays a role in keeping their teeth and gums healthy.
The texture of the food not only physically cleans the surfaces of the teeth, but can also increase salivary flow, help maintain the integrity of the gums and disrupt the metabolism of the bacteria present in plaque.
There have been numerous studies done which demonstrate that a diet of predominantly soft canned food results in poor dental health outcomes.
Inclusion of cat dental treats and food formulated with your furry friend's dental health in mind is one way to keep everything in good order.
Cat Teeth Cleaning – Is It Necessary? Should I Buy A Cat Toothbrush?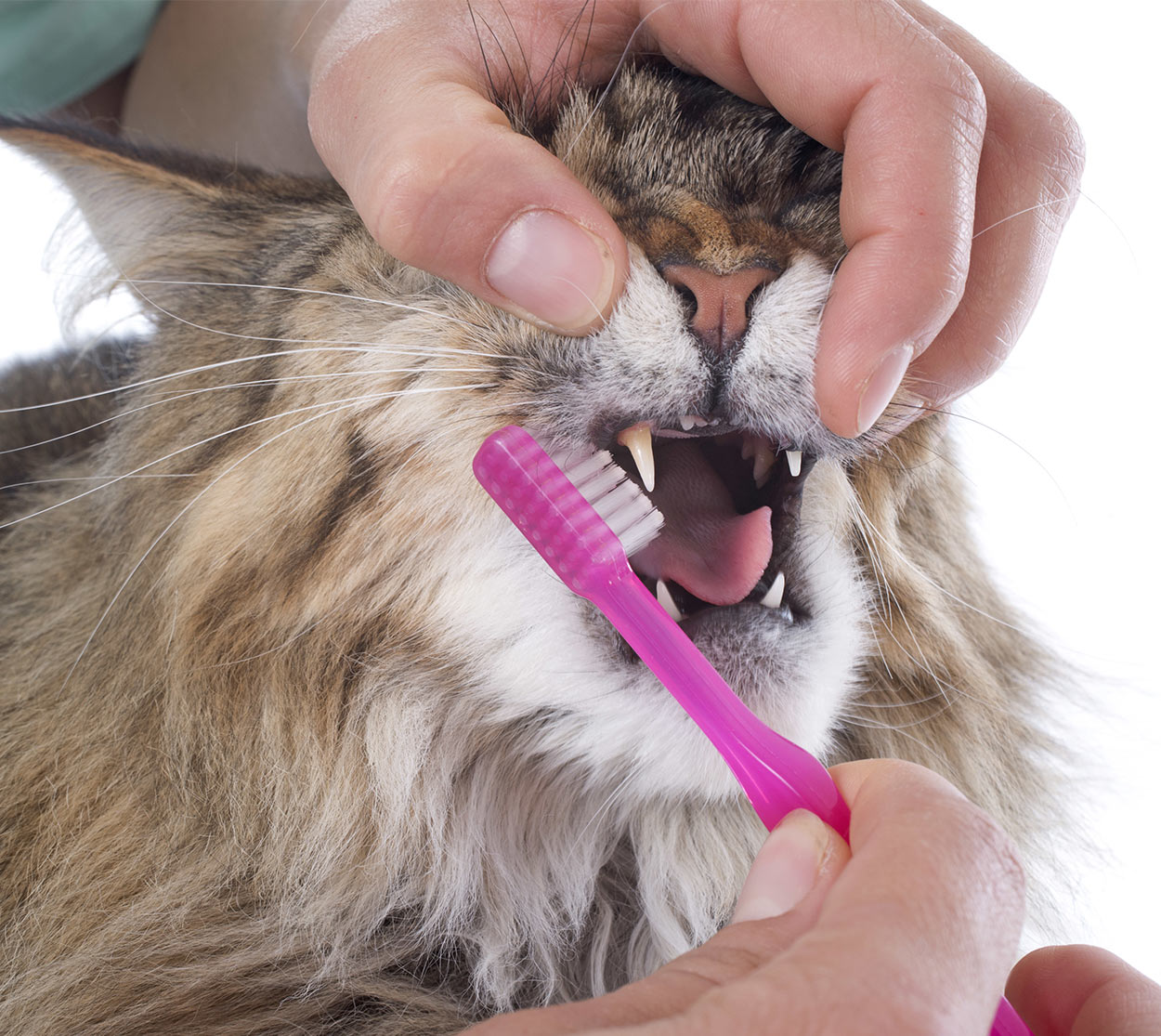 Reports indicate that mechanical brushing is an effective way to control plaque and tartar build-up.
There are various types of cat toothbrush available which can make tooth brushing a less traumatic experience (both for your cat and you!)
Options include angled brushes, finger brushes and double headed brushes. It is also important only to use kitty specific toothpaste, as human products will upset your cat's tummy.
However, as you may suspect, brushing a cat's teeth at home may prove easier said than done.
In fact, reports indicate that the biggest roadblock to the maintenance of dental healthcare routines at home is compliance; with only 30-50 percent of owners complying with veterinary recommendations.
If brushing your cat's teeth at home is proving to be an impossible task, rather than assume you have failed, talk to your vet.
Studies suggest that the use of dental health treats is a viable alternative to brushing.
Other Cat Teeth Problems: Is A Cat Grinding Teeth Normal?
If your cat is grinding its teeth, it is an indicator that all is not well.
A trip to the vet is vital to diagnose the problem, as neurological and gastrointestinal problems need to be ruled out.
Most commonly, however, the issue is likely to be dental pain.
This pain could be due to any of the illnesses we have mentioned in this article, so a proper diagnosis is essential.

Your Role in Cat Dental Care
If you have ever experienced a toothache, you know that it is a horrible experience.
Getting to the dentist and sorting out the issue is a great relief.
Cats can be mysterious creatures, so discerning whether they are in pain, let alone why, can be quite an art.
I hope this article has given you some clues as to what to look for if you suspect your kitty is suffering from dental pain.
As always, getting them to the vet is the first and most vital step to resolving the issue.
And keeping your cat's gums and teeth healthy, along with regular check-ups, will go a long way to prevent the issue from arising in the first place.
Does Your Cat Have Healthy Teeth?
Or have they had more than their fair share of cat teeth problems?
Do you have a clever trick for brushing their teeth?
Please share it in the comments section, and don't forget to share this article if you found it helpful!
References:
Bellows, J. Retained Deciduous Teeth (Baby Teeth) in Cats, VCA hospitals
Poulet, F.M., et al, A Survey of Epithelial Odontogenic Tumors and Cysts in Dogs and Cats, Vet Pathology, 1992
Lommer, M.J., Oral Inflammation in Small Animals, Vet Clinic Small Animals, 2013
Gross, T.L., et al Skin Diseases of the Dog and Cat: Clinical and Histopathologic Diagnosis John Wiley & Sons, 2008
Watson A.D.J., Diet and periodontal disease is dogs and cats, Department of Veterinary Clinical Sciences, The University of Sydney, New South Wales, 2006
Allen, D.G., et al Dental Disorders of Cats, MSD Manual Online
Harris, S., et al, A Pyrosequencing Investigation of Differences in the Feline Subgingival Microbiota in Health, Gingivitis and Mild Periodontitis, PLOS, 2015
Dodd, J.R., Small Animal Dentistry: Brush Up On Dental Health For Your Pet, TAMU Veterinary Medical Teaching Hospital
Logan, E.I., Dietary Influences on Periodontal Health in Dogs and Cats, Veterinary Clinics Small Animal Practice, 2006
Benigni, C., Feline Odontoclastic Resorptive Lesions, Zimmer Feline Foundation, 2008
Diehl, K., Rosychuk, R.A.W., Feline Gingivitis-Stomatitis-Pharyngitis, Veterinary Clinics of North America: Small Animal Practice, 1993
Johnston, N., An Updated Approach To Chronic Feline Gingivitis Stomatitis Syndrome, VP, 2012