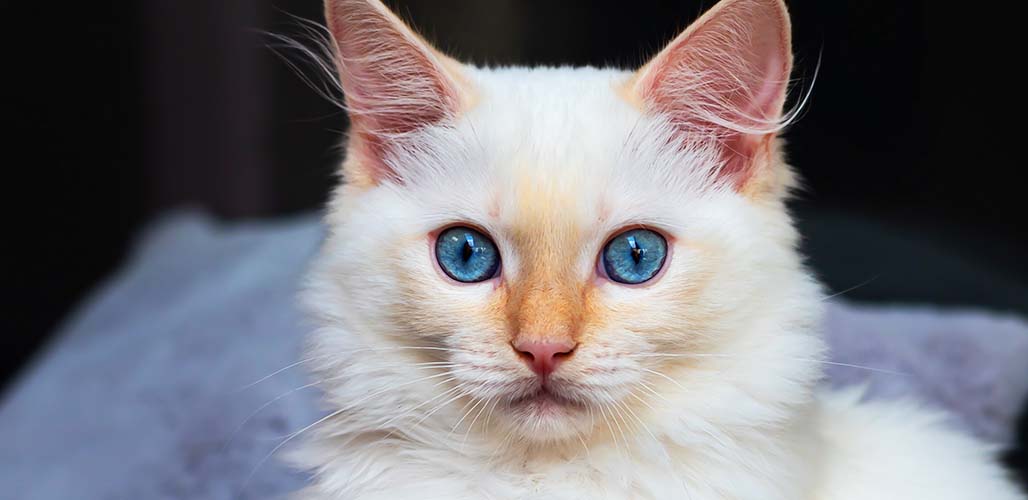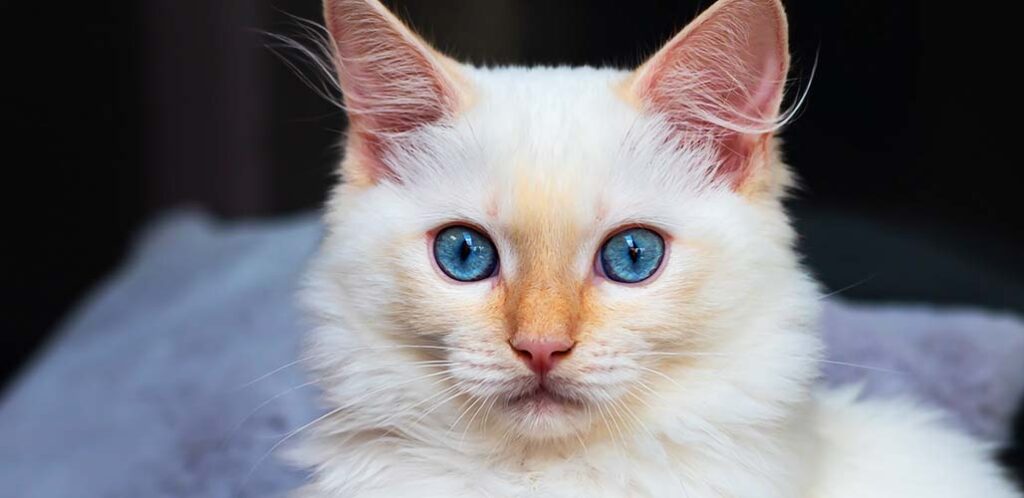 Red or flame point Ragdoll cats will have white fur covering most of their bodies. But, the pointed parts of their bodies including their face, ears, tails, feet and legs will have a red coloring. The shade of their points ranges from a light, dusky orange, to a deep, fiery red. Flame point Ragdolls can be mitted, bicolor or colorpoint, and some can even have tortie or lynx patterning at their points. Like any other Ragdoll cat, this variety will have medium to long fur. Their eyes will be blue and their coats are double layered and silky soft to the touch.
Contents
Main Characteristics
| | |
| --- | --- |
| Coloring: | Points range from pale orange to deep red. The rest of the body is creamy white. |
| Size: | Large, muscular body type. Usually between 10 and 20 lbs as adults. |
| Fur Type: | Medium to long, double layered coat that feels very soft to the touch. |
| Temperament: | Friendly, affectionate, gentle and curious. |
| Average Lifespan: | 10 – 15 years. |
| Average Kitten Price: | $1000 – $2000 |
Flame Point Ragdoll History
Flame point Ragdolls are a popular variety of the Ragdoll cat breed. They are also called red point Ragdolls, and sometimes flame tipped Ragdolls. The Ragdoll breed's roots are found in California, when a breeder named Ann Baker combined a white longhaired cat with a seal point mitted male.
Though the breed's origins start in the 1960s, subsequent breeders continued to develop and standardize kittens to produce the Ragdoll as we know it today. The Ragdoll cat is now recognized by all major breed registries.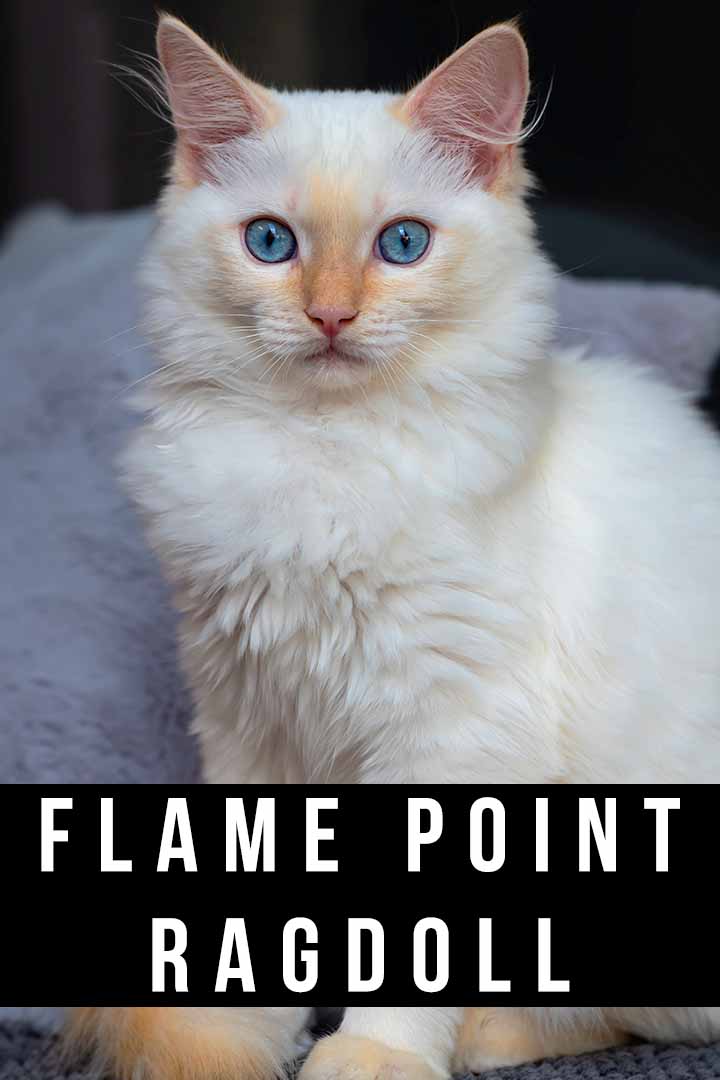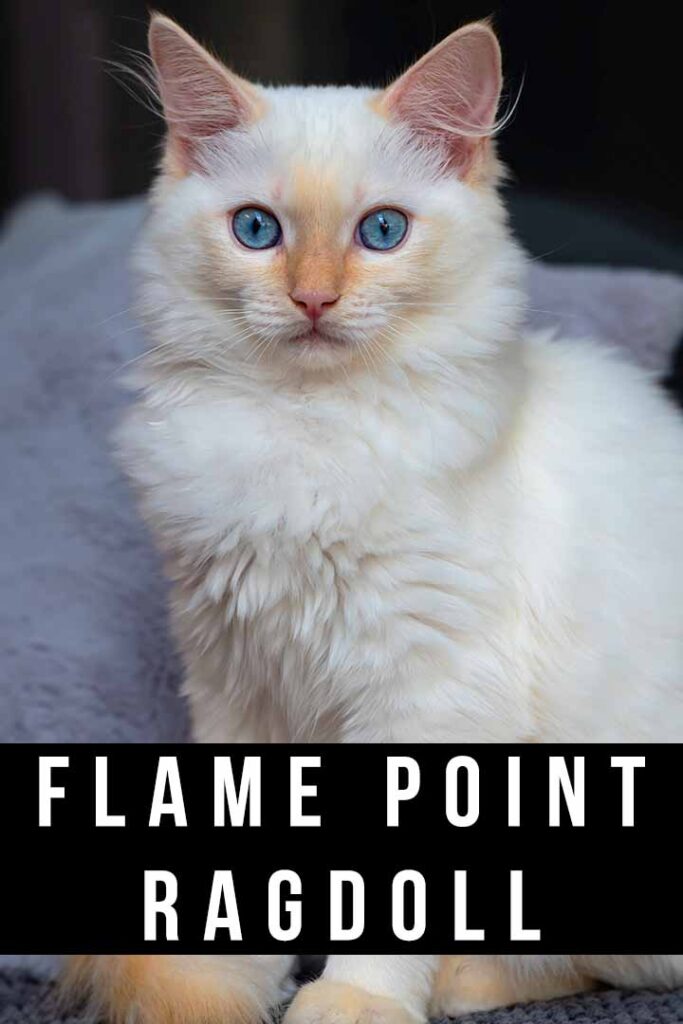 Are Flame Point Ragdolls Rare?
Red is a widely accepted color for Ragdoll cats. And, flame points are quite a popular variety of the Ragdoll breed, so it can be difficult to find these cats. Pointed coloring is actually a form of temperature sensitive albinism. So, pigment levels in individual hairs vary depending on the temperature of your cat's skin at the root. Temperature at your Ragdoll's points is the lowest, so the hairs here produce more pigment.
The color of the pigment at your Ragdoll's points is decided by the genetics they inherit. Red coloring is decided by the O gene, which comes in dominant and recessive forms. The dominant form of this gene overrides eumelanin, which produces black and brown pigment.
Are Flame Point Ragdolls Friendly?
One of the biggest appeals of the Ragdoll cat breed is their personality. Ragdolls, no matter what their coloring, are friendly, affectionate, and gentle cats. Their name comes from their tendency to flop like a rag doll, whether at your feed or in your arms.
Owners also report that Ragdolls are an extremely curious and playful breed. Some would even dub them dog-like. They love to explore the world around them, and some will even enjoy playing in water. Dedicated owners have seen success in teaching their Ragdolls games and tricks. Most Ragdolls get along well with children and other pets, as long as they are treated gently and with care.
Are They Good Pets?
Ragdolls aren't as clingy or vocal as some breeds, but are happy to spend lots of their time with you. They're equally happy on your lap and playing games at your feet.
Ragdolls are very curious cats that love exploring the world. But, because they are so intelligent and playful, they have high mental stimulation needs. So, you'll have to dedicate time every day to playing with your flame point.
Despite their long fur, Ragdolls don't have extraordinary high grooming needs.
Health vs Color
Ragdoll cats are generally healthy. Flame coloring in this breed has not been linked to any specific health problems. In fact, Ragdolls are known to live well into their teens with good care and regular veterinary checks. But, like any cat breed, they can be prone to certain problems such as heart and kidney disease.
Flame Point Ragdoll Kittens
This color pointing is unusual and it can take a while to find a litter of kittens that are likely to have it. You'll be likely to need to register your interest with a breeder and ask to go on their waiting list. It is a good idea to check whether they have a pedigree and make sure that there aren't too many repeat names in it. With a unique looking recessive genetic trait like this you can find that breeders have mated back to the same cats several times to make sure it's displayed in their litters. This is detrimental to the kittens health and should be avoided where possible.
Ragdoll kittens are all born white, but their color will start to show as they grow. By the time they come home with you, they will be showing some color, but this pigmentation will continue to develop and deepen over time.