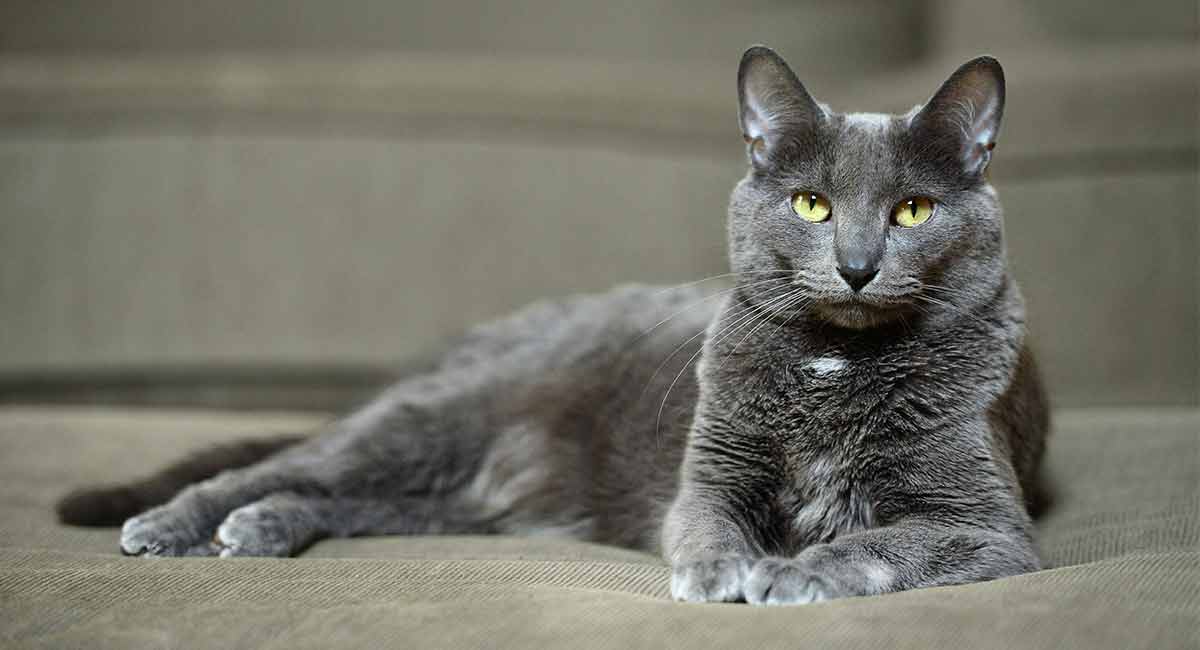 If you're looking for a beautiful, intelligent and loyal breed of cat, look no further than the Korat cat.
One of the oldest, most unchanged breeds of cat, the origin of the Korat has been traced to Ampur Pimai of the Korat region of Thailand.
The Korat is also called the Si-Sawat (sigh-sah-what) cat because its fur is the color of the sawat fruit seeds.
Considered one of the cat breeds of Thailand that could bring good fortune, it was first recorded in the Cat-Book of Poems or Smud Koi of Cats written between the 1300's and 1700's.
It is thought that a Korat with a kink in its tail will bring extra good luck.
What is a Korat Cat?
The Korat is a gorgeous silver-blue. In Thailand, their color is described as "rain cloud gray".
Each hair on the Korat's pelt is blue tipped with silver that gives an overall effect of shimmer as it catches the light.
Its heart shaped head gives the Korat a unique look and its large green eyes are captivating.
The Korat appears to be a smallish cat until you pick one up.
This cat is very muscular with a low percentage of body fat. He is a compact but solid cat.
The Korat first found its way to the United States in 1959, and in 1966 the Korat was accepted into championship status by the Cat Fancier's Association.
How Big is the Korat?
The Korat's size is deceiving. He weighs more than his appearance suggests.
He is a medium-sized cat weighing anywhere from six to ten pounds and stands ten to twelve inches tall.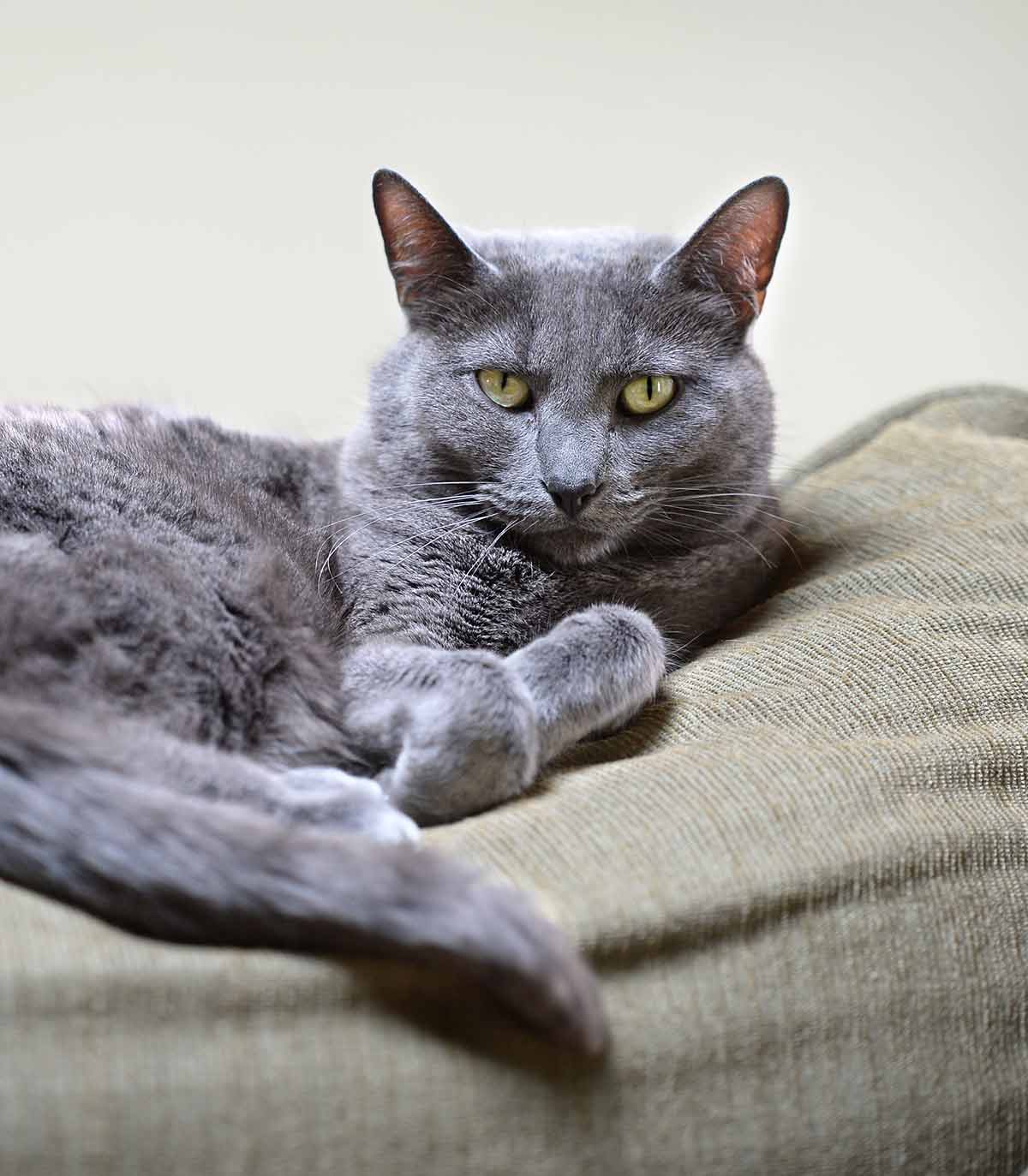 The body is semi-cobby with a tapered waist, somewhat stocky through the shoulders.
Because of the Korat's low body fat percentage but muscular physique, the cat is deceptively heavy.
He is described as picking up a tightly coiled steel spring!
Is the Korat Hypoallergenic?
People with cat allergies react to the FelD1 protein found in cats' saliva, skin and urine.
A cat grooms itself by licking, and the protein is dispersed when saliva dries on shed hairs and dander.
The fur then floats in the air when shedding or being petted causing the allergic person to have a reaction.
Some allergy sufferers have a less severe reaction to the Korat because he has a coat that is short and close-fitting. It doesn't tend to float up when being petted and only has a single layer.
However, there's no guarantee that you can co-exist happily until you actually meet.
This article has more information about cat allergies, and cat breeds whether any cat breed can ever be truly hypoallergenic.
What is a Korat's Personality Like?
The Korat is a lively and energetic cat. They are extremely intelligent and loyal.
Their expressive faces can tell you just what a Korat is thinking and Korat owners will agree.
They also might tell you that the Korat knows what you're thinking as well!
The Korat is smart and observant and will watch and learn certain behaviours.
One owner reported a Korat who preferred a certain type of music and changed the radio station to their preferred jazz music instead of the owner's preference.
This happened on multiple occasions!
Korats are athletic and playful. They have almost a dog's mentality of 'get the toy at any cost.'
Many will fetch a toy in the hopes that you'll throw it again and allow it to give chase once more.
Korat Temperament
The Korat cat is playful, but he is not a cuddly cat.
Many Korat will fight against being picked up or restrained, and they're unlikely to spend much time sitting on your lap.
This could be a bonus if you'd like a charismatic housemate but you're not one for long hugs on the sofa!
Korat Health
The Korat cat breed has evolved almost entirely by natural selection. Charles Darwin would be proud!
Because of this they are a very robust and healthy cat breed – they have often been noted to live past fifteen years.
They are slow to mature, many not even developing the distinctive green eye color until they are between two and four years old. They tend to take several years to reach their full size.
Like all cats, Korats can fall ill from time to time, pick up parasites, and need care from a vet.
However, they are refreshingly free from widespread inheritable genetic disorders, with one notable exception.
Korat Gangliodosis
The only genetic issue seen with the Korat is gangliosidosis.
Gangliodosis is a lysosomal storage disease characterized by a beta-galactosidase deficiency.
In other words, kittens with gangliodosis can't store all the important molecules they need to properly within their cells.
This can cause neurological symptoms such as tremors and abnormal gait.
It is usually fatal, noticed in the first one to five months of age and typically culminating in death by eight to ten months.
Thankfully, we understand the way gangliodosis is inherited, and it can only be passed on when both parent cats are carriers of a faulty gene.
All adult Korat cats can be tested to find out if they carry the faulty gene before they mate, and your breeder should be able to show you the test results for both parents.
How Do I Find a Good Korat Breeder?
Finding a Korat breeder in the United States might be tough.
Not because the Korat isn't a great cat, but because they aren't very well known.
There are, however, several Korat catteries in the United States and some research about each one should be easy to come by.
Insist on meeting your kitten at the breeders' home with their mother before you purchase a Korat kitten.
The breeder should deworm their kittens and have the first round of shots administered before the kittens are ready to come home.
Good breeders will issue a health certificate and require that you take the kitten to the vet within a couple days of bringing him home.
They will also give you copies of the certificates from both Korat parents to show that at least one is not a carrier of the gangliodosis faulty gene.
Korat Cat Price
At the time of writing, a Korat kitten price may start at $400 but will go up depending on the quality of the kitten.
Those descended from champion lines will fetch a higher price.
If you aren't set on getting a kitten or showing your cat, why not think about adopting a retired or abandoned Korat adult cat?
Is the Korat Cat Right for Me?
The Korat cat is sometimes sensitive to loud noises and homes with young or noisy children would not be a good fit.
They do well with older, quieter children.
They are highly sociable cats and would not do well in a home with a single person who works or is often away from home.
Korats do well with other cats and have a tendency toward being the alpha.
They are vocal and will speak in order to communicate their needs. They are intelligent and open to training but shouldn't be scolded.
The Korat Cat
In short, if you are looking for a unique cat that is smart and loyal, look no further than the Korat.
A gorgeous breed, the Korat is not just another blue cat, their coat has inspired all kinds of evocative similies.
This distinguished cat is ultra-smart but not keen on cuddles.
They love a home with adults and older children who are around all day to play games, but who won't man-handle them.
In return, this healthy cat breed with reward you with many years of companionship.
Do You Have a Korat Cat?
How did you first come across this one-of-a-kind breed? Do you think we've done them justice here?
Tell us about your experience in the comments box!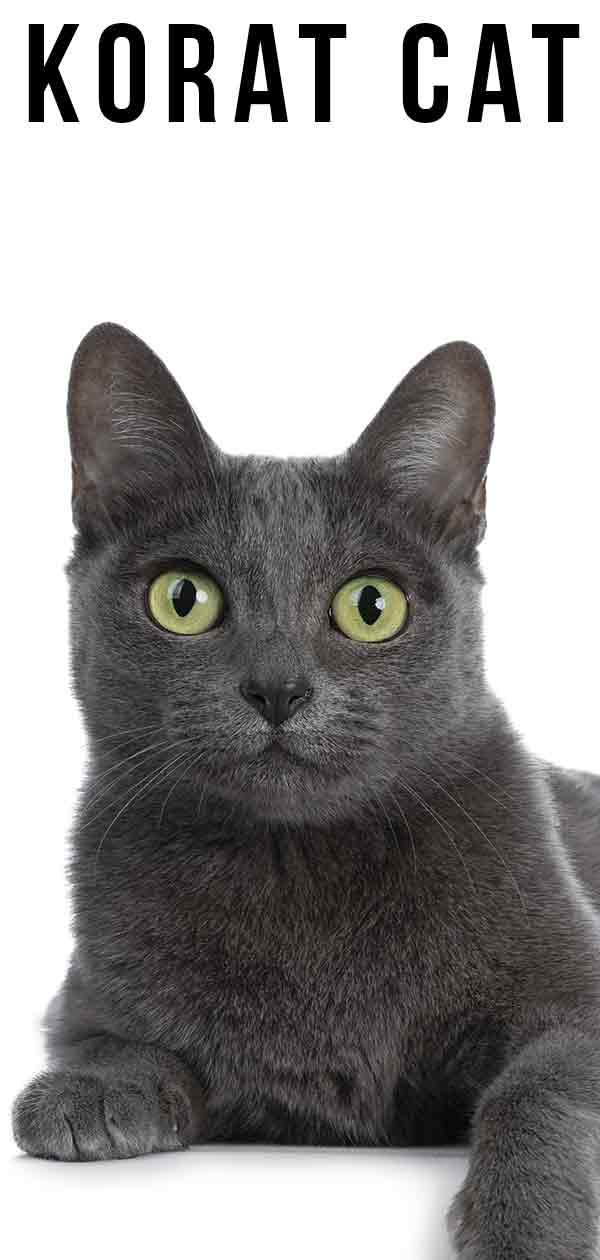 References
Cat Fancier's Association – Korat 
Bell & Cavanagh, Veterinary Medical Guide to Cat and Dog Breeds, CRC Press, 2012.
De Maria, R., Divari, S., Bo, S. et al. β-Galactosidase deficiency in a Korat cat: a new form of feline GM1-gangliosidosis Acta Neuropathol (1998) 96: 307.