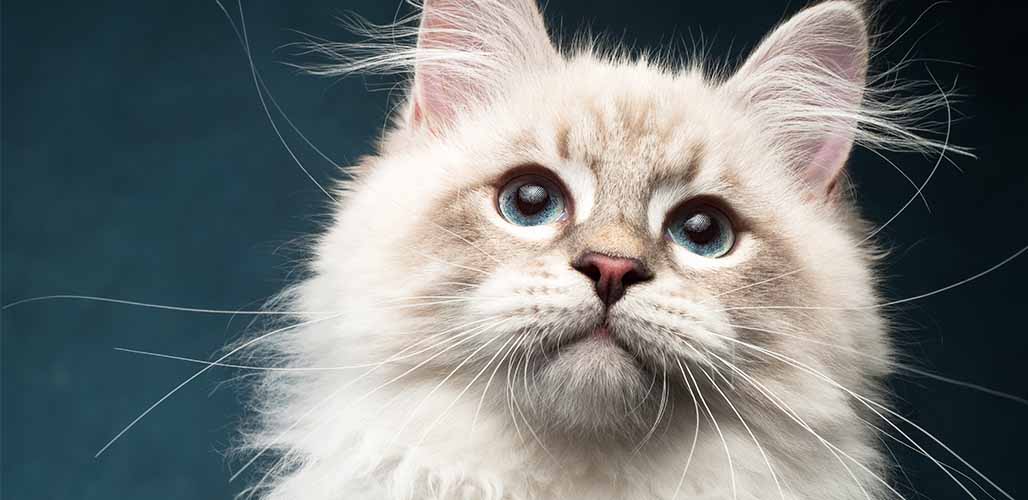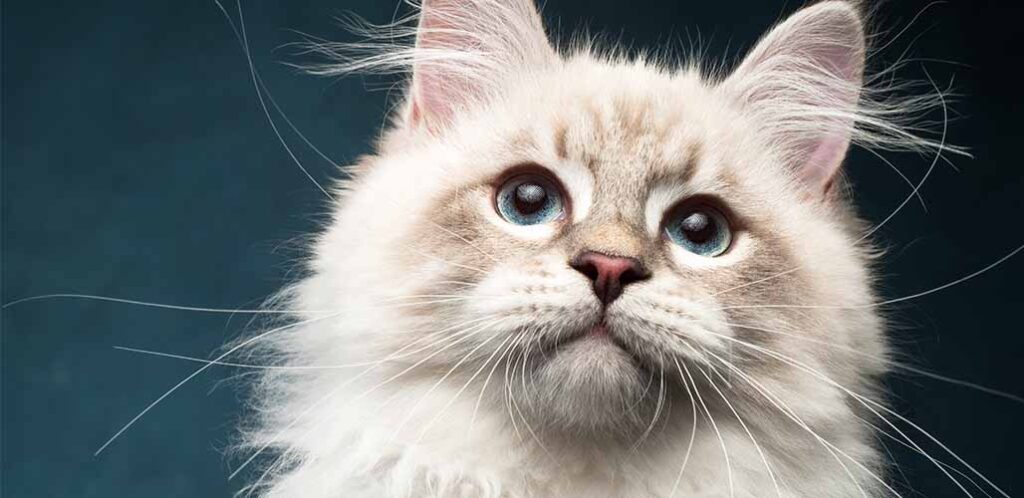 The Neva Masquerade cat is a blue eyed Siberian Forest cat. They have soft fur with pointed ears, tails, faces, and legs. Their medium length, dense coat is usually white, cream or a shade of red. Their points come in lyn, seal, tabby and tortie patterns. The Neva Masquerade cat is low shedding but hypoallergenic! These playful kittens grow to around 20 lbs in weight as adults. They can make great pets for families with time to give them plenty of love and attention. Today we'll see whether this affectionate and loving cat is a good fit for your home, where to find the best Neva Masquerade cat breeders and how to care for this unusual companion.
Contents
The Neva Masquerade cat sounds like such an exotic breed, and they are beautiful inside and out. This kitty can be recognized by a very specific set of colors and markings as well as by certain unique personality and temperament traits.
What Is a Neva Masquerade Cat?
The Neva Masquerade cat is a purebred Siberian Forest cat (Siberian cat for short) with a specific coat color and set of markings. In the world of cat breeding, these markings are called "points."
The word points refers to how color accents show up on the face and paws and sometimes in other places as well. Many cat breeds display points as markings. But how points show up in the Neva Masquerade Siberian cat can contribute to a particular stunning visual appearance.
Another unique and interesting feature on the Neva Masquerade is the unusual appearance of their ears.
The Neva Masquerade cat's ears have two different types of fur. The horizontal fur is called "furnishings" and the vertical fur is called "tufts." Together, this extra fur creates the visual appearance of pointed ears even though the Siberian cat's actual ear shape is round.
As if their exotic markings and unusual ears aren't already eye-catching enough, the Neva Masquerade Siberian cat breed is also known for their beautiful blue eyes.
Neva Masquerade Cat History
Siberia is one of the coldest places in Europe. The annual average daily temperature is just 41 degrees Fahrenheit (5 degrees Celsius). So it also makes sense that the Siberian cat breed has a very thick and fluffy double layer fur coat!
The first references to Siberian cats in historical documents date all the way back to 1,000 A.D. From reading these accounts, it would seem the first Siberians were recognized not so much for their beautiful appearance but for their expertise in catching pesky household rodents.
The Neva Masquerade Siberian cat is a much more recent color variant. Feline historians believe it occurred when Siberian cats interbred with Balinese, Himalayan, Siamese or Persian cats in the 1980s. No one knows for sure whether the interbreeding was accidental or intentional.
Intriguingly, it is said the Neva Masquerade cat got their name because their markings look like a mask and masquerade balls were once popular in the area near the Neva River in Russia where this breed originated.
Is the Neva Masquerade Cat Breed Rare?
In their home country of Russia, the Siberian Forest cat is well known and still considered to be a national treasure. Siberian cats are even featured in many children's tales.
Siberian cats were once a rarity outside of Russia, but their popularity is growing and they are much more common in the States and Europe today.
However, because the Neva Masquerade cat has different coat colors and markings than the traditional Siberian cat, it is easy to see how people can get confused and think the Neva Masquerade is a whole new cat breed.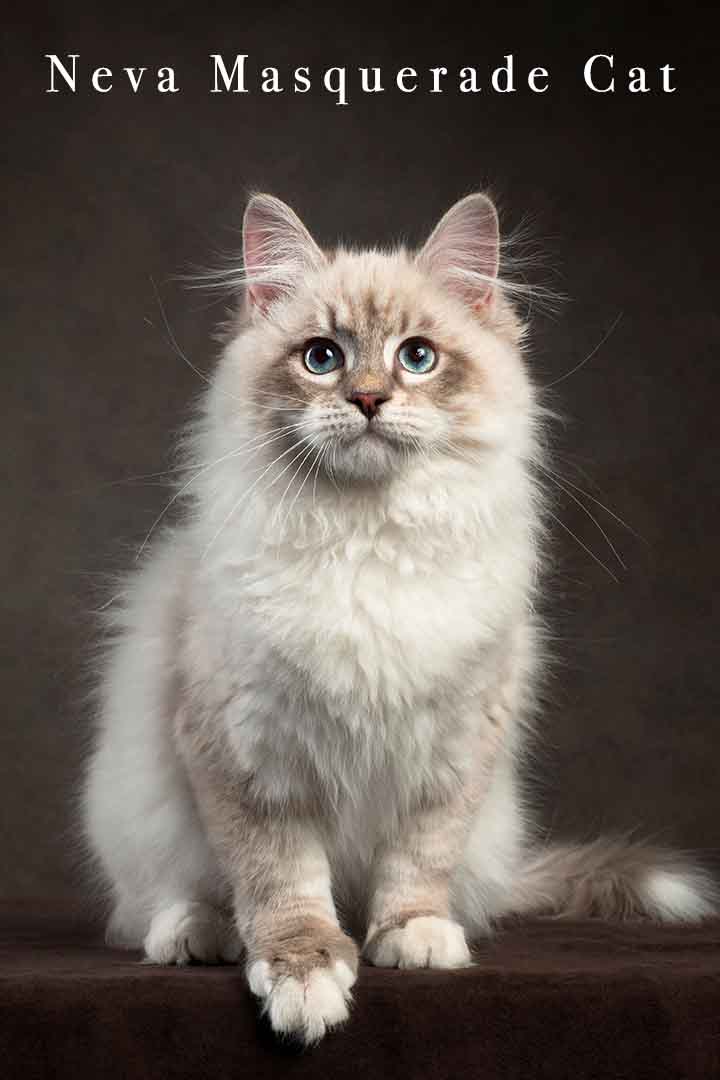 Neva Masquerade Cat Markings
The Neva Masquerade cat has stunning blue eyes and specific markings called points that appear on the face and paws. The points may also appear on the tail, ears and legs. But what is important in the world of cat breeders and cat shows is that the areas on the cat's body where points appear must match in color as well as in color density.
The point colors must not appear anywhere else on the cat's body other than on the allowed areas as specifically noted in the breed standard.
Their white coat arises in cats who lack an enzyme called tyrosinase, which triggers production of pigment (melanin). Without tyrosinase, the Neva Masquerade's coat will always be white. The Siberian Neva Masquerade also has Siamese points, which refers to the color matching on the face and ears and often occurring as well on the tail and legs.
The most common color combinations for the Neva Masquerade cat include seal point, seal lynx point, blue point, blue lynx point, cream point, tabby and tortie (tortoiseshell). In all cases, the cat's coat will be either white to cream or ivory or more of an apricot or red color.
Is the Neva Masquerade Cat Hypoallergenic?
Today, science has proven there is no such thing as a hypoallergenic pet cat. However, research has also explained what causes pet allergies – a protein that is present in feline saliva, skin and urine.
If you have pet allergies, this is the protein triggering your symptoms. But you have probably noticed that the less contact you have with your cat's fur, the more control you have over how miserable you feel.
The Siberian cat breed sheds less than many other cat breeds. So while the Neva Masquerade cat is not hypoallergenic in the truest sense of the word, you may find you suffer fewer allergy symptoms when you choose this cat breed.
Life With a Neva Masquerade Cat
These cats are surprisingly agile for their large body size and are incredibly personable and intelligent. They are remarkably tolerant of other pets and good with kids.
Are you considering adding the unique and beautiful Neva Masquerade cat to your family? Share your story in the comments.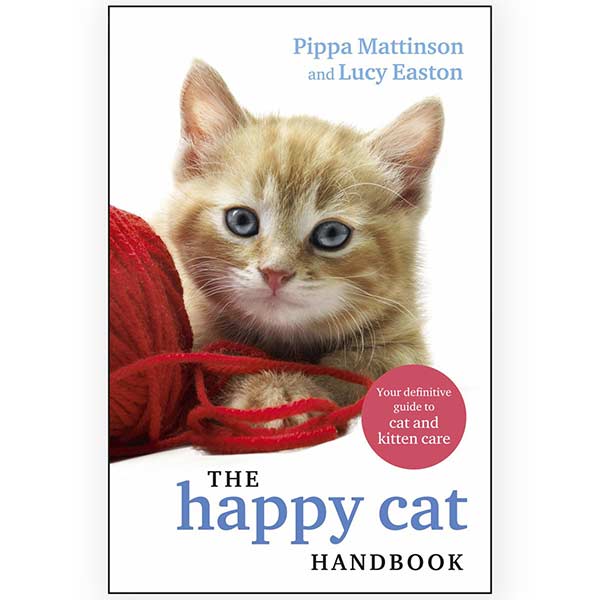 Learn More About Siberian Cats
References
Your Amazing Cat!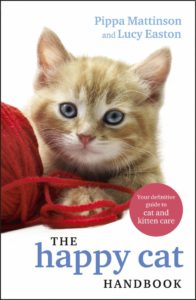 We are so excited to share our new book with you!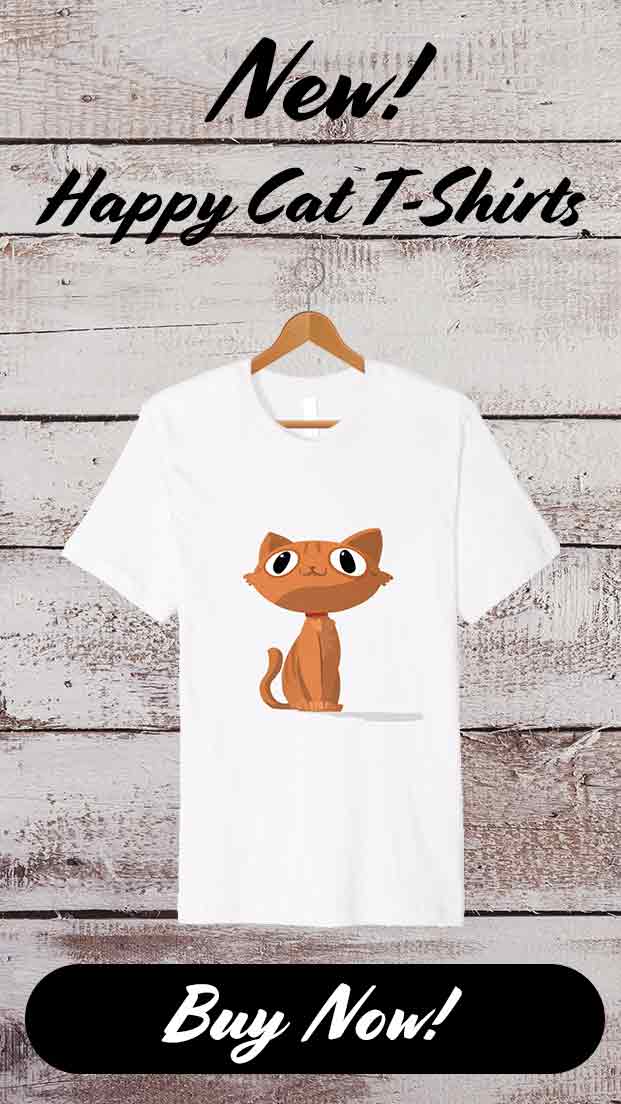 If you have enjoyed your visit to The Happy Cat Site we think you'll love The Happy Cat Handbook.
Written by the founders of this website including the author of the hugely successful Happy Puppy Handbook, it's packed with cat care information and fascinating cat facts.
Grab your copy today!