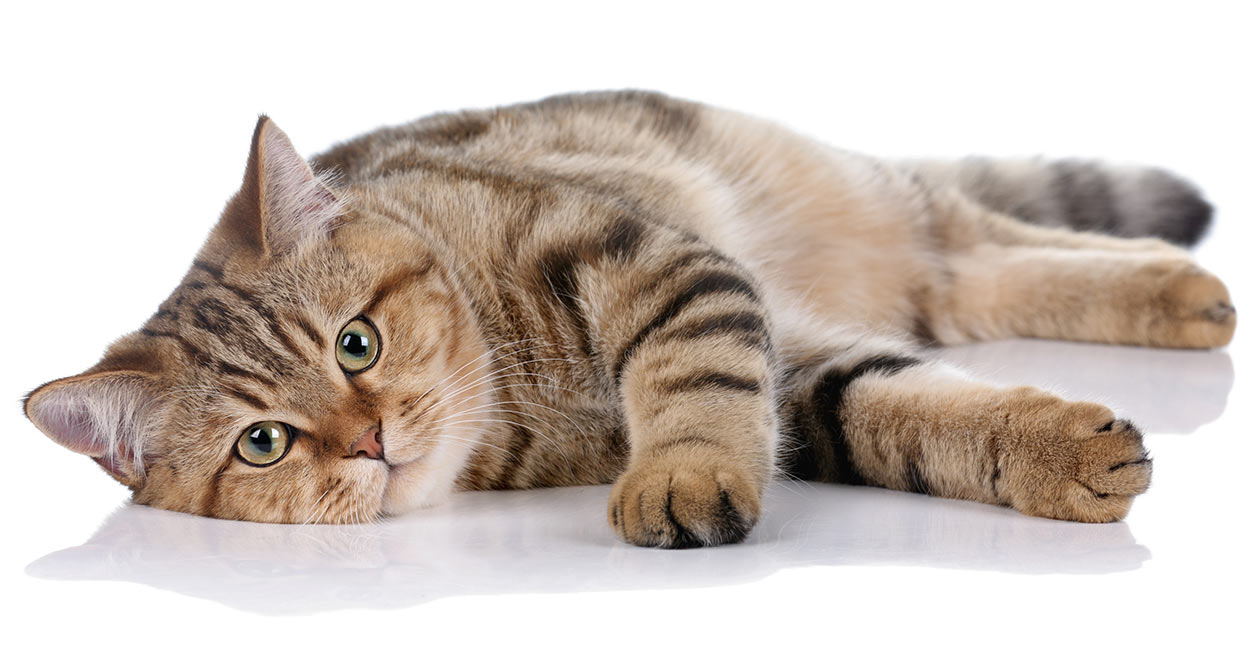 Do You Have An Overweight Cat? Are You Worried That Your Kitty Might Be Piling On The Pounds?
Welcome To Our Complete Guide To Fat Cats!
Including How To Tell Whether Your Cat Is Overweight, And The Best Advice For Helping Him To Slim Back Down.
I am a fan of big cats. My cat is a big boy.
He's tall, strong, and I am sure he thinks he is a tiger.
He seemingly asks for food all day, and he can be quite convincing.
But there is a point where, as a responsible cat owner, I must draw the line and tell him to wait for his next meal.
There is a big difference between a big cat and a fat cat.
Poorly managed diet and a sedentary lifestyle are the most common contributing factors behind a prevalent health problem amongst cats—obesity.
Overweight cats have a shorter lifespan than cats of a healthy weight.
They are also at higher risk of a raft of other medical conditions such as diabetes mellitus, orthopedic problems, and cardiorespiratory issues, just to name a few.
The reasons behind why cats gain weight can be many and varied.
It could be due to existing illnesses, the age of your cat, neutering, or the social and physical environment in which your cat lives. But the most likely culprits for weight gain are poor nutrition and insufficient exercise.
The good news is that there are ways you can help your fat cat lose weight.
In this article we will discuss in detail how to tell if your cat is overweight, why your cat may be overweight, and how to help a fat cat lose some weight.
Is My Cat Overweight?
If your cat's weight is 20% above the recommended weight for its size, then your cat is considered obese.
In everyday terms, what does that look like?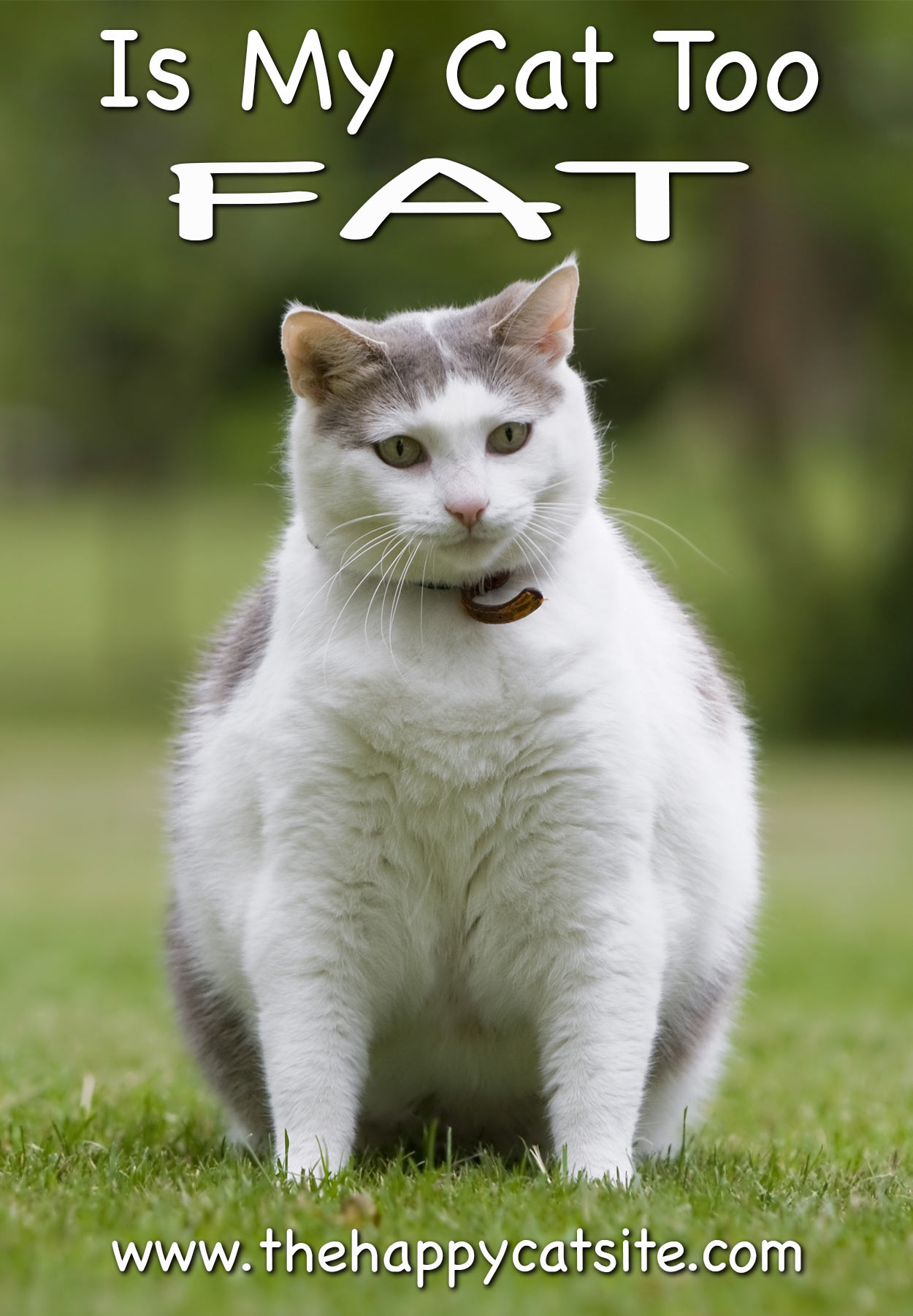 Overweight Cat Symptoms
You can get an idea if your cat is overweight by doing a body condition score.
Feel the ribs, hips, shoulders and spine of your cat. You should be able to feel these bones under a small layer of fat.
If you cannot feel these bones, then your cat is too pudgy.
Next, have a look at your cat.
From the top, your cat should have a defined waist.
If your cat is the same width from shoulders to hips, it is carrying too much weight.
Look at your cat from the side, your cat's tummy should have a slight incline up towards the hips.
If your cat's belly is straight, or even sags and swings as your cat walks, it is time to address their weight.
Other tell-tale signs of an obese cat include wheezing and snorting, or a dirty or greasy anal area and lower back.
The skin may also appear flaky and dry in these areas.
This happens because fat cats cannot reach these areas to clean them properly.
How To Tell If Your Cat Is Fat
A trip to the vet is the surest way to determine if you cat is overweight.
If you decide to take your cat to the vet, your vet will probably ask for information about your cat's current diet and activity levels, weigh them, and palpate your cat's ribs, tail and lumbar area.
Your vet will also take into consideration any other medical conditions your cat may have, and the breed and build of your cat.
Some cat breeds, such as Siamese for example, are naturally slimmer than other breeds.
Usually, your vet will check your cats weight when you take it in for its yearly vaccinations and check-up.
I know from personal experience, if your cat has gained weight gradually over the year, you may not have even noticed.
A yearly check-up is a great way to keep a track of your cat's weight.
Why Is My Cat Fat?
Just like humans, it is likely that your cat is a bit too chunky because it eats too much and doesn't exercise enough.
But there may be other causes behind your cat's weight gain.
Neutering and the overweight cat
While neutering your cat is an important part of responsible pet ownership (unless you plan to breed), it is one of the main factors that causes felines to gain weight.
Studies suggest that after a cat is neutered, the changes to their body could lead to weight gain.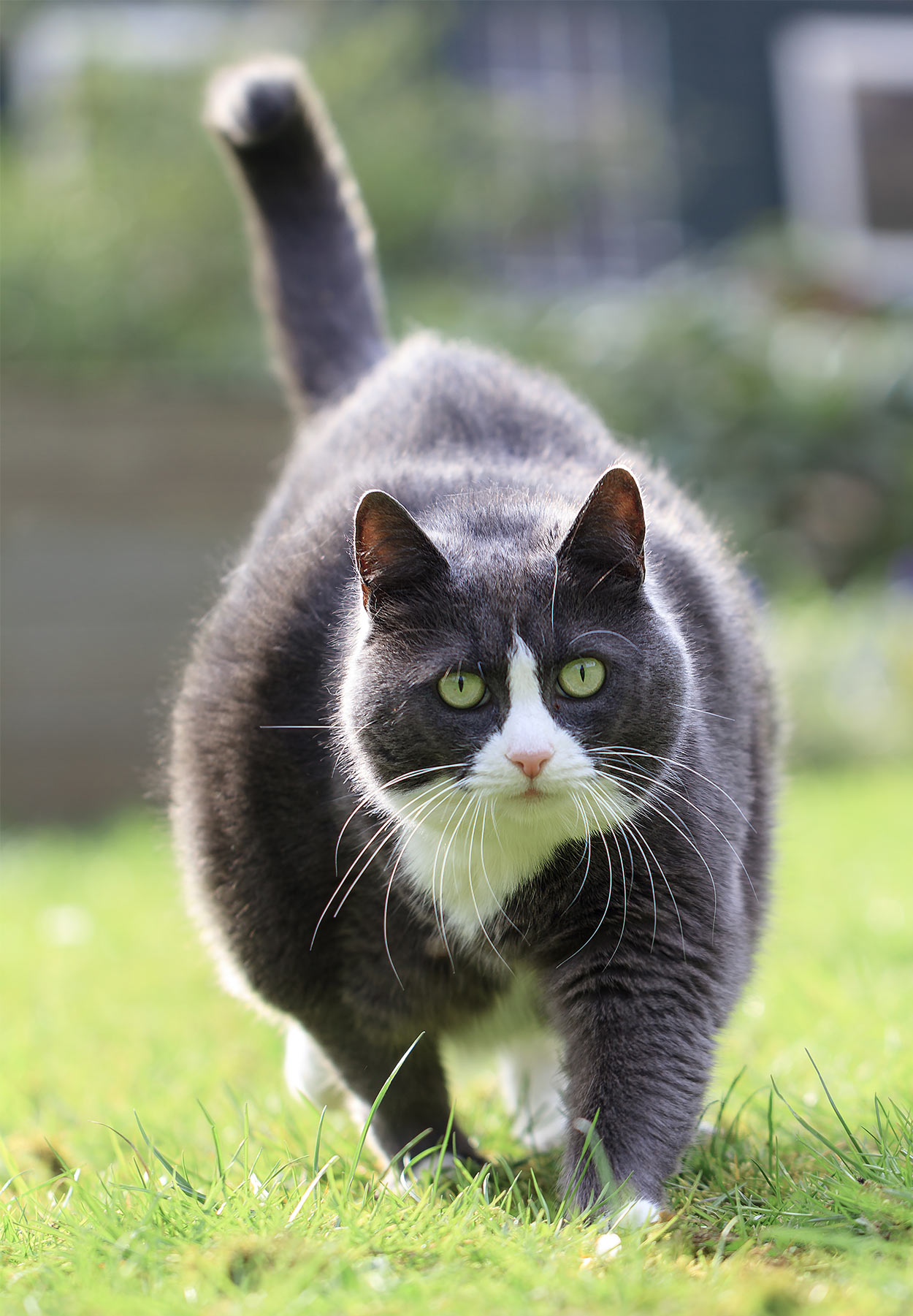 For instance, your cat may experience a reduced metabolic rate, increased dietary intake, decreased activity and hormonal changes.
Once your cat is neutered, it is a good idea to keep a closer eye on their weight, and make adjustments to their diet and lifestyle as needed.
Can you have an overweight cat for medical reasons?
Some medical problems that may impact your cat's weight include orthopedic diseases which limit your cats' ability to exercise, or metabolic and endocrine disorders.
These conditions are fairly rare, but if you cat is suffering from one of these issues, you will need to work along with your vet to manage it successfully.
If your cat is taking medication for a pre-existing health condition, the medication may be the cause of weight gain.
Because your cat likely needs to take these medications, it is vital to consult your vet if you suspect the medication your cat is taking is causing it to gain weight.
Overweight Cat Lifestyle
If your cat likes to laze around all day, it stands to reason they will more readily put on weight.
You may also find it interesting that cats who are under stress tend to indulge in a bit of comfort eating.
And if your household is made up of many cats, some of them may feel that they have to eat more, or eat faster, to ensure they don't miss out on their fair share of food.
But it isn't just your cat's lifestyle habits that could be causing it to beef up.
Many studies into feline obesity indicate that our lifestyle as pet owners, and our own attitude toward food have an impact on the weight of our cats.
Owners who see food as a reward may tend to communicate with their pet cats through food rewards, resulting in an overweight kitty.
Cat Breed vs Cat Obesity
While research has been done into which purebred breeds of cats are more likely to put on weight than others, the evidence is not conclusive.
Interestingly, however, according to a 2009 study, long haired breeds like Persians appear to be one of the least likely breeds to be overweight.
As for mixed breed cats, this study seems to indicate that they are more likely to pile on the pounds than purebreds.
When it's all said and done, whatever breed of cat you have, if you do not feed it a healthy diet and encourage an active lifestyle, you are just as likely to have a fat Siamese cat as you are to have a fat mixed breed.
Indoor Cats' Weight Gain
Indoor cats are likely to be less active than their outdoor counterparts.
This means they are more likely to gain weight.
Older Overweight Cats
Just like humans, most cats will tend to slow down as they age. Suddenly, spending the morning lying in the sun seems a whole lot more appealing than chasing after a ball on a string like a maniac for half an hour.
According to the American Animal Hospital Association, cats between the ages of 5 and 12 are at the highest risk of becoming overweight.
My Cat is Too Fat! – How to Help Your Fat Cat Lose Weight.
Putting your cat on a weight loss program needs to be done with caution. If you put your cat on a crash diet, they could wind up with some serious health problems such as hepatic lipidosis, a form of liver disease.
Weight loss is best achieved gradually, under the supervision of a veterinarian.
Overweight Cat Diet
One of the easiest things you can do to help your cat shed some pounds is address their diet.
However, it is not as simple as whacking your cat on a low-fat diet.
A cat's dietary needs are very different to humans.
Cats are obligate carnivores, meaning they need a high protein diet, and cannot process plant based products.
Therefore, it is best to feed your cat food that is especially designed for their needs.
If you would like more details about which cat foods are best for cutting or controlling your cats weight, have a look at this article.
Another adjustment you may have to make is related to how you feed your cat.
Free feeding, or leaving food out for your cat to nibble on at their discretion has been linked to obesity in cats.
It is also worth noting that, unlike dogs, cats are not social eaters. This means that when your cat approaches you, they are not necessarily seeking food.
Understanding this may help to control your cat's food intake.
Changing Your Overweight cat's Lifestyle
Scheduling in some playtime with your pet will not only be a hoot for you and your cat, it will also help keep your pet's weight under control.
If you cat is free to wander outdoors, encouraging them to climb a tree, chase some string or a similar toy is a great way to get them moving.
Similarly, inside cats can be encouraged to chase, catch and climb.
To make up for the lack of trees to climb, or mice to hunt, try encouraging your cat to get active with climbing poles, toys, and regular play times.
And while there is a plethora of great cat toys out there to choose from, you might be surprised at how easily pleased your little friend is.
Our otherwise picky kitty has a real penchant for aluminum foil scrunched up into balls, and cardboard boxes. (What self-respecting cat doesn't love a cardboard box?)
Another important lifestyle consideration when implementing a weight management program for your cat is attitudes and behaviors surrounding food—and that means our attitudes as owners just as much as our cat's.
Helping Your Overweight Cat
As dedicated pet parents, we don't want to fall into the trap of killing our cats with kindness.
Keeping your cat at a healthy weight is one of the best ways to ensure your kitty lives a long and enjoyable life.
While sometimes a cat's weight problem is the result of an underlying health issue, which will need the attention of a veterinarian, more often than not, the problem is a lifestyle one.
With some adjustment to diet and lifestyle, most cats with a weight problem can be helped to reach a healthy weight again.
Have you had a cat that has been overweight? What helped you manage your feline's weight successfully? Please share your thoughts in the comments section below.
Resources
Nguyen, PG, et al, Effects of dietary fat and energy on body weight and composition after gonadectomy in cats. AJVR, 2004
Zoran DL, Feline Obesity: Clinical Recognition and Management. Compend Contin Educ Vet, 2009
AAHA
SanØe, P., et al, Canine and Feline Obesity: a One Health perspective. Vet Record, 2014
Cornell university of Veterinary Medicine
WSAVA Body Condition Score https://www.wsava.org/sites/default/files/Body condition score chart cats.pdf
German, AJ, The Growing Problem of Obesity in Dogs and Cats. The Journal of Nutrition, 2006
Colliard, L., et al, Prevalence and risk factors of obesity in an urban population of healthy cats Journal of Feline Medicine and Surgery, 2009
Armstrong, PJ., Blanchard, G., Hepatic Lipidosis in Cats Veterinary Clinics: Small Animal Practice, 2009