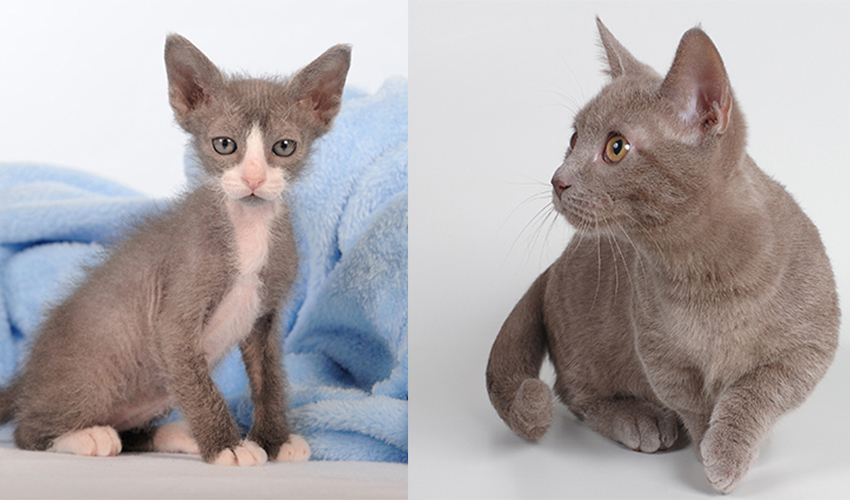 Skookum Cats are a new and rare breed of cat. They are recognized as an experimental breed by some cat registries, and Skookum cat breeders are working hard to make this delightful breed a household name.
But is this necessarily a good thing for the cats in question? This article will help you understand what Skookum cats are, and what potential health problems they face. And will help you to decide whether the breed is right for you.
What Is A Skookum Cat?
Skookum cats are combination of Munchkin cats and LaPerm cats. Munchkins are known for their short legs. LaPerms are known for their curly coats. The aim when these two breeds are combined, is to create a short-legged and curly-coated cat.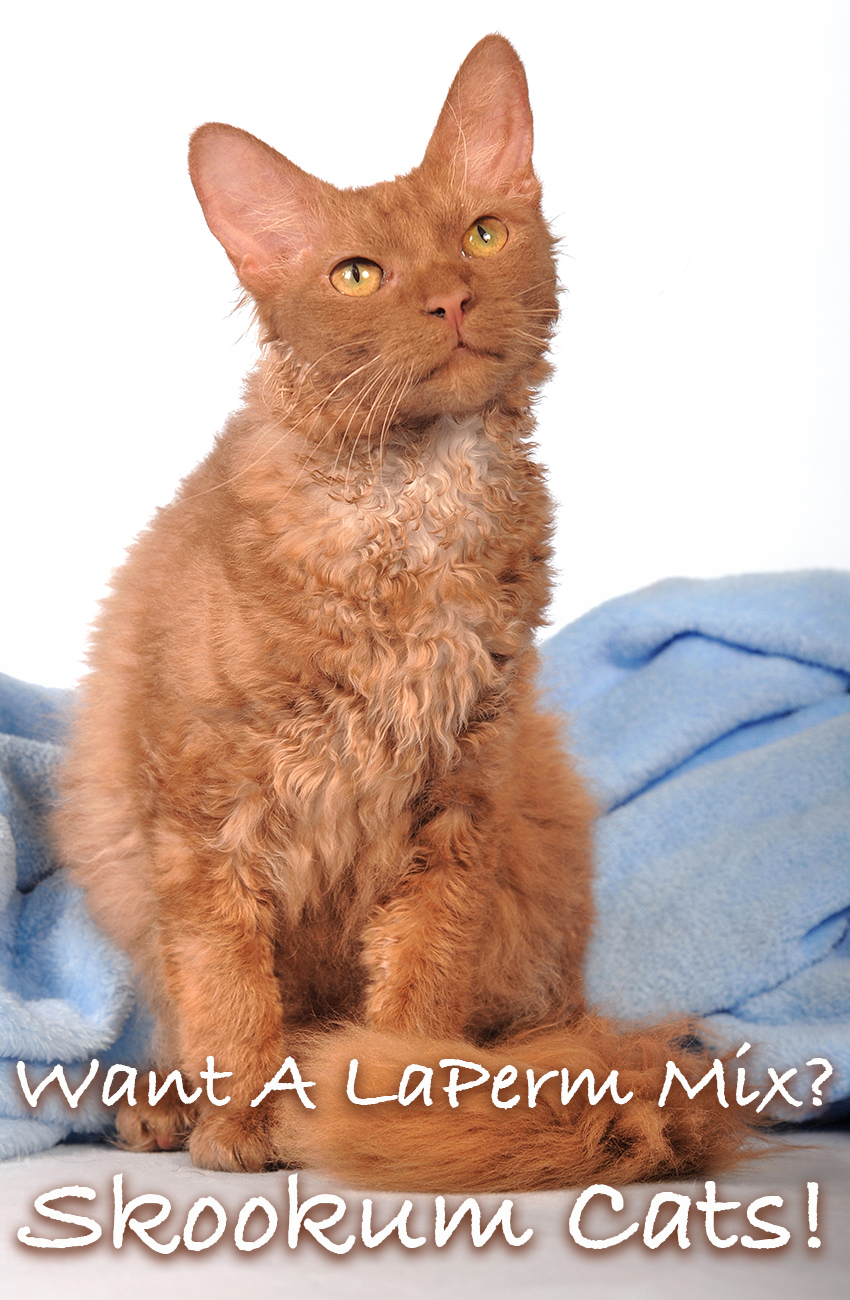 Skookums inherit the sweet personalities of both parent breeds. They are also intelligent, calm and affectionate cats.
Skookum Cat History
Because Skookums are such a new breed, most of its history lies with its parent breeds.
Short-legged cats have been around for decades – at least since the 1940s. After about 10 years of tracking the breed, starting in 1994, Munchkins gained TICA championship status nine years later in 2003.
LaPerms gained championship status that same year, though this breed only reaches back to 1982. Originating when an Oregon woman named Linda Koehl discovered a curly-haired kitten born to her ordinary barn cat. Over the years, more curly cats appeared on her farm, and the rest is history.
While LaPerms and Munchkins were taking their first steps towards becoming official breeds, the Skookum cat breed was just being born.
It all started in the 1990s when Roy Galusha began crossing Munchkins and LaPerms. Soon, other breeders followed suit.
Skookum cats are still an experimental breed today.
Why Are They Called Skookum Cats?
The word "rex" is often used to show that a cat breed has curly hair. For example, the Devon Rex, Cornish Rex, and Selkirk Rex are all breeds with crinkly hair. While the curly-haired Skookum does not follow suit, it does have an interesting name.
The name "Skookum" has Native American origins, coming from a Chinook Jargon word meaning "mighty" or "powerful."
That's a pretty big moniker for such a small cat to live up to!
Skookum Cat Characteristics
One of the traits of this new breed is its distinct tail. It is long, and plumed with a rounded tip
Large, pointed ears perch on their wedge-shaped heads, and the Skookum has medium-to-large, almond-shaped eyes.
Because of their short legs, Skookum cats have stocky bodies that stay low to the ground. Their front legs are always shorter than their back legs. We will look at what this unnatural body stature means for them health wise later on in this article.
Skookum Cat Size
Skookums are small cats. Females usually weigh 3-5 pounds. Males are slightly larger, about 5-7 pounds.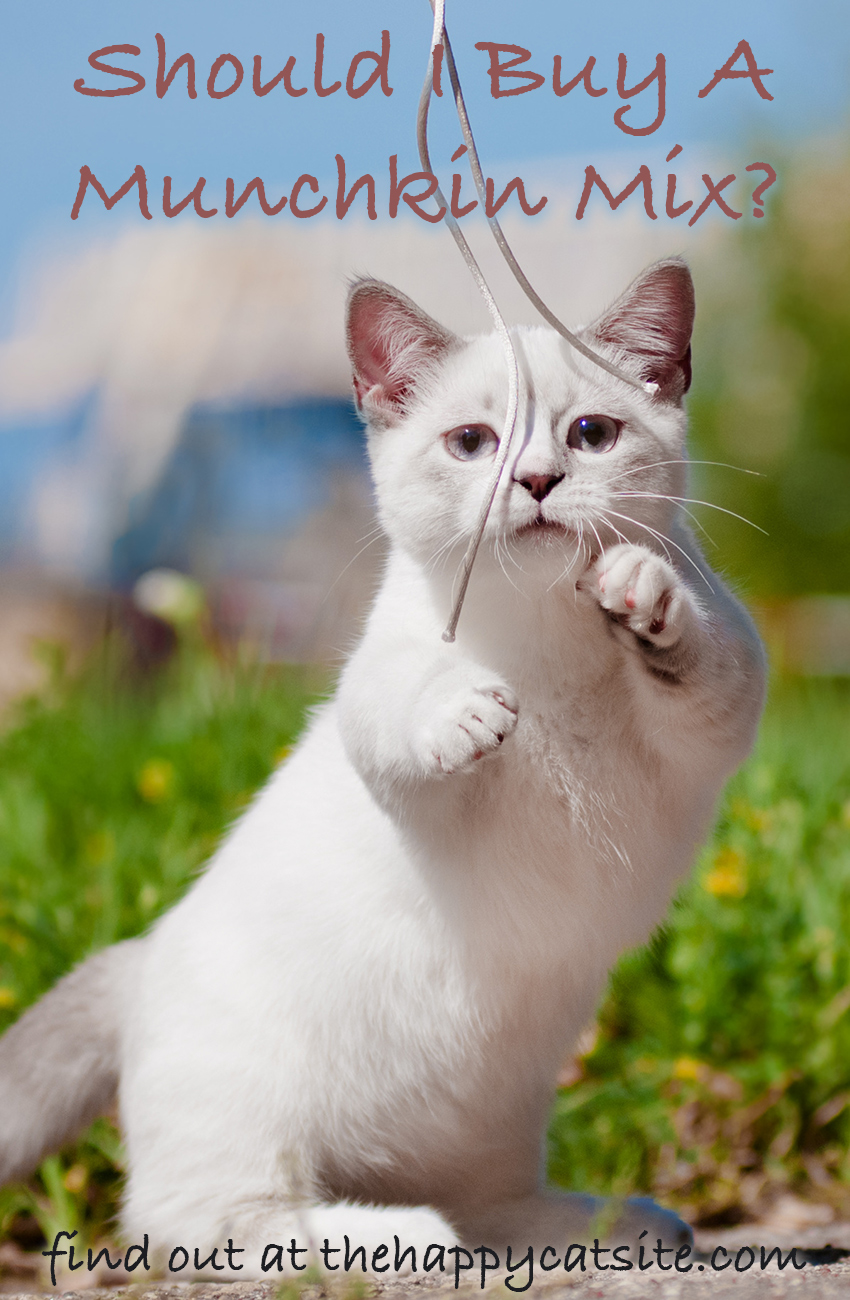 Because of their short legs, you will want to make sure your Skookum gets enough exercise so that it can stay mobile.
These cats are energetic, so you should have no problem getting your Skookum to stay active.
However, this cute exaggerated shape and size have some serious potential health implications, which we will look at in more details below.
Skookum Cat Coats
A Skookum's curled coat is one of its most special features. The cats even have curled whiskers.
Their beautiful fur can be any color or pattern that Munchkins or LaPerms come in, including colorpoint, solid, and bicolor.
In addition, coats can be short or long.
For now the possibilities are endless, but as the breed becomes more standardized, that may change.
One thing to note if you are looking for a Skookum cat of your own: male Skookum coats often have a tighter curl than females.
If you love the curly look, you'd do well to look for a male. But no matter which sex you choose, you're guaranteed to have a cat with a beautiful, unique coat.
Skookum Cat Personality
Because Skookum breeding is still in its early stages, it's important to study Munchkin and LaPerm personalities before deciding that the Skookum cat personality is right for you.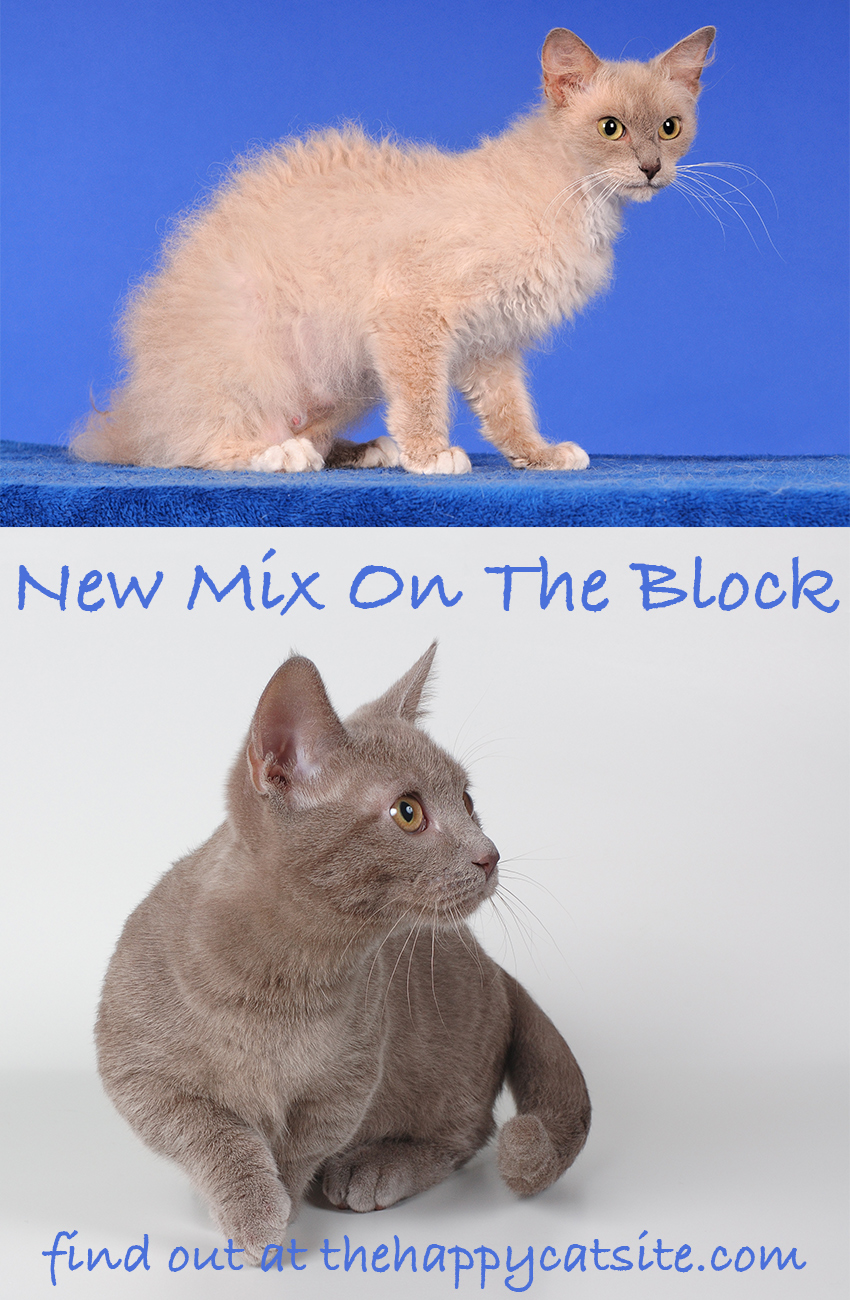 Skookum cat personality will retain many of the qualities of these breeds, so you'll want to make sure your lifestyle will work with the traits the cat may have.
Munchkin Cats
Given a Munchkin's short legs, you may not think of them as athletes. But these little cats have a lot of energy. They are known to speed around the house, chasing after toys and treats. They love to play and even like the company of children, dogs, and other cats.
Their legs do not stop them from jumping high to explore every corner of the house. However, this may be problematic as there are concerns that they are not as structurally sound as your average moggy.
LaPerm Cats
While the Munchkin's most noted trait is its vast store of energy, the LaPerm is known for playing the fool. Often referred to as clown cats, LaPerms regularly make their owners laugh.
They are also highly intelligent, with the ability to open doors and scoop treats out of hard-to-reach places. But along with the LaPerm's silly antics comes an affectionate nature. These cats love to cuddle up with just about anyone.
Skookum Cat Temperament
The Skookum cat combines the traits of both of these breeds. They're known for being lively and playful, but also intelligent and curious. If you're looking for a cat that can get along with most pets and people and will cuddle you as often as it will beg to play, a Skookum cat could be the choice for you.
It is important to remember however that with any cross bred cat, you could end up with more or less of the personality from either parent breed.
So make sure that you are happy with the Munchin and LePerm temperaments before you commit to your Skookum. It could result in a combination of the two, or one or the other!
Skookum Cat Health
Skookum cats are a new and experimental breed, so their major health problems and life span are not yet known.
But what we do know, is that dwarfism in cats and exaggerated breeding may have health implications.
Because Skookums are bred to be short-legged, Skookum kittens may be born with limb deformities.
Just like the similarly diminutive Lambkin Cat, the Skookum cat is bred from the Munchkin cat. There short legs are a result of a form of dwarfism called achondroplasia.
Breeders of Munchkin cats are keen to assure kitten buyers that they do not suffer as a result of their achondroplasia, however veterinarians are not so sure.
Veterinarians from The Universities Federation for Animal Welfare are concerned that a "proportion of kittens born to Munchkin parents dies prior to birth because of this serious genetic mutation".
They also clearly state that "because of risks to quality of life, cats with this abnormality should not be used for breeding"
This means that some vets disagree with the use of Munchkins are breeding at all, based upon their concerns about the health issues surrounding them.
In fact, there is currently a huge study being launched which aims to "clinically define cat dwarfism in regards to the Munchkin breed and define any primary or secondary health concerns".
We will need to wait a few years for the results of this study, but it should give us more information on the realities of the health implications to Munchkin cats and their mixes.
Skookum Cat Care
Skookums are a low-maintenance breed. They are easy to care for, but they still require the basic care that you would give any cat.
Regular visits to a veterinary professional for shots and general check-ups are recommended.
A healthy diet plenty of opportunities to exercise are also important.
However, due to the concerns about their small legs you should take your Skookum for regular check ups with the veterinarian to ensure that they are not suffering from back or joint problems.
Skookum Cat Grooming
Like the LaPerm, Skookum coats do not require much grooming. Their hair is more coarse than most cats, making it less tangly and easier to brush.
To keep the Skookum coat healthy, brush it one or two times a week.
It is helpful to get your long haired cat used to grooming from a young age, so that they happily accept this activity. Start with short sessions with a soft brush.
Should I Buy A Skookum Cat?
There are two sides to the question of whether you should buy a Skookum cat.
The first is to do with the personality, characteristics and practicality.
A Munchkin and a LaPerm do not always create the short-legged, curly-haired Skookum. And even when two Skookums are bred, the kittens do not always match the desired traits. As a result, these are rare cats.
Depending on demand, they may be quite expensive. You can expect to pay around $2,000 to take your Skookum home.
If you are willing to pay the price, pet Skookum cats are great for those who love active yet affectionate breeds. When socialized from a young age, these cats are great with pets and children, making them an ideal companion for the family.
However, the second and potentially most important consideration is that of health.
Because Skookums are a new breed, you should be aware that unforeseen health problems may crop up.
In addition to this, we know that some veterinarians are very concerned that the deliberate breeding of cats with achondroplasia could have serious health implications.
Only you can decide whether you are happy to risk your cat's future health in order to get the look you want, or whether you will go with another similarly lovely tempered breed until we have the results of the study on the longevity and health of Munchkin cats.
Some other lovely, fun breeds of cat you might like to consider include: