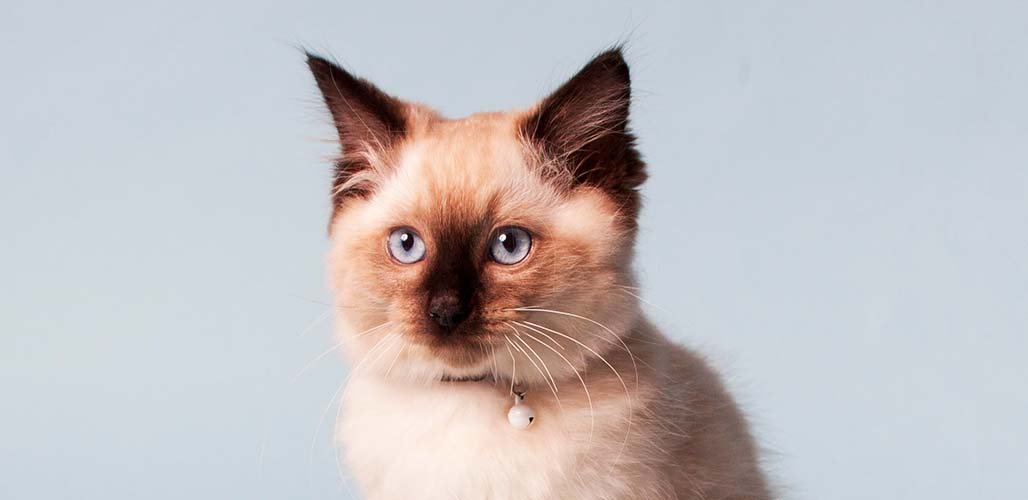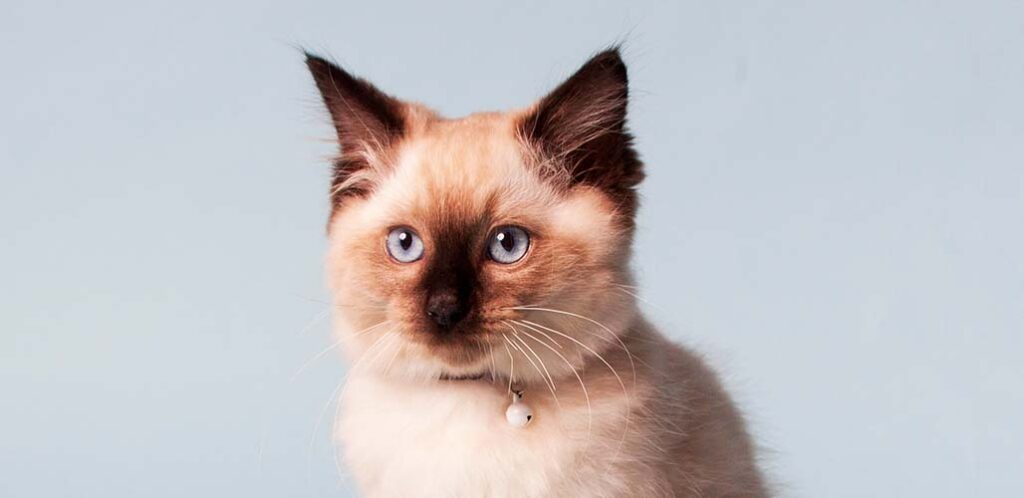 The chocolate Ragdoll cat has a cute cream coat with dark brown markings on their face, ears and feet. The chocolate Ragdoll's coloring is very similar to the seal Ragdoll, so the two often get confused. Chocolate Ragdolls are a lighter, warmer brown than seal Ragdolls. But, both will have the same pointed fur pattern, and the same affectionate, friendly personality. If you want a loving, playful cat breed with soft, but manageable fur, the chocolate Ragdoll could be your perfect new companion! Today we'll look at finding, caring for and raising a chocolate Ragdoll kitten, and help you decide whether your Ragdoll cat is chocolate or a different shade!
Our complete guide to the chocolate Ragdoll takes a closer look at their temperament, health, and ideal home. As well as a closer dive into the genetics behind this beautiful shade!
What is a Chocolate Ragdoll
The Ragdoll is a hugely popular cat breed that gets its name from its placid temperament and its tendency to go limp like a Ragdoll when picked up. These cats are friendly, affectionate, and clever. But they can have a playful, mischievous streak! Ragdolls are large cats that all have blue eyes and pointed fur. But, the points of their fur can come in a huge range of different colors.
Chocolate is one of the many shades that a Ragdoll cat can have. But, even a chocolate Ragdoll's coloring can express in various ways, depending on the coat type it has. So, let's take a closer look at the different chocolate Ragdoll varieties available to you.
What Does a Chocolate Ragdoll Look Like?
The Ragdoll cat breed is considered medium to large, but like most breeds, males are larger than females. Male Ragdolls usually weigh somewhere between 15 and 20 lbs. But, females are more often in the range of 10 to 15 lbs.
All Ragdoll cats have blue eyes and pointed fur. This color pattern is caused by a type of temperature sensitive albinism. So, fur color is more pigmented in areas where your cat's skin is the coldest. These areas include your Ragdoll's face, ears, paws, egs, and tail. But, the specific pigmentation levels can vary from one Ragdoll to the next.
Chocolate Point Ragdoll
A chocolate point Ragdoll has traditional pointed coloring. Their body will be a lighter color to contrast their points. But, this type of Ragdoll will have warm brown fur on their face, paws, back legs, tail, and ears.
Some chocolate point Ragdolls will have slightly different levels of pigmentation. For instance, some may only have small amounts of brown fur on their faces and ears, whilst others are fully covered in this area. But, they will all have solid brown fur at these areas, rather than having white patches or any sort of pattern in the color itself.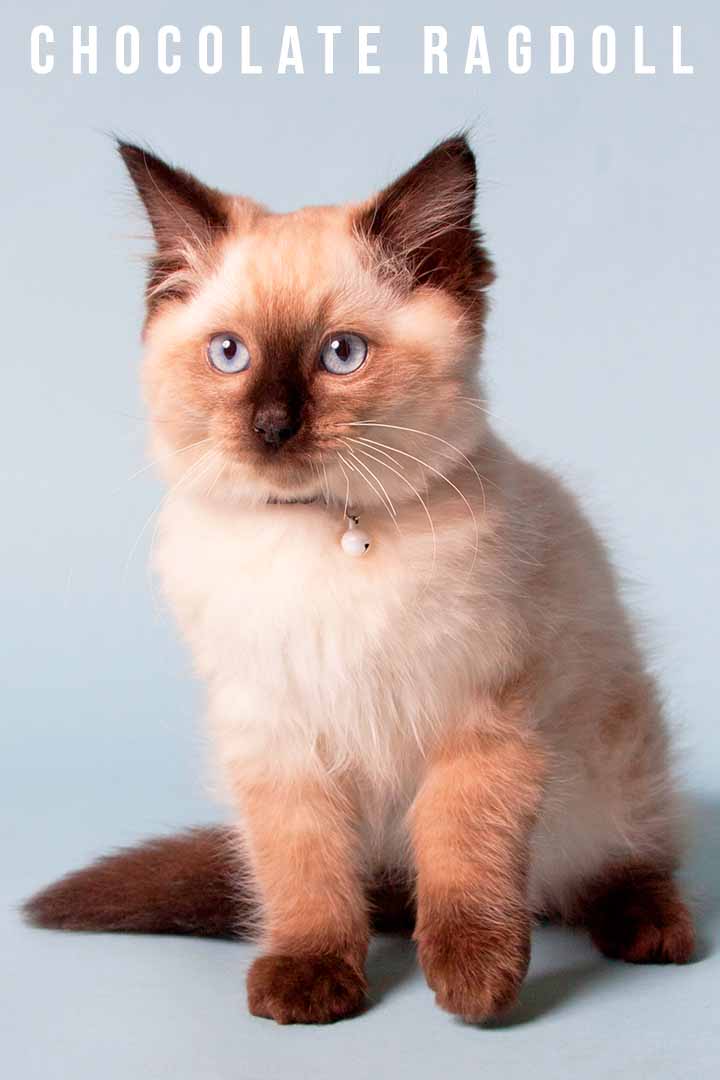 Chocolate Mitted Ragdoll
Although a chocolate mitted Ragdoll will have the same warm brown fur at its extremities, just like the standard point variety, they will also have patches of white fur in specific areas. They will have a white chin. This white marking will extend down your cat's chest, and potentially over their belly. A mitted Ragdoll can also have a white blaze. This will be a small white patch between your cat's eyes, or on their nose.
Their front feet will be white, as if they are wearing mittens. But, the white fur here will not extend beyond the bend in their paw. In contrast, the white fur on their back legs will extend from the feet to mid-thigh.
Chocolate Bicolor Ragdoll
A chocolate bicolor Ragdoll is similar to the mitted variety. They will have chocolate fur at their points, and white patches in certain areas over their coat. But, the placement of these white markings are what sets the bicolor Ragdoll apart from the mitted version.
Bicolor Ragdolls have an inverted, white V on their faces surrounding their nose. They will also have a white chin. Their chest and belly will be white, and they may have a white saddle. On top of this, their legs and feet should be entirely white, but their paw pads should be pink.
These markings are the ideal bicolor standard, as taken from the overall Ragdoll breed standard. But, specific markings will vary from one Ragdoll to the next. So, it's not a cause for concern if your bicolor Ragdoll has slightly darker paw pads, or if their legs and feet aren't entirely white.
Chocolate Lynx Ragdoll
A lynx point Ragdoll can also be called a tabby point Ragdoll. The way this variety differs from others is actually seen in their points. Instead of completely solid pigmentation, they will have tabby stripes at their points. The extent of this pattern will vary – some may only have small stripes, but others can have extensive stripes on their points.
Lynx Ragdolls can also have mitted or bicolor markings. The lynx part of their pattern simply refers to tabby stripes!
Chocolate Ragdoll Cat Personality and Temperament
The Ragdoll cat's personality is one of its major appeals as a family pet. Ragdolls are generally friendly, affectionate, and people-oriented cats, but they aren't clingy! So, a Ragdoll will be happy to spend time with you, but won't constantly be trying to climb into your lap.
Ragdolls are playful and intelligent cats. So, they need plenty of time each day dedicated to play and stimulating their brains. You might want to invest in some interactive toys to help with this. Many owners also enjoy teaching their Ragdolls little tricks, too – which is what has earned the Ragdoll breed a reputation as a dog-like cat!
If Ragdoll cats don't get enough exercise and mental stimulation, they can become unhappy and show unwanted behaviors. So, if you're looking for a more independent, low maintenance breed, the Ragdoll might not be the best pick for you.
Caring for a Chocolate Ragdoll Cat
Ragdoll cats have medium to long fur. But, their coats are more low maintenance than you might expect. In fact, most Ragdoll's are perfectly fine with semi-regular grooming. If you notice any tangles in their fur, groom them out. But, as a general rule, many owners are surprised by their relatively low grooming needs.
Like any cat, they will need a balanced, protein-rich diet. A healthy diet and regular veterinary checks can go a long way to increasing your cat's overall health and their lifespan. Ragdoll cats are generally healthy and can live well into their teens, but there are a couple of health concerns that are known to affect the breed.
In particular, owners should look out for early symptoms of kidney disease and heart problems. If you notice any irregular behavior in your Ragdoll, book a trip to the veterinarian to ensure there are no problems.
Finding a Chocolate Ragdoll Kitten
Ragdoll kittens are a popular choice, so you likely won't struggle to find a reputable breeder. But, you may need to put your name on a waiting list for kittens, particularly if your heart is set on a certain color, like the chocolate Ragdoll.
All Ragdoll kittens are born completely white. Over time, color will develop at their points, starting in their first few weeks of age and taking potentially up to two years. So, when kittens are first born, you won't see chocolate points. But, thanks to color genetics, breeders can predict the chances of certain colors in their litters. So, speak to your chosen breeder about the Ragdoll color you're seeking.
If you're struggling to find Ragdoll kittens, it's worth checking your local shelters and seeing if they have any older Ragdoll cats available. Since shelter cats are often older, they may already have their full markings. And, they are often just as rewarding and loving to keep as pets.
The Chocolate Ragdoll Cat – A Summary
A chocolate Ragdoll cat has lighter, warmer coloring than a seal Ragdoll, but their personality and point patterns are strikingly similar! Have you got a chocolate Ragdoll cat or kitten at home? We would love to hear about them in the comments!
Readers Also Liked
References and Resources
The International Cat Association
Cat Fanciers' Association
Kaelin, C. & Barsch, G. 'Genetics of Pigmentation in Dogs and Cats', Annual Review of Animal Biosciences (2013)
Borgeat, K. (et al), 'Association of the Myosin Binding Protein C3 Mutation (MYBPC3 R820W) with Cardiac Death in a Survey of 236 Ragdoll Cats', Journal of Veterinary Cardiology (2014)
Paepe, D. (et al), 'Prospective Evaluation of Healthy Ragdoll Cats for Chronic Kidney Disease by Routine Laboratory Parameters and Ultrasonography', Journal of Feline Medicine and Surgery (2013)
Paepe, D. (et al), 'Screening of Ragdoll Cats for Kidney Disease: A Retrospective Evaluation', Journal of Small Animal Practice (2012)