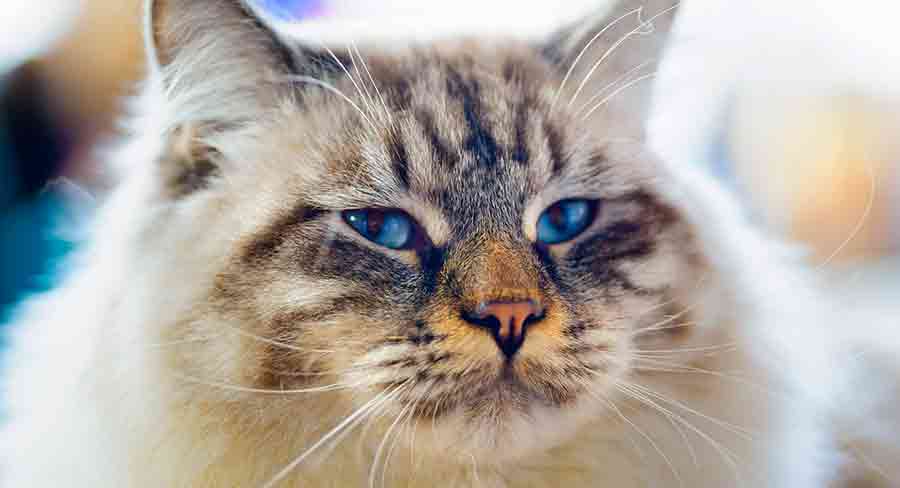 The Ragamuffin cat is loving, affectionate and friendly. This breed is well known for their thick, luxurious coat, and their wonderful personality.
Ragamuffin cats are medium to large in size and live into their mid teens on average.
These cats form strong bonds with their families, making them the ultimate people-pets! They are also great with children, and often with other pets. But, owners should still socialize them well.
What's In This Guide
Ragamuffin Cat FAQs
Here are our readers' most popular and frequently asked questions about the Ragamuffin cat.
To find out more about this popular breed, read on!
Ragamuffin Cat Breed Review: Contents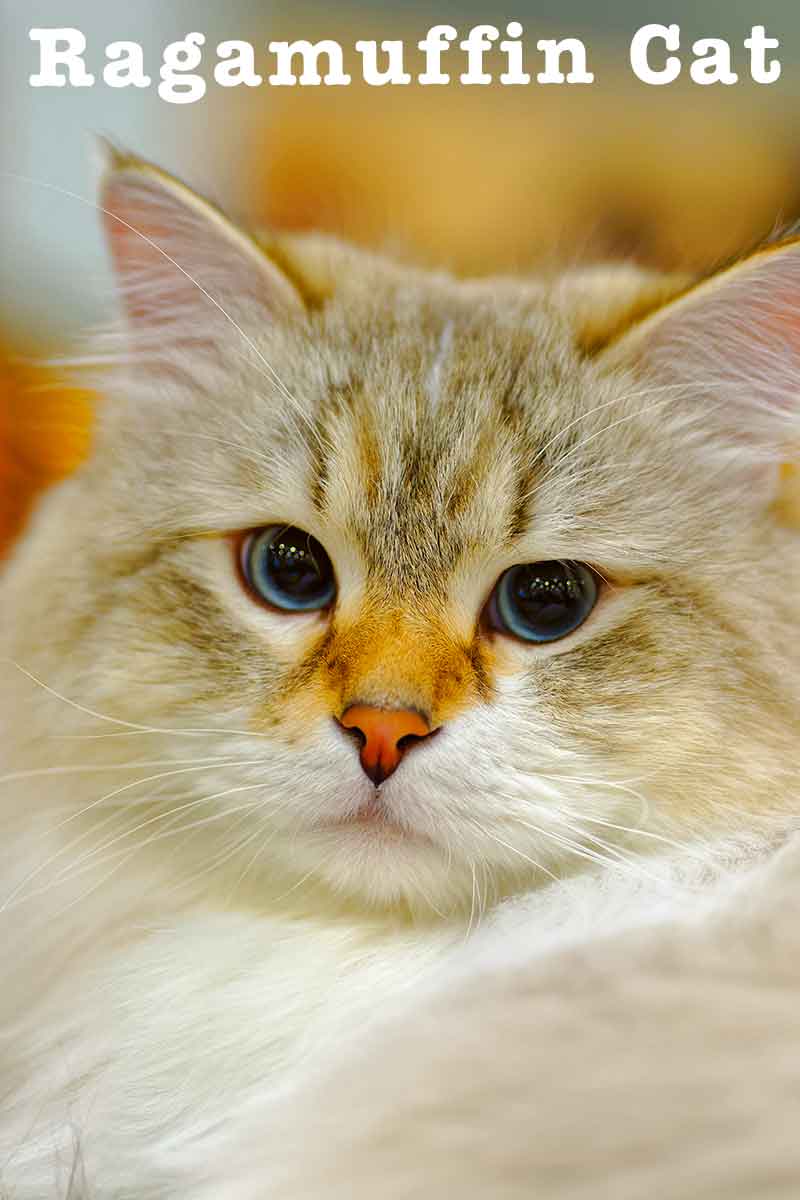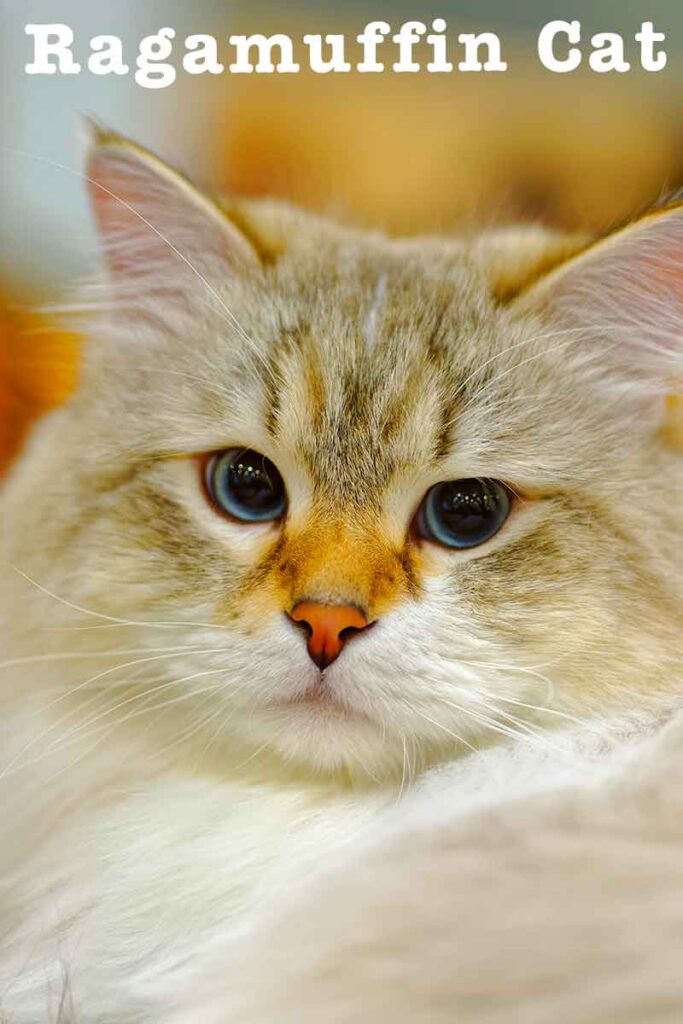 What is a Ragamuffin Cat?
A Ragamuffin cat is a breed of domestic cat, first recognised as a separate breed in 1994.
Today they are prized for their sweet temperament, expressive eyes and beautiful fur.
They are generally a medium to large cat breed. As adults, they can weigh anywhere from 8 to 20 pounds. But females are often smaller than males.
Are you wondering if the Ragamuffin is perfect for your home? This complete guide to the Ragamuffin cat breed will offer information on the cat's personality, health, history and more to help you decide.
Ragamuffin Cat History
Before they were first recognized as an official breed, Ragamuffins were lumped in with Ragdolls.
Ragdolls were their parent breed, originally created by California breeder Ann Baker in the 1960s.
Ragamuffins were born by breeding out Ragdolls with other long-haired domestic breeds.
The Cat Fanciers' Association (CFA) gave the breed full championship status in 2011 and now it wows crowds in cat shows around the world.
However, they have not yet been recognized by the International Cat Association (TICA).
Alongside cat shows, the breed is just as popular as a wonderful family pet. And a huge part of this popularity is down to their wonderful personality.
Ragamuffin Cat Personality
Ragamuffins are one of the most sweet-natured cat breeds.
Thanks to their docile and cuddly personality, some call Ragamuffins teddy bear cats.
Ragamuffins love to shower their owners with affection, and get plenty of petting in return.
This cat is perfect for someone that wants a pet to spend all of their time with. They will be happiest when they get to follow you around, content to be with you during any activity!
Ragamuffin Cat Temperament
Ragamuffins are the ultimate people's pets, forming strong bonds with their families.
They are brilliant with children, being calm, patient and ready to play. And Ragamuffins are also generally fine with other animals.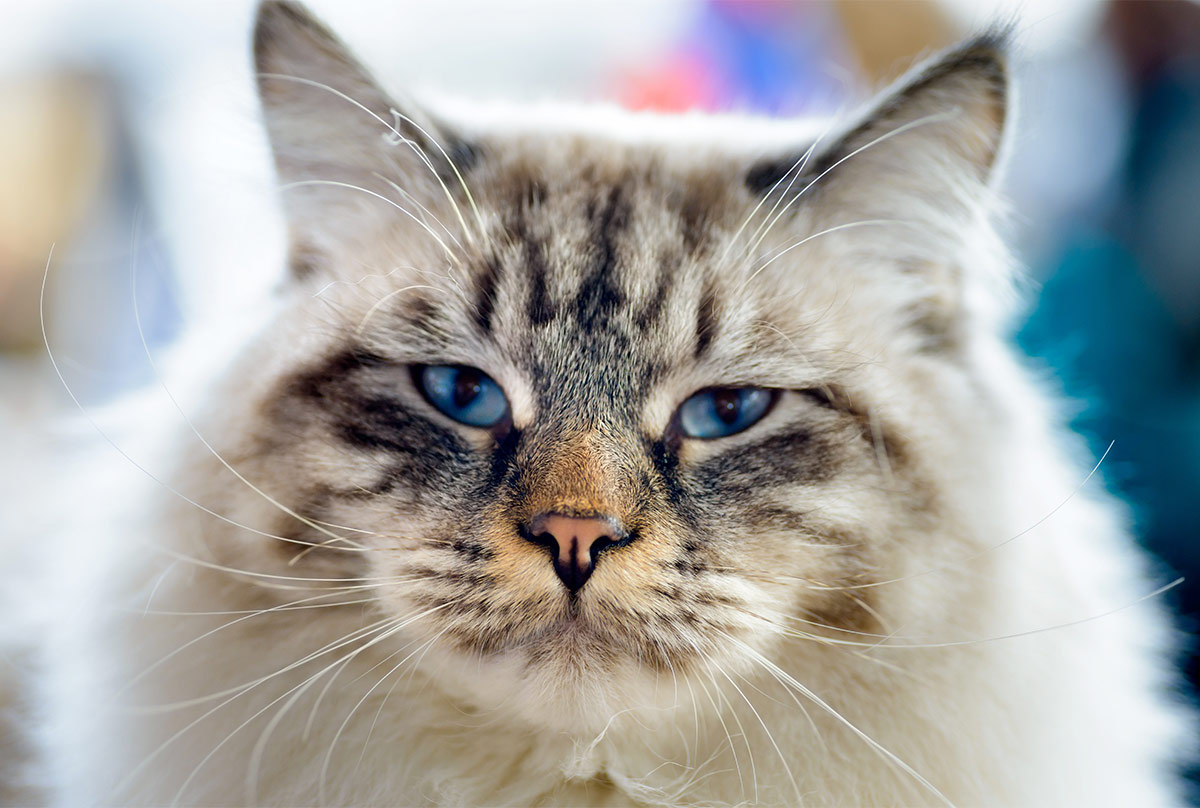 They are an intelligent breed. Some owners have even reported teaching them tricks. Ragamuffins can learn to play 'fetch' and 'beg'.
They won't suit homes that want to leave their cat alone for long periods. Ragamuffins thrive on company and need plenty of social interaction every single day.
Can Ragamuffins Go Outside?
Given their trusting nature, some Ragamuffin cats are potentially at higher risk of being stolen or getting lost if they live outside.
They will actively seek out companionship and affection, which could lead them towards less friendly characters, or cause misunderstandings about them already having a home.
So, if you let your Ragamuffin outside, make sure they are microchipped and have a collar with your details on.
Alternatively, if you choose to keep them inside, make sure they are getting enough exercise and mental stimulation. Teaching them tricks and playing fun games with them is a great way to achieve this, but will consume a lot of your time!
You can take a closer look at the indoor vs outdoor cat debate in this guide.
Ragdoll Cat Size
Typical Ragamuffin cat size can vary. But generally males weigh 12 to 20lbs and females 8 to 15lbs.
They are a medium to large-sized breed with a stocky body and substantial bone structure.
According to the CFA breed standard, both females and males are muscular with broad chests and shoulders.
Ragamuffin Cat Colors and Coats
Ragamuffin coats come in all colors and patterns.
There is a lot of variation within the breed – making them very unique. Some have white markings, while other coats are one solid color.
You can even have a black Ragamuffin cat, a white Ragamuffin cat and a black and white Ragamuffin cat all from the same litter.
It's also possible to have an orange Ragamuffin cat. Other coat colors include: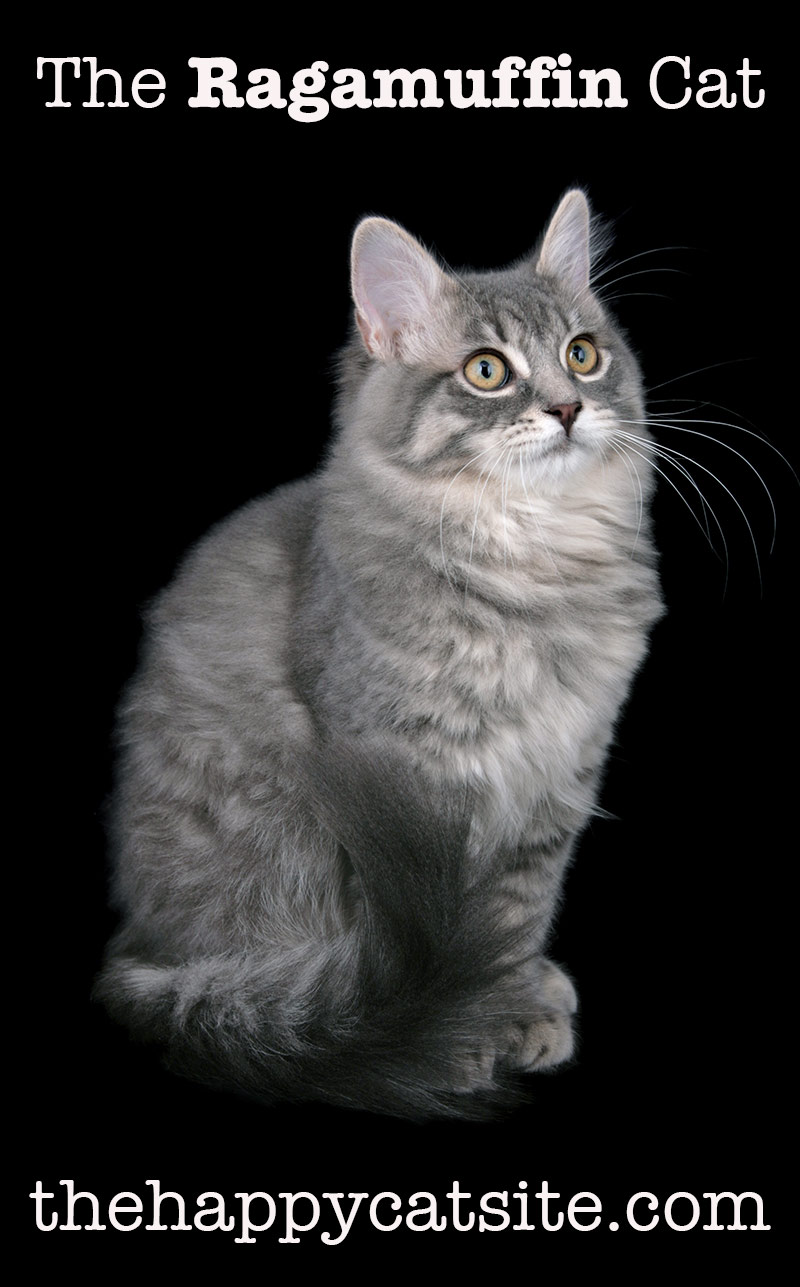 Coat Type
The Ragamuffin's coat is one of its most striking features.
With thick, medium-long hair, this is a cat with a very plush coat. It's similar in feel to a rabbit's fur and, despite its length, it is relatively low maintenance.
A Ragamuffin cat's fur is unlikely to clump or mat, and is smooth and soft.
Grooming your Ragamuffin
These cats have medium to long hair, but it doesn't tangle easily. Your Ragamuffin will also spend a lot of time grooming themselves.
Generally, you should brush your Ragamuffin once or twice a week.
Make sure you get Ragamuffin kittens used to grooming from a young age, so that the process isn't stressful when they get older.
Generally, these affectionate cats will love the physical contact that comes with grooming sessions!
Ragamuffin Cat Shedding
Although the Ragamuffin coat is pretty low maintenance, they are known to shed regularly.
And, since they are medium to large cats with medium to long length fur, this can mean you end up with quite a lot of shed hair around your house!
Grooming can help you to keep on top of shedding, especially if you notice times when it is particularly heavy.
Keeping up with regular grooming can also help to prevent hairballs.
Are Ragamuffins Hypoallergenic?
Sadly, the Ragamuffin cat is not hypoallergenic. In fact, there is really no such thing as a hypoallergenic cat.
The proteins that trigger cat allergies can be found in dander, urine, and saliva. So, all cats can cause allergy flare ups.
But, since this breed sheds frequently, and may spend a lot of time licking its fur before it sheds, the risk of allergy symptoms may be higher than for some other breeds.
The best way to see if a Ragamuffin triggers your allergies is to spend time with them before bringing them home.
You can take a closer look at other cat breeds that may be more suitable in this guide.
Ragamuffin Cat Health Problems
The Ragamuffin cat is generally considered to be a healthy breed. But, unfortunately health issues can arise in any purebred cat.
If buying from a breeder, they should be able to provide information on the cat's genetic history and health. Be sure to ask about any potential issues before purchase.
As standard, breeders should screen for Hypertrophic cardiomyopathy (HCM). HCM causes the heart muscle to thicken and is the most common cause of heart disease in cats.
The Ragdoll cat, precursor to the Ragamuffin breed, has shown a tendency towards HCM. So, there's a chance Ragamuffins could also be prone.
Luckily, you can diagnose the condition with a simple DNA test, so breeders are able to screen for the disease and limit it from litters.
We will take a closer look at finding a reputable breeder in a moment.
Eye Problems
There is no evidence to show that the Ragamuffin breed is prone to eye disease.
However, it helps to be aware that the breed's genetic cousin, the Ragdoll, commonly suffers from Feline Mucopolysaccharidosis.
This is a condition which can affect the connective tissues around the eye.
Thankfully cats can be screened for this disease so don't be afraid to ask your breeder if you're concerned.
Ragamuffin Cat Lifespan
Since the Ragamuffin breed is relatively new, there are few studies looking into the average lifespan of the cat. But, as a general idea, Ragamuffins will tend to live into their teens.
Ragamuffin cats are fully mature at four years of age.
This lifespan could even be longer if you choose a reputable breeder and give your cat great daily care.
One study into the median lifespan of different cat breeds found that the average lifespan of the Ragdoll breed, the Ragamuffin's precursor, lived on average to around 10 years old.
So, this can be a good starting place to predict Ragamuffin lifespan.
Caring for your Ragamuffin Cat
The Ragamuffin cat is great for people that have plenty of time to dedicate to their cat. These kittens need regular grooming, and plenty of love and affection.
They will also benefit from daily exercise opportunities and toys or training to stimulate their brains.
Ragamuffin Cat Food
Like all other cats, Ragamuffins are obligate carnivores. So, they'll need a high quality and high-protein cat food.
Since this is a relatively large breed, they will need enough food to help them grow properly and to fulfil their energy needs.
Some cats may prefer wet food. This has a higher water content and often has real meat chunks, but can spoil faster than dry alternatives.
Dry food can be bought in bulk amounts and stored for longer. The crunchy texture can also help to keep your kitty's teeth clean! But, make sure your cat is getting enough water if they are on dry food.
You can take a closer look at some good quality cat food brands in the following guides:
Are Ragamuffin Cats Good Pets?
If you have a lot of love to give, and a welcoming family environment then a Ragamuffin could be the perfect pet for you.
This cuddly, affectionate and gentle breed is not only the ideal companion, they are also one of the most handsome cats around.
Thanks to their even-temperament, they are comfortable with both kids and other pets. It's not unlikely to see them playing tea parties with younger members of the family!
But most owners agree that one Ragamuffin is never enough. Once you fall in love with this charming cat, you may find yourself shunning all other breeds!
If you're keen to bring this breed into your family, make sure you have enough time to dedicate to their grooming needs and their high social needs. They'll need lots of cuddles and love every day!
And, since they are a new breed, bear in mind that they may have hereditary health issues which haven't yet been detected in scientific studies!
Ragamuffin Breeders
When buying a pet, it's crucial to use a reputable breeder. A reliable and trustworthy breeder will help you choose the best kitten for you, and provide details of its parentage, health history and needs.
You should also be able to visit before purchasing and take the kitten to your own vet for a health check-up.
Avoid finding a kitten in pet stores, as these places often won't health test their parent cats. Instead, choose reputable breeders that socialize and health test all kittens and parent cats.
Start your search through your veterinarian, who may have good breeder contacts. Alternatively, you can look at the breed club, or look online.
Just be wary of disreputable breeders that may be advertising Ragamuffin kittens online without doing the all important health checks and socialization.
Ragamuffin Kittens
Ragamuffin kittens are curious, playful, bundles of love. Before you bring your kitten home, it's important to ensure you are bringing it into a safe, stress-free environment.
Kitten-proof your house by moving all household cleaning products out of reach. Some Ragamuffins may learn to open cabinets so don't store them at ground level!
Ensure all open windows are screened, and that the screens are secure.
Safely store any electrical cords, and check that your houseplants are feline-friendly. Some plants, like lillies are dangerous to cats.
When you're ready to welcome your little furball, introduce them slowly to every member of the family.
Supervise them when meeting other furry family members, at least until you are sure they have no issues.
You can find out more about raising a friendly, healthy kitten in the Happy Cat Handbook!
Ragamuffin Cat Price
Purchasing a pet is a big commitment, and sometimes it's worth spending top dollar.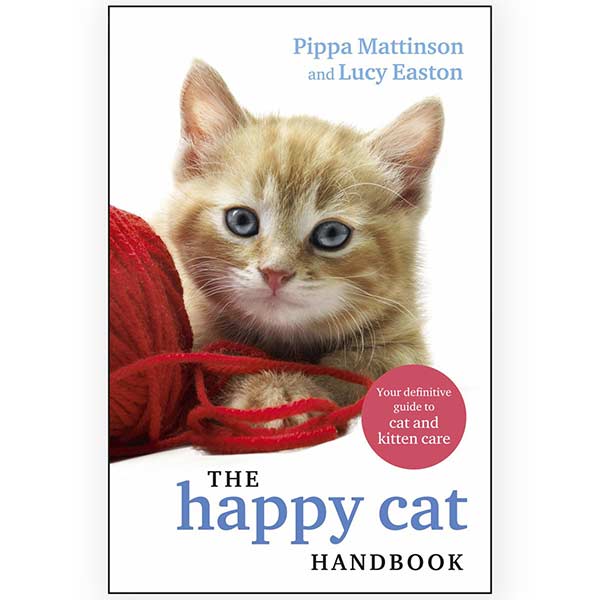 If you see a price that's too good to be true, it probably is. Less reputable breeders will try to sell you a bargain, without investing in the necessary health checks and pedigree certification.
So what should a Ragamuffin cat cost? And how much do Ragamuffin kittens cost?
It varies. Expect to pay around $800 to $1000 for a kitten, but much less for an adult.
Ragamuffin cat price should include health certificates, up to date vaccinations and evidence of registered pedigree. It may also cover microchipping and a 'starter pack' of toys and food.
Rescuing a Ragamuffin Cat
If you're looking for your own Ragamuffin, breeders aren't the only option. There are also plenty of rescue centers out there with Ragamuffins looking for new homes.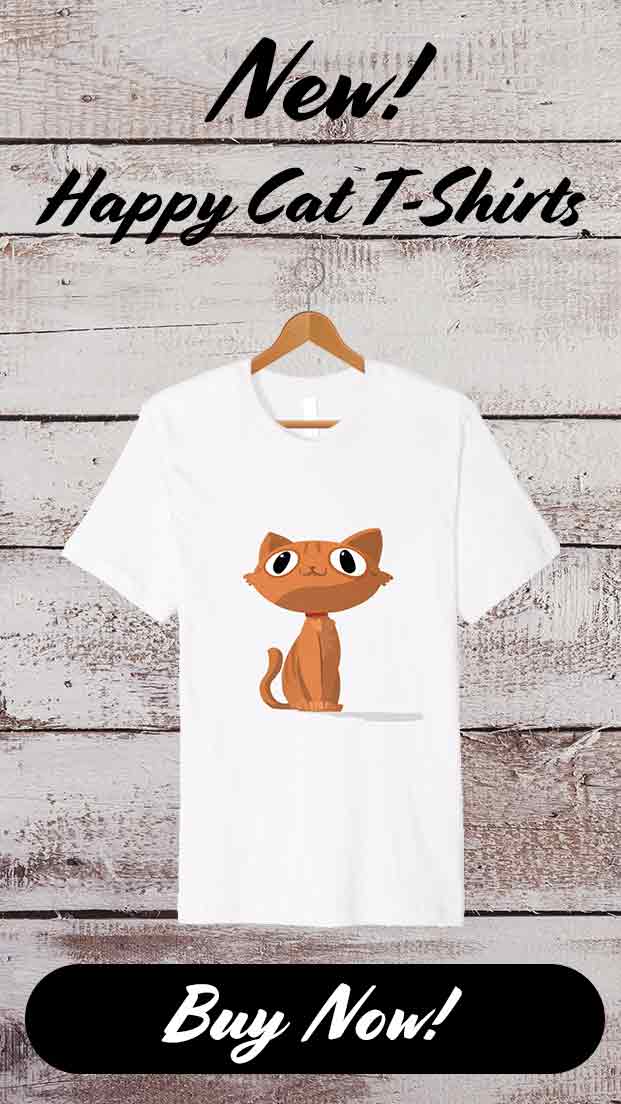 The Ragamuffin Associated Group runs a Ragamuffin cat rescue that links owners with adopters in their state.
You may also be able to find local centers with adult or kittens available to adopt.
Rescue cats are often cheaper than kittens from breeders. But, you may know a little less about your chosen cat's history or health.
Even so, it can be a great way to bring home a loving pet, and to offer a wonderful cat a loving home.
Pros And Cons of Getting A Ragamuffin Cat
Let's recap everything we've looked at so far!
Cons
May be overly friendly toward strangers with bad intentions
Can trigger allergies
Needs regular grooming
Won't suit being left alone for long periods
New breed so less information on health problems
Pros
Friendly and very affectionate personality
Gets along well with children
Often gets along with other pets
Can learn tricks and commands
Will often live into their teens
Should I get a Ragamuffin Cat?
Do you think you're ready to bring home this affectionate breed? Ragamuffins suit homes where someone is always around to hang out with them. They're happiest when they're with you!
We would love to hear about your experiences with this cat breed in the comments.
Readers Also Liked
References And Resources
Your Amazing Cat!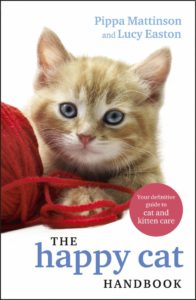 We are so excited to share our new book with you!
If you have enjoyed your visit to The Happy Cat Site we think you'll love The Happy Cat Handbook.
Written by the founders of this website including the author of the hugely successful Happy Puppy Handbook, it's packed with cat care information and fascinating cat facts.
Grab your copy today!