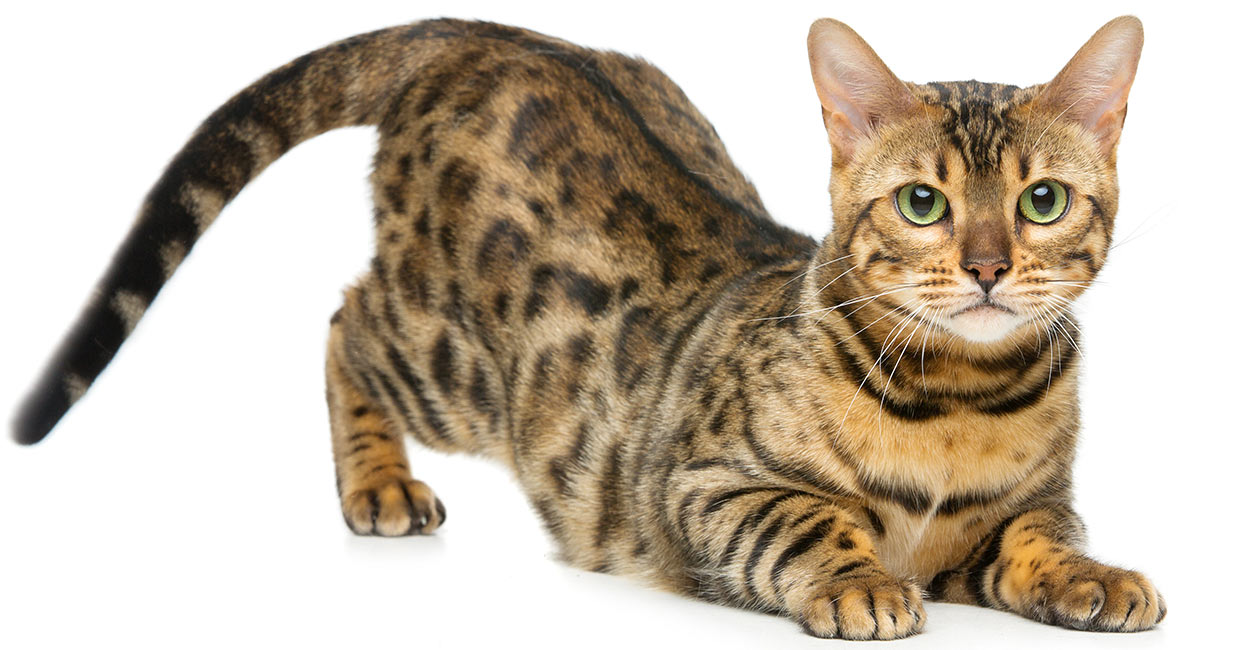 Looking For The Best Bengal Cat Names?
Then Look No Further!
We Have Collected 200 Awesome Ideas For You To Choose From.
Whether you are looking for Bengal kitten names that reflect their unique wild cat look, personality or that are just plain cute. There are plenty of options to choose from
Good names for Bengal cats often take into account their unusual appearance, but they don't have to.
It's up to you to pick a name that you love for your Bengal kitty. And I think we've got some excellent ideas, regardless of the type of name that appeals to you.
Naming Your Cat
One of the first things you will do when you have chosen your new kitten or rescue cat, is start thinking up ideas for naming them.
You might even begin your search before then. Eager to pick something to call your future prospective Bengal bestie.
Regardless of your motivations, everyone who is naming a cat wants something that suits them and their kitty just right.
Bengal cats are an intelligent and loyal breed. It's quite likely you'll be able to easily teach them to come when called and recognize their name.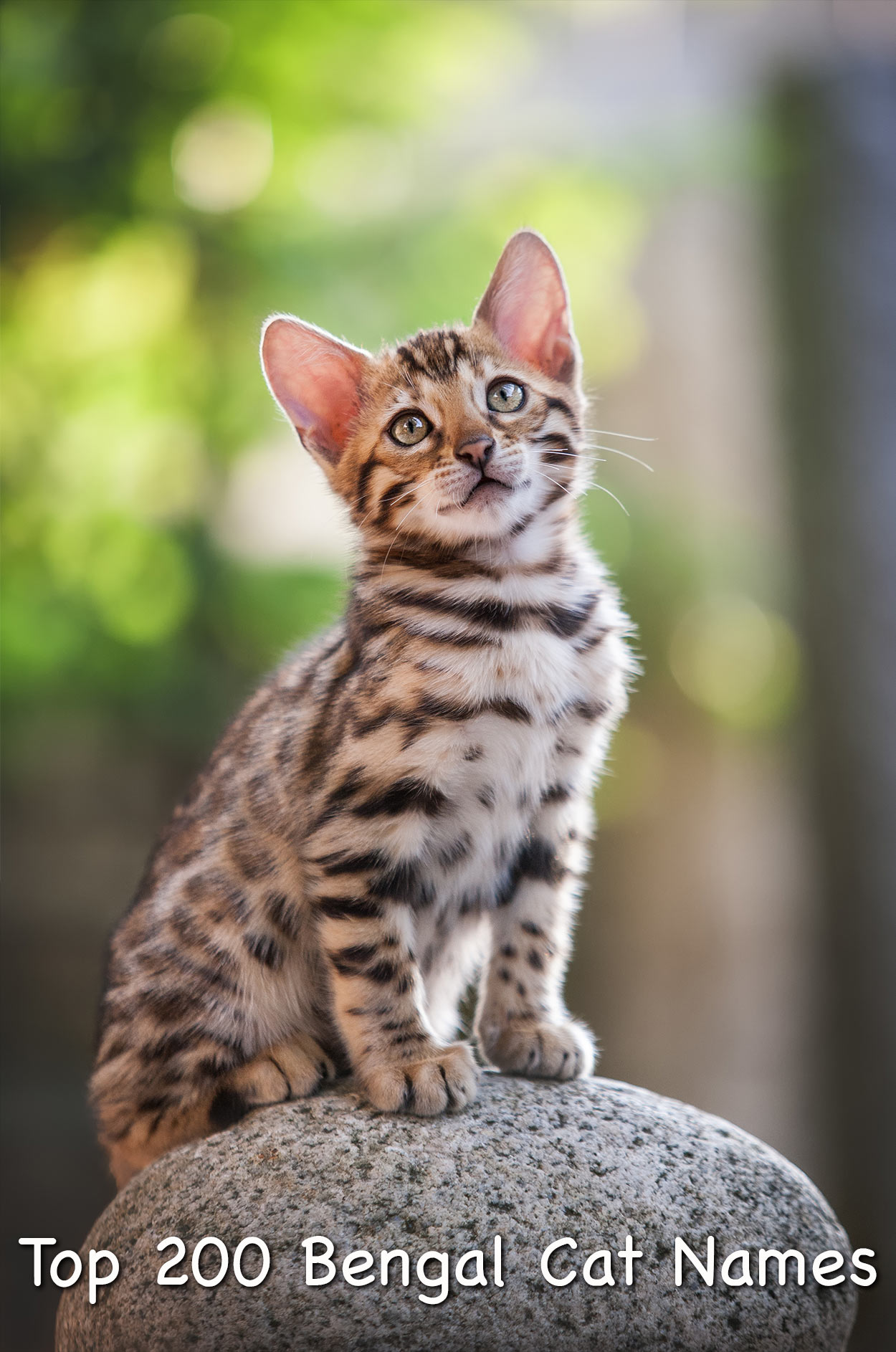 So it pays to pick one that rolls off the tongue nicely too.
Popular Bengal cat names range from the exotic to the adorable.
Whatever appeals to you, we hope you'll find some great ideas in the suggestions below.
Female Bengal Cat Names
Bengal cat names girl kitties will suit can come from cutesy, tough or unusual female names.
We have tried to find a range for this first list. From old fashioned to ultra modern, there should be something for everyone.
Here are some for Bengal kitten names female cats and their owners will love:
1. Adele
2. Amie
3. Annie
4. Ava
5. Bella
6. Carly
7. Demi
8. Ella
9. Emily
10. Enid
11. Fiona
12. Georgie
13. Hazel
14. Ingrid
15. Jess
16. Judy
17. Karla
18. Lola
19. Megan
20. Mia
21. Minnie
22. Nora
23. Orla
24. Penny
25. Rae
26. Stella
27. Trixie
28. Viola
29. Wanda
30. Zelda
Good names for female Bengal cats are all well and good, but what if you have a male Bengal cat?
Well, don't worry. We've not forgotten you!
Bengal Cat Names Male
Boy Bengal cat names can sound as cute or tough as you want them to.
Whether you imagine your new pal as King of the Jungle or a cuddly couch companion.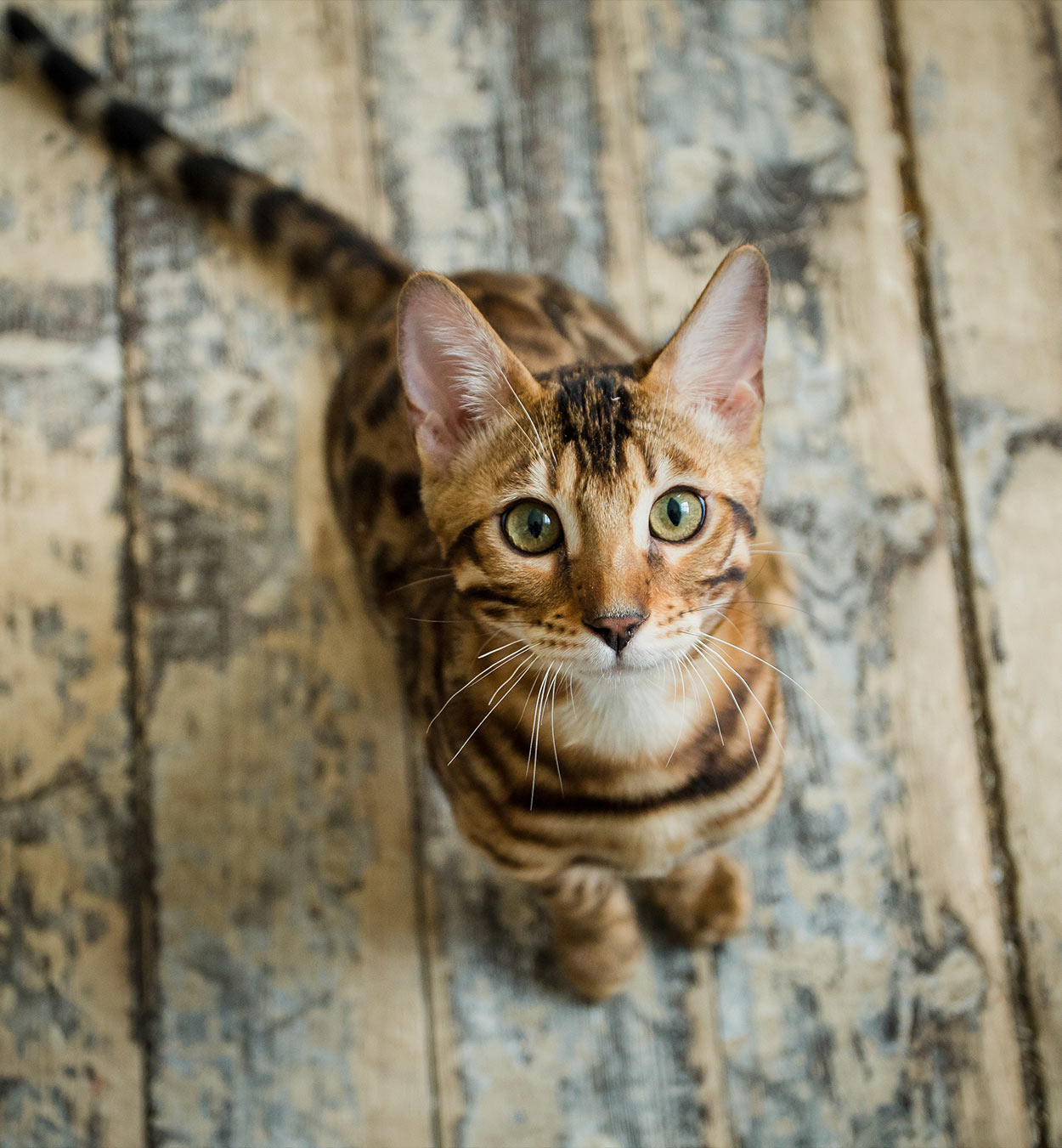 These ideas will cater to a range of human tastes, as well as feline ones!
1. Archie
2. Arnie
3. Bailey
4. Ben
5. Billy
6. Chad
7. Dave
8. Eddie
9. Evan
10. Frank
11. Greg
12. Harry
13. Jack
14. Jake
15. Luke
16. Manny
17. Mason
18. Mikey
19. Nicky
20. Noah
21. Oli
22. Oscar
23. Reggie
24. Ricky
25. Sammy
26. Seb
27. Teddy
28. Theo
29. Timmy
30. Will
Bengal cat boy names don't have to just be those you would traditionally associate with humans, of course.
There are lots of other fun ways of naming your Bengal cat.
Cool Bengal Cat Names
Who can deny that Bengal cats are cool.
The Bengal cats' wild kitty appeal can be a great source of inspiration for finding Bengal cat names.
Their reputation as fearsome predators lends itself very nicely to some seriously cool ideas.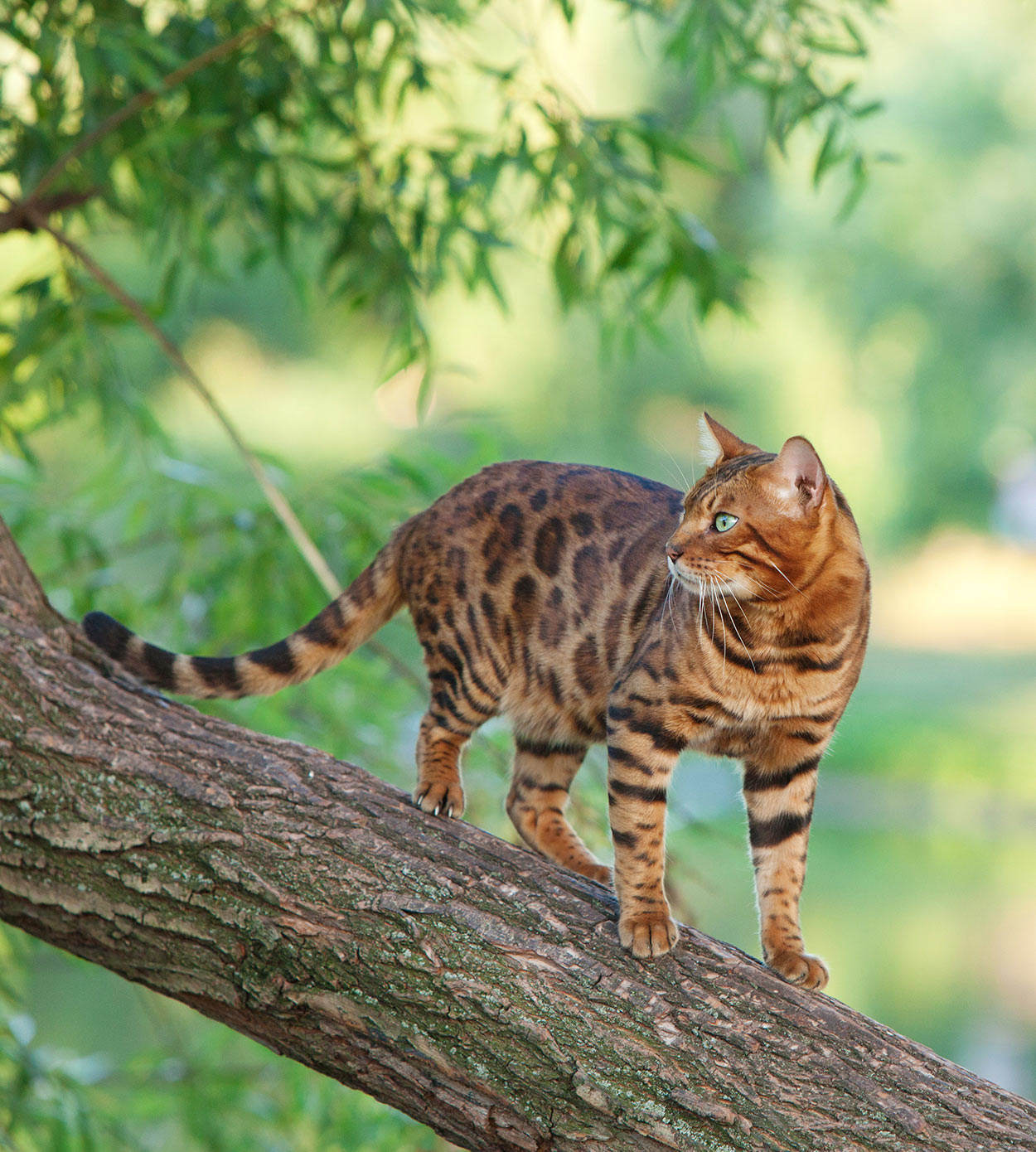 As does the wild settings that you could imagine this feral looking but adorably tempered kitty living in.
1. Bracken
2. Bramble
3. Chase
4. Clash
5. Drive
6. Falcon
7. Fern
8. Ferret
9. Flush
10. Forest
11. Frisky
12. Hawk
13. Hunter
14. Killer
15. Maze
16. Poacher
17. Prey
18. Prowler
19. Quest
20. Raid
21. Ranger
22. River
23. Scout
24. Shikar
25. Spook
26. Thicket
27. Tracker
28. Trail
29. Trapper
30. Valley
But that striking coat can be a source of inspiration for Bengal cat names in another way too.
Silver Bengal Cat Names
Not all Bengal cats are dark in color. There are some paler shades as well.
One of the most eye-catching of which is the silver tone.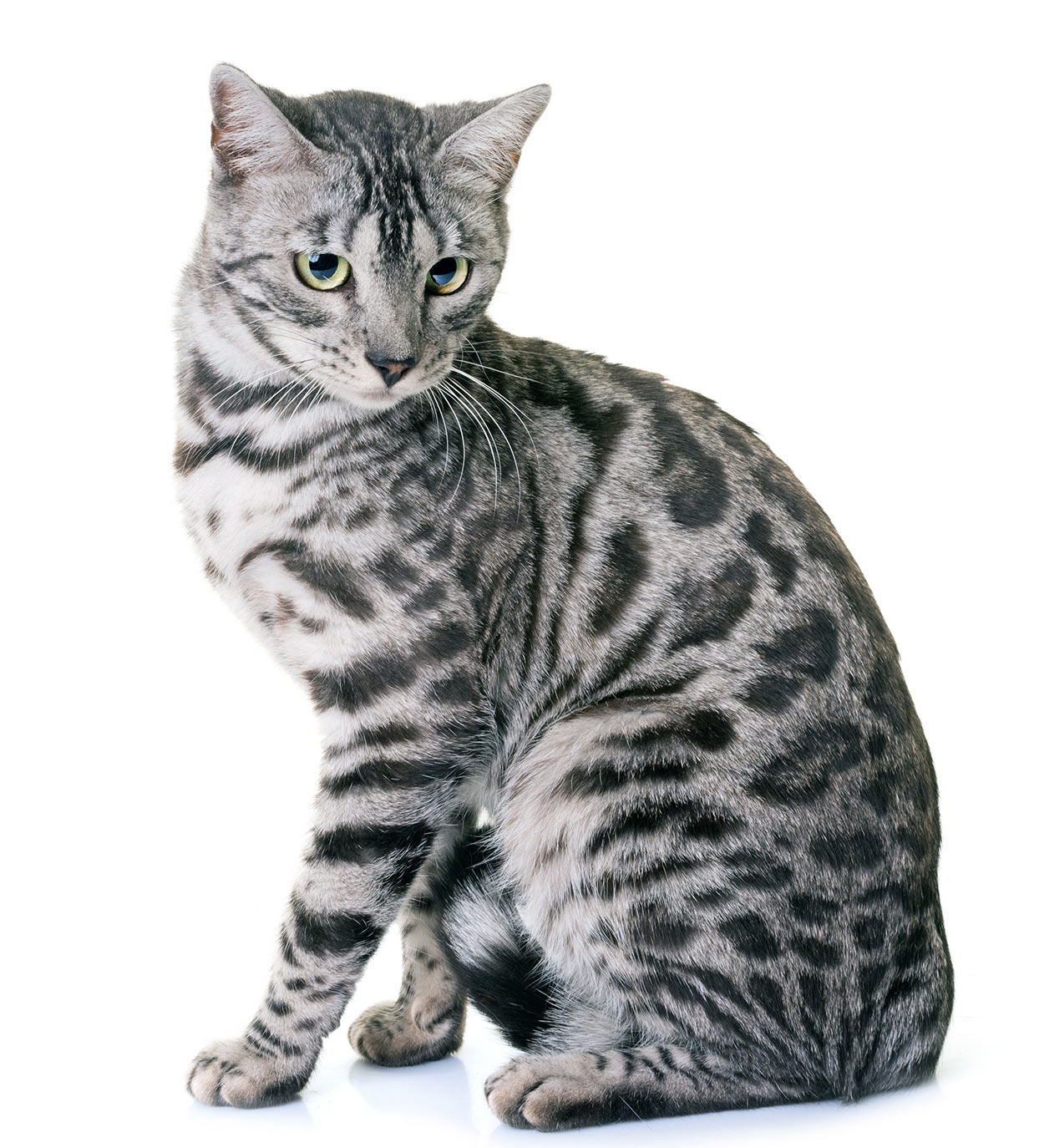 This grey almost metallic tone lends itself to some pretty great names.
Here are just a few of them.
1. Argent
2. Ash
3. Bullet
4. Cinder
5. Cinna
6. Ember
7. Flash
8. Foggy
9. Glam
10. Gleam
11. Glitz
12. Granite
13. Gray
14. Gunner
15. Nugget
16. Misty
17. Opal
18. Pearl
19. Pewter
20. Seal
21. Shine
22. Slate
23. Smokey
24. Steel
25. Sterling
26. Storm
27. Sylvie
28. Tinsel
29. Weber
30. Whisper
Fancy something else, but along the same theme? You can find 100 more Grey Cat Name ideas here.
Snow Bengal Cat Names
The snow Bengal cat is probably one of the most distinctive kitties you will ever see.
This exotic cat at first glance could easily be mistaken for a snow leopard cub!
Their gorgeous Bengal markings mixed with a white coat are so beautiful, it's hardly surprising that lots of owners want to call them something that reflects it.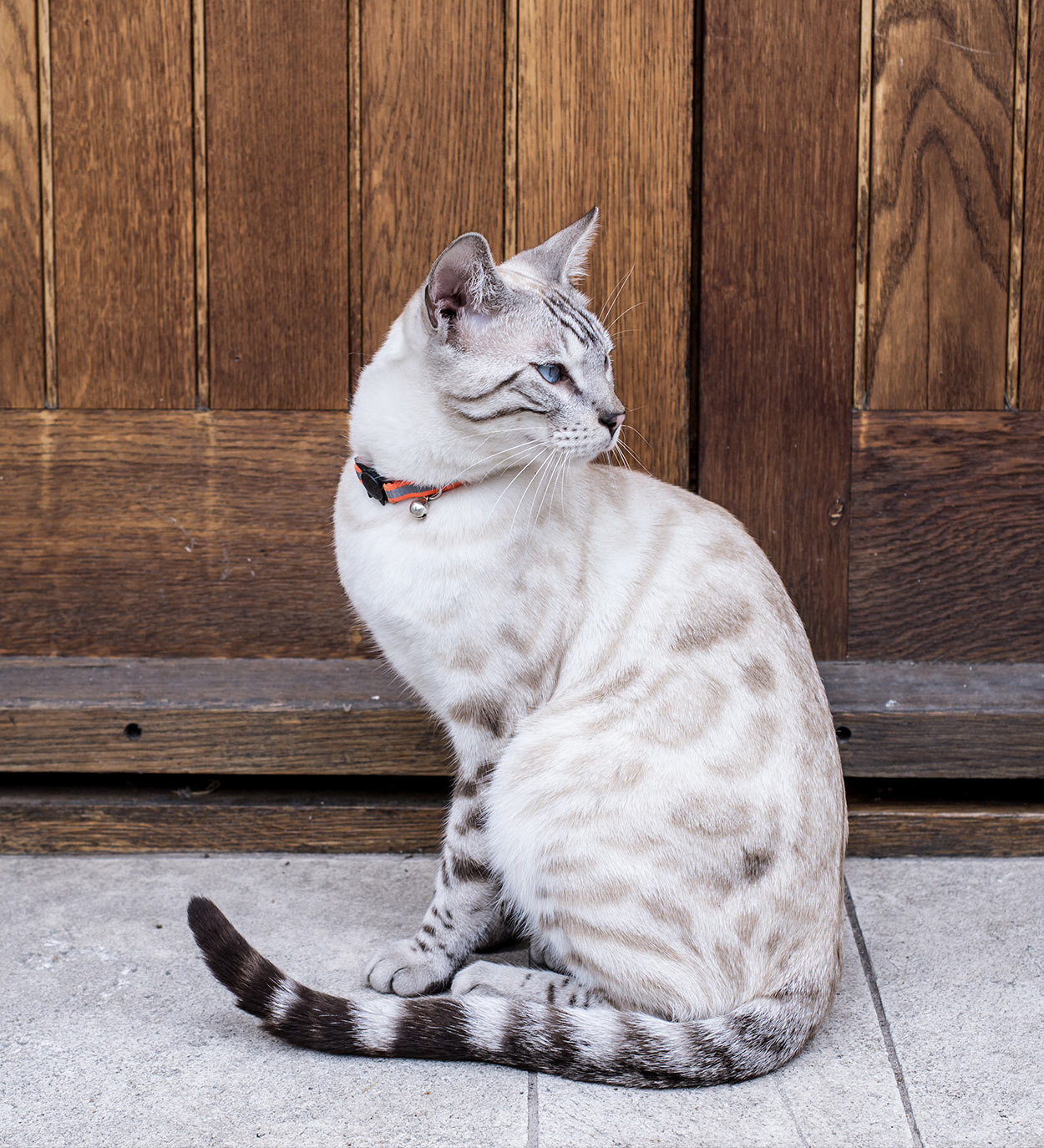 Snow Bengal names can match their color, or simply be inspired by them.
From gorgeous white tones to snow inspired settings, there are lots of wonderful ways you can name your white Bengal kitty.
1. Alp
2. Blanca
3. Blizzard
4. Boo
5. Chalky
6. Chilly
7. Cloud
8. Cotton
9. Everest
10. Gannett
11. Glacier
12. Icy
13. Ivory
14. Lily
15. Lotus
16. Makalu
17. Princeton
18. Rainier
19. Saser
20. Skyang
21. Snowbell
22. Snowflake
23. Trivor
24. Tweedy
25. Yeti
Looking for a slightly different name for your snowy feline? Then check out 100 more ideas for White Cat Names here.
Cute Bengal Cat Names
We all know that Bengal cats are unusual, but they are also seriously super cute.
These adorable kitties love their owners, and enjoy getting stuck into activities in the home.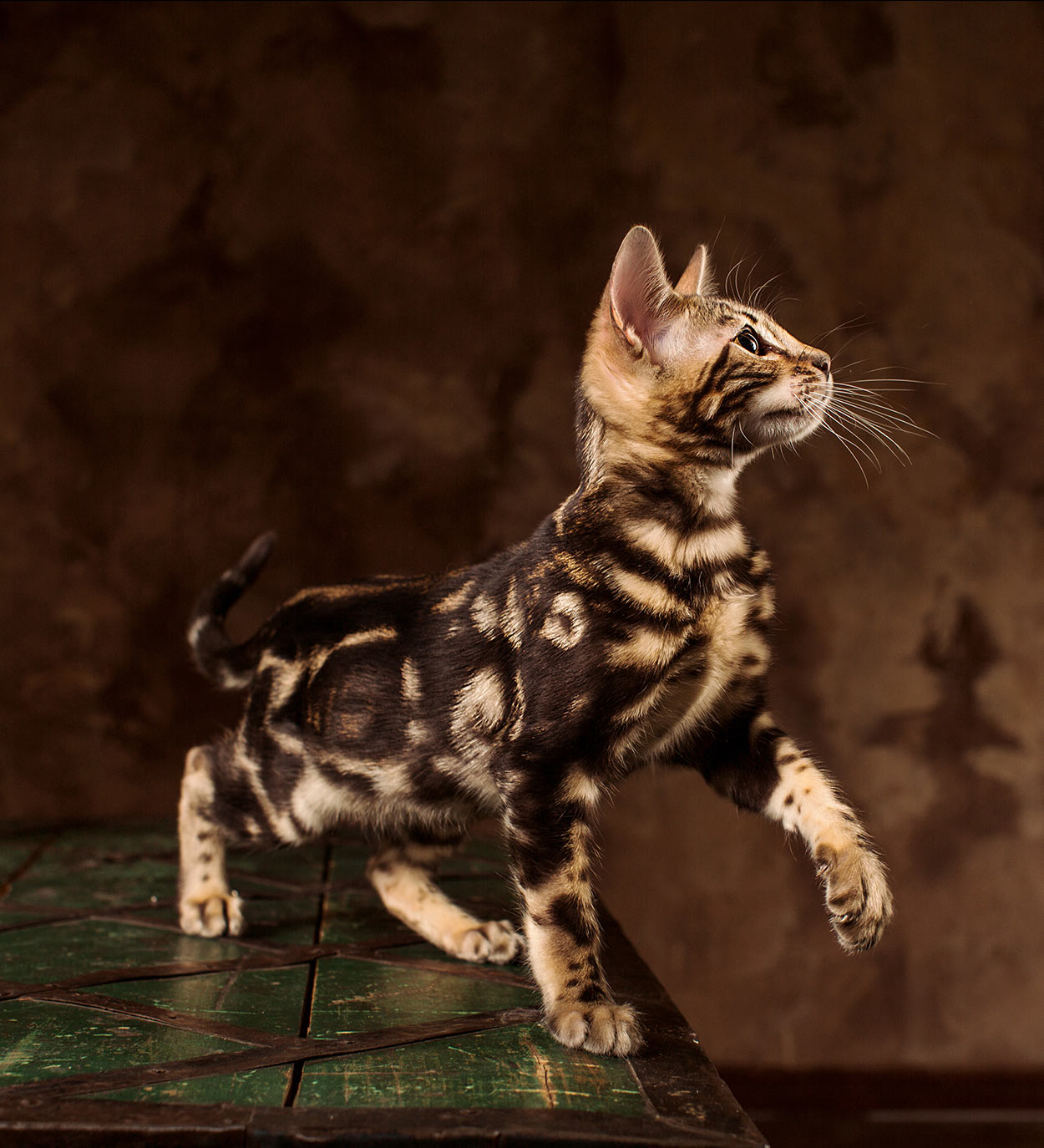 They are playful and fun, and above all never failed to make us go 'awwwww'.
1. Angel
2. Beauty
3. Belle
4. Bitsy
5. Bloom
6. Bonnie
7. Boo Boo
8. Bubbles
9. Buttons
10. Charm
11. Cherry
12. Cherub
13. Cuddles
14. Darling
15. Diamond
16. Divine
17. Dream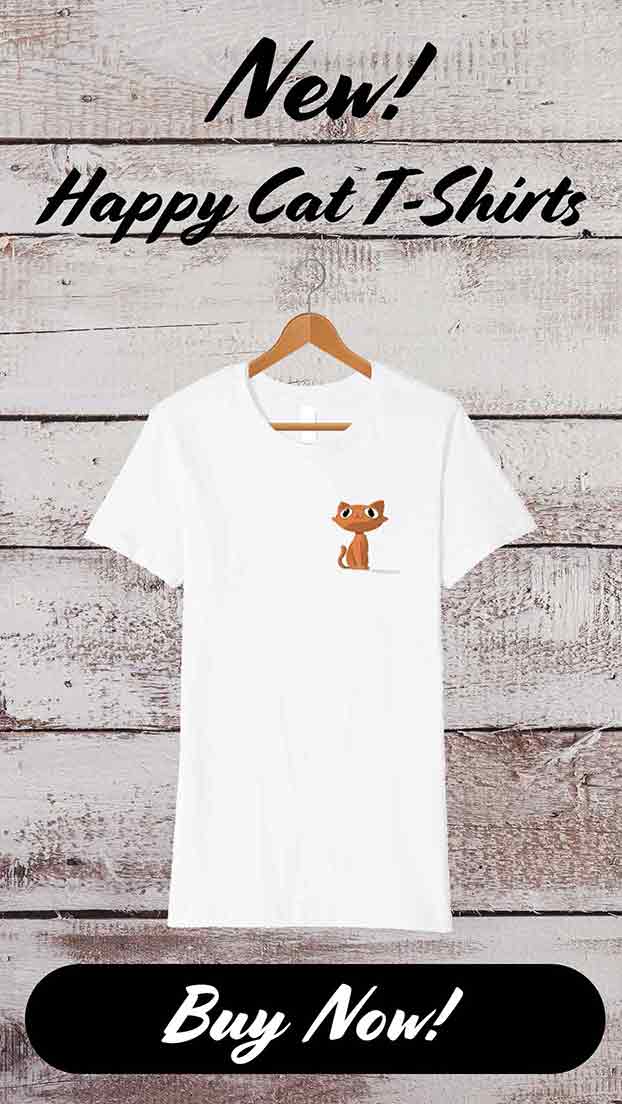 18. Giggles
19. Heaven
20. Honey
21. Kitty
22. Muffin
23. Mufty
24. Pumpkin
25. Queenie
26. Sparkle
27. Sunny
28. Sweetie
29. Tickles
30. Tigger
Not cute enough for your little sweetiepie? Don't worry! There are 200 more Cute Cat Names in this fun list.
Funny Bengal Cat Names
Do you love a good laugh?
Giving a cat a funny name can be great fun, but it can also be the source of some controversy.
And sadly some owners find that a few weeks in they have tired of their joke.
Fortunately, there is a great way to be funny and still give your kitty a name that lasts.
Why not take your inspiration from the world of movies!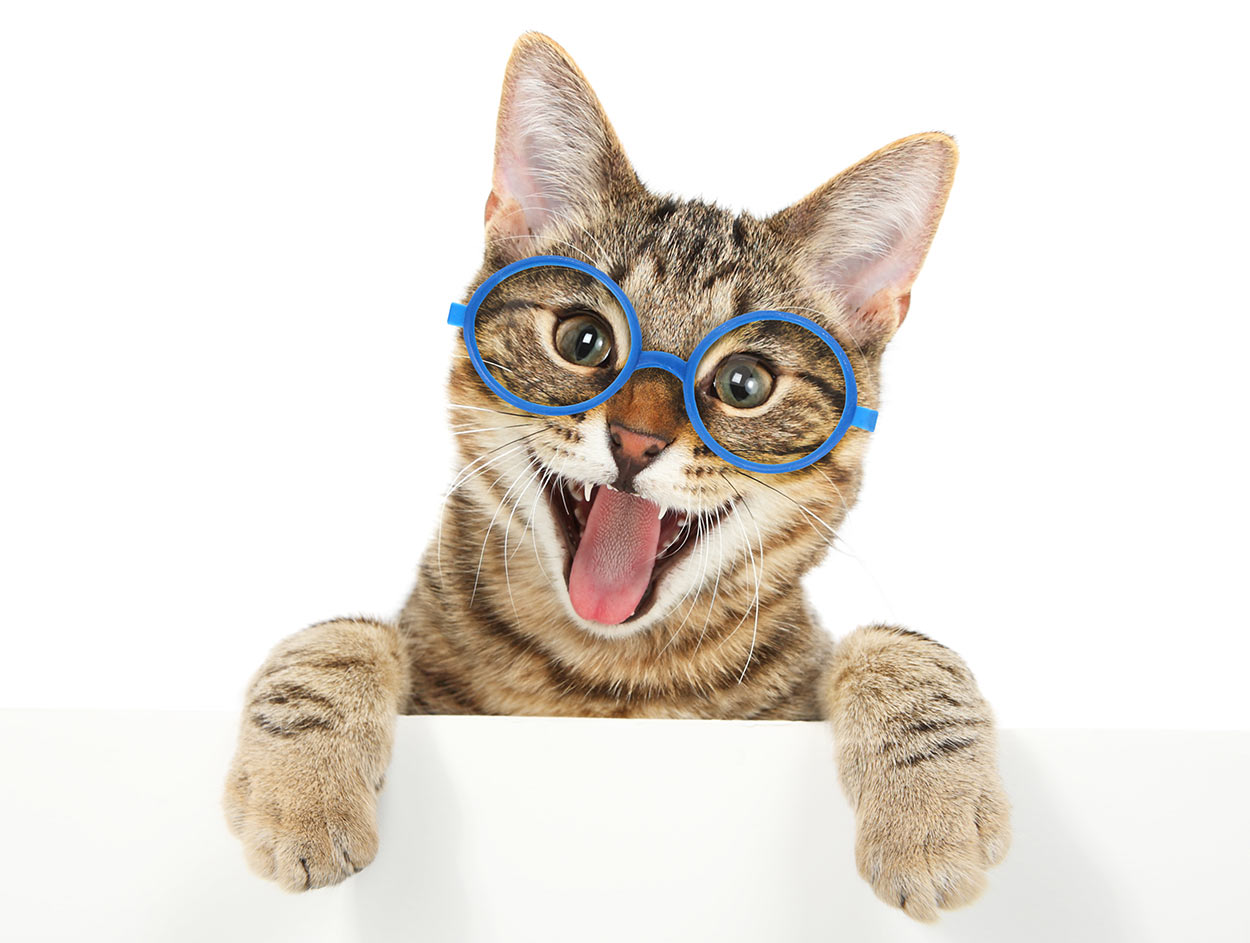 Famous cartoon big cat names can sound seriously amusing on your tiny wild-cat
And they sound pretty cool too.
Here are some fun ideas for cartoon big cat names:
1. Aslan
2. Bagheera
3. Cheetata
4. Cheetato
5. Clawhauser
6. Kiara
7. Kion
8. Kovu
9. Manchas
10. Mufasa
11. Nahal
12. Nala
13. Rajah
14. Sarabi
15. Scar
16. Simba
17. Tigress
18. Zira
19. Zuba
Best Bengal Cat Names
Finding the right name for your new cat is important. But it should still be a fun experience.
Whether you are looking for Bengal cat names exotic kitties would suit, or simply something super cute.
The right name for your kitten will come to you.
Regardless of their route, Bengal kitten names boy or girl cats will grow into, and that you will love for their lifetime with you, are all around.
If you don't fancy any of the names on this list, there are plenty of others you could try on for size.
From Cool to Unique, Funnny to simply Awesome. There are even some highly appropriate Clever Cat Names to consider.
And they might well even suit one of these Tabby Cat Names!
What did you choose for your Bengal cat? Let us know in the comments section below!
Free Updates For Cat Lovers!
Our cat care articles, tips and fun facts, delivered to your inbox