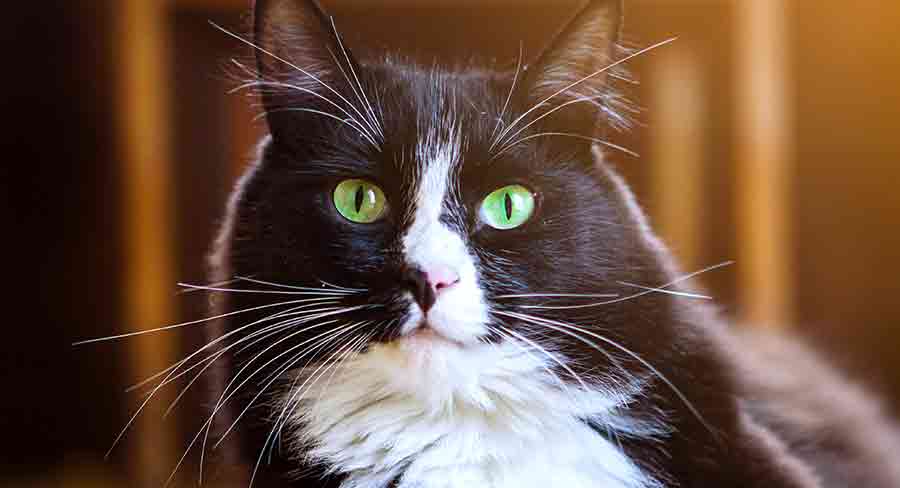 Black and white female cat names can be funny, cute, or cool! Today we'll share a range of awesome ideas for naming your black and white female kitten. No matter what type of name you're looking for, we've got something to suit your new family member.
You can use your cat's personality to find a unique name, or stick with a popular black and white themed idea. There are lots of places to look for ideas for your new black and white girl cat's name.
Best Black and White Female Cat Names
Betty
Blotch
Boots
Chanel
Clarabelle
Dapple
Domino
Dottie
Lucky
Luna
Magpie
Marbles
Minnie
Mittens
Olive
Oreo
Pebbles
Pepper
Polka
Puffin
Smudge
Socks
Speckle
Stripes
Sushi
Good Black and White Female Cat Names
Good name ideas can come from anywhere. And, it's important to choose one that you'll be happy with for your cat's whole life! How about one of these great ideas?
Arty
Ashy
Audrey
Bellatrix
Bessie
Bullseye
Chalkboard
Checkers
Constellation
Drizzle
Echo
Gucci
Hepburn
Marilyn
Mime
Mog
Monochrome
Monroe
Nova
Piano
Retro
Spots
Tiffany
Truffle
Ursula
Cute Black and White Female Cat Names
Black and white cats are adorable. And black and white kittens are even cuter! So, what better than a cute name for your new girl? Here are some black and white female cat names that are as sweet as sugar.
Aspen
Badger
Burrito
Calligraphy/Callie
Disco
Doodles
Dorothy
Gadget
Indie
Kiss
Licorice
Odette
Odile
Parfait
Peppermint
Puddles
Raven
Scribbles
Sketch
Snoopy
Sprinkles
Squid
Stars
Sundae
Wilma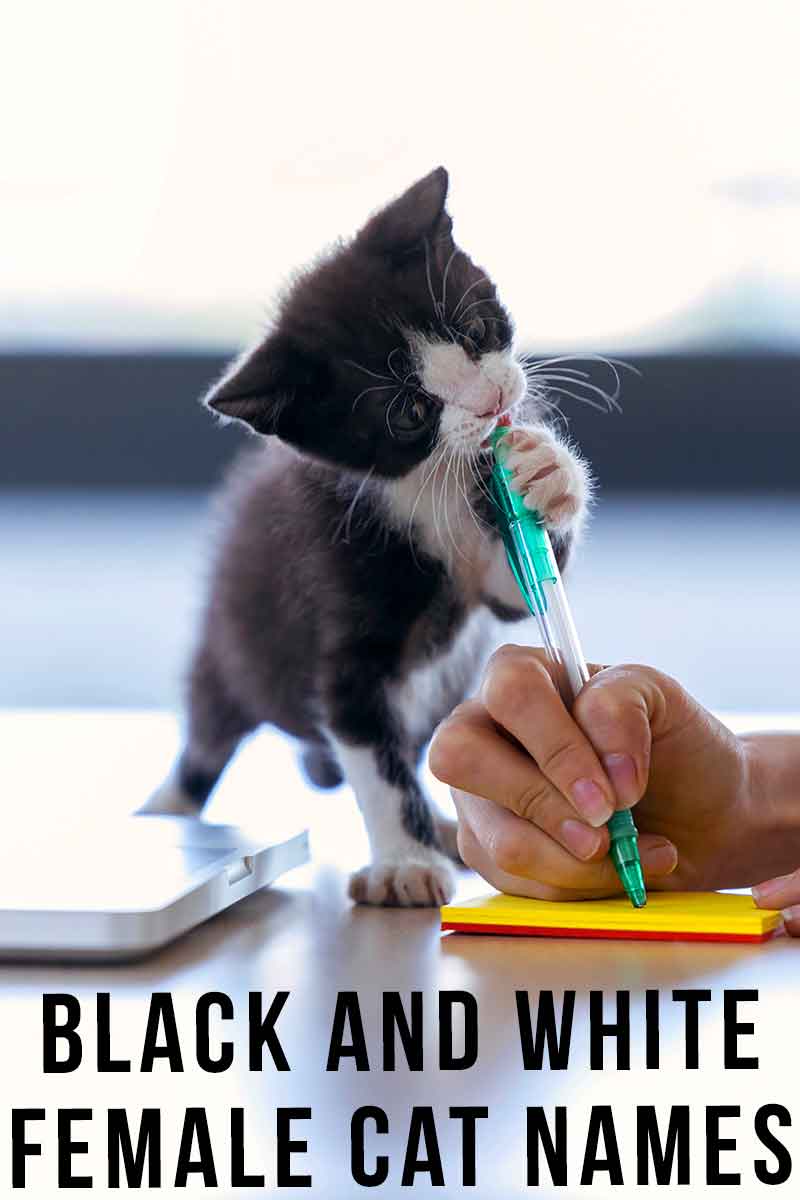 Cool Black and White Girl Kitten Names
Cool black and white female cat names can be inspired by famous villains, TV show characters, or even just stuff that you think is awesome! Here are some ideas that might suit your new black and white lady.
Artemis
Athena
Bandit
Cruella
Elvira
Graffiti
Jinx
Maleficent
Midnight
Morticia
Mystique
Nemesis
Orca
Rebel
Rhea
Shadow
Static
Storm
Taboo
Vader
Vega
Venom
Voodoo
Wednesday
Witch
Funny Black and White Girl Cat Names
Do you have a great sense of humour? Well, a funny name choice can be a great way to show that off! Here are some that will make you smile every time you call your cat's name!
Barcode
Blackjack
Butler
Cookies and Cream
Crossword
Dalmatian
Dice
Grey
Holstein
Jeeves
Keyboard
Lemur
Newspaper
Ninja
Nun
Penguin
Pepsi
Referee
Shamu
Skunk
Soccer Ball
Sushi
Tarmac
Tux
Zebra
Unique Black and White Female Cat Names
There are lots of black and white cats out there with loving families. So how can you help your girl stand out from the crowd? Unique black and white female cat names are a great way! Here are some ideas that you might not have seen before.
Asteroid
Bic
Binary
Biro
Calypso
Celeste
Cinder
Eclipse
Espresso
Equinox
Galaxy
Guillemot
Hemera
Nasa
Nebula
Nyx
Pirate
Scrabble
Sepia
Solstice
Stave
Vamp
Venus
Vintage
Zodiac
Creative Name Ideas
Choosing a new pet name is a great excuse to get creative. Here are some ideas that are inspired by fur patterns, personality, size, and more.
Aurora
Banksy
Ebony
Enigma
Freckles
Gingham
Harlequin
Inky
Jigsaw
Kaleidoscope
Merle
Mosaic
Motley
Nero
Noir
Onyx
Osprey
Panda
Peabody
Peanuts
Pixel
Rorschach
Speckle
Swan
Yin-Yang
Which Name Did You Choose?
Have you found a female cat name for your black and white cat in this guide? If you're struggling to narrow things down, try out a few different options on your kitten! See if one suits her better than the rest.
If you've chosen one of the names in this list, or have thought of another great one for us to add, we would love to hear from you! Let us know in the comments which idea was your favorite, and what other names we can include!
More Name Ideas