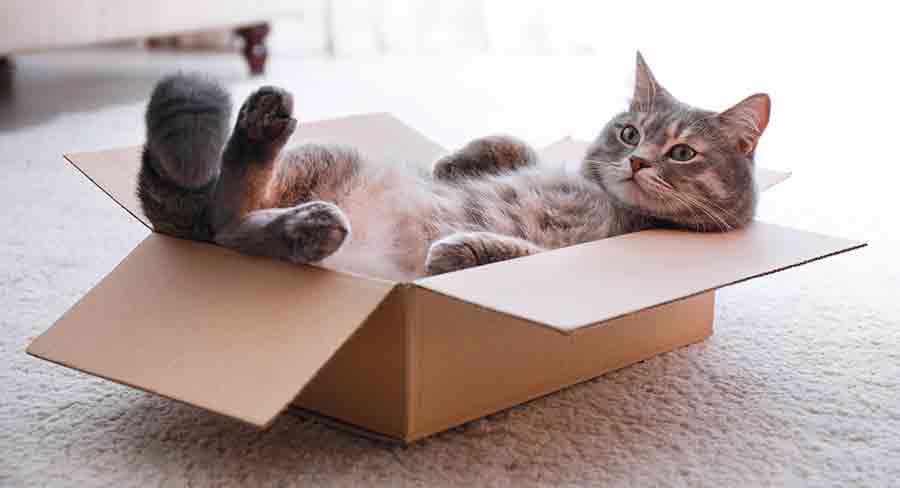 Looking for some funny girl cat names to suit your new kitten? Most kittens go to their new homes when they are only 8 weeks old. But, you can already tell when they're going to be a little joker! Is your new kitten zooming around the house, leaping after your feet, and just being hilarious? Well, a funny girl cat name can be the perfect way to compliment that wonderful personality!
Coming up with a comical name that has lasting appeal can be tough. Inappropriate or slightly rude names can be quite amusing. But remember to choose something you'll be happy with for the rest of your cat's life. And happy to share with your veterinarian and friends too!
Some Of Our Name Collections
There's no rush to choose the perfect name immediately, so take your time.  Here are some collections of name ideas to get you started:
Cute Funny Girl Cat Names
Kittens often make us laugh with their antics, we can't ignore that they're also adorable! Here are some cute names that are also a little silly to put a smile on your face.
Bandit
Barley
Beans
Carrots
Caterpillar
Cheddar
Cheeto
Chipmunk
Copy Cat
Diva
Dumpling
Fuzzball
Glamourpuss
Marble
Ninja
Pogo
Puddy Tat
Sassy
Skunk
Snoopy
Soprano
Squish
Tic Tac
Toothless
Twinkle Toes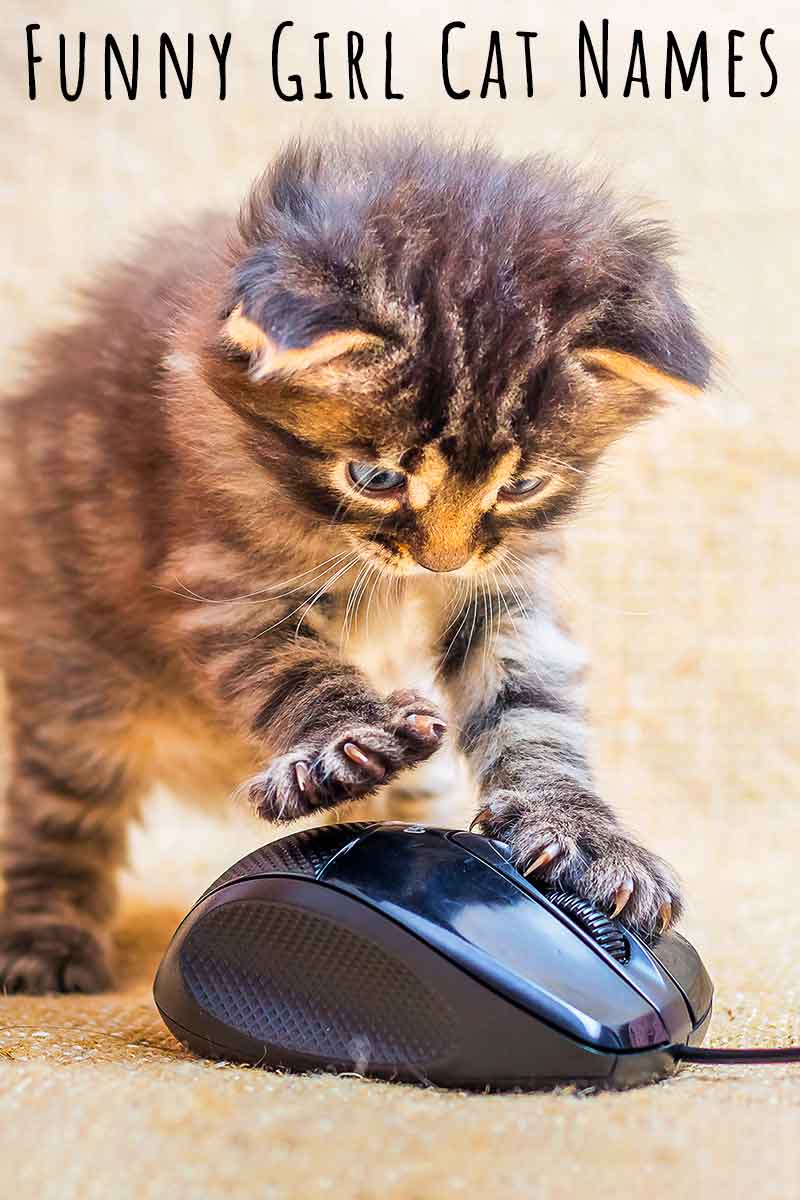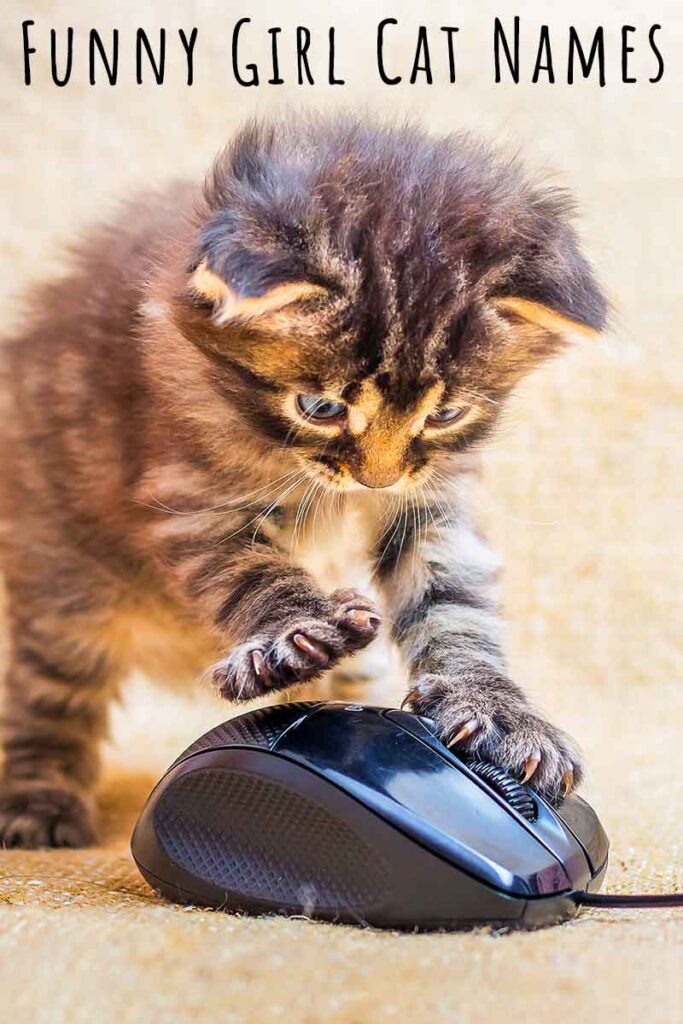 Celebrity Inspired Funny Female Cat Names
Careless Whisker
Catnip Everclean
Chewie
Cleocatra
Ewok
Fleas Witherspoon
Frizzy
Grizzly
Hello Kitty
Kit Kat
Katy Purry
Margaret Scratcher
Mariah Hairy
McGonagall
Siren
Skimbleshanks
The Boss
The Dog
Tubby
Waffle
Wiggles
Your Highness
Funny girl cat names can be a play on words. And the beauty of this type of name is that the only limit is your imagination. Can you think of any others we could add to this list?
Punny Names for Girl Cats
We especially love names that are a play on words. Here are a few more ideas along the same lines.
Carrie Bradpaw
Catalie Dormer
Catalie Portman
Catastophe
Cat Benatar
Catsy Cline
Cher Pawowitz
Cindy Clawford
Deloris Van Catier
Feline Dion
Fleyonce
Furgie
Furmione Granger
Grow-lein Maria
Jane Pawsten
Jennifur Anderson
Kitney Spears
Mary Pawpins
Meowly Cyrus
Pawdrey Hepburn
Puma Thurman
Purrsei Lannister
Ravenclaw
Stevie Licks
Tina Spay
Funny Female Names for Big Cats
Do you have a big cat breed? Whether you've got a Maine Coon, a Persian, or even a Savannah cat, these funny girl cat names will be a great, silly way to emphasise that size!
Beasty
Big Boned
Bigfoot
Brienne of Tarth
Catwalker
Chubbs
Elephant
Everest
Giantess
Just Fluffy
Lofty
Mammoth
Miranda
Princess Fiona
Puss Almighty
Queen Kong
Sahara
Skyscraper
Sumo
Supermodel
Supersize
Tiger
Tilda
Titanic
Whopper
Funny Girl Names for Small Cats
What about the other end of the spectrum? Maybe you have a Singapura, a Munchkin, or a Cornish Rex! Here are some great and comical names for the smallest cat breeds out there.
Acord
Anklebiter
Atom
Baby
Bug
Chickpea
Chipmunk
Elf
Half Pint
Kitten
Lentil
Lightweight
Micro
Minnie
Peanut
Pixie
Portable
Shortie
Speck
Sprinkles
Stubby
Tadpole
Teeny Weeny
Tiddler
Tinkerbell
Funny Girl Cat Names Inspired by Color
Your cat's breed and size don't have to be the only things to draw inspiration from. In fact, what about using the color or pattern of their fur for some silly name ideas? Here are some that might tickle your funny bone!
Aspirin
Barcode
Batcat
Black Eyed Pea
Camo
Carrot top
Catwoman
Chimneysweep
Chowder
Dorito
Espresso
Facepaint
Gingey
Inksplat
Lava
Motley
Nacho
Oreo
Snowflake
Strawberry Blonde
Tabbytha
Tango
Toothpaste
Towie
Zebra
Some Food Themed Names To Make You Smile
Nacho
Chickpea
Fish Sticks
Dorito
Purrito
Peanut
Cookie
Zuccini
Lentil
Pumpkin (great for an orange cat)
Funny Rescue Cat Names
Looking at the random names for rescue cats can be a great way to choose a funny girl cat name. Especially if your new lady is a rescue cat herself! Austin Pets Alive in Texas has some wonderful cats ready for adoption. Here are some of the hilarious names they're given!
Animal 22
Beach Volleyball
Boaty McBoatface
Camilla the Chicken
Cash Money
Castaspella
Cheez It
Cuddly Goober
Deeply Hidden
Easy Peasy Lemon Squeezy
Eighty Melons
Egg
Gobbledygook
Honey Thief
Judge Judy
Kitchenaid
Lion Scones
Margarita Machine
Massage Therapist
New York Strip
Pink Fairy Armadillo
Purresa May
Shitake
Technicolor Beat
Tiny Revolution
If you still haven't got your future cat yet, but are preparing what funny name you'll pick, it's a great idea to consider rescue! There are plenty of wonderful, friendly cats and kittens out there in need of a new home. And they'll be full of love for you no matter what name you choose.
Tips for choosing the Right Name
The best funny girl cat names are the ones that suit your new lady perfectly. And, the best one might not spring out at you straight away. In fact, many people find that there's a few name ideas they just keep coming back to. So, don't stress if it takes you a few days.
You may even find it easier to choose once your kitty is home with you. Try a few different options out on her and see if she reacts to any. Maybe one of them will just feel right compared to the others. You can also get the whole family involved.
Make a shortlist
Making a list of the your families top ten or twenty names and putting the list up somewhere in your kitchen is a great idea. You can let each member of the family cross off the name they like the least until there is only one name left.
Do you have kids, or know any kids? They can be a great source of funny names! Ask them what they think your new cat should be called, and see if any of those fit the bill!
We would love to hear if you've chosen any of the funny girl cat names in this guide. Or, if you've thought of another great and hilarious name that we should add to our list!
Readers Also Liked