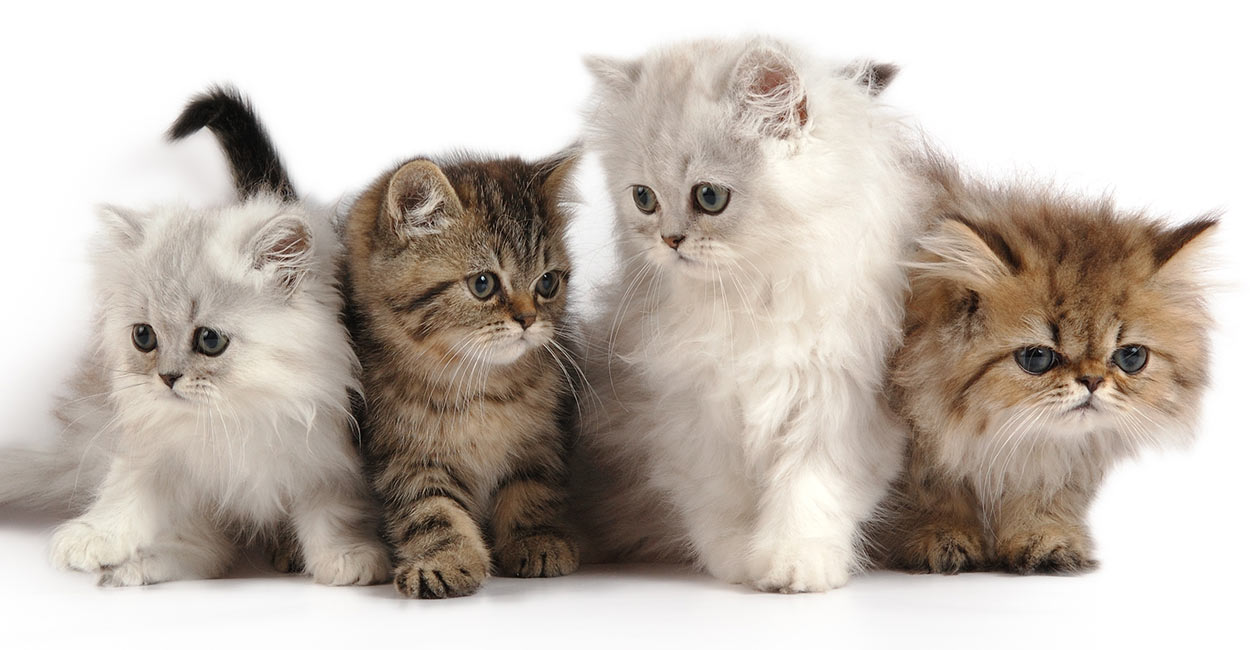 Your sassy Persian kitten might look like a little ball of regal confidence, but for the rest of her life she's going to rely on you to make great decisions about her care. And it all begins with a name! Picking a shortlist of awesome Persian cat names isn't a chore you need to worry about, however. Because I've put together some themed lists of fabulous ideas that will suit your fluffy baby perfectly.
Contents
The distinguished Persian cat isn't just popular on the show ring, they also make very loving and loyal pets. Most Persian cats are loyal and friendly, enjoying the company and attention of their human owners. They love to be cuddled and gently groomed, and their cute characteristics make great inspiration for their names. From classic, regal and formal names to retro, adorable and unique ideas, we have the right name for any perfect Persian.
Naming Your Persian Cat
Choosing a name for any new pet is fun, but it's important to get it right. After all, just like your gorgeous new Persian cat or kitten, the name you decide on will be for life! You may have a name in mind for your new pet before you even collect him or her. However, in many cases, your cat's looks or personality will often choose their name for you!
You might want to name your Persian kitten after your favorite film star, a singer, a family member, or even your best friend. Perhaps you're inspired by your cat's looks or their eyes? Maybe you like the idea of a name that reflects your Persian cat's heritage.
Try to choose a Persian kitten name that you're comfortable with and that is easy for your pet to learn. Short names often work best for this reason. However, don't be afraid to choose a longer name if you find one you like, and perhaps shorten it to a nickname that your new Persian playmate can quickly learn and respond to.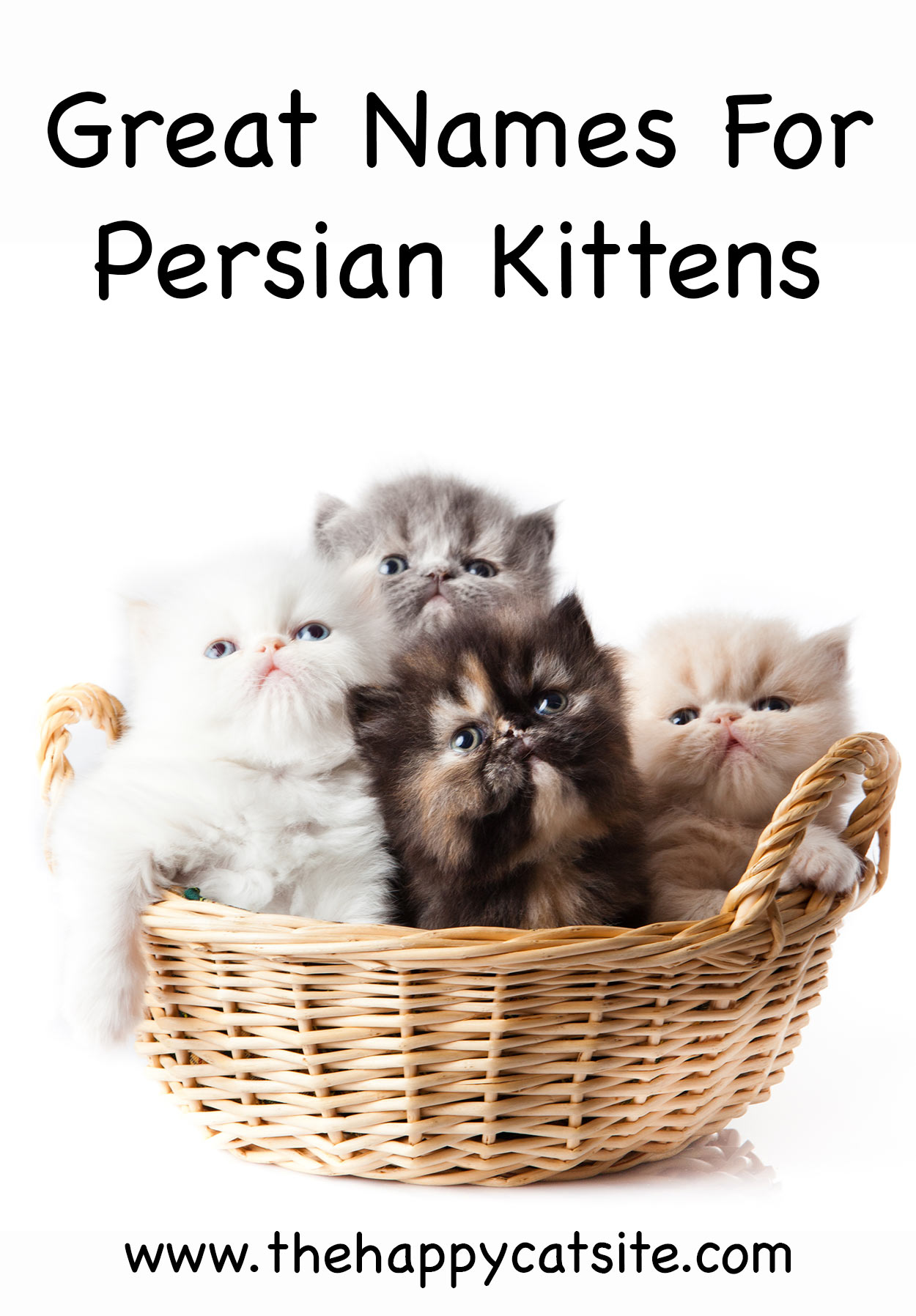 Male Persian Cat Names
The Persian cat is a pedigree pet with fine ancestry! As their name suggests, Persian cats are thought to hail from Persia (now known as Iran). However, some historians think that the exotic Persian cat may have its ancestral roots in ancient Egypt.
When it comes to choosing Persian cat names for boys, we've taken into consideration their rich heritage and rather haughty appearance, as well as their long, silky coats and laid-back character. These suggestions are for quite formal sounding names (we'll look at some cute names for Persian cats later in this article):
Abbas
Adonis
Aladdin
Amir
Arthur
Basil
Bijan
Boots
Cassidy
Elvis
Garfield
Hamid
Hunter
Leo
Luxor
Lynx
Mozart
Mr Jinx
Pharaoh
Rah
Sphinx
Sylvester
Tigger
Titan
Xerxes
Female Persian Cat Names
If you are trying to decide on Persian cat names for a girl, these feline ladies' glamorous looks are reflected in the names we've suggested:
Afina
Aime
Akira
Allie
Aphrodite
Astral
Babette
Baby
Bardot
Beauty
Beauty
Champagne
Chloe
Clara
Cleo
Crystal
Duchess
Gucci
Lady
Mystique
Perrier
Prosecco
Sheba
Tiara
Tinkerbell
Using Coat Color As Inspiration
Persians are very distinctive with long, glamorous coats and trademark flattened faces. Their eyes can be blue, green, copper-colored, and every variation in between. Some Persian cats even have eyes of different colors; Smokey had one blue eye and one green one!
Grey Persian Cat Names
Sometimes, the right name will just "click". For example, when I was a child, our family was "adopted" by a stray Persian cat who just turned up on our doorstep one day. He was a solid grey Persian with the most gorgeous two-toned eyes. Right away, I knew he just had to be called Smokey. The name suited his color and the way he had mysteriously appeared, just like a puff of smoke! Grey Persian cats inspire lots of ideas for names. Here are just a few that you might like:
Stormy
Foggy
Smokey
Skye
Misty
Woodsmoke
Greystone
Cloudy
Thunder
Darcas
Cinders
Earl Grey
Ashley
Blade
Cinderella
Cenizo
Carbon
Esprit
Elephant
Granite
Grigio
Koala
Hazy Fantazie
Macy
Lun
Blue Persian Cat Names
Blue Persian cats are actually a shade of grey in colour, but these names reflect their true identity:
Bleu
Bluebell
Seaside
Captain
Peacock
Sapphire
Shadow
Indigo
Astral
Periwinkle
Diesel
Azul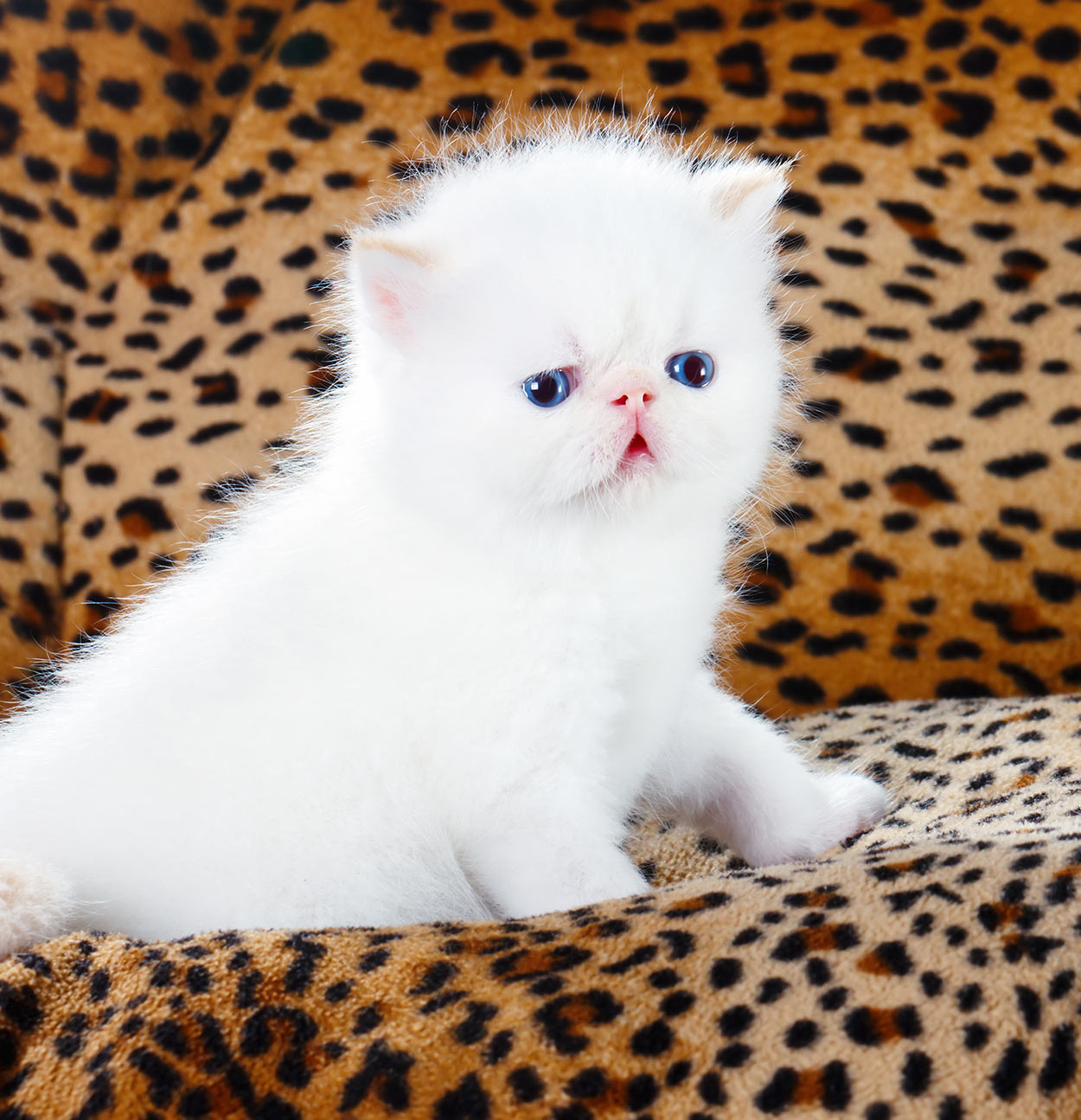 White Persian Cat Names
There are lots of names that would suit a white female Persian cat and a white male Persian cat or kitten. Here are a few name ideas that you might find appealing:
Arctic
Avalanche
Bianca
Blanche
Blizzard
Bridie
Chalky
Confetti
Everest
Fluffy
Frosty
Gandalf
Ghost
Glamour
Ice
Ivory
Jack (like Jack Frost!)
January
Lacey
Lunar
Mr/Miss Frosty
Nimbus
Phantom
Polar
Santa
Snowball
Snowflake
Winter
Brown Persian Cat Names
Persian cats also come in a delicious chocolate brown color, leaving plenty of scope for suitable names. Here are few suggestions that you might like:
Brownie
Cadbury
Caramel
Chocolate
Earl Gray
Earthy
Gravy
Latte
Mocha
Peanut
Reece
Sahara
Snickers
Teak
Toastie
Truffles
Twinkie
Velvet
Woody
Black Persian Cat Names
Black Persian cats have a definite air of mystery about them, as well as being totally beautiful! Here's a selection of names that we thought would suit a black Persian cat:
Witch
Midnight
Jet
Blackie
Noire
Ebony
Magic
Hogwarts (named after Harry Potter's School of Wizardry)
Harry (see above!)
Halloween
Panther
Omen
Batman
Rocky
Obsidian
King Coal
India
Lucifer
Dirty Harry
Shadow
Boogie Man
Liquorice
Guinness
Coca Cola
Morticia
Inspired By Eye Color
Persian cats can have blue, green, or copper-colored eyes. This feature can be a great source of inspiration for names. What do you think of these ideas?
Topaz
Cobalt
Neptune
Azure
Emerald
Ivy
Copper
Lapis
Onyx
Pumpkin pie
Sapphire
Envy
Jealous
Gem
Tiger's Eye
Amber
Aventurine
Goldstone
Jade
Quartz
Tourmaline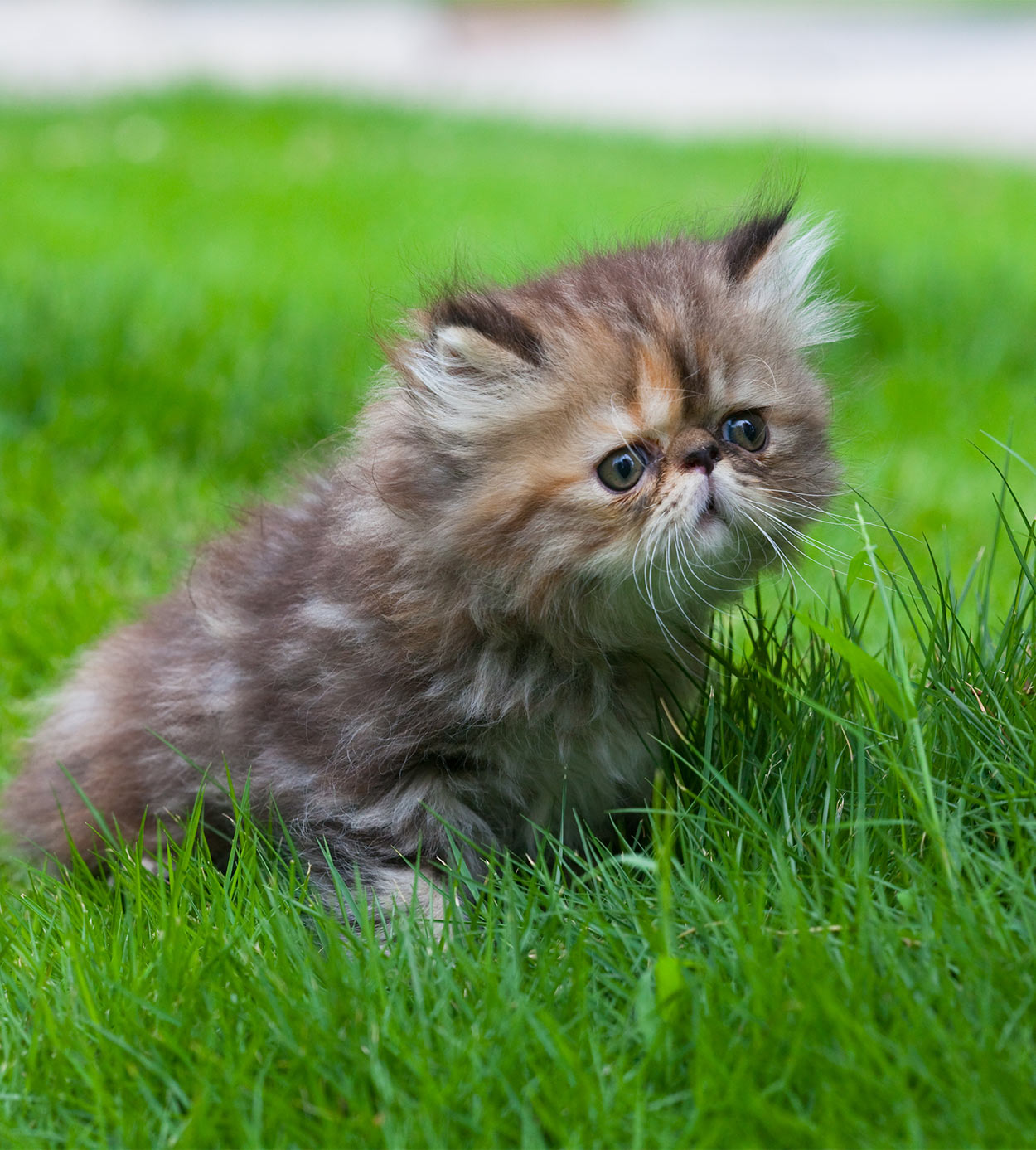 Cute Names For Persian Kittens
Persian cats of both sexes are well-known for having gentle, laid-back personalities. Much of a typical Persian's day is spent chilling-out, interspersed with short playtime periods. Although your Persian pal will "talk" to you, you won't be alarmed by lots of intrusive noise, as a Persian's meow is soft, quiet and cute.
Bubbles
Coco
Cupcake
Furbaby
Gatsby
Golly
Kitty Cat
Meow-Meow
Mewington
Munchkin
Noodles
Pixie
Prince Charming
Snickers
Snuggles
Mr/Mrs Fluffy
Funny Persian Cat Names
Now, although Persians can appear rather "high and mighty" at first, they can have amusing characters, especially as kittens. You can reflect this in your choice of name. Here are a few funny Persian cat names to conjure with:
Boss Cat
Catastrophe
Catzilla
Clawsome
Great Catsby
Her/His Majesty
iCat
King Tutankittycatamoon (nickname King Tut)
Mr President
Octopussy
Putin
Santa Claws
Trump
Your Royal Highness