Are you struggling to find exotic cat names? Even even just one, perfect, exotic cat name?
Tanya Clark has got you covered!
Naming your exotic cat
Does the term "domestic exotic cat" sound like an oxymoron to you?
Far from being a contradiction in terms, an exotic cat is a simply a pet cat that has been bred to resemble its wild brethren.
They're not to be confused cats that have "Exotic" with a capital E in their name, such as the Exotic Shorthair (although we concede this is confusing). 
These unique animals are trending almost as fast as designer cats and dogs.
And their future seems unlimited as far as demand and interest in these beautiful, mysterious cats are concerned.
So your new exotic cat is likely to garner a lot of admiring interest, and they deserve worthy name!
We've got hundreds of exotic cat names to impress you, but let's find out a little bit more about these stunning cat breeds first, to get you inspired.
What does exotic cat mean?
What does it take for a cat to be given the exceptional label, "exotic?"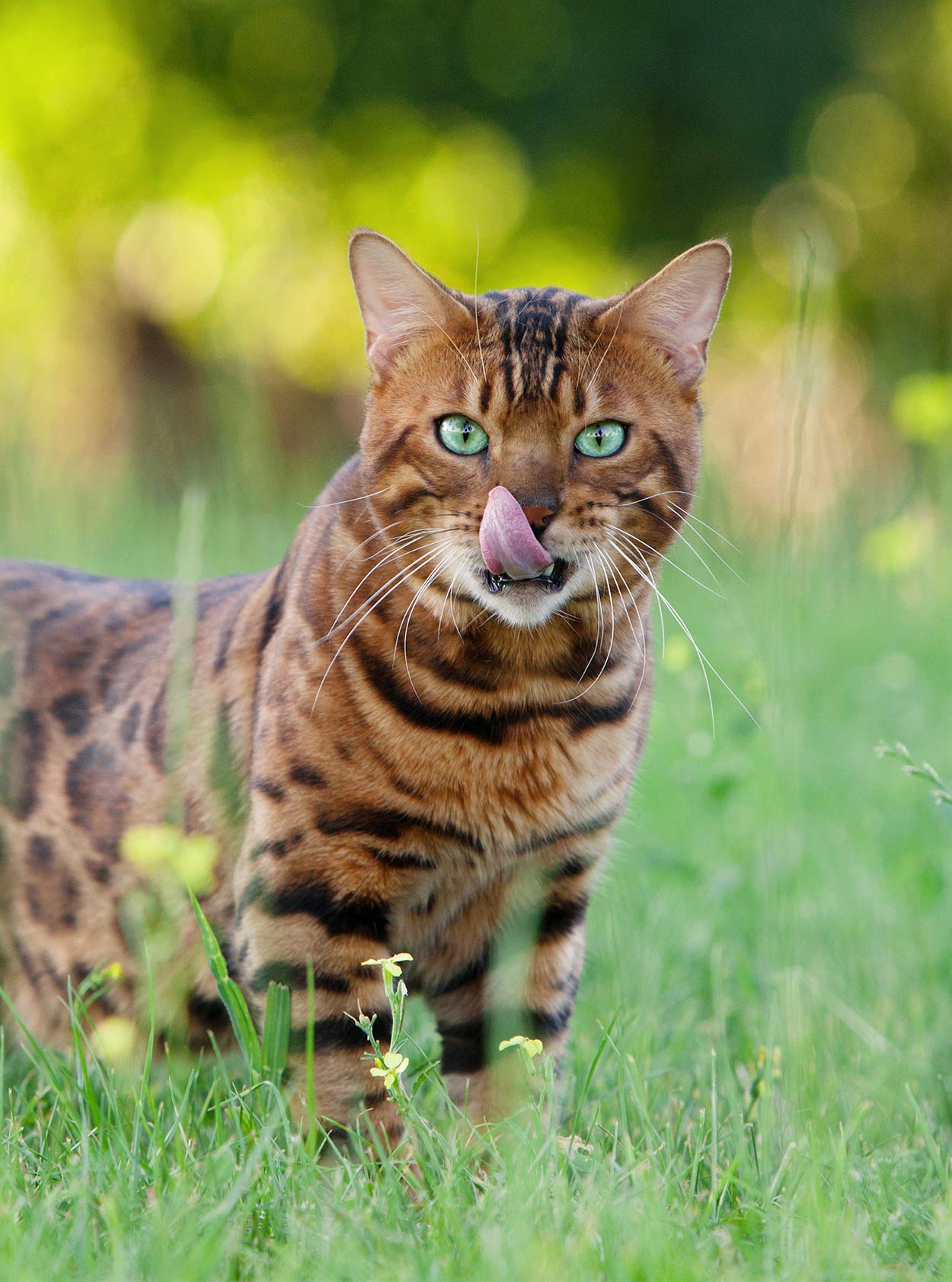 There are two types of exotic cat: some of these felines are a hybrid cross of a domestic cat and a wild cat, and others are 100% domestic but look just like a wild cat species.
Both categories have captured the public's attention and are quickly gaining in popularity.
Regardless of their genetic makeup, both types of exotic cat are bred to have a certain appearance and/or personality that is distinctly wild in nature.
Bringing home an exotic cat
It's easy to see the allure of an exotic cat, but not always so simple to bring one home.
An exotic hybrid cat breed such as the Savannah or the Bengal is the product of cross-breeding between domestic and wild cat species.
Sometimes their most recent wild ancestor was a long way back in their family tree, and sometimes not.
You'll need to know how their wild heritage impacts their personality and care needs.
And you'll need to check whether there are any legal restrictions on owning wild animal hybrids in your area.
On the other hand, a 100% domestic exotic cat has no wild blood running through its veins, since it has no history of being cross bred with a wild cat.
This charming little guy – for example an Ocicat or a Toyger – has simply been breed to have a wild appearance, without any wild genetic material.
You prepare to bring home one of these cats as you would for any other domestic cat.
Once you're home, it's time to think about the import task of choosing a name!
The importance of choosing the right name
Surely you would agree that an animal as magnificent and unique as an exotic cat needs, requires, and absolutely demands an equally sensational name. I mean, Bob, Boo, or Sue simply would not do!
No, in the case of the thoroughly exotic feline, only a singularly quixotic name will do.
And with that in mind, we're going to present you with some brilliant, exceptional, dare we even say unparalleled exotic cat names!
That's right, we've got the bases covered for exotic female cat names as well as exotic male cat names.
As we offer up some scintillating suggestions for your new mini-tiger or little lion, we'll be sure to clue you in on some of the more interesting facts regarding each exotic cat's life.
Male exotic cat names
What could be more exotic than a mellifluous feline name from another country or culture?
Such a moniker would be perfect for an exotic cat with foreign origins.
Male exotic cat names – Suggestions for Savannahs
The Savannah cat is an exciting cross breed between the African Serval and the domestic cat.
Subsequent generations were bred to additional cats including Ocicats, Oriental shorthairs, and Egyptian Maus.
We've come up with some unforgettable Savannah cat names before, so now let's take a new approach and draw on their Egyptian Mau heritage.
Do you think that one of the these ancient Egyptian names would perfectly suit your Savannah male cat?
We certainly think that the moggie in question would be impressed!
Amenmose
Ammon
Sendjemib
Senenmut
Bay
Horwedja
Jafari
Jahi
Jibade
Heru
Hondo
Inyotefoker
Ipuki
Metjen
Minnakht
Mitry
Irsu
Huy
Huya
Bebi
Bebti
Makalani
Ma'nakhtuf
Masaharta
Nenkhsekhmet
Nenwef
Nessumontu
Nibamon
Masud
May
Bek
Amsi
Kheruef
Khufukaef
Khnumhotep
Khui
Exotic male cat names – Ideas for Pixie Bobs
Have you heard of a Pixie Bob cat?
This chunky little fellow has the look of a wild bobcat combined with the mild manners of a domestic moggie.
Just like a bobcat, Pixie Bobs sport a bobbed tail and a beautifully spotted coat.
Doesn't this darling little charmer deserve an equally cute (but fierce, of course) name?
How about choosing one of these endearing monikers for your male Pixiebob?
Parennefer
Ro-an
Blinky
Blossom
Tipsy
Tofu
Truffles
Booger
Bootsie
Brady
Cinnamon
Cookie
Cuddly
Cutie Pie
Dainty Don
Dalia
Hobo
Hopper
Huggie
Hunny Bunny
Darling
Dash
Bobbin
Bonbon
Rudjek
Ruia
Paser
Patenemheb
Boo Boo
Dashy
Didgeridoo
Exotic boy cat names – Ocicats
Now let's turn our attention to the Ocicat, a 100% percent wild-looking moggie with 100% domestic cat DNA.
This lithe, athletic looking feline is the result of breeding together Siamese, Abyssinian, and American Shorthair cats.
The resultant furry bundle has a decidedly large, muscular body, and a semi-wild look on his lean face, but he carries himself with a friendly, affectionate demeanour.
This cat, with its cool intelligence and sinewy power reminds me of a martial artist, much like the inimitable, late Bruce Lee.
I think an awesome Asian name that reflects his heritage would be a spot-on choice for this lithe bundle of fur:
Daiki
Akemi
Daisuke
Chiyo
Hiroshi
Bay
Berry
Blaze
Brook
Cedar
Clay
Cove
Dale Misty
Nova
Petal
Fumiko
Isamu
Hisako
Kenta
Hiroko
Fen
Li
Kiyoshi
Kana
Makoto
Kazuko
Manabu
Mami
Susumu
Mayuni
Tadashi
Megumi
Exotic cat names – Bengal boys
And then there is the strikingly beautiful Bengal cat, one of the best known of the exotic cats.
This majestic moggie is marked with leopard-like stripes and the characteristic fur rosettes of his gorgeous Asian leopard cat ancestors.
But in the end, the little Bengal has the sweet disposition of an everyday moggie: no baring of fangs for this gentle giant!
What would make Bengal cat names exotic and fitting for such a unique feline? Since his glorious fur ranges from orangey hues to earthy browns, I think that nature-inspired names are fitting and natural monikers.
Any one of these nature-inspired names would be a fitting appellation for a Bengal male cat, don't you think?
Breeze
Venetian
Willow
Windy
Wren
Windy
Bear
Birch
Cliff
Cloud
Field
Flint
Forrest
Glenn
Grove
Hawk
Leaf
Summer
Olive
Rain
Reed
River
Dove
Evening
Fauna
Roan
Sage
Sky
Dusty
Ember
Dawn
Female exotic cat names
Before it closed down, I used to visit a nearby Savannah cat store, a bright, spacious place where curious folks could drop in and play with these magnificent creatures.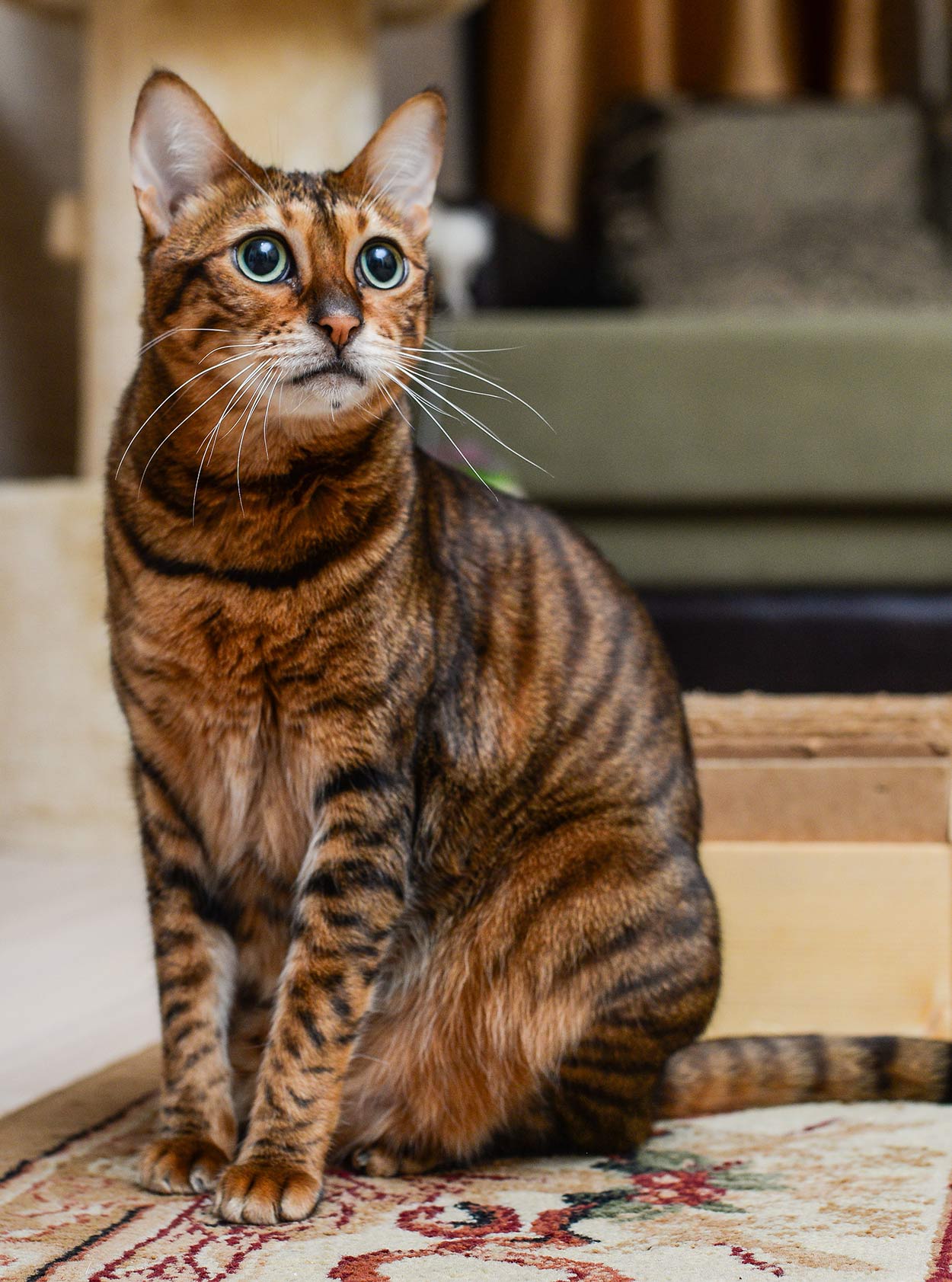 Even as kittens, Savannahs girls are huge kitties, and very strong when they play.
I think female exotic cats deserve a name which is as fierce as it is beautiful!
Female exotic cat names – Stunning Savannahs
I'm sticking with the Egyptian theme again here.
How do these names sound to you?
Henite
Hent
Tey
Hentmire
Baktwerel
Kemanut
Kemsit
Masikah
Memphis
Menhet
Kentetenka
Khama'at
Neferhetep
Neferhetepes
Olabisi
Hentaneb
Hentmereb
Thent Hep
Tia
Olufemi
Omorose
Sobekemsaf
Sotepenre
Subira
Oseye
Neferkent
Neferneferur
Khamerernebty
Beketaten
Bastet
Hent-Temehu
Female exotic cat names – Perfect Pixie Bobs
I don't think that I mentioned this when discussing male Pixiebob cat names, but these adorable little rascals have a little something extra (literally!) that adds to their cute factor.
Exotic Pixiebob cats have extra digits on their paws (polydactylism) which give their mitts the appearance of super-big, fluff ball feet and hands. Aw!
So, in honor of their over the top sweet look, what do you think of these fun names:
Snickers
Polkadot
Pookie
Popcorn
Snookums
Twiggie
Twinkles
Teacup
Truffles
Fuzzy
Garnet
Ping Pong
Tipsy
Tofu
Pixie
Riggles
Rishi
Pocket
Poppy
Pudding
Gingersnap
Glitter
Gumdrop
Gussie
Hairy
Dinky
Doughnut
Tierra
Clove
Brownie
Buffy
Female exotic cat names – ideas for Ocicat girls
The strong-as-silk Ocicat females deserve a delicate but strong Asian-influenced name just as their male counterparts do.
I think this list has some exceptionally graceful and evocative female exotic cat names that are just perfect for the Ocicat:
Takumi
Misaki
Yutaka
Bo
Chen
Han
Yon
Cuc
De
Akira
Hisao
Nanami
Yuuka
Cascade
Sparrow
Sunny
Clementine
Clove
Coral
Basil
Prairie
Season
Solstice
Tempest
Terra
Yumiko
Chau
Keico
Masao
Kumiko
Noaki
Kyouko
Osamu
Female exotic cat names – Beautiful Bengals
Mother-nature inspired exotic girl cat names are definitely called for when naming a female Bengal cat.
They have strong, confident personalities, and I think that a name that corresponds to the natural elements is a purr-fect fit, don't you?
What do you think of these natural monikers:
Bay
Land
Leo
North
Orio
Basil
Sea
Berry
Ridge
Rock
Wolf
Wood
Ash
Cove
Dale
Dusty
Ember
Aspen
Blaze
Brooke
Cicada
Venus
West
Winter
Roan
Clay
Lake
Hollis
Holly
Huckleberry
Hyacinth
Lark
Linden
Lotus
Ocean
Male and Female exotic cat names – Suggestions for Serengeti cats
To end our look at exotic cat names, I've got some names that would be sure to please an exotic Serengeti cat!
Serengeti cats are the result of breeding together a Bengal cat with an Oriental Shorthair.
Their coat features golden shades with contrasting black dots, and they have long legs that like to be active.
I definitely think that a name evocative of the wild African Serengeti would be perfect to apply to the athletic and regal Serengeti cat:
Iyabo
Izara
Sabra
Kalifa
Imani
Asha
Ode
Jinja
Makenna
Marjani
Juba
Kadida
Kanika
Kano
Lissa
Luanda
Maaza
Massai
Nowa
Lurpu
Garmenh
Kortolo
Nyanpue
Kahn
Gorpue
Ronah
Nairobi
Nala
Kessie
Kia
Kwame
Kymani
Nayo
Ngozi
Feechi
Ekon
Zane
Isabis
Jafari
Daliah
Haji
Lulu
Uma
Nilla
Yarkpawolo
Cammue
Kolli
Paye
Garte
Nya
Best exotic cat names
We hope you enjoyed our lists of exotic cat names.
Exotic cats are a fast-growing segment of the domestic feline market.
These fiercely beautiful and unique cats will definitely be more commonplace in our homes and lives as the years fly by.
Are you ready to bring an exotic cat into your life?
Choosing a forever name is one of the best parts of bringing home a new exotic cat.
Make sure you also take a look at our guide to black cat names.
What exotic cat name did you choose?
Introduce us in the comments section below!