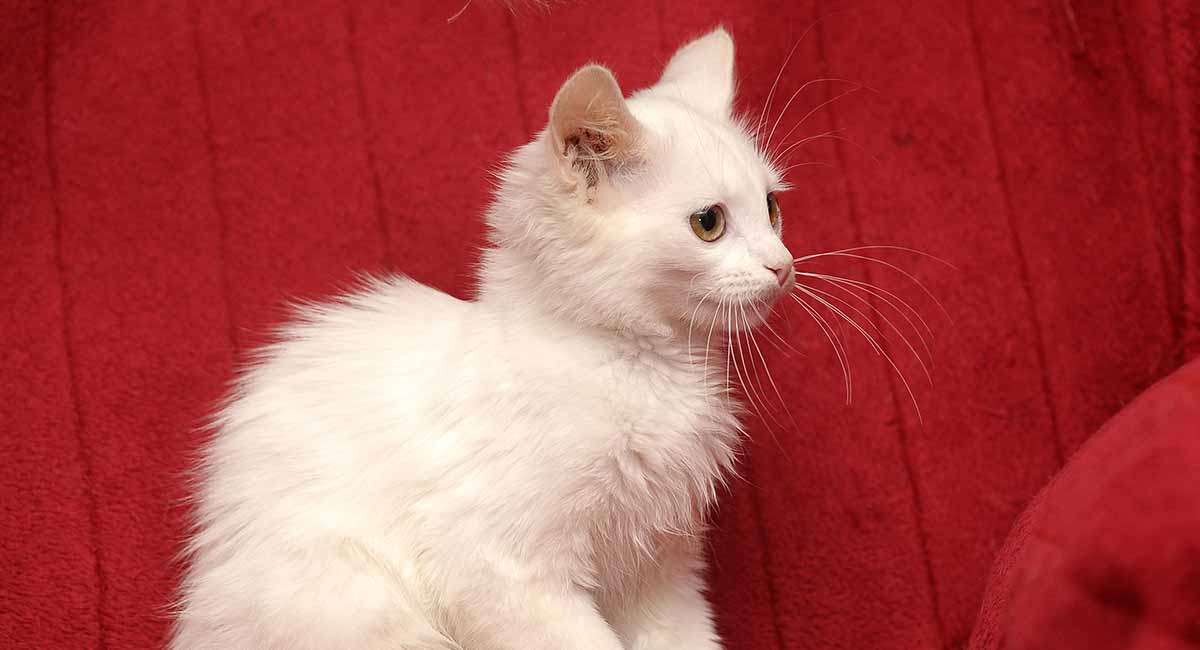 Turkish Angora cat names can be cute, elegant or quirky. These top choices will stand the test of time:
Aida
Azima
Yasmina
Omer
Zeki
Evren
Cameo
Gilead
Hosca
Almond
Garnet
Skye
Antalya
Asena
Mercury
Izih (Turkish God of Wild Animals)
Etugen (Turkish Goddess of Earth)
Jaiyk (Turkish God of Rivers)
Choosing Turkish Angora Cat Names
Picking out your Turkish Angora cat names is one of the many exciting adventures you and your new kitty will share together!
The Turkish Angora cat has such a long and rich history you will find plenty of great naming ideas to inspire you!
But there can also be some anxiety or stress – after all, you and your cat are still just getting acquainted and yet you may feel pressure to pick a name that suits your cat well.
In service to this goal, we invite you to consider this your Turkish Angora cat names hub – full of curated categories of Turkish Angora cat names based on gender, history, pop culture, personality traits, famous kitties and more!
Turkish Angora cat names
One great way to approach choosing your Turkish Angora cat's new name is to think of this process like it is a "getting to know you" game.
Jot down cute things you see your new fur baby do. This might include their favorite toys or treats. Or even unique things about eye or coat color, vocalizations, personality quirks, preferred games or nap spots. Each little fun fact you collect brings you closer together and can generate creative name ideas!
Here are a few more naming tips that might help speed the process along:
If you fancy giving your cat a longer name, see if you can shorten it to a nickname for daily use.
Remember your tiny fluffball won't be little forever – will the new name you pick suit your kitten as an adult cat?
It can be sweet to name your kitty after a loved one, but it is also always nice to ask their permission first.
In the event you can't decide on one name, try making a short list of three to five top names and trying them out on your cat. Notice which one seems to evoke the most interest and response.
Best Turkish Angora cat names
Sometimes, the best cat names are found by studying up on the breed history! Each of these special Turkish Angora cat names references someone or something important in the evolution of this special cat breed.
Female Turkish Angora cat names
The beauty of the Turkish Angora breed is legendary, to the point where owners and breeders happily commit to intense brushing and grooming duties for the privilege of keeping company with one of these cats.
These lovely female Turkish Angora cat names aim to capture the grace, style and loveliness of the Turkish Angora lady cat.
Kristal
Treasure
Frances
Edie
Liesa
Mavis
Diana
Ruth
Francie
Lucy
Antigone
Leena
Fleur
Fanny
Aphrodite
Lolita
Celesta
Male Turkish Angora cat names
The Turkish Angora cat may originally hail from Turkey, but it has taken an international collaboration to keep this beloved cat breed alive and well over the centuries.
In recognition of this breed's global appeal, this list of male Turkish Angora cat names includes names from a variety of cultures, including American, English, European, Asian as well as classical Turkish.
Charles
Ross
Gordon
Hale
Simpson
Solomon
Claude
Tom
Walter
Grant
Elain
Watson
Clyde
Jackson
Ambrose
Ephesus
Ahmet
Cool Turkish Angora cat names
The Turkish Angora cat is universally regarded as a top cat breed for families that include other pets and small children. This cat is clearly a cool character – not every feline does so well with such diverse company!
These cool Turkish Angora cat names are short and sweet – many are simple enough that even the youngest family members will readily learn to pronounce them.
Baron/ess
Alanya
Kedisi
Colonel
Yaman
Tuzcu
Aksoy
Gesel
Azan
Niels
Petra
Keni
Rolf
Huck
Bincie
Nettie
Mithral
Cute Turkish Angora cat names
These cute Turkish Angora cat names are inspired by some of the many eye colors, coat colors and coat patterns that these cats can display.
From flowers to gemstones, weather patterns to precious metals, there is so much in the natural world that evokes the beauty of the Turkish Angora cat!
Dolly
Violet
Amber
Emerald
Goldie
Cloudy
Misty
Moonbeam
Lilu
Olaf
Lily
Daisy
Jade
Peridot
Puff
Vanilla Ice
Floof
Funny Turkish Angora cat names
To hear breeders and owners tell it, Turkish Angora cats are irrepressible adventurers! They love to explore and they love to lead explorations, frequently turning into the very vocal and authoritative "alpha" in multi-pet families.
These funny names are inspired by movie and cartoon characters, memes, social media cats and other funny felines!
Captain Jack Sparrow
Chatty Cathy
Casper
Vern
Cat Man Do
Baby Cat
K-Fur
Ed
CatDog
Catillac
Sugar Babe
Tequila Sunrise
Angelicat
WahWah Cat
Calico
Lilo
Posh Spice
CopperTop
Starbuck
Turk
Unique Turkish Angora cat names
There is no doubt that the Turkish Angora cat is one of the most unique purebred cat breeds in the world.
These unique Turkish Angora cat names hint at the mystery, nobility, majesty and true feline marvel that is the Turkish Angora!
Ankara
Chorazan
Count
Khan
Taurus
Selim
Zuleika
Rumor
Dresden
Muezza
Fabri
Eragon
Isa
Laurelin
Azan
Noble
Nora
Tough Turkish Angora cat names
While the Turkish Angora cat breed is generally that of a lover not a fighter, these cats do love to be in charge and they're not afraid to show it! They are also vocal, social, not overly cuddly and yet intensely loyal, often forming particularly close bonds with one family member.
We think these tough Turkish Angora cat names help capture these complementary facets of this cat breed's uniquely wonderful personality!
Wolf
Champion
Ninja
Mr. Big
Sherlock
Tarzan
Jane
Tiger
Dragon
Muhammad Ali
White Knight
Chokqu (Turkish Goddess of Good Wishes)
Tengri (Turkish Sky God)
Kayra (Turkish Supreme Spirit)
Mergen (Turkish God of Wisdom)
Zada (Turkish Wind God)
Shalyk (Turkish Hunting God)
Fun Facts About Turkish Angora Cats
As this cat's breed name suggests, the Turkish Angora cat originally hails from the country of Turkey, which today is located in both Asia and Europe. The Turkish Angora cat's most famous coat color is a pure ivory/white, but they can also sport many other luxurious coat colors and patterns.
Turkish Angora cats can also display heterochromia iridium. This is a benign genetic condition that produces two different colored eyes. But this cat takes its breed name from their fine, long, lush, human hair-like coat.
The Turkish Angora cat is considered to be one of the most ancient of all the known natural cat breeds on the planet. Here, the word "natural" means the Turkish Angora cat breed evolved on its own. This means free from deliberate or selective breeding efforts by people.
There is some evidence that the modern Turkish Angora cat's ancestors hail from the genetic line of the manul or Pallas cat, a truly curious flat-headed and very fluffy kitty that loves arid, cold, mountainous regions.
You can see a picture of this elusive yet adorable wild cat here.
The Turkish Angora cat has a personality second to none. Some fans say they are more dog-like than cat-like. As proof, Turkish Angoras generally get along quite well with other family pets, including dogs.
Congratulations on your new fur baby! When you settle on your top name choice for your new Turkish Angora cat, please stop back by and let us know which name you picked and the story behind it!
REFERENCES
Shafnisky, A., "Breed Profile: The Turkish Angora," The Cat Fanciers Association, 2019.
Machuca, J.R., et al, "Turkish Angora Breed," The International Cat Association, 2019.
Lyons, L.A., "Genetic Relationships of Cat Breeds," Tufts University Canine and Feline Breeding and Genetics Conference, 2005.
Fineran, D., "The Traditional Turkish Angora," The Traditional Cat Association, 2001.
Baskin, C., "Pallas Cat Facts," Big Cat Rescue Charity, 2019.
Cak, B., "Turkish Van and Turkish Angora Cat: A Review," Journal of Agricultural Science and Technology, 2017.