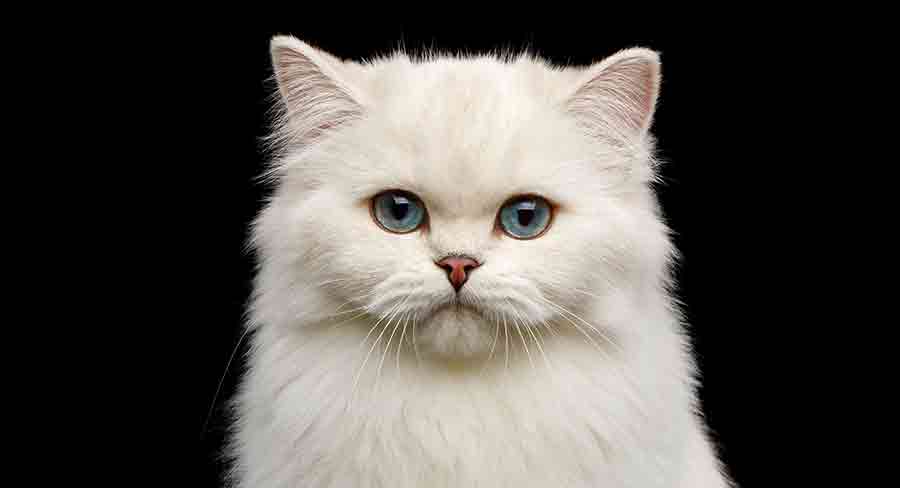 White female cat names can be just as beautiful as your new snow-white kitty. Inspiration could come from your cat's pale fur, or from their unique temperament.
Take a look at nature, myths, famous cats, and even at place names to find the right name for your white kitty.
Is your cat's coat completely white? Or do they have some other shades dotted around their fur? No matter what your cat looks like, we've got some of the best names for female cats with gorgeous white fur.
Let's start by looking at some of the most popular ones.
Best Names For A White Female Cat
Alaska
Bianca
Chalky
Cotton
Daisy
Dolly
Duchess
Ghost
Layla
Luna
Marble
Mimi
Moon
Sandy
Snowball
Good white female cat names
Good names for white girl cats can come from anywhere. Here are some more "human" names that show off the grace and feminine beauty of your white kitty.
Adele
Alba
Bella
Camila
Candace
Eileen
Ellie
Faye
Fiona
Grace
Gwen
Imogen
Millie
Nel
Olivia
Olwen
Sadie
Wendy
Whitney
Willow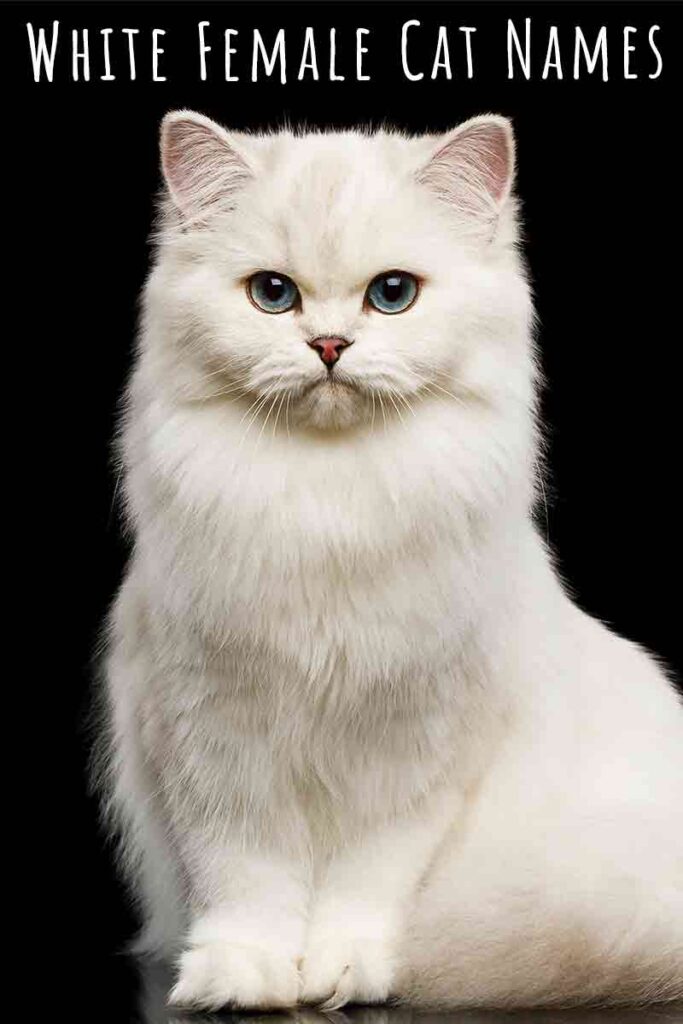 Cool Names for White Female Cats
Here are some white female cat names that show off your kitten's most awesome traits.
Aspen
Baileys
Blizzard
Blondie
Buffy
Champagne
Chardonnay
Denali
Elsa
Everest
Frosty
Galadriel
Ghoul
Khaleesi
Nimbus
Nova
Onyx
Pinot
Porcelain
Witch
Unique White Girl Cat Names
Looking for a name that will help your pale kitty stand out from the crowd? These ones will be right up your street.
Beluga
Birch
Bride
Dandelion
Egret
Flossy
Galaxy
Glacier
Lightening
Linen
Milk
Mouse
Neve
Peppermint
Rice
Salty
Sunshine
Swan
Whippee
Yeti
Cute Names for White Female Cats
Aren't white cats the most adorable things in the world? Here are some ideas that show off how cute your little snowball is.
Almond
Angel
Bunny
Cloud
Coconut
Cotton
Cupid
Diamond
Dove
Iris
Ivory
Jasmine
Lacey
Lily
Marshmallow
Mushroom
Pearl
Snowflake
Tofu
Tulip
Funny White Girl Cat Names
White cats are full of personality. Is yours a joker? Let's give her a white female cat name that's just as playful!
Al Bino
Baby Powder
Brie
Cat Benatar
Catsy Cline
Cauliflower
Charmin
Chowder
Cleocatra
Egg
Fondant
Furgie
Gouda
Mashed Potato
Mayonnaise
Mozzarella
Q-Tip
Shaving Cream
Tic Tac
Vanilla Ice
Black and White Female Cat Names
Not all white cats are pure white. Some will have black patches. Or just little black hairs dotted around their coat.
You might like these black and white female cat names, or some inspired by fur color patterns.
Barcode
Chequers
Cookie
Dapple
Domino
Freckles
Inky
Magpie
Panda
Patch
Penguin
Piano
Polaroid
Puffin
Salt and Pepper
Skunk
Soccer Ball
Spots
Tigress
Zebra
Grey and White Female Cat Names
Here are some ideas that will suit white cats with a grey hairs in their fur.
Agnes
Ash
Charcoal
Cobbles
Goose
Koala
Lemur
Lexie
Macy
Meredith
Meteor
Parrot
Pebbles
Sardine
Smokey
Sylvie
Tabby
Tibby
Thimble
Yara
Names for White Cats with Blue Eyes
Some of our beautiful girl white cats have blue eyes. This is a great source of inspiration for a wonderful name.
Azure
Bluebell
Cornflower
Dory
Indigo
Jewel
Lagoon
Mystique
Neptune
Ocean
Peacock
Periwinkle
Plum
River
Sapphire
Skye
Smurf
Topaz
Turquoise
Violet
Ironic White Cat Names for Girls
Here are some funny ideas that are totally ironic for our pale, white kitties.
Charcoal
Cola
Crow
Diesel
Ebony
Espresso
Graphite
Licorice
Midnight
Noir
Obsidian
Olive
Panther
Pepper
Pepsi
Pewter
Raven
Shadow
Sooty
Space
Famous Female White Cat Names
White cats are beautiful. Which is why there are so many in movies, shows, and books. Here are our favorites.
Boo (Funky Phantom)
Cali (PAW Patrol)
Charmmy Kitty (Hello Kitty)
Cleo (Heathcliff)
Diana (Sailor Moon)
Duchess (The Aristocats)
Fluffy (The Rugrats)
Jess (Postman Pat)
Katerina Kitty Cat (Daniel's Tiger Neighbourhood)
Kirara (InuYasha)
The Kitten (Simon's Cat)
Kitten (La Dolce Vita)
Kitty White (Hello Kitty)
Marie (The Aristocats)
Meow (Space Dandy)
Mewsette (Gay Pur-ee)
Opalescence (My Little Pony)
Rita (Animaniacs)
Waffle (Catscratch)
Yzma (The Emperor's New Groove)
Choosing the Right Name
There's a lot of choice out there when it comes to finding the right white cat name for your female kitty.
So, choosing the best name can be an overwhelming process.
A great tip is to write down your top five choices. You don't need to choose them before you bring your kitty home. There's no rush!
In fact, it's a great idea to try them out on your cat.
See if she responds to any of the names you've picked. If she does, that could be her way of telling you that she loves that name!
Which Name Did You Choose?
We would love to hear which name you gave your white cat in the comments. Let us know if you choose one from this list!
If you can think of any great ideas we missed, write them below so we can add them to our list!
More Name Ideas