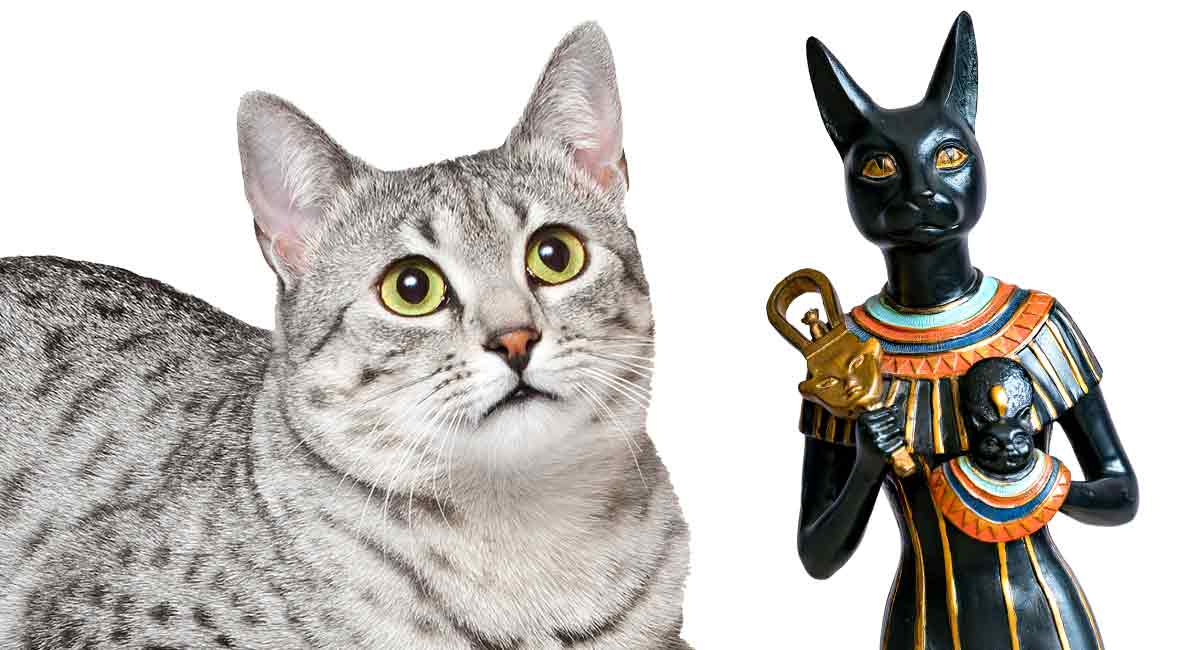 A few years back, a unique burial site was discovered in what is now the Republic of Cyprus, once under Egyptian rule. Inside this 9,500-year-old burial site, archaeologists unearthed two mummies. One human and one cat. From all appearances, the cat was living side-by-side with the human as a pet. The Egyptian Mau cat is the proud representative of ancient Egyptian felines today. "Mau" literally means "cat" in the Egyptian language. This is ironically similar to the noise cats make! In the lists of Egyptian cat names here, you'll meet all sorts of gods and goddesses, scholars and warriors. Each left their mark on the culture of ancient Egypt and modern history.
Contents
Our Top Ideas
Egyptian cats names are a great nod to some of civilization's earliest and most famous cat lovers. These are our top Egyptian cat names:
Bahiti. ("fortune")
Dalila. ("gentle")
Eshe. ("life")
Khonsu. ("the traveller")
Amun. ("mystery")
Jahi. ("dignified")
Hypatia. (Egyptian female philosopher)
Alexandria. (city in Egypt)
Masud. ("lucky")
Rashidi. ("wise")
Habiba. ("loved")
Kemnebi. ("panther")
Kiwu. ("plump")
Rasui. ("dreamer")
Mayet. ("kitty" in Egyptian)
Miit. ("cat" in Egyptian)
Memphis. (capital city of ancient Egypt)
Sese. ("the vanquisher")
Bes. (Feline-faced Egyptian god, protector of children)
Anubis. (Egyptian god of the underworld)
Egyptian Cat Names
Choosing a name should be a fun exercise. Just scan through the lists of names below. Which names pop out at you? Jot those down in your journal or in your phone e-notepad app. Make sure to take your time. Think about what each name means to you.
Then try out each name from your shortlist with your new kitty. Sooner or later, one name will "stick. That may be your precious feline's new awesome Egyptian cat name!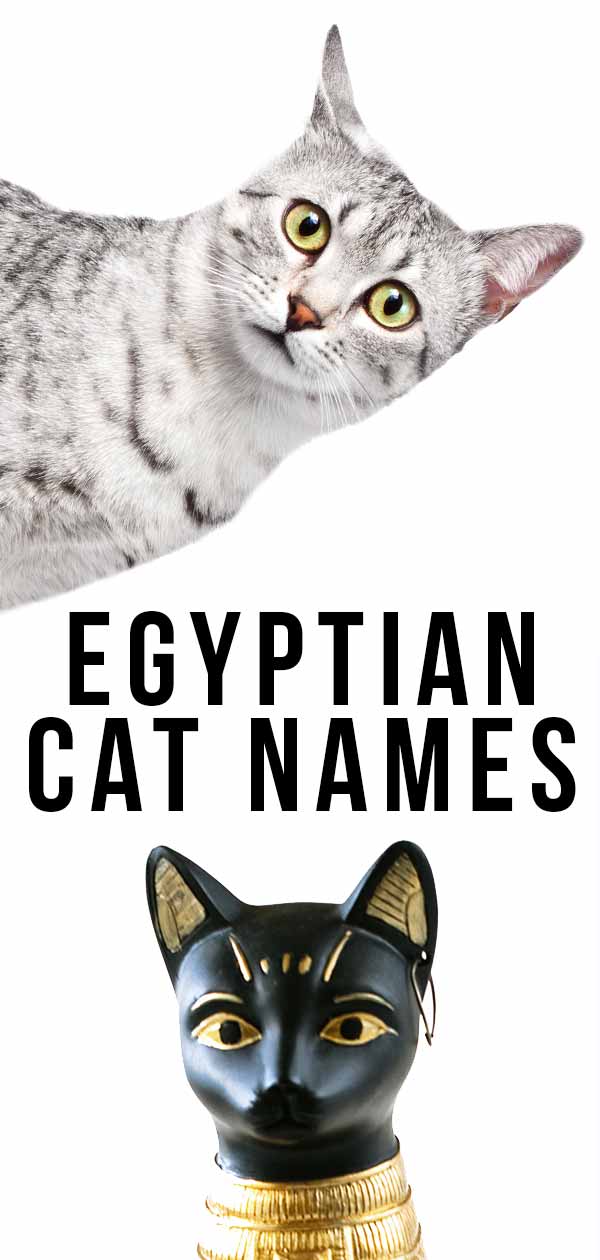 Inspired by Ancient Egypt
These are 10 of the best Egyptian cat names. You may recognize some of them. A few are real characters from history. Others are mythical. Either way, they're legendary! And, as cat names, they could be ideal.
Cleopatra. (famous Egyptian queen)
Nefertiti. (famous Egyptian queen)
Osiris. (famous ancient Egyptian god)
Plato. (famous Greek scholar who studied extensively in Egypt)
King Tutankhamen. ("King Tut," famous Egyptian ruler)
Sphinx or Sphynx. (Egyptian mythological creature with lion body and human head)
Isis. (famous Egyptian deity and mother of Egyptian god Horus)
Bastet. (revered Egyptian goddess of motherhood who took a cat form)
Ramses. (famous Egyptian ruler)
Pharaoh. (term that means "Egyptian ruler")
Female Egyptian Cat Names
Remember, females in Egypt often had just as much power as males. That's a popular fact that many today like about ancient Egyptians. Each authentically Egyptian female name is listed with its traditional meaning.
Monifa. ("lucky")
Chione. ("daughter of the Nile")
Aisha. ("peaceful")
Ebonee. (the color black)
Sarah/Sara. ("princess")
Feme. ("love")
Lapis. (a beautiful blue gemstone favored by the ancient Egyptians)
Mandisa. ("sweet")
Safiya. ("pure")
Shani. ("wonderful")
Nenet. ("divine")
Salma. ("peace")
Aya. ("magical angel")
Heba. ("generous gift")
Jomana. ("noble")
Rana. ("beautiful")
Aziza. ("precious")
Male Egyptian Cat Names
In ancient Egypt, names were traditionally reflective of:
family ties
personality traits
religious devotion
deities
birth order
other important aspects of the individual's life.
Often, much longer names were shortened into nicknames. Just try saying "Tutankhamen" five times fast, and you'll see why! These traditional ancient Egyptian boy names might be a great fit for your new Egyptian cat's temperament, appearance, or lineage.
Kahotep. ("peaceful")
Khalid. ("immortal")
Mkhai. ("fighter")
Nomti. ("strong")
Ammon. ("mystery")
Akil. ("smart")
Masudi. ("merry")
Husani. ("handsome boy")
Kamuzu. ("a healer")
Masud. ("good fortune")
Shakir. ("grateful")
Sefu. ("sword")
Nkosi. ("the law")
Jabari. ("brave")
Mshai. ("the wanderer")
Nephi. ("good son")
Asim. ("protector")
Cool Egyptian Cat Names
There is an enduring myth that Egyptians worshipped cats (and an equally enduring legend that cats never forgot this). However, Egyptologists tell us the more accurate version varies. Citizens of this ancient civilization believed that each feline carried a bit of the divine inside them.
For this reason, they believed keeping company with cats afforded them great protection. This likely explains why so many recovered artifacts from this time period are cat-themed and cat-shaped!
MerNeith. (famous female Egyptian ruler)
Sobekneferu. (famous female Egyptian ruler)
Twosret. (famous female Egyptian ruler)
Kemet. (another name for Egypt)
Manetho. (ancient Egyptian priest)
Menes. (early Egyptian ruler)
Aten. (Egyptian word that means "sun disk")
Imhotep. (famous ancient Egyptian philosopher)
Ptahhotep. (famous ancient Egyptian philosopher)
Amenhotep. (famous ancient Egyptian philosopher)
Seth. (Osiris's brother)
Horus. (Osiris's son)
Mut. (Egyptian mother goddess)
Maimonides. (Egyptian philosopher)
Thoth. (Egyptian philosopher)
Menhit. (Egyptian goddess of war)
Tahemet. ("queenie")
Kyky. ("monkey")
Cute Egyptian Cat Names
It is rare indeed that the cuteness of cats can be summed up in just one word. But we think these cute Egyptian cat names have a pretty good shot at doing just that!
Tabby. (traditional color pattern for all ancient Egyptian cats)
Nanu. ("cute")
Nefret. ("stunning")
Lotus. ("flower")
Halima. ("gentle")
Layla. ("night")
Hasina. ("good")
Mandisa. ("sweet")
Mesi. ("water")
Oni. ("wanted")
Sanura. ("kitten")
Umayma. ("little mother")
Urbi. ("princess")
Zahra. ("flower")
Akiki. ("friendly")
Dakarai. ("happy")
Madu. ("of the people")
Funny Egyptian Cat Names
Cats may look noble and sophisticated as can be. But, as all cat lovers know, hidden inside every divine feline is a funny, furry comedian. These funny Egyptian cat names might be perfect to describe your cat's favorite pranks!
Kat. ("weight of measure")
Panya. ("mouse")
Adofo. ("fighter")
Chigaru. ("hound")
Gahji. ("hunter")
Kosey. ("lion")
Msamaki. ("fish")
Nkuku. ("rooster")
Oba. ("king")
Sabola. ("pepper")
Bennu. (Egyptian deity of creation, often shown as a falcon)
Sepest. (Egyptian god who lives in a tree)
Moke. ("sweetened with honey")
Gata. ("cat" in Greek)
Mekal. ("fierce devourer")
Ishaq. ("he who laughs")
Ialu. ("field of dreams")
Unique Egyptian Cat Names
These unique Egyptian cat names each give a hint of your kitty's unique history and lineage. Many of these names are elegant and lyrical. Certainly not your average feline name choices!
Votive. (Eygptian word for "favor" at the temple of Bastet)
Nefertum. (Egyptian goddess of sweet smells)
Giza. (city in Egypt where the Sphinx is located)
Khafre. (human face on the Sphinx in Giza)
King Kufu. (Khafre's father)
Hatshepsut. (Egyptian female ruler)
Stela. (stone slab between the paws of the Sphinx)
Thutmose. (Egyptian ruler who installed the Stela)
Cairo. (modern capital city of Egypt, means "the victorious")
Gezira. (Egyptian island near Cairo)
Sinai. (peninsula in Egypt)
Nile. (famous river in Egypt)
Rosetta. (branch of the Nile)
Damietta. (branch of the Nile)
Aswan. (famous Nile river dam)
Renenutet. (Egyptian goddess, giver of secret birth names)
Anippe. ("daughter of the Nile")
Tough Egyptian Cat Names
Being feline in ancient Egypt came with a great deal of power and privilege. A story is told regarding one epic battle with rival Persia. The Persian army painted cats on their shields. They also released a number of cats in front of the Egyptian soldiers.
The Egyptian soldiers surrendered quickly. They didn't want to risk offending their beloved cat goddess, Bastet, by inadvertently harming any of the cats! We're not sure whether this story is completely true. But it certainly says a lot about how Egyptians felt about cats!
These tough Egyptian cat names all take inspiration from ancient Egypt's own mighty and powerful place in the world's history.
Ra/Re. (Egyptian Sun god)
Sekhmet. ("Powerful One," Ra's lion-headed daughter)
Ptah. (Sekhmet's husband)
Geb. (god of the Earth)
Mihos. (lion-headed son of Bastet)
Pasht. (another name for Bastet)
Ahmenhotet III. (Egyptian ruler who loved cats)
Herodotus. (Greek historian who wrote about Egypt's love of cats)
Bubastis. (Egyptian city which housed Bastet's temple)
Mafdet. (earliest recorded feline goddess)
Mau. (the divine cat, a name for the Egyptian Sun god Ra)
Pakhet. (lioness goddess of war)
Aladdin. (famous Egyptian fencing master)
Sobek. (crocodile god)
Maat. (goddess of justice, order and truth)
Wadjet. (cobra goddess)
Anhur. (god of hunting and war)