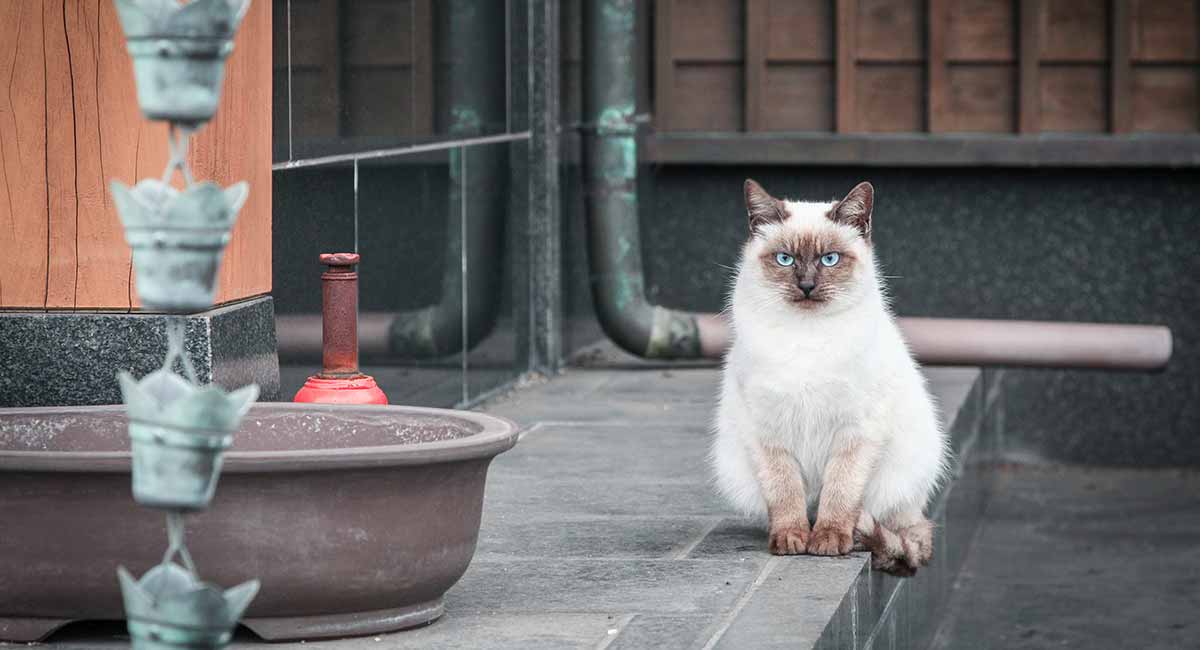 Lots of us have strong cultural links with Japan, with loads of trending topics and hobbies originating there. Not to mention incredible styles and more than a world of history. But coming up with Japanese cat names is a sticking point for many new kitten owners. If you are not familiar with the Japanese language, it can feel a bit confusing to navigate at first. This is because there are three different alphabets used to write in Japanese: katakana, hiragana and kanji. Which alphabet is used, and whether it is syllabic or symbolic, can affect the names meaning. Today I'll share dozens of inspiring ideas, let you know exactly what they mean and help you to pick the perfect name for your new pet.
Contents
Regardless of which alphabet you use, you will notice most Japanese cat names are short. This will work in your favor during training as cats can learn and recognize their names. Picking a short, percussive name that sounds unlike common commands or other family member names (including other pets) will help your new kitty learn his or her name quickly.
Famous Japanese Cats
If there is any doubt left in your mind that the whole country of Japan loves cats, check out Maru. Maru is the official Guinness World Record holder for "most watched animal on YouTube." Also known as Mugumogu, Maru is a Scottish Fold cat whose YouTube videos have been watched more than 325 million times! Other famous Japanese felines hail from anime series, feline J-pop idol spinoffs, popular product mascots (like the Min Min Daha catgirls) and more.
Maru – feline YouTube sensation
Shironeko, aka "basket cat" – another feline YouTube sensation
Meowth – Pokemon
Luna – Sailor Moon anime feline
Artemis – Sailor Moon anime feline
Diana – Sailor Moon anime feline
Mugumogu – Maru's YouTube name
Doraemon – popular Japanese robotic cat
Kirara – Inuyasha Japanese anime
Fusasa – Fiona (HarMEOWny leader)
Raina (HarMEOWny member)
Solana (HarMEOWny member)
Topatopa (HarMEOWny member)
Aria (HarMEOWny member)
Yuria – Isabella (NKB48 member)
Rena or Renacchi – Ariana (NKB48 member)
Mako or Kojimako – Elena (NKB48 member)
Rina or Riccan – Rebecca (NKB48 member)
Haruka or Paruru – Petunia (NKB48 member)
Jurina – Julia (NKB48 member)
Kirika – Twitter cat
Gupitaro – Instagram cat
Map U Chin – Twitter cat
Rai – Instagram cat
Itosan – Instagram cat
Hakusama – Twitter cat
Jun – Twitter cat
Naomiuno – Instagram cat
Soramoon – Twitter cat
Maruruna – Instagram cat
Female Japanese Cat Names
Girls' names are easier to spot if you know about some of the traditional endings used in Japanese culture. For example, names ending in ko, mi, ka, e, na, no and ri are more likely to be female names.
Emi – beautiful blessing
Mimi – from Japanese manga "ChocoMimi"
Ran – orchid
Fuji – type of flower
Tenshi – angel
Ren – love
Cho – butterfly
Minako – beautiful child
Miki – beautiful princess
Ayaka – colorful flower
Ara – Japanese manga name
Ina – Japanese manga name
Fumiko – abundant beauty
Ayame – iris flower
Kimi – noble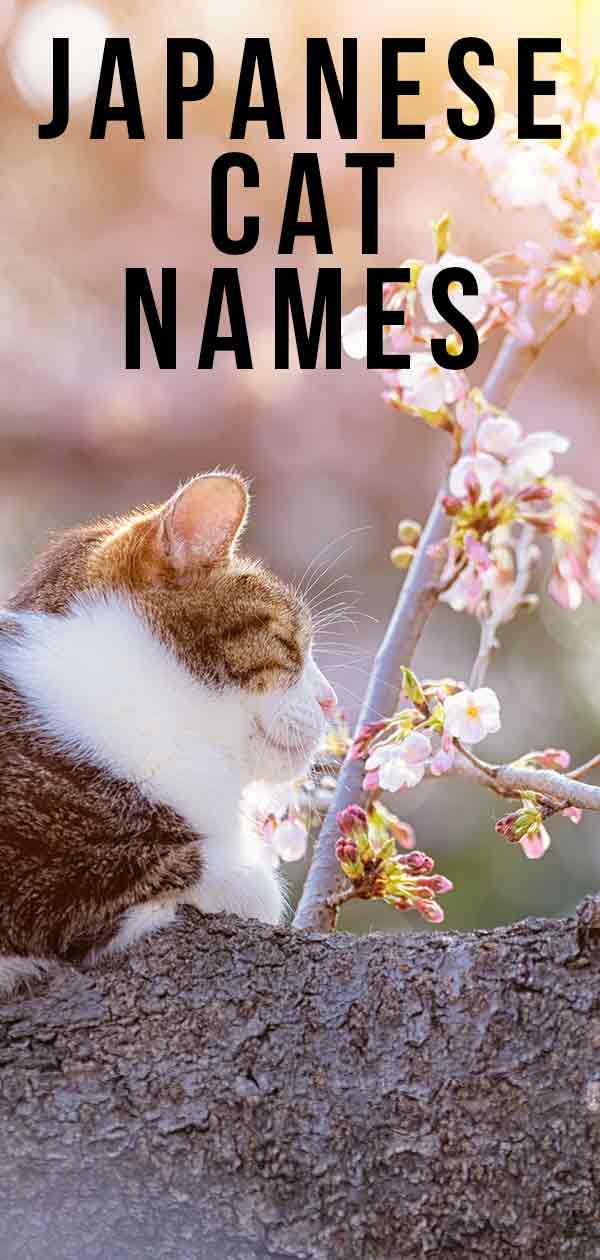 Male Japanese Cat Names
Traditionally male Japanese names often end with kazu, dai, shi, ji, ro, ichi, o, kichi, hiko, nobu, or ta.
Kotarou or Kotaro – dreamer, smart
Akira – bright boy
Suzuki – bell tree
Taro – big son
Akio – hero
Kameko – long life
Akihiko – bright prince
Michio – journeyman
Rikuto – down to earth
Sho – to fly (great for a climbing or jumping cat)
Tadao – loyal
Yoshiro – righteous son
Tamotsu – protector
Kouta – peace
Hitoshi – motivated
Japanese Black Cat Names
In many parts of the world, a black cat is considered to be bad luck, but not so in Japan. Not only are black cats considered good luck, but this effect is amplified for single women in search of suitors!
Choco – chocolate
Sumi – black calligraphy ink
Jiji – black cat companion to the witch Kiki in Japanese anime "Kiki's delivery service"
Kuroi – black
Burakku – black
Kuroba mu – black or blacken
Kokukoku – black
Kuron – black or dark-skinned
Hei zhi – black mark
Kuro neko – black cat
Shirokuro – black and white
Burakkupeppa – black pepper
Yami – black
Kage – shadow
Kurai – dark
Cute Names From Japan
Kawaisa, or Kawaii, is the word describing the modern "culture of cuteness" that is so popular in Japan today. Perhaps the most universally well-known icon of this culture of cuteness is Hello Kitty, a hybrid human/Japanese Bobtail cat with wide eyes and a bow over one ear.
Ringo – apple
Ichigo – strawberry
Mikan – orange
Yuzu – citrus fruit
Mochi – sticky rice
Anko – red bean paste
Ocha – Japanese tea
Kawaii – cute
Yoshiko – good child
Hanako – flower child
Mew – Pokemon
Hoshi – star
Kyoko – happy
Haiku – short Japanese poem
Hotaru – firefly
Funny Names For Cats
Does you cat have you in stitches? One of these funny Japanese cat names might just fit your feline's laugh-worthy antics!
Pochi – spot
Puss (in Boots)
Pero – Japanese character based on Puss in Boots story
Nyan Cat – famous Japanese meme
Nyan Nyan – cat's meow
Waru Nyan – bad cat
Kyapi Nyan – perky cat
Genki Nyan – energetic cat
Dame Nyan – not good cat
Bonito – fish flakes
Skitty – Pokemon
Shinx – Pokemon
Purrloin – Pokemon
Bento – Japanese box lunch
Nintendo – leave luck to heaven
Creative and Cool Ideas
Mi-kay – tri-color cat
Maneki-Neko – Japanese Bobtail cat statues in many Japanese restaurants
Koneko – Japanese word for kitten ("child cat")
Neko – Japanese word for cat
Sensei – teacher
Yamakawa Sutematsu ("Stematz") – first Japanese woman to graduate from college
Kounna – lucky
Osamu – studious
Kaneda – rich, wealthy
Kimono – traditional name for a cat with a black marking on its back
Ryou – cool
Hotoke – Buddha nature, merciful
Bishamon – Japanese god of war and happiness
Haya-ji – whirlwind
Kami – deity of the natural world
Is Your Kitten Totally Tough?
These strong names evoke some of the qualities of a brave, strong, loyal feline.
Ryu – dragon
Katsuo – hero or victory
Nekomata – supernatural forked cat from Yokai folklore
Nekomata – similar type of supernatural cat from Yokai folklore
Kinnikou – muscle (strong)
Tomoe – Japanese warrior woman
Takeko – Japanese warrior woman
Musashi – Japanese samurai
Kojiro – Japanese samurai
Kenta – big, strong
Kashi – oak tree
Noriko – thunder
Reiko – courageous
Honcho – leader
Isamu – courage
Judo – fighter
Daiki – great glory
Makoto – true
Mitsuo – shining man
Sumo – wrestler
Taiki – large
Katashi – firm
Ryuunosuke – noble, herald
Shinobu – endurance
Takumi – skilful
Yuudai – great hero
Hiraku – support
Daisuke – big help
Daiki – great tree
Haruki – bright like the sun