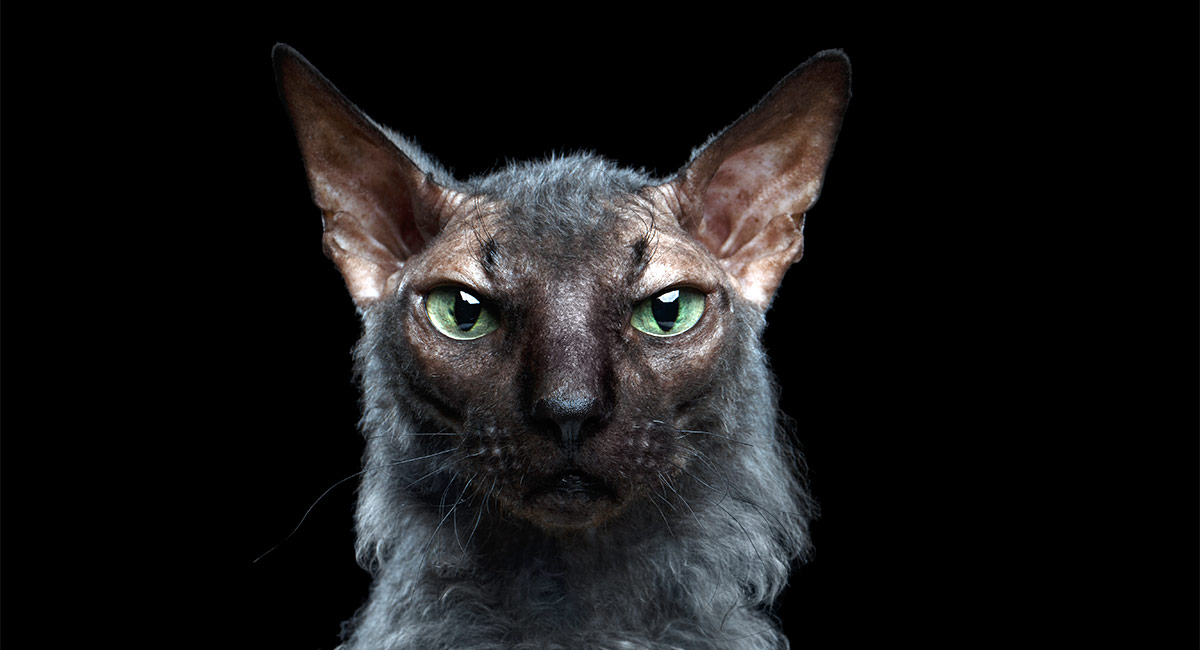 Welcome To Our Complete Guide To The Fascinating Werewolf Cat Breed. Also Known As The Lykoi.
Have You Ever Seen A Real Creature That Looked Like A Tiny Real Live Werewolf?
Your Mind Might Not Have Been Playing Tricks On You – You May Have Simply Seen A Werewolf Cat!
Some cats may be aptly described as having Dr. Jekyll / Mr. Hyde personalities, but most people do not usually describe their feline friends as werewolves.
Well, there is one cat that just might be described this way; the Werewolf cat.
Thankfully, you do not have to worry about your cat howling at a full moon or chasing through the woods all night.
The Lykoi or Werewolf cat sure is unique though, and it is about as rare as the name suggests.
So, what exactly is a Werewolf cat?
Where can you find one of these scantily furred felines?
And most importantly, do they make good pets?
Let's find out!
Lykoi Cat Characteristics
The Werewolf cat is a striking, amusing, and surprising looking kitty that is often described as a wolf cat.
The werewolf appearance is mostly attributed to the light patches of skin surrounding the eyes, nose, and mouth.
They kind of make the cat look like a canine, feline hybrid.
The hair of the werewolf cats adds to the look.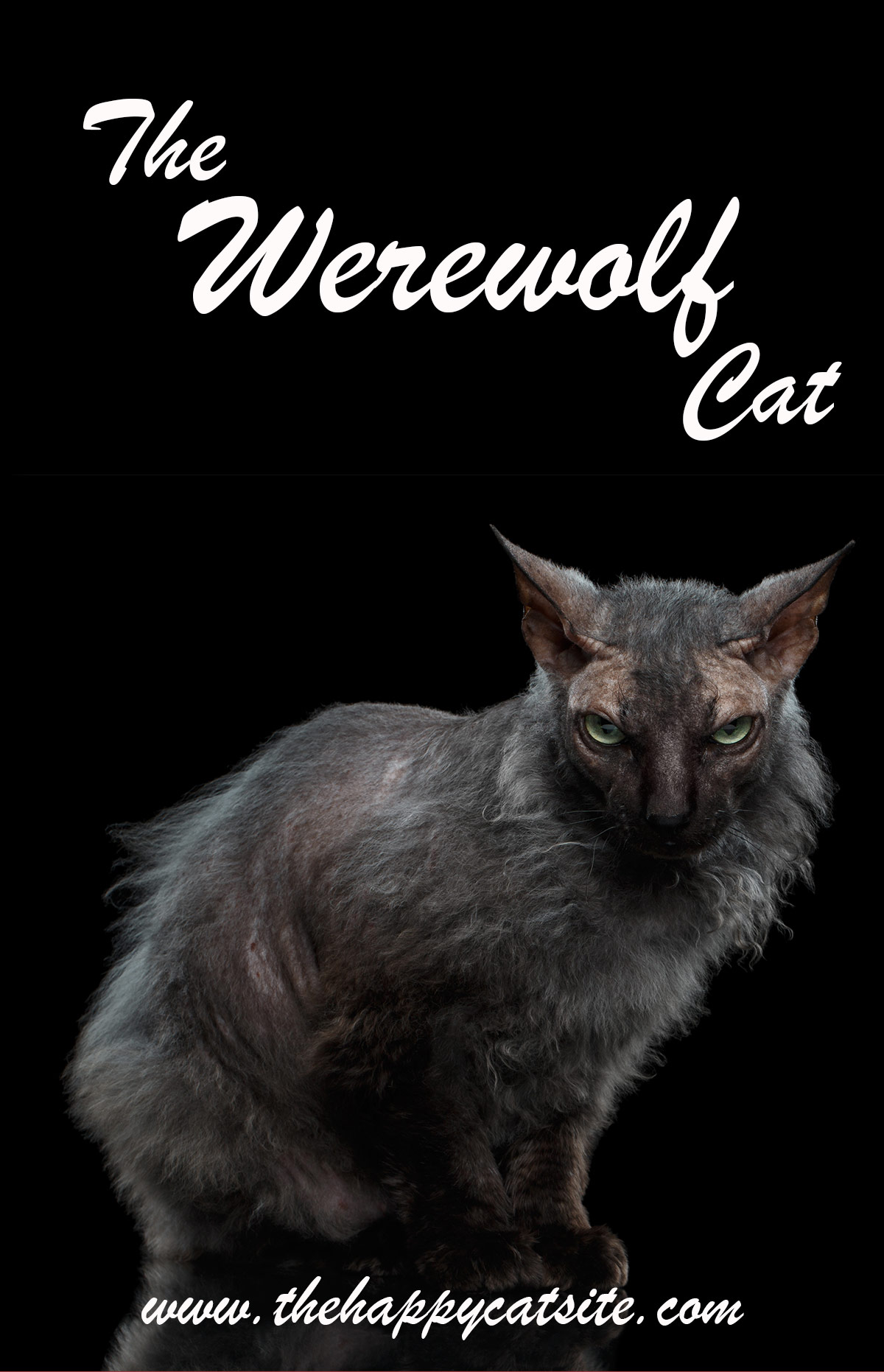 White hair can be seen across the body to give it a silver tone.
These white hairs are completely devoid of pigment.
Also referred to as melanistic or melanin free, the hair is bright white in appearance.
The bright hairs are mixed with solid black ones. This mix makes the cat appear roan.
Roan is a term used to describe a varied coloring in dogs and horses.
Interestingly enough, the cat with werewolf syndrome is the only feline with this sort of telltale patterning.
Adding to the werewolf like appearance, Lykoi cats are partially hairless.
Some cats have more hair than others, with sparse hair lining the chest, feet, ear, and leg areas.
The hairlessness is what leads to the skin patches around the face and the overall whispy and wild look.
There are a number of other Lykoi characteristics that really scream werewolf.
This is especially true of the lean body, medium sized legs, and the short tail.
Not to mention the yellow eyes that seem to shine against the scruffy and partially hairless face.
Werewolf Cat Breed
The Werewolf Cat breed is rare, and has a very recent history.
In fact, the breed can only be traced back about seven years or so.
It has only just recently joined the ranks of the International Cat Association (TICA).
Other organizations, like the Cat Fanciers' Association, do not yet recognize the breed at all.
What exactly does this mean?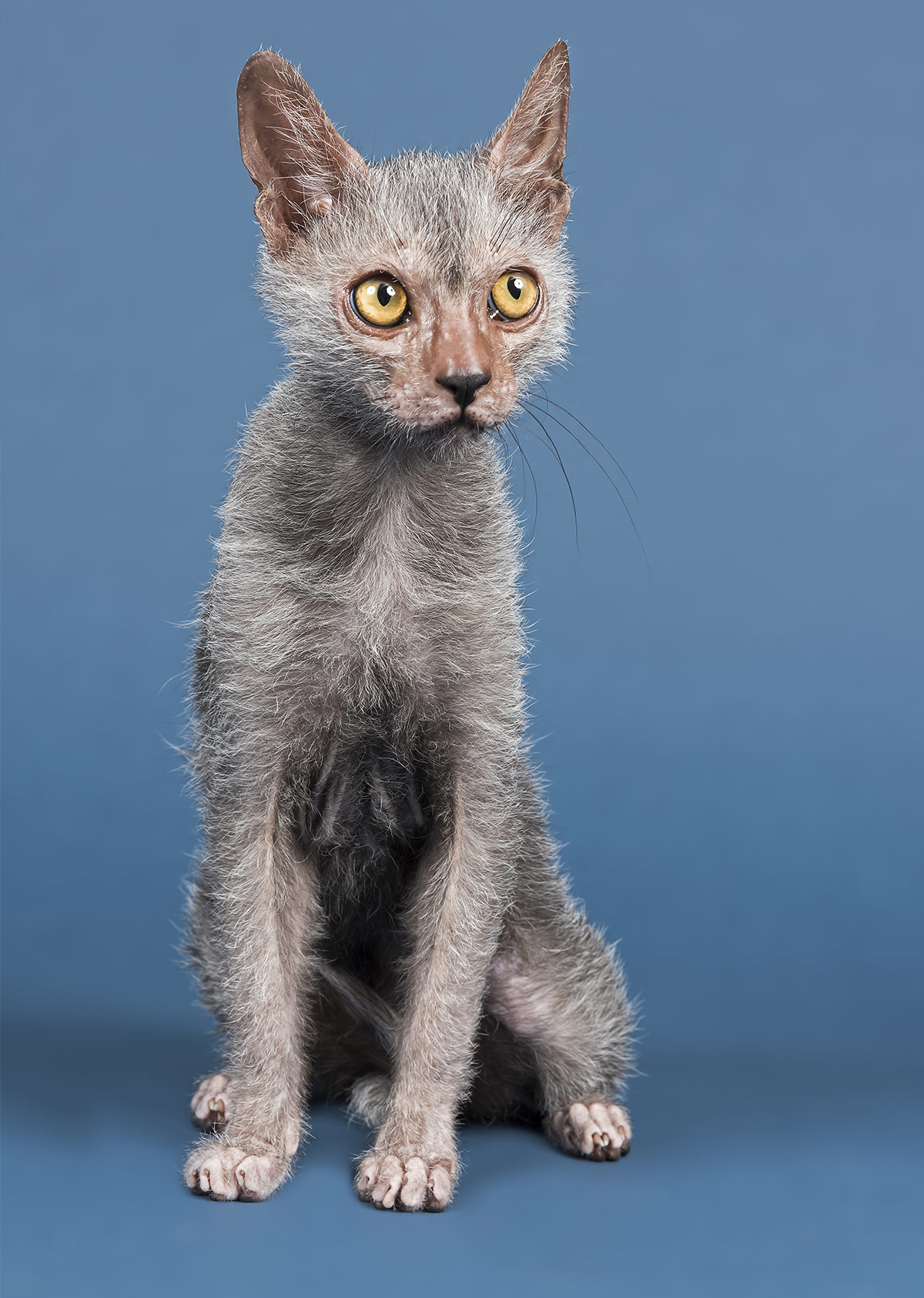 Well, it tells you that the Lykoi cat is one of the newest breeds of cats out there right now and is still being established.
However, the breed has been making headway and is now a TICA championship breed.
Werewolf Cat History
So, where did this new type of cat come from?
Well, the Lykoi and its unique werewolf features have been seen for quite some time as a genetic mutation in domestic black cats as well as felines within the feral population.
However, the cats were never purposely bred to create a specific breed.
In 2010, the Gobble family in Tennessee acquired Lykoi kittens from two unrelated litters.
The cats were bred and the first Werewolf kittens were born in 2011.
The Gobble family has continued the Werewolf breeding program with help from other breeders both inside and outside of the United States.
Lykoi Cat Personality
Werewolf kittens and cats certainly have unique features, and they also have interesting personalities.
The good news is that while the Lykoi may look like a wild animal ready to go on the prowl, the feline is extremely friendly and loving.
This makes the cat a great addition to a family with children.
Werewolf cats are always willing to play and are quite intelligent.
This means that toys are definitely welcome that allow the kitties to use their problem solving skills.
While the cats do like to play with their human companions, they are also quite content to play on their own as well.
When it comes to strangers, Lykoi are often a bit more timid.
However, they will warm up quickly to new friends and family members.
Just do not expect your kitty to share his toys right away, since they do tend to be a bit protective of their favorite things.
When you do play with your Werewolf cat, you may notice that his doglike characteristics seem to blend over into the play department.
You can expect your Lykoi to play fetch and chase a ball around.
Werewolf Cat Health
By now, you have probably figured out that the Lykoi is a fairly rare cat.
Since the cat is so rare and the gene pool is so small, it only makes sense the inbreeding is a concern.
Inbreeding is a serious problem when it comes to cats and the possibility of passing on hereditary illnesses.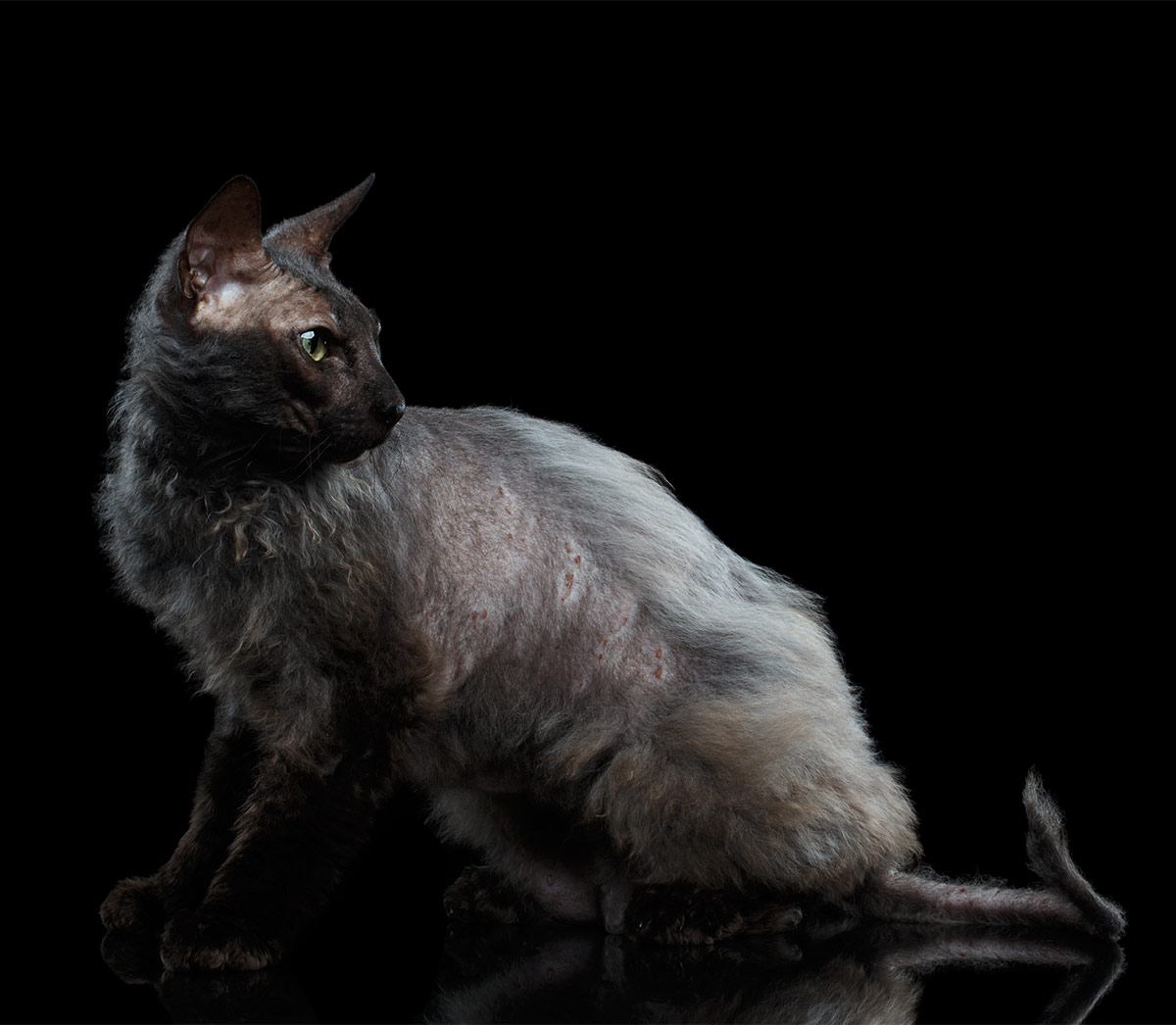 There is a long list of genetic illnesses that range from atrial defects to hypothyroidism to polycystic kidney disease that are seen in cats.
Unfortunately, since many exceptional cats and show quality felines are often used as breeding cats, even a fairly large breed, like the Persian, can have a low gene diversity or gene frequency in a given area.
This inbreeding issue is why the Werewolf kitty was bred carefully, cautiously, and with a fairly large and diverse gene pool from the very start.
Genetic Diversity
To encourage this diversity, the Gobble family has obtained naturally occurring Lykoi cats from around the country to add to their breeding program.
They also work with other breeders and use outcrossing techniques to encourage health.
Specifically, domestic black shorthairs are used to increase genetic diversity.
Since the Werewolf cat breed has been created with careful consideration in terms of diversify and the gene pool, the felines are said to be healthy with no specific hereditary illnesses.
This does not mean that the cats do not become ill or that a genetic disease will not crop up.
It does mean, however, that these illnesses are not any more likely in the Lykoi than they are in the general feline population.
Lykoi Breed And Mutation
So, if the werewolf cat is caused by a gene mutation, does this mean that the cat is born sick?
In the case of the Lykoi, the answer is no. However, this is not always the case.
Gene mutations are pretty much exactly what they sound like.
They are a disturbance or alteration in the DNA.
The alteration is typically a change in the gene sequence or the way the nucleotides pair up to make the DNA.
Mutations range in size from a single alteration in one nucleotide pairing to many or all of the proteins that make up a chromosome.
In other words, a large number of genes may be altered or only a very tiny bit of the DNA code may be changed.
When a mutation involves a large alteration in genes, then it is likely that a serious ailment, illness, or disability will develop.
However, in some cases, the alteration can produce a change that actually enhances health.
For example, the new DNA sequence may make the cat more resistant to disease.
The problem with Werewolf cats is they are so new that we simply don't have any big studies that can tell us for sure how healthy they are.
Werewolf cat syndrome
In the case of the Lykoi, the mutation has caused a phenotypic alteration. A physical change.
One known as Werewolf syndrome.
In other words, the phenotype, or the observable characteristics produced by the genes have been altered.
To make sure that the appearance of the feline is the only thing that has changed, the Lykoi has gone through some fairly extensive DNA testing.
So, while the term mutation may seem scary, the werewolf cat does not have health issues associated with the DNA alterations.
That we know of.
But as we've said, they are so new and rare that we haven't got any studies demonstrating this in the long term.
Lykoi Cat Cost
There is one distinctive downside to actively seeking out a Werewolf cat. This is the Lykoi cat price. Since the cats are so rare, you can expect them to be pricey.
The Gobble family, who has created the breed, does sell kittens. Their kittens are currently almost $2,000 per cat.
The felines come with their vaccinations as well as a health guarantee. It also should be noted that the felines are spayed or neutered before adoption.
This helps to establish the ongoing health of the breed and the substantial reduction in the possibility of inbreeding.
You probably need to wait at least a few months if you want to adopt your cat that looks like a werewolf, and you will need to place your name on a waiting list.
A fee is required as well, and you may need to pay for hand delivery or shipping if you do not live in the Tennessee area.
Is A Werewolf Cat Right For Me?
Werewolf or Lykoi cats are certainly unique in both personality and appearance. They are also personable, playful, and good with families.
The cats are typically quite healthy as well, but it is best to inquire about DNA testing and the health issues of the parents before adopting your feline.
You will also need to consider whether you are comfortable with encouraging the breeding of a cat that has such a limited genetic diversity.
Due to how new they are we also don't have any big studies to help us feel confident that they truly are genetically healthy.
If you like unusual breeds, there are some alternatives with much larger gene pools and that are better studied to choose from.
Maine Coons for example are popular and often well bred, but also rare enough to have that interesting factor!
Do you have a unique and interesting Werewolf syndrome cat of your own, or are you considering adopting one of these felines? Let us know in the comments below.
References and Further Reading
Leslie A. Lyons, PhD. Genetics of Cat Populations and Breeds: Implications for Breed Management for Health! Tufts' Canine and Feline Breeding and Genetics Conference, 2013.
Leslie A. Lyons. Genetic Testing in Domestic Cats. Mol Cell Probes. 2012 Dec; 26(6): 224–230.