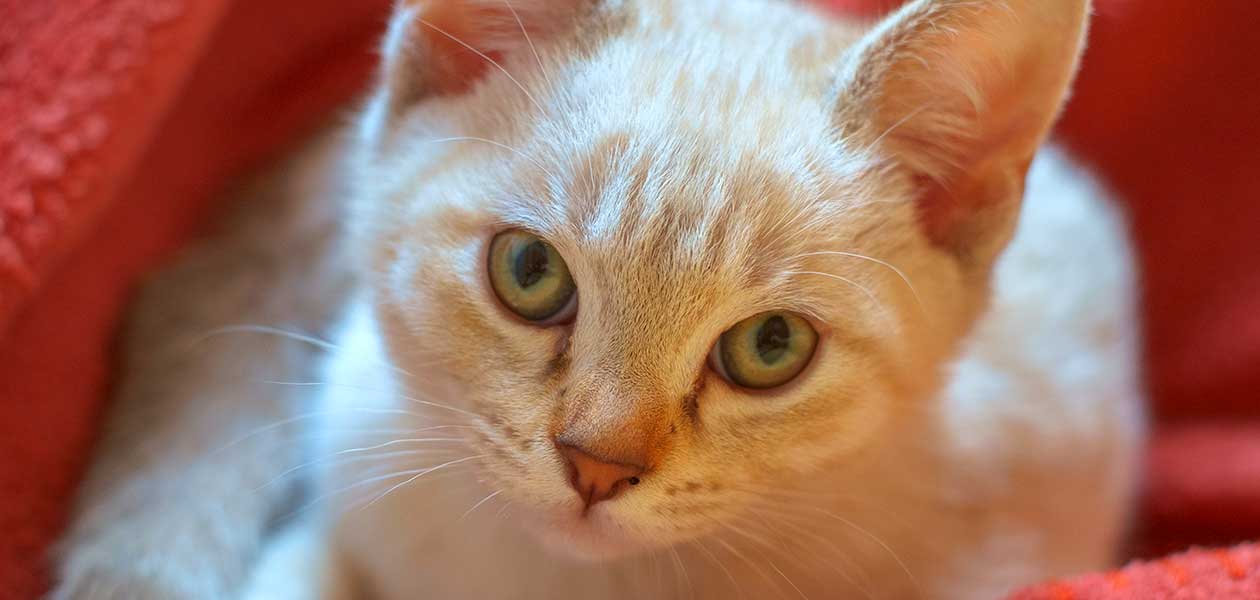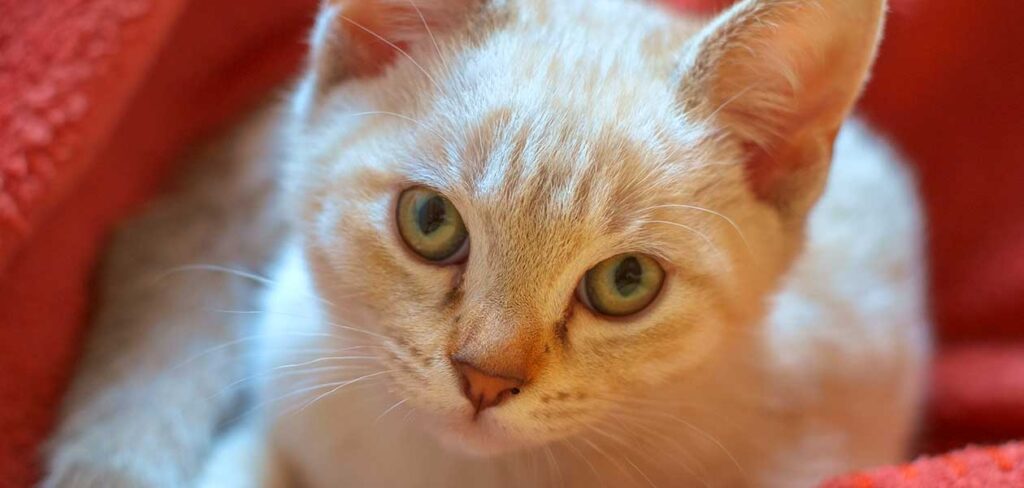 The Australian Mist is a relatively new cat breed, the first of which was bred in 1980.
This cat first started as a mix between the Burmese and Abyssinian breeds. But, over time has developed into a breed in its own right.
Australian Mist cats are people-oriented, affectionate, and playful. They love to cuddle and spend time with their owners just as much as they enjoy being active.
Do you think the Aussie Mist cat breed would suit your family?
Australian Mist Contents
There's a lot to learn about this affectionate, loving breed. So, let's start things off by finding out what exactly is an Australian Mist cat.
What is an Australian Mist Cat?
This is a relatively new breed, but it is a breed in its own right.
Abyssinians, Burmese cats and domestic spotted tabbies were all used to create the Australian Mist cat as we know and love it today.
Initially, this cat breed was known as the "Spotted Mist".
But, their name was changed in 1998, 18 years after the first one was bred.
This change was made to reflect that marbled coats are accepted as part of the breed, rather than just spotted patterns.
Let's take a closer look at the early development of this cat.
Australian Mist History and Development
The Australian Mist breed was first created by a breeder named Truda Straede, in (no surprises here!) Australia.
Straede initially started by breeding together a Burmese cat with an Abyssinian.
In 1977, the Royal Agricultural Society Cat Club of New South Wales gave Straede "provisional permission to experiment" – the first step of founding a new cat breed there.
But it wasn't until January 1980 that the first official Spotted Mist was born. And later that year it was accepted onto the Experimental Register.
In 1986, when the first fourth generation litter was born, the breed was accepted as Full Register, and made eligible for Champion status.
From the late 1980s onwards, the Spotted Mist won various titles. Over the years, it has gained a lot of traction and popularity – and the breed is still growing today.
Australian Mist Appearance
This breed has a wedge shaped head, with medium to large sized eyes.
They are generally medium sized, with a well-proportioned body and tail. They are muscular, and often heavier than they appear.
These cats have dense, glossy, and short fur. It can come in either a spotted or marbled pattern.
It can take up to two years for their coat pattern and colors to fully develop.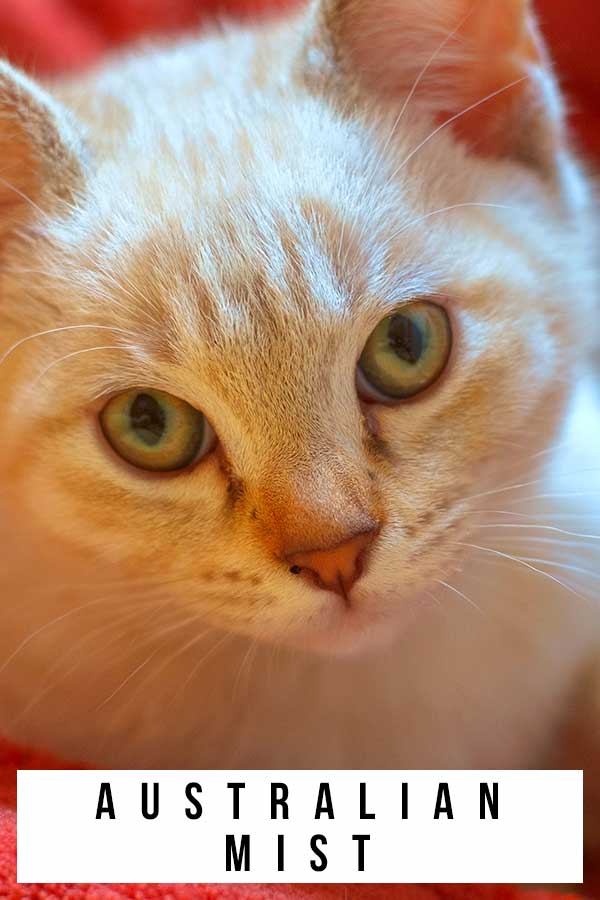 Coat Colors
There are seven accepted coat colors for this cat breed. They can be found on both pattern types.
Brown
Blue
Chocolate
Lilac
Caramel
Gold
Peach
As you can see, they are all soft hues – no blacks or bright reds here. Which is where these kitties got the second part of their name – 'Mist'.
Kittens will be lighter than adults.
Australian Mist Cat Personality
The temperament and personality of the Aussie Mist breed is a huge part of what makes it so popular.
They are gentle and affectionate cats that tend to adapt well to any new environment.
Although they are generally quite calm cats that like to curl up on your lap, they can also be playful and curious. Especially as kittens.
They'll need some active time each day, either exploring or playing games with you. But will love relaxing with you in the evening.
Aussies are known for being great in homes that have children or other pets. In fact, they can suit pretty much every home.
Australian Mist Health and Care
In general, this cat breed is healthy.
As a relatively new breed, there isn't a huge amount of research into genetic health problems. But, currently, there are no known hereditary problems.
This means it's important for breeders to watch out for issues common to all cat breeds.
This includes:
Hypertrophic cardiomyopathy
Dental problems, eg. gingivitis
Allergies
Dermatological problems
Obesity
Attend regular check ups with your vet to keep on top of any health issues. Especially if you notice any behavioral changes in your cat.
Australian Mist Cat Lifespan
Because of the care that went into creating this breed and the lack of heritable health problems, these cats can expect a long life, on average.
In fact, many of them live to be over 15 years old.
As long as you attend regular veterinary checks, keep an eye on your cat's health, and give them great general care, you can expect a long life from your Aussie.
Grooming and Shedding
The Australian Mist cat has a short, dense coat. So, it has fewer grooming requirements than some other breeds.
Brushing them once a week is usually enough to keep their coat glossy and tangle free.
During grooming sessions, make sure to check your cat's ears, nails, and teeth.
Aussies won't shed a lot. So, they can be good for owners that suffer with allergies.
However, no cat breed is truly hypoallergenic. So, if you are prone to cat allergies, try to spend some time with one of these cats before committing to bring them home.
Are Australian Mist Cats Good Family Pets?
Most cat-loving families can suit an Australian Mist cat. They're very low maintenance in terms of grooming and care requirements, and have no known hereditary health issues.
Aussies will get along well with children, other pets, and will even enjoy homes with just one person.
They love cuddling up with their owners, but also enjoy some active time each day.
So, if you're looking for an extremely active cat, or one that will be glued to you all day long, you may want to consider a different breed.
You may have to wait in order to find an Australian Mist kitten if there are no breeders near you. Or, you may need to travel in order to bring one home.
Australian Mist Cat Kittens
Most often, the worst thing about Australian Mist kittens is the struggle to find them.
Despite a wonderful temperament, a good health record, and an endearing appearance, these cats are not hugely popular.
So, finding reputable breeders can be a struggle if there are none near you.
The best breeders will health test parents, and answer all questions you have. They will also let you see the parent cats.
The price of Aussie kittens will really vary depending on demand where you are. In places where there is a lot of demand, prices will rise.
Especially for show-quality kittens.
Australian Mist Rescue
As the Australian Mist cat is not hugely common yet, you may also struggle to find these cats in rescue centers.
If you're keen to rescue one, let rescue centers near you know that you're looking. They will usually be able to notify you if one comes in.
Choosing to rescue any cat breed can be very rewarding, and will offer an older can another chance at a loving home.
Speak to rescue center staff for more information on finding one of these cats.
Your veterinarian may also know some good places for you to start your search.
Do You Have An Australian Mist?
If you have one of these unique cats at home, let us know what they're like in the comments.
We would love to hear more about how your Aussie came into your life!
Readers Also Liked
References and Resources