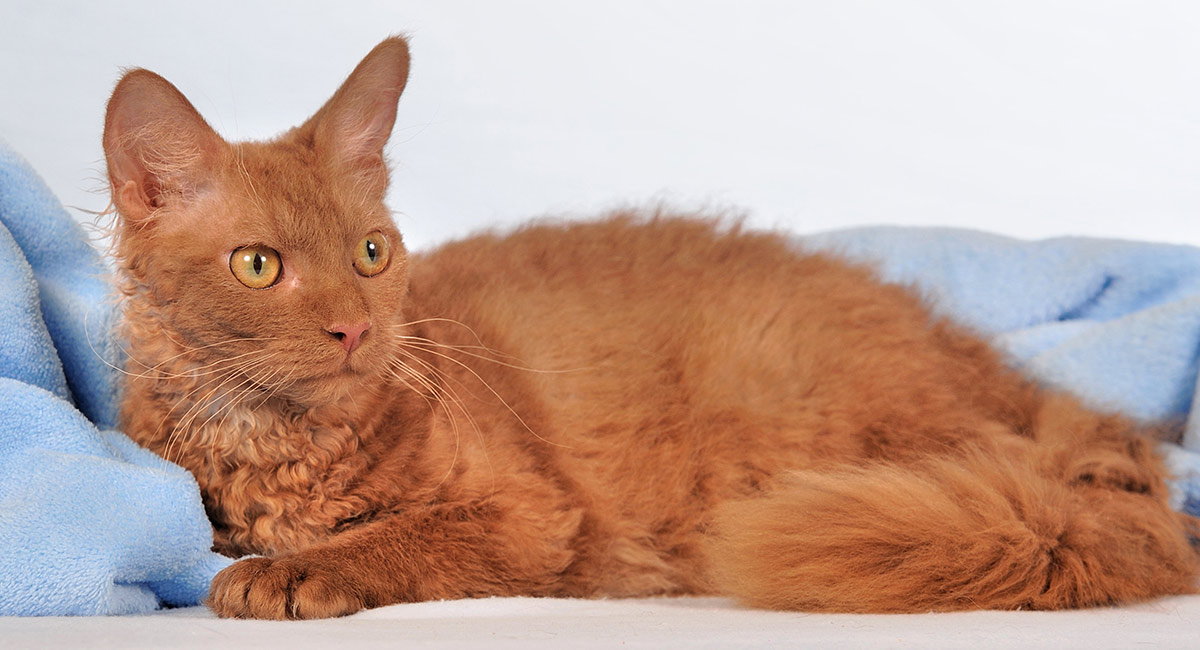 Welcome to our complete guide to the LaPerm cat breed!
The LaPerm is somewhat of a rare breed that's characterized by a curly or shaggy fur coat and wide-set ears.
They are truly unique cats with lots of personality and energy.
A lovely option for owners that enjoy lots of interaction with their feline friends.
In this article, we'll learn all about the aptly named LaPerm cat.
Finding out about it's history, physical and personality characteristics, and whether or not one (or a few!) would make a good addition to your family.
What is a LaPerm cat?
The LaPerm is a special breed of cat that has a distinctive curly and textured coat.
It ranges from tight curls to more of a wave or "gypsy shag".
This will depend upon whether the cat is of the longhaired or shorthaired variety.
They have expressive eyes, wide-set ears, and a leggy yet muscular stature that's befitting of their heritage – more on that in the next section!
History of the LaPerm breed
Contrary to its rather regal-sounding name, the LaPerm actually traces its origins to a cherry orchard in Oregon, circa 1982.
A litter of kittens was born to one of Linda Koehl's barn cats.
However, one of the kittens looked rather odd – instead of being covered in the fuzzy baby fur that most kittens are born with, this one was born hairless.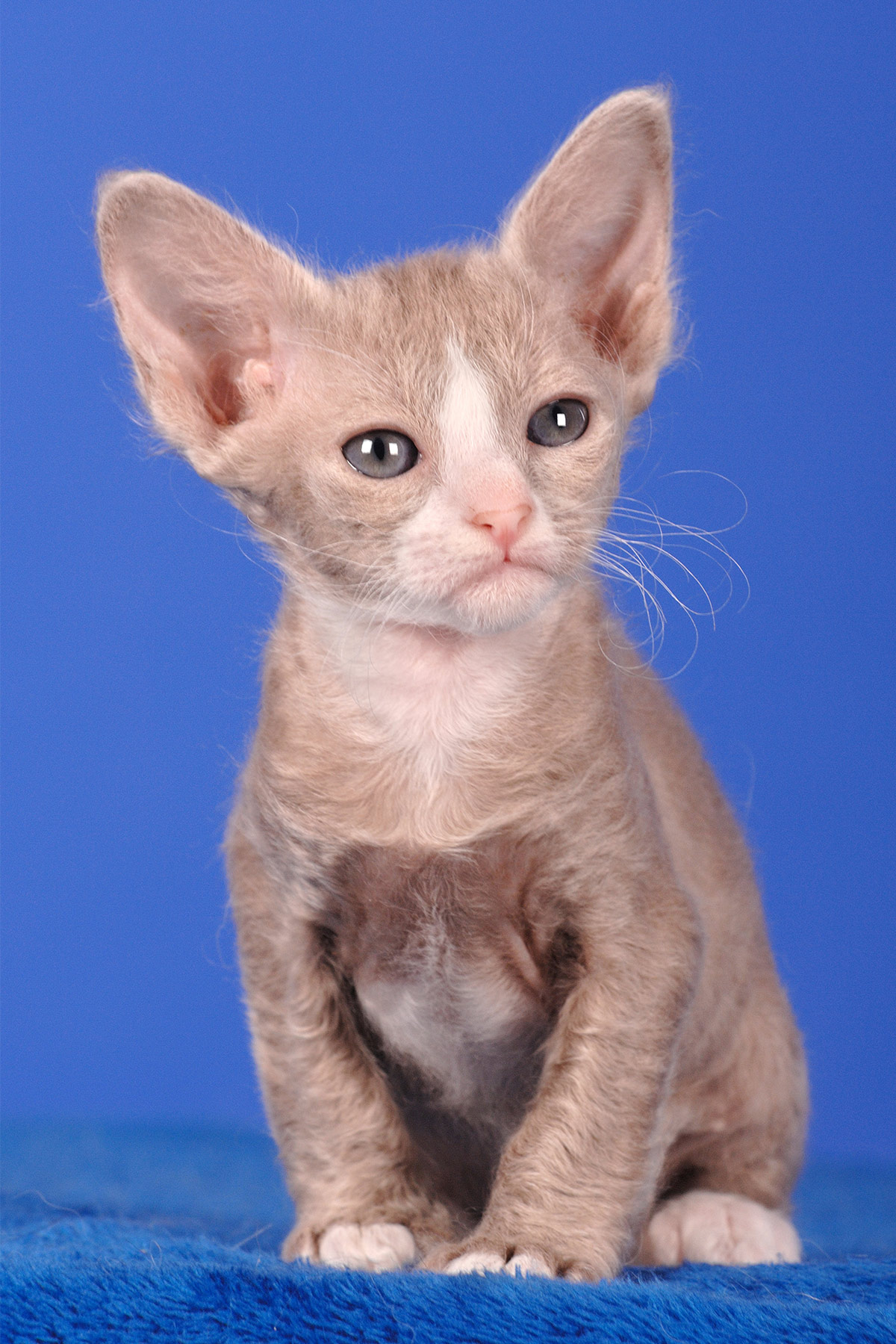 It had a tattoo-like tabby pattern of pigment on its skin.
This kitten also had a longer, thinner build than its siblings and with ears that set further apart.
After six weeks, the oddball kitten started growing a thin but curly coat that thickened into a full wavy coat as she got older.
Later on, when "Curly" had kittens of her own, more bald or thinly furred babies with odd tabby "tattoos" were born.
Once the word got out about these curly babies, Linda implemented a controlled breeding program.
And just like that the rex gene mutation became a new breed: the LaPerm.
LaPerm cat personality
The LaPerm is a breed that is not only loved for its beautiful and soft curls, but also for its rather amusing, almost dog-like personality.
They are curious cats that enjoy interacting with their environment as well as their owners.
If you don't want a cat who will be literally underneath your feet, watching your every move and wanting to be a part of your day, then a LaPerm is not right for you!
However, if you're looking for a kitty who enjoys playing with you and who is genuinely interested in what you're doing, then you will love a LaPerm!
They have been known to use their paws to get your attention if, Heaven forbid, you're not giving him enough attention.
Some LaPerms may be a nice mix of active and lap cat, but some have a lot more energy than others.
You won't find a LaPerm that prefers sleeping over playing for most of his day, though.
LaPerm cat temperament
As we mentioned in the previous section, LaPerms are very in-your-face cats…quite literally.
These cats very much want to be in the company of humans and are known to stick themselves in your face and bat their paw and/or meow at you if they're starved for attention.
Sort of like my barn cat, a large Maine Coon nicknamed "Fluffbottom," who will jump up onto the tallest object she can find so that she can meow in my face and touch her paw to my neck or face (usually when she wants something, haha).
Consequently, a LaPerm will be happiest in a home that lavishes it with attention, but also plays with it in order to keep the "zoomies" at bay.
Due to his high energy levels and excellent hunting instincts, a LaPerm will thrive in an indoor-outdoor environment that lets him put his skills to the test.
But if he's confined to an apartment, he'll likely be happy too, as this means he'll have lots of one-on-one time with you. As long as you are around most of the day and keep him busy.
If you have the time to, you could probably teach a LaPerm to do tricks or fetch, like a dog.
Their intelligence makes them very easy to train, and their love of a good game plus spending time with humans means that trick training could be very enjoyable for everyone involved.
Contrary to some other people-loving cats, LaPerms get along with any other cats, dogs, or other animals in the house…
Assuming the animals aren't small rodents that they'd like to hunt and eat, of course!
LaPerm size
LaPerms fall in the middle of the cat size spectrum.
Males generally mature to between 8 and 10 pounds, while females typically mature to between 6 and 8 pounds.
They have longer legs and may have a slightly longer body than other cat breeds, but they aren't what you'd call "lanky".
LaPerms actually have a strong build which makes them a very efficient hunter.
LaPerm colors
LaPerms can have virtually any coat color and pattern – they'll still be recognized by a registry.
However, the tabby coat pattern is extremely common.
LaPerm grooming and shedding
As we've established throughout this article, LaPerms have a very unique coat.
You'll find mostly corkscrew curls or ringlets under the cat's belly, on the underside of their neck, and just beneath their ears.
Longhaired LaPerms have fluffy fur that can be more waved than curled, and also tend to have a full and curly tail.
Shorthairs also have a luxuriously soft coat, but tend toward wiry, medium-length fur and an equally wiry tail.
Regardless of whether or not you have a longhair or shorthair, your LaPerm will shed.
But not a whole lot, thanks to their curls holding loose hairs closer to their body instead of the ground.
They can always benefit from some grooming, though.
Similarly to humans with permed or curly hair, running a pick with metal prongs through a LaPerm's coat will help keep their curls healthy.
If you must bathe, don't blow-dry your kitty, or else (also similarly to us curly-headed humans) their beautiful curls will turn to not-so-pretty frizz!
Simply towel your cat dry, then use a squirt bottle to sprits a bit of water onto their curls to keep them high and tight.
Are LaPerm cats hypoallergenic?
So they're a low-shedding breed, so LaPerms must be hypoallergenic, right?
The answer is a somber "no".
Although "hypoallergenic" is a term that is used quite a bit within the dog and cat community, the sad truth is that there is no truly hypoallergenic cat breed, according to an article posted by the American College of Allergy, Asthma, and Immunology.
This is so because all cats, be they longhaired or shorthaired or even bald, produce allergens.
These allergens are found on their skin, in their fur, and even in their saliva (so no letting your cat lick you!).
Furthermore, the amount of dust and pollen in a cat's fur may also impact a person's allergic reaction to the cat.
So, a longhaired LaPerm may harbor more allergens than a shorthaired LaPerm.
LaPerm cat health
If there's one thing that you don't need to worry about with a LaPerm, it's inherited health problems.
That's right – to date, there are no known health problems specific to LaPerms. (And hopefully it stays that way!)
This may come as a surprise, considering the fact that LaPerms are purebreds, and many purebreds are genetically predisposed to certain illnesses and physical ailments.
It is possible that this is because they are not as popular and prevalent therefore no studies have been carried out on them, but at present, there are no health tests we can specifically recommend for this breed over and above any standard kitten flea and worm treatment and vaccination.
How long do LaPerm cats live?
LaPerms generally live to be 12-15 years old.
LaPerm kittens
Since LaPerm cats are known for their luxuriously curly coats, it may seem ironic that they are commonly born bald!
The kitties that are born without hair start to grow either thin curls or straight fur after about six weeks of age.
For kitties that are born with fur, it all falls out after approximately two months, to be replaced by the breed's signature curls on.
If they were born with straight fur, a "normal" straight coat will follow the hairless stage.
Interested in buying your very own LaPerm kitten? We'll talk money and where to buy one in the upcoming sections.
LaPerm cat price
LaPerm price varies according to whether or not you're purchasing a registered cat from a breeder as well as a few other criteria.
If you choose to go the registered route, then the cost of a LaPerm will also be determined by the value that the breeder places on their stock and whether or not you're looking to purchase a kitten or an aged cat.
LaPerm kittens price may be significantly higher if the kitten is championship-quality, too.
Registered adult LaPerms run about $300, and senior (most likely retired show) cats cost around $200.
Kittens of championship quality run around $600 or more.
LaPerm breeders
LaPerm breeders seem to be a bit few and far between in the United States, but seem to be a bit more prevalent in Europe and even Australia!
If you're lucky enough to live close by a LaPerm breeder, be sure that they practice responsible breeding and maintain their stock in a healthy and controlled environment.
Do not use breeders who do not put the well-being of their cats first!
When purchasing any kitten, LaPerm or not, be sure that the litter is also healthy before buying one.
Is a LaPerm cat right for my family?
If you're looking for a kitty that will love being a part of an active family, then the LaPerm is a great candidate!
They are highly active, curious kitties that enjoy being around their humans and involved with whatever activity is going on around them.
Since they enjoy playing and are very trainable, they make wonderful pets for children.
Not only do LaPerms love to be around their humans, but they also don't mind to share "their" humans with other cats and animals.
They are typically easy-going when it comes to a multi-animal household.
Another thing to love about LaPerms is their signature curly coat!
It only requires some light grooming, and a small amount of shedding means that you won't have too much of a shedding issue if you want to have more than one LaPerm.
Due to their careful breeding and development, LaPerms also enjoy a generally healthy life, without being genetically predisposed to breed-specific health conditions.
However, if you do not keep your LaPerm active and on a healthy diet, then he, like any cat, can still become ill due to being overweight and sedentary.
Overall, the LaPerm is an excellent choice for a family pet – they've certainly got the personality for it, not to mention some good looks!
Do you have a LaPerm? Why not let us know all about her in the comments section below!