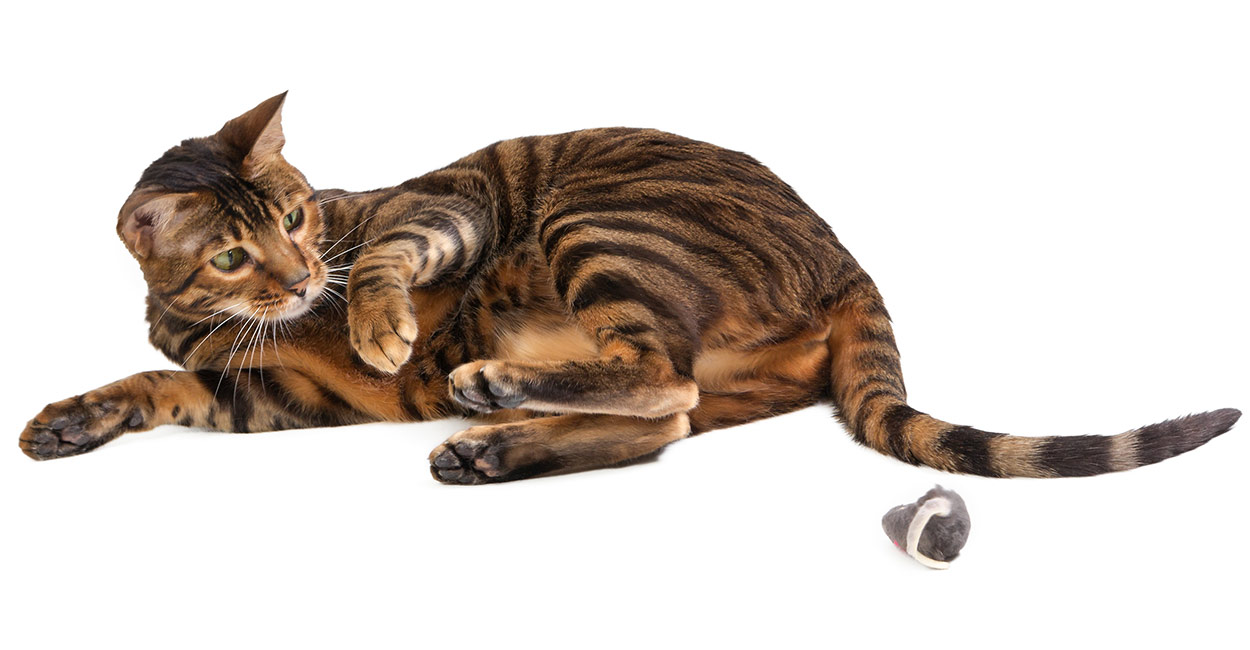 Welcome to our complete and honest review of the Toyger cat breed.
Are you wondering if a Toyger would be a good fit for you and your household?
To help you decide if the Toyger breed is right for you, we're delving into the particulars of owning a Toyger, including Toyger price, temperament, health, lifespan, and size.
What is the Toyger cat breed?
There is no shortage of amazing and beautiful domestic cats in the world just waiting for a forever home.
And yet there are no shortage of breeders trying to create ever more amazing new breeds too.
The Toyger is the product of one breeder's desire to develop a cat who resembled a tiger.
To this end the Toyger's wild-looking coat was created mixing a Bengal cat with a striped shorthair tabby.
The result was a new cat distinguished by dark, regal stripes spread across brown, orange or black fur.
But before we find out more about their appearance and personality, let's look deeper at the interesting origin story of this "toy tiger."
Toyger cat history
American breeder Judy Sugden takes the credit for developing the Toyger breed in the 1980s.
Her goal was to found a domestic cat breed that resembles a tiger.
She started by mating a Bengal kitty with a shorthaired tabby who possessed the desired and distinct facial stripes not commonly seen in domestic cats up to that point in time.
Soon after, other breeders followed her example and began breeding their own domestic cats that resembled the big jungle cat.
The Toyger cat breed gained full recognition by The International Cat Association in 2007, and and preliminary status with the UK's General Council of the Cat Fancy in 2016.
Toygers aren't yet recognized by the Cat Fanciers' Association in the US or the Federation Internationale Feline in Europe.
Toyger plans for the future
One of the reasons they aren't more widely recognized is because this breed is still described as under development by breeders.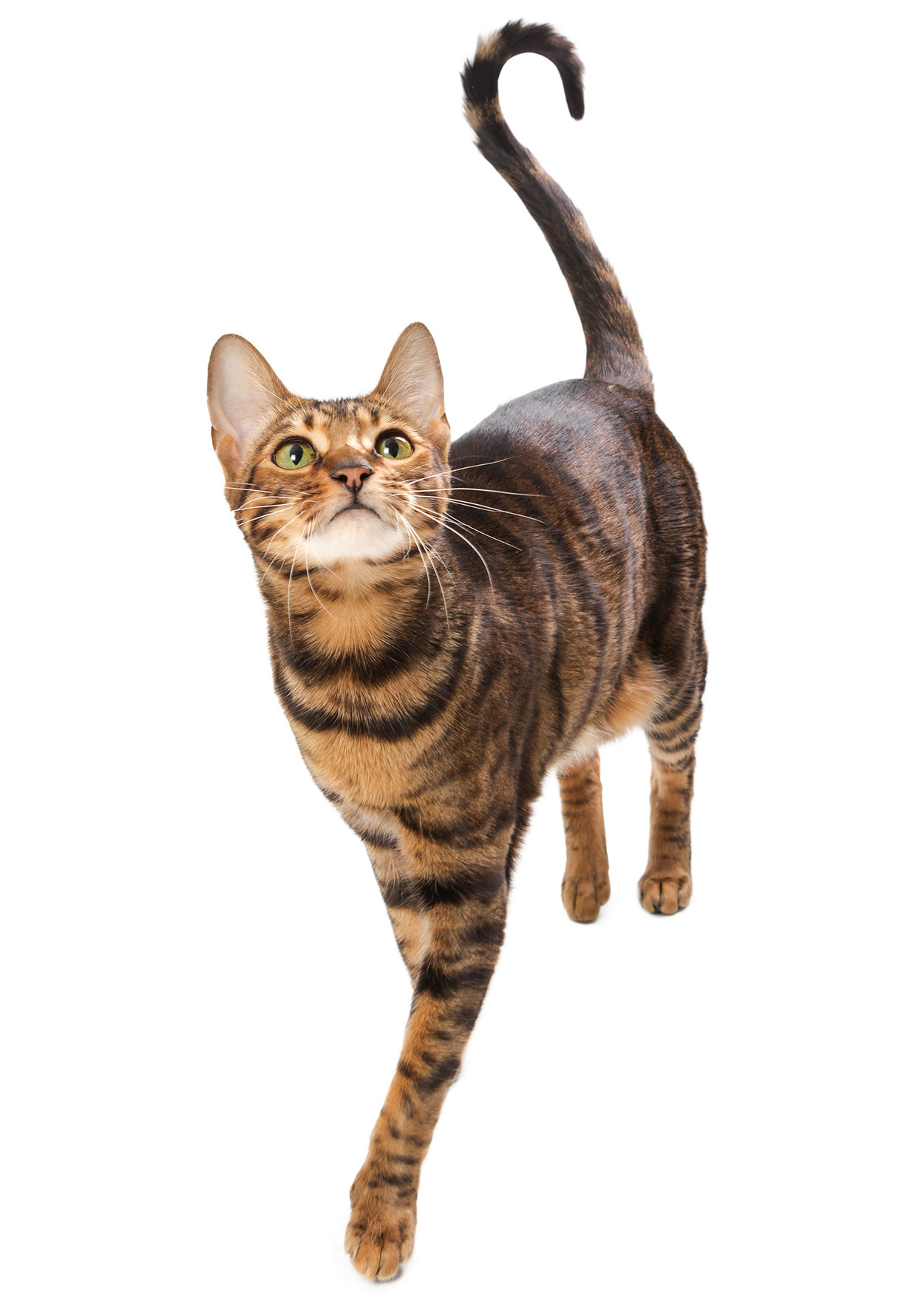 They believe that after further generations of breeding, the Toyger cat will eventually bear an even more pronounced resemblance to its wild alter ego.
This includes a wider nose, shorter ears, larger chin, and smaller eyes.
Tigers are an endangered species and many breeders hope that the recognition brought about by their domestic mini-me's will help raise awareness of this dire situation.
Toyger size
Although the Toyger's appearance is meant to invoke the image of a tiger, this little moggie is nowhere near tiger-sized.
The Toyger is an average to medium sized, albeit muscular, house cat.
Its middle section is solid, with a firm overall bone structure, and the tail is longer than most domestic cats.
Male Toygers can be expected to reach anywhere from 10-15 pounds while the female averages 7-10 pounds.
Toyger appearance
A circular pattern of stripes around their face, which doesn't break at the temples, is a prized trademark of this breed.
The random stripe arrangement which spans their body is unique to the Toyger, and it appears in vertical, fragmented, or split stripes.
Additionally, the ideal striping pattern is considered to be one that consists of random, not uniform stripes.
The optimum body shape is long, all the better to show off these dramatic black streaks!
As befits a tiny king of the jungle, the Toyger's fur is thick and plush.
Furthermore, today's Toygers are being bred to accentuate the following traits and features: rounded ear tips, a prominent chin, a shimmery/glittery coat, and white underside.
Toyger cat personality
Far from being a fierce lord-of-the-jungle type like his larger mirror image, the Toyger is a calm and friendly kitty.
He is a domestic cat without an ounce of wild blood to his name after all!
With this in mind you can expect a Toyger to act like his domestic brethren, enjoying a bit of playtime with his toys, and getting along fine with his people and other pets.
He has a bit of the athlete in him, but he isn't overtly athletic like the Maine Coon or nearly as acrobatic as the slinky Siamese.
Toyger temperament
In fact the Toyger's playful and social personality makes him a good choice for families, provided that young children are supervised, and older children understand how play respectfully.
This striking animal has been lauded as having a high kitty IQ, and we would expect nothing less than considering its native Bengal genes.
Toygers are easily trained and some pet parents even teach their Toyger fur babies to fetch!
Toyger cat health
In general, it appears the Toyger is shaping up to be a healthy pedigree cat.
However, as a young breed, still in development, it is too early to really see patterns of hereditary illnesses.
No pedigree completely escapes some hereditary illnesses, and these are the conditions which have been reported as a potential problem in the breed so far:
Heart murmurs
A heart murmur occurs when the blood flows at an uneven rate through the heart.
Your vet diagnoses the condition after listening to the heartbeat and detecting the abnormal sound.
Although a heart murmur is correlated with potentially serious heart conditions, murmurs can have other causes.
Heart murmurs are caused by issues that range from anemia to diseased heart muscle.
If your vet thinks that the murmur could have a more serious root, she will order an echocardiogram to determine the exact nature and prognosis of the heart murmur.
It's worth noting that numerous studies have found heart murmurs in a significant proportion of seemingly healthy cats; and I can speak from experience on this one!
After a recent routine exam, my vet informed me that my tabby Fuzzy has a heart murmur.
She was not overly concerned given her findings, but recommended a medication just to be on the safe side.
Ultratyping
Ultratyping, also known as overtyping, is the practice of breeding animals with highly exaggerated features.
The concern is that over zealous breeders do so at the expense of their animals' health.
For example, pedigree Persian cats and purebred Pug dogs are deliberately bred, and prized, for their flattened faces.
Yet this "cute" abnormality actually leads to a host of known health issues including respiratory problems.
It is still too early in the Toyger's history to have fully appreciate what health issues may emerge given the current breeding trend for certain exaggerated features.
But one study has already found a link between selectively breeding Toygers with short ears, and congenital brain defects.
As the breed's popularity increases it will become more evident how breeding restrictions may bring about unfortunate, not to mention unnecessary, health issues in the Toyger population.
Toyger lifespan
What is a typical Toygers cat lifespan?
As we mentioned the Toyger breed is a relatively healthy one at this point in its short history, with no major manifest health risks on record.
The good news is that healthy Toygers live for roughly 13 or more years.
Toyger kittens
As is the case with the adult Toyger cat, a Toyger kitten displays pretty much the same behaviors and attitudes as the average domestic kitten.
He is not an overt howler like the Siamese, and his coat, while magnificent, is fairly low-maintenance.
Toygers are a playful breed and given plenty of love, mental stimulation and playtime outlets, your little one will do just fine.
But one thing that may cause you to double-think is the Toyger cat price.
While the cost of maintaining your Toyger's kitty lifestyle (including toys, food, etc.) can be expected to stay within the typical moggie range, the initial investment on a Toyger kitten price is not average.
Toyger cat price
What does a typical Toyger cost?
First off the breed is relatively rare and it's true that supply and demand always affects price.
Secondly, the initial investment you make will depend on the type of cat that you are in the market for.
Most Toyger pedigree kittens are described as pet quality, show quality,  or breeding quality.
(Note: These categories have nothing to do with the cat's health status!)
Pet quality Toyger kittens
As you might have guessed, pet quality Toyger kittens are the least expensive.
These moggies have colors and markings that aren't quite up to snuff when it comes to competition.
This can include too many stripes, or an overall faded-in-color appearance.
Typical prices for these little moggies can range from $500-$1,500.
Show quality Toyger kittens
Next up, show quality Toyger kittens are those that match the Toyger breed standard.
They have bright coloration, ideal patterning, and distinct color contrast.
Small ears, long tails, and white tummies are part and parcel of this category, which typically starts at around $1,500.
Breeding quality Toyger kittens
The most expensive kitties are those deemed to be of breeding quality.
These are the animals who have potential to show quality offspring, and develop the future of the breed.
They might have just one characteristic breeders are trying to fix in future generations, which will make them so desirable.
You can expect to pay around $2,000 and up for such a kitten.
Toyger cost: Is adoption an alternative?
What if the high-voltage, skittish kitten charm is one you'd rather pass on in favor of a mature cat?
Toygers are so rare and in such a selective group that they hard to find in shelters or through rescue groups.
But if you would rather bring home an adult cat, breeders can be a good source of information regarding the purchase of a retired breeding or show cat in need of a new home.
Toyger breeders
Always work with a responsible breeder who offers you the health certificates of kittens you are interested in.
Since this fledgling breed is still in development, your breeder should be happy to talk about possible health problems which could affect the breed, and how they plan to avoid them.
And they will be delighted that you asked!
They will also be happy to introduce you to your kitten in their nest with mom.
In this way you can ensure the kittens have been socialized properly, and also get an impression of the parents' temperaments.

Is a Toyger right for me?
We hope that you enjoyed our look at the exotic-looking, but definitely domesticated, Toyger pedigree cat.
There are few things in life that are more exciting than adding a happy and healthy new addition to your pet family.
Is the breed known as the "toy tiger" the right feline companion for you and your household?
The Toyger is a curious and intelligent cat, with an average level of kitty energy and affection.
Since the breed is so new, their overall health is still unknown and known medical complications inherent to the breed are not well established.
But perhaps the biggest drawback is Toyger price.
It might be a while before their price tag doesn't restrict them to people with deep pockets or a burning passion for developing the breed.
But as their population grows, we predict their popularity will do too!
Do you have a Toyger cat?
If so we would love to hear about your experiences with this uniquely patterned kitty!
Sources
Cote, E., et al, Assessment of the prevalence of heart murmurs in overtly healthy cats, Journal of the American Veterinary Medical Association, 2004
Keating, M.K, et al, Characterization of an Inherited Neurologic Syndrome in Toyger Cats with Forebrain Commissural Malformations, Ventriculomegaly and Interhemispheric Cysts, Journal of Veterinary Internal Medicine, 2016
Paige, C.F., et al, Prevalence of cardiomyopathy in apparently healthy cats, Journal of the American Veterinary Medical Association, 2009