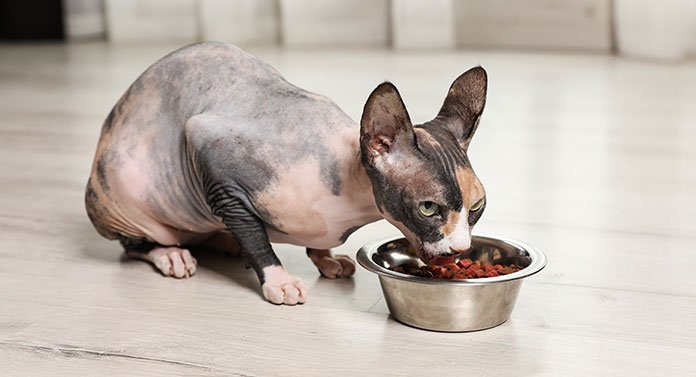 What do Sphynx cats eat? Sphynx cats have slightly different nutritional needs to other cat breeds because they have no fur to keep them warm.
They are obligate carnivores with a high metabolism. So, your Sphynx cat will need a meat-based diet.
Sphynx cats can cope well on a grazing style diet, where food is constantly available. But, you must monitor their weight carefully if you choose to feed them this way.
Let's take a closer look at what Sphynx cats eat and how often to feed them.
What Do Sphynx Cats Eat?
Sphynx cats are obligate carnivores, like all domestic cats. But, there are some subtle differences between their diet and other cat breeds.
This relates to their unique fur.
Sphynx cats look like they have no fur. But, Sphynx owners know that these kitties actually have very fine downy coats.
However, this coat isn't enough to keep them as warm as other cat breeds. So, Sphynxes can get cold much more easily than other breeds.
Because of their need to work harder to maintain their body heat, Sphynx cats have higher metabolisms than other cat breeds.
So, Sphynx cats need a high calorie diet, and often need to eat more often than other cat breeds.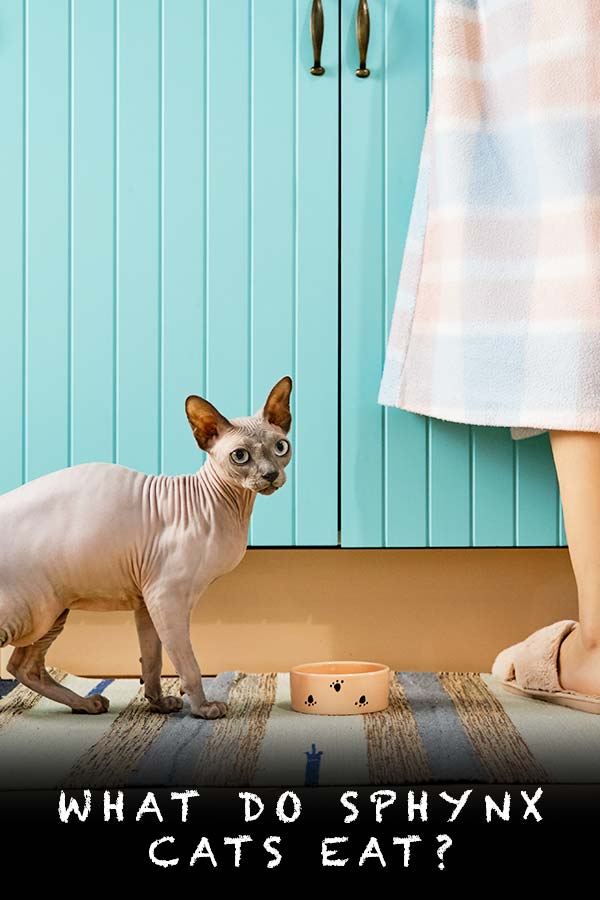 Sphynx Cat Nutritional Needs
As obligate carnivores, Sphynx cats get all of the nutrients they need from meat and animal products.
Their diets should be high in protein and certain fats, and low in carbohydrates.
Some owners may choose to give their cat a raw or 'whole food' diet, but others will rely on high protein commercial foods (wet or dry).
Each feeding method has its pros and cons. The best one for you will depend on your lifestyle and circumstances.
But, whatever method you choose, it's important to ensure you're giving your cat the right nutritional balance.
You can take a look at cat feeding guides for more help, or speak to your vet for further advice.
How Their Lack of Fur Affects Their Diet
As we learnt earlier, Sphynx cats have less fur than other breeds. So, they have to spend more energy to regulate their body heat.
This means that Sphynx cats have a higher metabolism than many other breeds.
And, because of this, they will need to eat more food, more frequently than other cats.
The exact amount of food they will need will still vary depending on the size, age, and health of your individual Sphynx cat.
So, you can either work with your vet to plan out the perfect feeding schedule, or you can leave food out permanently for your cat.
Of course, this has hygiene risks, particularly if you're giving them raw or wet food. Ideally, leaving food out for your cat is most suitable for those on a dry diet.
What Do Sphynx Cats Eat – Individual Preferences
Even though Sphynx cats are obligate carnivores, like all other domestic cat breeds, they will have their own individual preferences.
Some may prefer fish proteins, whilst others prefer chicken. Some may love the taste of tuna, and others may be more interested in the yogurt you eat!
Of course, it's important not to overfeed your Sphynx on treats. This can lead to obesity, especially if these treats are high in sugar, fats, salt, and more.
However, it can be fun to try out new flavors with your cat. Just keep the treats in moderation, and make sure the bulk of their calories come from their regular food.
Diabetes Mellitus
One study suggested that Sphynx cats could be at a higher risk of developing diabetes mellitus than some other breeds.
This is a condition in which your cat's pancreas fails to produce enough insulin. Affected cats will have trouble controlling the level of glucose in their blood.
If your Sphynx cat has diabetes, they may need to receive insulin shots, and some veterinarians will recommend putting them on a strict, regular diet.
So, in these cases, you should avoid extra treats altogether.
Work closely with your vet if you're ever unsure about your Sphynx's health. Sometimes dietary changes can go a long way to helping your cat feel better.
Digestive Issues and Intolerances
Another consideration to make when feeding your Sphynx cat is that they may have certain digestive issues and intolerances. Sensitive stomachs and sensitive skin are also possibilities.
Some commercial cat foods are designed to help cats that suffer from sensitive stomach issues or sensitive skin.
These issues can be easier to see on Sphynx cats, since their coats aren't thick enough to hide any skin issues.
But, digestive problems can be harder to spot.
If you think your Sphynx is intolerant to any specific ingredients or treats, remove them from your cat's diet. You may also want to take them for a vet check up to see if there is anything else your veterinarian can suggest to help.
Maintaining a Healthy Weight
Since Sphynx cats have a higher metabolism than many other breeds, they will need to eat more to maintain a healthy weight.
However, feeding more can also run the risks of gaining too much weight and even becoming obese – which is a huge problem for many domestic cats.
Luckily, studies into feline obesity have found that Sphynx cats are regularly rated as having one of the lowest body condition scores, and therefore seem less prone to becoming overweight or obese.
If you've chosen to leave food out all the time for your Sphynx, or if you are feeding them more frequent meals, you must also keep a close eye on their weight.
Ideally a Sphynx cat will be athletic in form, and may have a rounded stomach. But, you should be able to feel their ribs and spine (not excessively!), and not see them.
If you're concerned that your Sphynx is getting too fat, or becoming overweight, schedule an appointment with your vet. Together, you can work out a new exercise regime or diet to get your kitty back on track.
What Do Sphynx Cats Eat? Summary
Sphynx cats have high metabolic rates and need plenty of high protein food to keep their body temperatures at the right level.
They still need the same carnivorous diet as other cat breeds. But, make sure you monitor your cat closely to stop them from putting on too much excess weight!
If you're ever unsure about your Sphynx's health or diet, your veterinarian should always be your first call.
References and Resources
Hoelmkjaer, K. & Bjornvad, C. 'Management of Obesity in Cats', Veterinary Medicine: Research and Reports (2014)
Ohlund, M. (et al), 'Incidence of Diabetes Mellitus in Insured Swedish Cats in Relation to Age, Breed and Sex', Journal of Veterinary Internal Medicine (2015)
Wall, M. (et al), 'Owner and Cat-Related Risk Factors for Feline Overweight or Obesity', Frontiers in Veterinary Science (2019)