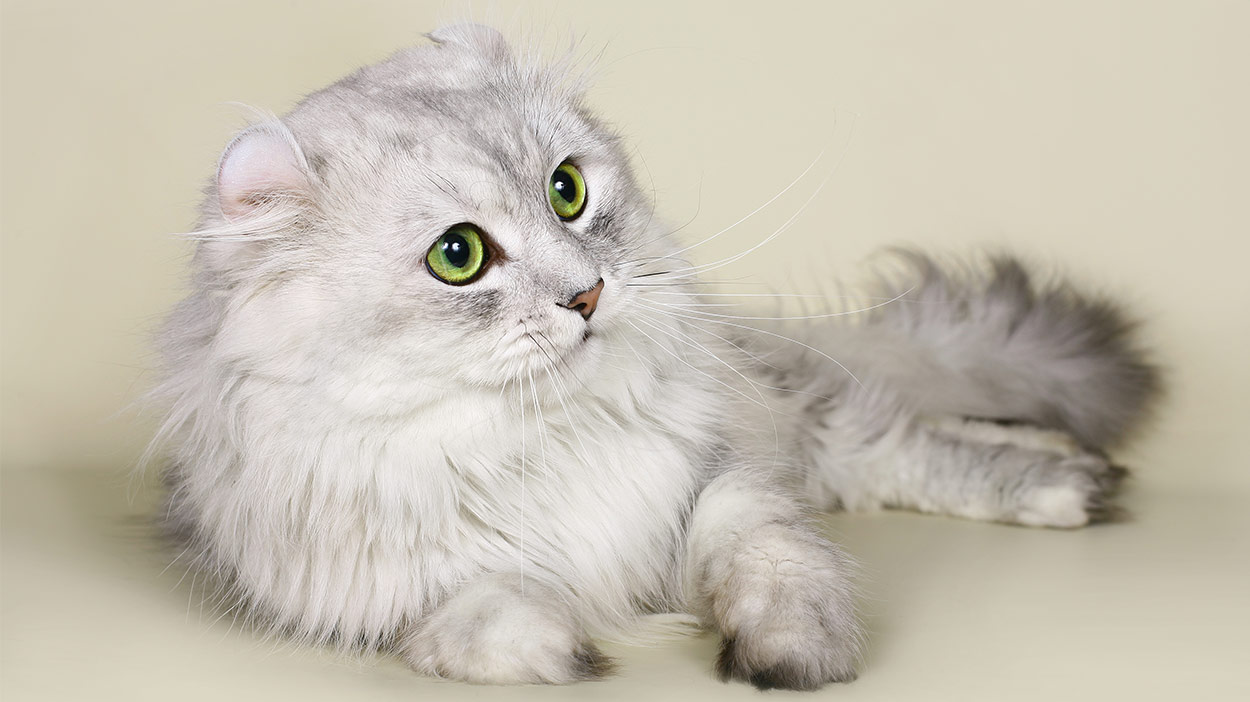 Welcome to our complete guide to the American Curl cat.
American Curl cats are adorable, very unique looking cats.
If you want to know all about these amazing creatures you have come to the right place!
We've got loads of American Curl facts, spanning their appearance, the history of this little kitty, its typical personality traits, and known health issues.
We'll help you decide if an American Curl cat is right for you.
And if the answer is "yes", we'll help you find an American Curl kitten of your own!
What is an American Curl Cat?
The American Curl is a born-and-bred U.S. breed, which gets its name because its ears naturally curl towards the back of its head.
It's not often we can trace the beginnings of a breed back to just one animal, but with the American Curl we can!
The breed began in California in 1981 when a stray kitten with funny ears showed up at the home of Joe and Grace Ruga.
They named the cat Shulamith, all American Curl cats today can be traced back to her.
By 1983, Shulasmith and her curly-eared kittens had caught the imagination of cat fanciers across the country.
A breeding program began to develop the new breed, using Shulasmith's descendants to bring the curly ears, and non-pedigree domestic cats to maintain genetic diversity.
The rise and rise of the American Curl
In 1985 the new breed was recognized by The International Cat Association (TICA).
In 1986 the American Curl joined the list of breeds recognized by the Cat Fanciers' Association (CFA), and by 1993 they had secured championship status.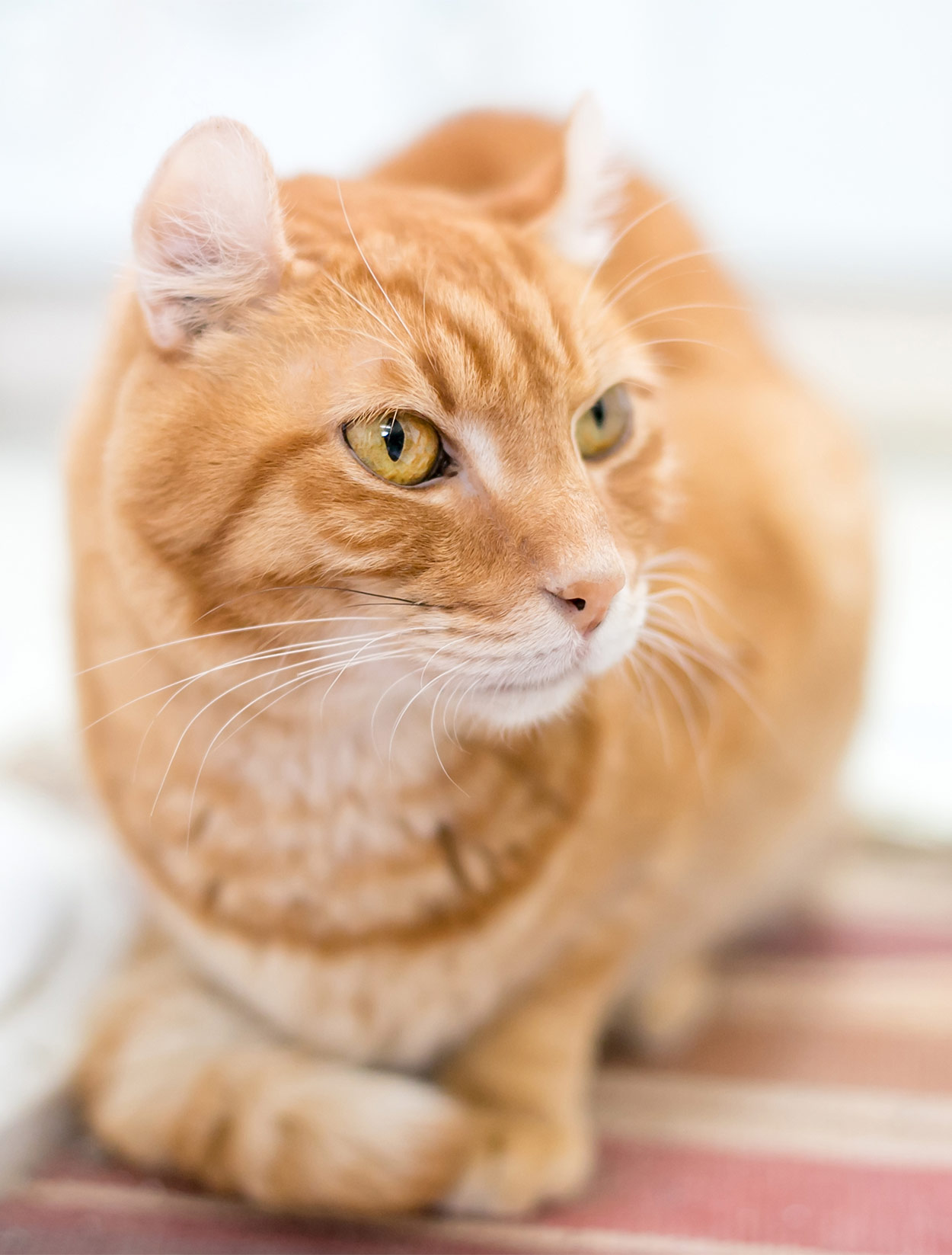 Despite their short history, this cat is growing in popularity and is currently ranked 25th out of 37 by the CFA.
American Curls can now also be found in Europe and Japan as well as across North America.
In 2015 the breed standard was amended to prohibit further out-crossing with domestic shorthair and domestic longhair cats.
American Curl size
The average weight for a domestic cat is between 8 and 10 pounds.
American Curl cats tend to be at the lower end of this range.
Adult females weigh between 5 and 8 pounds, and males generally weigh between 7 and 10 pounds.
They are small, but muscular and solid.
American Curl fur
There are two different types of American Curl cat.
The American Curl shorthair has a short, silky, flat coat.
The American Curl longhair still has (you've guessed it) a longer silky, flat coat, with a fuller tail.
Both varieties have a minimal undercoat and come in a wide variety of colors.
The breed standard adopted by the CFA lists a total of 69 different possible combinations!
Not only that, it also states that any other color or pattern will be accepted as well.
Is the American Curl cat hypoallergenic?
To answer this, we need to look at the chemistry of cat  allergies.
Cats create a protein called Fel D1 in their saliva, urine and skin.
If you're allergic to cats you might think it's their fur that causes the allergies, but it's actually the Fel D1.
Whenever a cat grooms itself, it's transferring that Fel D1 protein from its saliva onto its fur.
Then when the cat sheds its fur, the allergen comes off the cat and lands anywhere and everywhere.
Cats also shed dander, which are very small flakes of dry cat skin bearing the Fel D1 protein.
These flakes get into the air and come in contact with anything the cat goes near.
There is no such thing as a cat that does not produce Fel D1, so no breed is truly hypoallergenic.
If you want to know more about hypoallergenic cats, and why some breeds are thought of as less-allergenic than others, take a look at our Guide To Hypoallergenic Cat Breeds.
Is the American Curl cat breed hypoallergenic?
American Curl cats are low shedding cats.
However, there is nothing supporting American Curl breeds being hypoallergenic.
If you suffer from cat allergies, this beautiful, unique kitty may not be the best cat for you.
If you find that some cat affect you more than others, try asking an American Curl cat breeder for an audience with their cats, to find out what chemistry you have.
American Curl Personality
American Curl cats are small cats with big personalities.
Their growing popularity seems to be just as much about their unique personality as it is about their rare ears.
The American Curl has been referred to as the "Peter Pan" of cats as they are known to be very playful even in their senior years.
The Curl has also been called the 'dog of cats' as their personality tends to be very people-oriented and affectionate.
Sometimes compared to the Scottish Fold due to the fact that both breeds have very unique ears, this saying has become a popular way to compare their personalities:
"A Scottish Fold will sit on the couch and wait while you make dinner – the American Curl will help you make it!"
American Curl temperament
The American Curl has a stable and calm temperament.
They have been known for adapting well to households with children and other pets.
Generally a quiet cat, the Curl is not known for aggressive or territorial behavior.
American Curl cat health
When compared with other pedigreed cats, American Curls are considered remarkably healthy.
When American Curl cats first gained visibility in the U.S., many people wondered if their strange looking ears were the result of a painful or damaging genetic defect.
However, research and tests have gone on to prove the ear curl is the result of a mutation in a single gene, and critically, the effects don't extend beyond the tips of the ears.
In fact, since this breed is so new, it has benefited from all our modern understanding of how careful genetic planning can build healthy breeds.
Because cross-breeding with non-pedigree domestic cats was allowed for thirty years, the American Curl has a wider and more diverse gene pool than many other cats.
At the time of writing, there is nothing in the veterinary scientific literature to suggest the American Curl cat inherits any health problems more frequently than the average cat population.
The CFA believes that American Curl kittens are typically hardy and less prone to common kitten diseases and shot reactions.
What to expect from American Curl cat health
This is not to say that every American Curl kitten is guaranteed a lifetime of good health.
No cat is invincible, and parasites, diseases and inheritable illnesses are all possible.
So before you bring home an American Curl kitten, always think about how you will meet the cost of veterinary treatment, whenever the need arises.
American Curl lifespan
The normal lifespan of an American Curl can vary, due to the large gene pool of the breed.
Anything between 12 and 20 years seems possible for this amazing cat.
Anecdotally, a typical life expectancy for the American Curl breed seems to be between 14 and 15 years.
American Curl kittens
An interesting fact about American Curl kittens is that when they are born, their ears are straight.
The ears on Curl kittens start curling back in less than a week, but they do not permanently "set" until around four months of age.
Show quality cats are considered to be ones with a curl between 90 and 180 degrees.
Since breeders cannot tell if a kitten is going to be show quality until the four month mark, they often will not sell these cats until they are at least 16 weeks old.
This is late in comparison with other breeds that may be sold as early as 12 weeks.
You should always make sure any American Curl kitten is coming from a clean and healthy home.
Any pedigreed kitten should come with papers and proof of veterinary check-ups and vaccinations.
American Curl breeders
If you're a resident of the U.S., both TICA and the CFA keep online directories of pedigree cat breeders.
Bear in mind these directories rely on breeders self-registering, so you are likely to find even more breeders by looking more widely.
There doesn't appear to be a national cat club for the American Curl in the US yet, so finding American Curl kitten breeders near you may require a bit of extra sleuthing.
Local cat clubs and cat shows are a good way to find breeders, as is approaching American Curl breeders outside of your area, and asking if they can introduce you to anyone closer.
However you find a breeder, make sure they are open and willing to answer any and all questions you have about the kitten, parents and breeding history.
American Curl price
The American Curl cat price can vary depending on whether the kitten is considered a show worthy cat or just a loveable family pet.
American Curl kittens' price to range broadly from $800 to $2,000 US.
Raising a litter of healthy kittens is time consuming and expensive for their breeder, so approach litters being sold cheaply with extreme caution.
Ultimately, a family pet should never be selected based on price, and the initial cost of your kitten is just a tiny fraction of the lifetime cost of owning a cat.
If you cannot afford the American Curl price, it may be possible to find an American Curl kitten through a rescue agency.
However, there is no guarantee the cat will be purebred and it probably will not have any papers.

Is an American Curl cat right for me?
American Curl cats typically enjoy head bumping you to say hello, joining in your daily activities, and sitting on top of you rather than beside you when the hard work is done.
If you will enjoy these traits as well, than an American Curl cat might be right for you!
They will do best in a home that provides a lot of social interaction and attention, rather than one where they will be left alone all day.
American Curl cats usually do very well in homes with children and other pets, although it's always important to properly introduce and socialize your cat.
Do you have an American Curl cat?
Many people have still never met one, so what would you like to tell prospective owners about this young breed?
Share your thoughts in the comments section below!
References and further reading
American Curl Show Standards. The Cat Fanciers' Association, Inc. 2016.
Bell, J. et al. Veterinary Medical Guide to Dog and Cat Breeds. CRC Press. 2012.
Butt, A. et al. Do hypoallergenic cats and dogs exist? Annals of Allergy, Asthma & Immunology. 2012.
Groot, H. et al. Monoclonal antibodies to the major feline allergen Fel d I. The Journal of Allergy and Clinical Immunology, 1988.
Lockey, R. The myth of hypoallergenic dogs (and cats). The Journal of Allergy and Clinical Immunology, 2012.
Robinson, R. The American curl cat. The Journal of Heredity. 1989