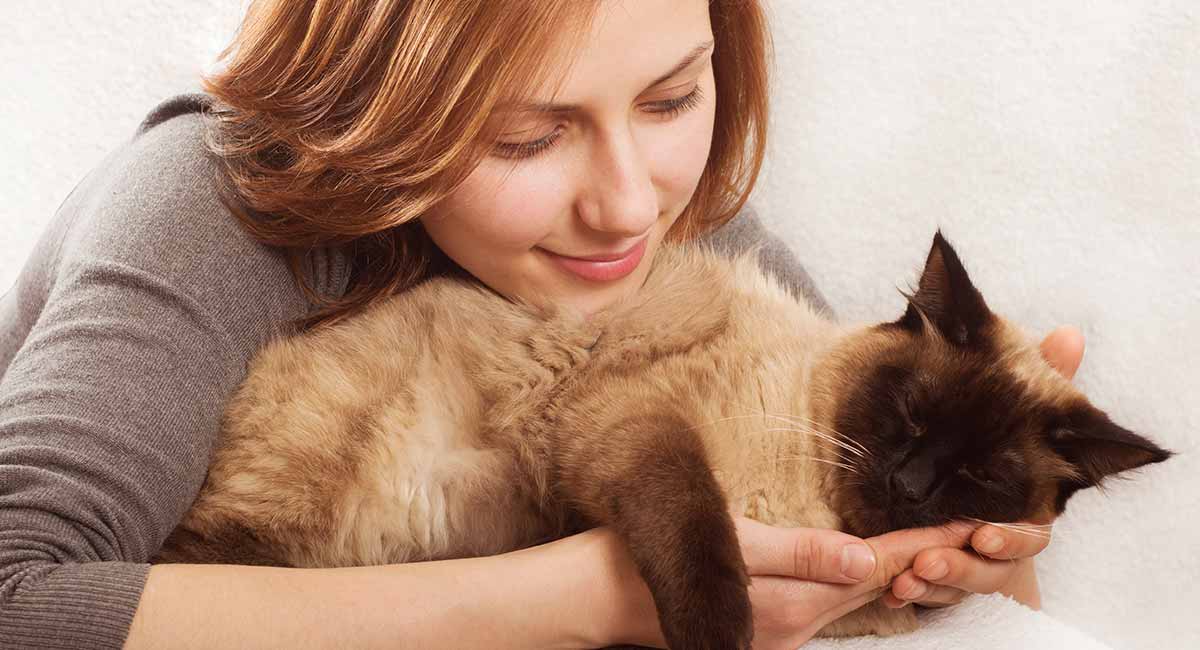 Are you here looking for trustworthy information about the top friendliest cat breeds to choose your next pet cat?
It is especially important to look for family friendly cat breeds if you are bringing a new cat into a family with young children.Or other family pets, including other pet cats!
Not all cats have the right temperament and personality to fit well into busy family life.
But we can promise you that the family friendly cat breeds you are about to meet are a great choice for large households.
And also smaller households looking for a sociable and openly affection-loving feline of course!
Read on to learn about 10 of the most popular family friendly cats and decide which cat breed is the best fit for your family!
Most friendly cat breeds
The Cat Fanciers Association (CFA) currently recognizes 42 purebred cat breeds. The International Cat Association (TICA) recognizes 71 purebred breeds.
Add to that the nearly infinite number of hybrid or mixed breed cats, and you have a lot of different cats to choose from when picking a new pet feline!
How will you ever decide?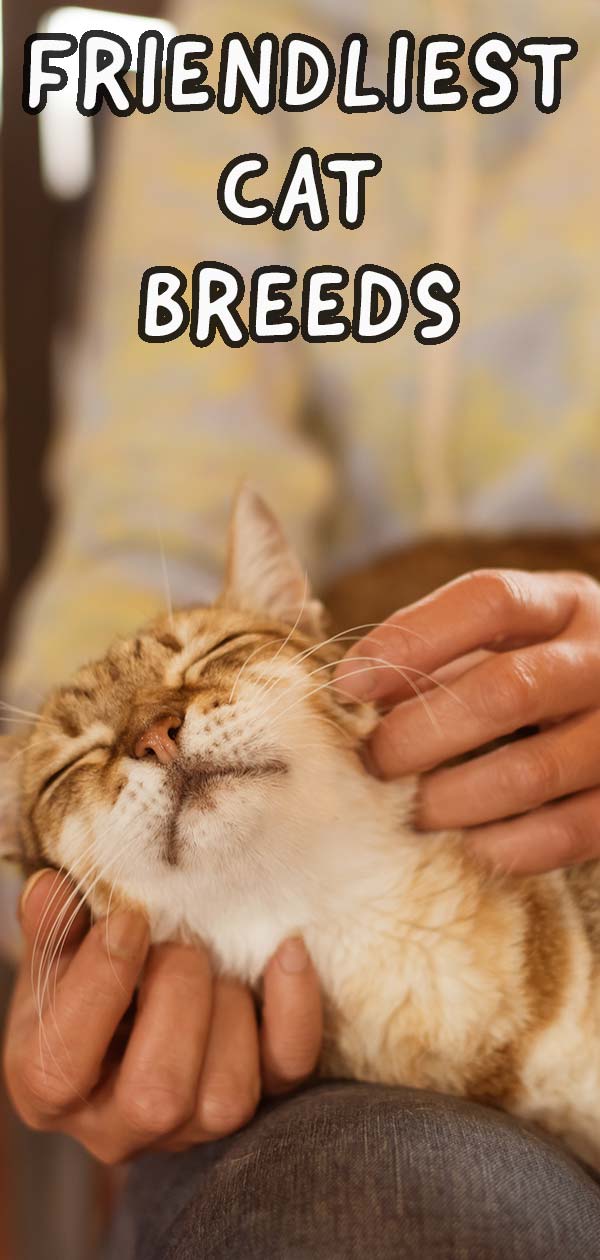 One great way to whittle down your list is to focus in on the most friendly cats.
By researching each cat breed you can find the breed that is the best match for your family's lifestyle.
Top 10 friendly cats
These 10 breeds are widely considered to be some of the best friendly cat breeds for families!
There's a brief summary of their personality, temperament, shedding and grooming needs and health issues.
For more information on any of these convivial cats, click the links to our complete breed reviews!
#1 American shorthair cat
In addition to being one of the friendliest cat breeds, the American shorthair cat  is pretty much the poster cat for the United States, even bearing the country's name!
It is thought that the breed now called the American shorthair arrived with the first pilgrims aboard the Mayflower, having earned its passage through expert ratting services.
The American shorthair cat is very smart and can be quite creative at finding entertainment if you don't provide enough!
This cat breed is by nature easygoing and calm and has immense patience. Which means this is the perfect feline choice if you have young children or other family pets.
The American shorthair cat does have a few known health issues, including polycystic kidney disease (PKD), hyperthyroidism (overactive thyroid function) and hypertrophic cardiomyopathy.
Breeders can test their parent cats for PKD and hypertrophic cardiomyopathy to avoid passing these heritable conditions on to the kittens.
#2 Birman cat
The Birman cat enjoys long-standing popularity as one of the friendliest cats.
They love "their" people and are playful and affectionate. They are also really smart and can easily learn tricks!
The Birman cat is a great choice if your family includes young children.
They are famously tolerant, chilled out and gentle cats, and can even tolerate other family pets well. Birman cats are quite social and are always ready to make new friends.
Birman cats have thinner coats, since they lack an insulating undercoat.
This can translate to mean less shedding and a lower need for regular brushing, grooming and cleaning.
Birman cats struggle from a handful of genetic (heritable) health issues. These include hypertrophic cardiomyopathy and chronic kidney disease.
#3 Burmese cat
The Burmese cat is a clear frontrunner for one of the friendliest cat breeds for families.
The Burmese cat we know and love today originated from crossing a Burmese cat (as in, from Burma) with a Siamese cat. Continued crossings resulted in the modern Burmese cat breed.
Like so many of the cat breeds mentioned in this article, the Burmese cat is so playful and loving and social that some cat owners say it is more dog-like than cat-like.
You can readily train a Burmese cat to do tricks, play fetch and even walk on a leash.
This cat is also nicknamed "Velcro cat" for good reason – they don't like to be left alone or even in a different room from "their" people.
A Burmese cat, like so many family-friendly cat breeds, won't do well if left alone for hours each day. Here, the best option is to choose a different cat breed or bring home two kittens so each Burmese cat has company.
The Burmese cat's cat is short and thick. These cats are widely considered to be hypoallergenic, in that they produce less of the Fel d 1 protein that is responsible for pet allergy symptoms in people – however that is not to say that they don't produce any!
Diabetes mellitus is one of the most frequently reported health concerns in Burmese cats. Hypokalemia is another fairly common health concern.
Happily, feline researchers have now isolated the gene responsible. This means parent cats can be pre-screened to avoid passing on this condition to future generations of Burmese cats.
#4 Cornish Rex cat
The unique Cornish Rex cat not only has one of the most beautiful and intriguing coats. But this is also one of the friendliest cat breeds for individuals and families.
The Cornish Rex cat's lovely curly coat comes from a natural genetic mutation that was deliberately bred to produce additional curly coated cats.
Underneath all that curly hair, however, this is a cat nicknamed the "feline greyhound" for its sleek, leggy grace and speed.
What is so great about the Cornish Rex cat's curly hair, however, is that it is not just lovely to look at, but it is also about as close as you can get to a hypoallergenic coat.
The Cornish Rex naturally secretes less of the Fel d 1 protein that can cause pet allergies in people.
As well, this is a cat that doesn't shed (because the hair gets caught in the curly coat). So you will have few cleanup duties to tend to!
However, because the Cornish Rex doesn't have an insulating undercoat, your cat may get colder in cool weather and hotter in warm weather than other cats.
Cornish Rex cats are very energetic and active, and they love to play, climb, learn tricks and romp around.
They definitely need lots of social activity and play time and they won't fare well when left alone for hours at a time. If this is your family's regular schedule, consider bringing home two kittens so your Cornish Rex will have company.
The Cornish Rex cat can struggle from certain heritable health issues.
Skin conditions are relatively common in the Cornish Rex cat, as is alopecia (hair loss).
Cornish Rex cats can also suffer from hypertrophic cardiomyopathy, congenital deafness and patellar luxation.
#5 Maine Coon cat
The Maine Coon cat has long been recognized as one of the friendliest cat breeds.
The Maine Coon is often described as "dog-like" by their owners – the universal shorthand for describing the friendliest cats!
As well, the Maine Coon is arguably one of the largest domestic cat breeds of all time.
A fully grown adult male may easily weigh 18 to 20 pounds, and some Maine Coons grow much larger than this (35+ pounds has been reported).
Omar, a Maine Coon from Melbourne, Australia, is the world's longest cat – he measures nearly four feet from tip to tail!
Perhaps not surprisingly, the Maine Coon cat is the official state cat of Maine.
These cats have evolved to do quite well in cold weather climates, with their characteristic long and shaggy thick coat. Even their paws are well padded and furry!
For this reason, the Maine Coon is likely not the best choice if you hate cleaning up cat hair, because the Maine Coon sheds a lot.
You will be signing up for frequent grooming sessions if you bring this cat into your life. But luckily they are so docile you won't get much if any struggle when you bring out the brush.
The Maine Coon can suffer from hip dysplasia due to this cat's large size.
As well, hypertrophic cardiomyopathy and spinal muscular atrophy are genetic conditions this breed is especially prone to.
#6 Ragdoll cat
Not only is the Ragdoll cat one of the friendliest cat breeds, but this cat actually earned its breed name from its tendency to go limp like a ragdoll when you pick her up!
It is safe to say this is a cat that loves lap time and can never get enough.
Ragdoll cats are not the most active cats, perhaps due to their large size.
You will also notice this is one of the minority of cat breeds that doesn't fancy climbing anything and everything. They actually like to stay on the ground!
But they do love playtime and "their" people and are especially good with young children.
Healthwise, the Ragdoll cat is a relatively recent breed that dates back only to the 1960's.
So overall, this cat breed is relatively healthy.
However, you should be aware of a handful of genetic health issues. These include feline mucopolysaccharidosis, hypertrophic cardiomyopathy and bladder stones.
#7 Ragamuffin cat
The Ragamuffin cat not only has a great breed name, but this is also one the friendliest cat breeds for families.
The Ragamuffin cat actually arose from breeding the Ragdoll cat with other cat breeds that sported long hair.
As a result, this cat has long, luxurious hair to go along with their sweet and playful personalities.
They are really affectionate and love to cuddle, be petted and nap on any available lap.
Ragamuffin cats are great with kids, other family pets and even other pet cats. They are also quite smart and can learn tricks.
Like its precursor, the Ragdoll, the Ragamuffin cat is more prone to hypertrophic cardiomyopathy and feline mucopolysaccharidosis.
In all other ways, this is a surprisingly healthy purebred cat breed.
#8 Siamese cat
Is there any more iconic cat breed than the Siamese?
Made internationally famous and popular by the movie Lady & the Tramp, cat owners have always known this is one of the friendliest cat breeds for families with kids and even pet dogs.
The Siamese cat is vocal and social and loves to play. You can easily teach a Siamese cat to do tricks, and they will thrive with lots of attention, opportunities to learn and explore and plenty of toys to play with.
However, the Siamese cat will not fare so well if you and your family are out of the home a great deal. If this describes your family, consider bringing home two Siamese cats to avoid the kind of destructive behavioral problems that can result from a lonely, bored Siamese cat.
The Siamese cat has a lovely short coat that doesn't need a lot of brushing or grooming.
Even better, the Siamese cat doesn't tend to shed much.
The Siamese breed is an ancient one thought to have originated in Myanmar (now Burma).
With many purebred cats, the older the breed history, the more potential health issues may crop up in the gene pool.
The Siamese is no exception and can have more than its fair share of genetic health concerns to watch for.
Your choice of breeder can greatly influence how healthy (or not) your Siamese kitten will be.
Reputable breeders will do everything possible to pre-screen and test parent cats before breeding to reduce transmission of genetic health issues.
Health concerns to watch for in Siamese cats include hypertrophic cardiomyopathy, aortic stenosis, liver disease, pancreatitis, progressive retinal atrophy and feline cancer.
Siamese cats are also known to be more prone to respiratory issues than many other cat breeds.
#9 Sphynx cat
The Sphynx cat, or so-called hairless cat, is definitely one of the friendliest cat breeds for families.
While the sight of a Sphynx cat can take some getting used to, this cat's personality is a winner from the start!
Sphynx cats are another breed often described as being more like dogs than cats.
They love to cuddle and basically crave being wherever you are and doing anything you are doing.
They are also surprisingly clumsy for a cat, although that doesn't stop them from exploring their world with characteristic feline curiosity.
What many people don't know is that the lack of hair on the Sphynx cat is because of a natural gene mutation.
The cat we call the Sphynx is actually a cross between both other hairless cat breeds and cat breeds with hair.
This has resulted in a cat breed with a surprisingly diverse gene pool, something most purebred cat breeds do not enjoy.
Genetic diversity is a pathway to better overall breed health, which means it is a very desirable thing to have in a cat!
The most commonly reported Sphynx cat health conditions include periodontal disease, skin pigmentation disorders, heart conditions and myopathy.
#10 Abyssinian
The Abyssinian cat has been shown in the United States for over 100 years!
In fact, they've been here since the dawn of the 20th century, and they're still going strong.
And no cat achieves that kind of longevity in our hearts and homes without a winning personality.
These charmers might not have much time for languid hugs – they have places to explore and games to play – but they love their human families and they aren't afraid to show it.
Expect to find your Abyssinian cat wherever you are: they will seek you out to avoid loneliness, and demand you play to prevent boredom!
The health problem most commonly found in Abyssinian breeding lines are renal amyloidosis, luxating patellas, progressive renal atrophy and pyruvate kinase enzyme deficiency.
To find a healthy pet and contribute to the future good health of this breed, find a breeder who screens their breeding cats for all of these conditions, and ask for copies of the results.
Friendliest cat breeds
So there you have it – you just met 10 of the friendliest cat breeds for families and individuals!
Do you have a favorite cat breed from this list? Are you undecided between a few cat breeds?
Please drop us a comment with your questions and stories – we love to learn from our readers!
Sources
Bizzell, C., "CFA Breeds," Cat Fanciers Association, 2018.
Fisher, V., "Cat Breeds," The International Cat Association, 2018.
Kornreich, B., DVM, "Polycystic Kidney Disease," Cornell University College of Veterinary Medicine, 2016.
"The Future of Feline Health," Tufts Cummings School of Veterinary Medicine, 2017.
Vapalahti, K., et al, "Health and Behavioral Survey of Over 8000 Finish Cats," Frontiers of Veterinary Science, 2016.
Paltrinieri, S., "Serum symmetric dimethylarginine and creatinine in Birman cats compared with cats of other breeds.," Journal of Feline Medical Surgery, 2017.
Lyons, L., PhD, "Cat Health Network Feline SNP Chip Studies," American Veterinary Medical Foundation, 2014.