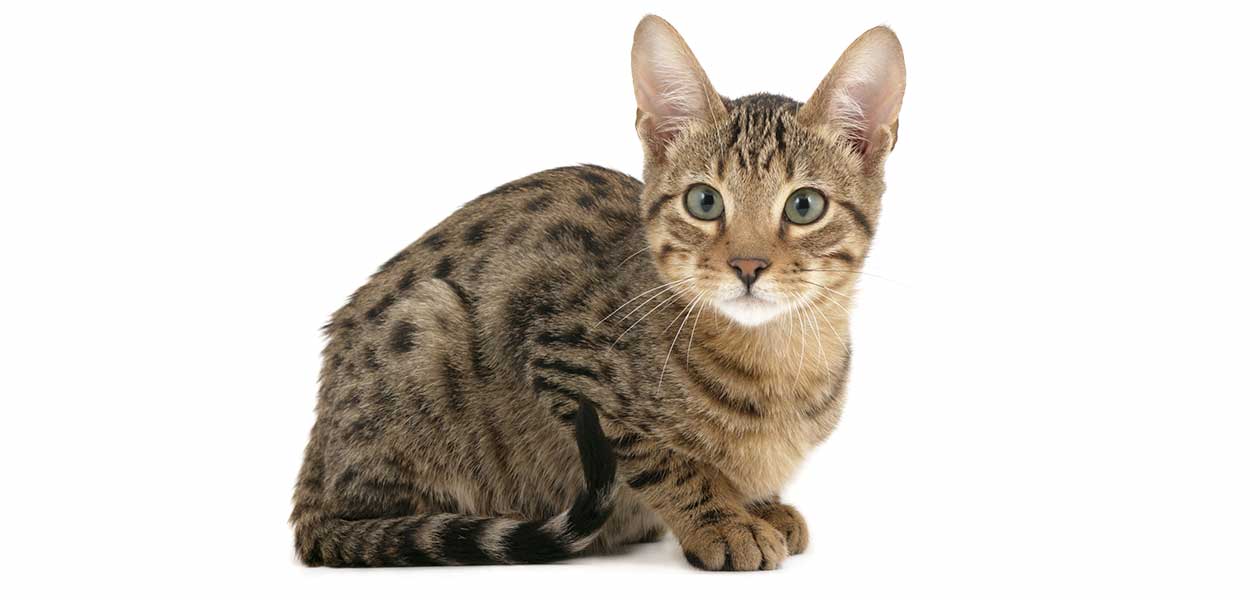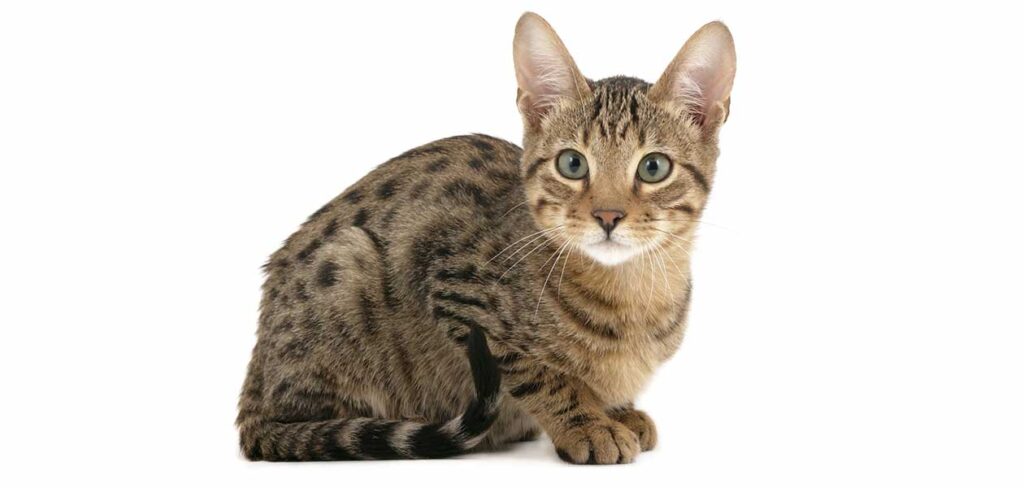 A Serengeti cat is a domestic cat breed.
They are medium sized, with long legs, spots, and large upright ears. They resemble wild servals.
But unlike the better-known Savannah cat, they don't include any serval heritage.
What's In This Guide
This guide is full of information about the Serengeti cat breed, including:
Serengeti Cat FAQs
We're going to answer all the questions you might have if you've just discovered this breed for the first time.
And those you might have if you've admired them from afar for years, but finally think you might be ready to own one!
Frequently asked questions about Serengeti cats include:
Serengeti Cat Breed Review: Contents
Serengeti Cat History
Despite borrowing their name from the beautiful region of Tanzania famous for its wildlife reserves and game parks, the Serengeti cat has never set a paw in Africa.
In fact, Serengetis were created by Californian conservation biologist Karen Sausman in the 1990s.
Her goal was to create a pet cat which looks like a wild serval.
But unlike the creators of the Savannah cat, which is also meant to give the impression of a domestic serval, Sausman resolved against using actual servals in her breeding program.
So she developed the Serengeti by crossing Bengal and Oriental Shorthair cats and refining the results instead.
The Serengeti breed has since become established enough to join The International Cat Association (TICA) breed registry as a purebreed in its own right.
Serengeti Cat Facts
Although Sausman didn't use any wild cats in her own breeding program, the Bengal cat was originally the result of crosses between wild Asian leopard cats and domestic shorthairs.
However, the amount of "wild" DNA left in the Serengeti cat is vanishingly small.
Serengeti Cat Appearance
Serengetis remind their owners of a wild serval curled up on their couch!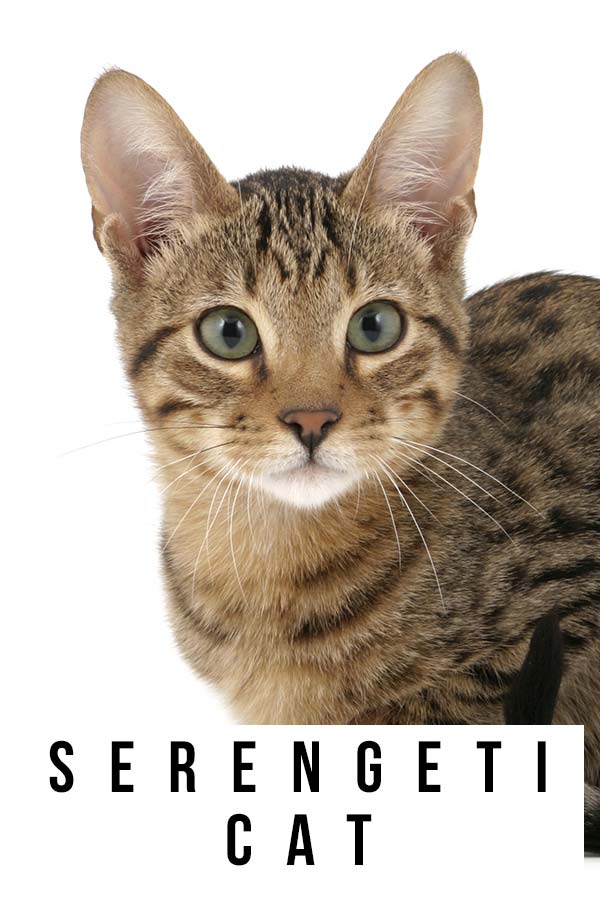 They have large, upright ears with rounded tips, and large round eyes.
Everything about them looks longer than the average domestic cat – Serengetis have long necks, long legs, and a very upright posture.
The most desirable Serengetis have a pattern of high contrast spots. But a solid black coat is also accepted by the breed standard.
Some Serengetis still have rosettes rather than spots, which is a throwback to their Bengal ancestry.
However this pattern is perceived as undesirable. So it is rarely deliberately continued by breeders.
Serengeti cat weight
Serengetis are medium sized cats.
They are very lithe and graceful, but also heavily muscled. Which means they are frequently heavier than they look!
Males Serengetis usually weigh between 10 and 15lbs.
Females are a little smaller, typically between 8 and 12lbs.
Serengeti cat colors
Wild servals have a pattern of black spots on a gold background.
This is a popular color for Serengeti cats as well. And like servals, they should have lighter fur on their belly, and eye spots on the backs of their ears.
Serengeti cats may also have black spots on a pale silver background, which isn't found in wild servals.
And finally, Serengetis can be solid black all over. This is occasionally seen in wild servals too (where it is known as melanistic black). But it is very rare.
Serengeti Cat Personality
TICA's Serengeti breed standard calls for these cats to be gentle, confident, outgoing, alert and unchallenging.
Like the Bengals they're descended from, they enjoy exploring, playing games, and climbing up to high perches.
Some owners report that they can be rather vocal and chatty, which is a common trait in Oriental Shorthairs.
TICA says that the Serengeti is something of a velcro cat – they love to be with their people, and follow them around at every opportunity.
However, this means they may get bored or distressed if their owners spend a lot of time away from the home.
Serengeti Cat Health
The Serengeti cat hasn't been established long enough to reveal a detailed picture of their overall health. Or whether they're prone to any hereditary genetic disorders.
However, since they're descended from Bengal and Oriental Shorthair lines, it's reasonable to expect that they may suffer any of the health problems commonly seen in these breeds too.
Bengal cats are prone to:
Hereditary heart disease
The degenerative eye disease Progressive Retinal Atrophy
A form of anemia called Erythrocyte Pyruvate Kinase Deficiency
And joint disorders such as hip dysplasia and patella luxation
Oriental Shorthair cats are vulnerable to:
Heart disease
Skeletal abnormalities
And a type of cancer called mediastinal lymphoma.
Some of these conditions can be screened for in breeding cats. So individuals with a family history of those conditions should be tested before mating.
A good breeder will be able to explain how they have minimized the risk of any of their kittens going on to develop a hereditary genetic disorder.
Serengeti Cat Lifespan
The average lifespan of all pet cats is in the region of 14 years.
Only a very small proportion of pet cats belong to a registered pedigree, but among those that do, the average life expectancy drops to 12.5 years.
This is because breeding exclusively within a pedigree population promotes the spread of hereditary diseases, reduces genetic diversity, and reduces overall fitness.
In fact Bengal cats in the UK are one of the shortest lived pedigree cats. They achieve just 7.5 years old on average.
The Serengeti cat hasn't existed long enough to gather much data on their average lifespan.
But a new Serengeti cat owner is likely to be making a commitment of at least 10 to 12 years.
Caring For Your Serengeti Cat
What care will they need from you in that time?
Let's look next at some aspects of looking after a Serengeti cat.
Can Serengeti cats go outside?
Whether or not to keep your cat indoors is a personal choice.
A lot of us tend to fall in line with whatever is "normal" for our country.
In America, where there are more predator species capable of hunting domestic cats, and declawing domestic cats is common, it's quite usual to keep pet cats indoors at all times.
On the other hand, in the UK where houses rarely have air conditioning, keeping a cat shut inside is often impractical. This is because people need to open their windows in summer!
Outdoor cats have easy access to enrichment and exercise, which is great for the athletic and playful Serengeti.
However, they are also more at risk of injury.
And since Serengetis are rather unique looking as well as beautiful, sadly they are more likely to be stolen.
Serengeti cat shedding
Serengeti cats have short, tight coats.
They do shed, but the volume of shed hair is unlikely to be overwhelming, or make a huge impact on your home.
But does that mean they don't need grooming either?
Grooming your Serengeti cat
Although they are fastidious about washing themselves, all cats benefit from some grooming.
Brushing their coat regularly from kittenhood gets them used to being handled. Which in turn reduces their stress and discomfort if they ever need to be examined by a vet.
Grooming is also a great way to bond with a friendly, people-centric Serengeti. And if they do get injured or sick, you'll spot the problem quickly during your regular grooming meets.
A simple slicker brush or silicon grooming glove will be all you need.
Are Serengeti cats hypoallergenic?
Lots of cat lovers are thwarted from owning one by dreaded allergies.
Serengetis don't shed profuse amounts of hair, but unfortunately this isn't the same as being hypoallergenic!
Allergies are triggered by proteins in cats' saliva, urine and dander.
These are scattered around the home on shed hair, but they're not completely absent if a cat doesn't shed.
If you experience allergies, then the only way to find out whether a Seregenti cat will trigger them is to spend some time with the exact cat you're going to live with, before you bring them home.
Understanding breeders may be willing to facilitate this, if you explain your situation.
Serengeti Cat Food
Like all cats, Serengetis are obligate carnivores.
Which means their digestive system is adapted to digest animal food sources only.
A wide range of wet, dry, and raw cat diets are available these days, and as a rule, you get what you pay for in terms of quality and nutritional value.
We've reviewed some of our favorite cat foods in these articles:
If you're worried that your Serengeti's diet isn't meeting all their needs, ask your vet about how to improve it.
Are Serengeti Cats Good Pets?
In the right setting Serengetis can be great pets. But in the wrong setting or at the wrong time, it's likely you'll both be miserable.
Serengeti cats combine two of the most affectionate, people-seeking modern cat breeds.
They've also likely to be playful and quite high energy cats.
This makes them great for households who can give them lots of human attention. Households with older children, or one or more adults who spend most of the day at home are perfect.
However if they're left alone for most of the day, they're likely to vent their loneliness, frustration and boredom by engaging in destructive behaviors like scratching.
Serengeti Cat Breeders
One of the biggest drawbacks of new and unusual cat breeds is that they can be very hard to find.
From their beginnings in California, Serengeti breeders now operate across the U.S., and in the UK, Europe, and Australia.
When you approach a breeder, make sure you're happy with the welfare conditions their cats and kittens are kept in, and that they make their litters' health top priority.
Unfortunately rare and unusual cats are prone to exploitation by kitten farms, because they can turn a larger profit on them.
Raising A Serengeti Cat Kitten
Sweet fluffy kittens look adorable in photographs, but require a lot of time and attention in between snapshots.
Set aside plenty of time to settle your new kitten in and channel their youthful energy into safe and acceptable activities.
Elsewhere on this site, these guides will help you find your feet:
And if you prefer an old fashioned book to consult, do invest in a copy of the Happy Cat Handbook!
It covers everything you need to know about finding and choosing a kitten, settling them in at home, and troubleshooting common problems.
Rescuing a Serengeti Cat
Millions of stray cats enter rescue shelters every year in the U.S. alone.
Adopting an older cats is a great way to give them a second chance in life, and you'll also get a clearer idea of their adult personality and whether it complements yours.
Since Serengetis are rare, they're unlikely to come up for adoption often. Try searching for shelters which specialize in rehoming pedigree cats.
You might have to decide how long you're willing to wait for a Serengeti to come up.
In the meantime, you can build up goodwill with the shelter by fostering some of the other cats which come through their doors!
Pros And Cons of Getting A Serengeti Cat
We've covered a lot of ground in this article, so here are some distilled pros and cons of the Serengeti cat breed.
Cons
May be hard to find.
Small population size and short history mean we don't have a detailed picture of their health yet.
May not live very long, compared to other cats.
Dislike being left alone.
Pros
Strikingly beautiful wild cat look.
Friendly and confident.
Affectionate.
Low maintenance coat.
Should I Get A Serengeti Cat?
The Serengeti is an exciting new breed which offers a stunning wild serval look without the complications of using actual servals in the breeding programme.
If you have the patience and resources to find one and care for one, we think they could be a fun and affectionate feline companion.
Take care to choose the healthiest kitten possible, to secure the most years with them.
Do you already have a Serengeti cat?
Please tell us about them in the comments box down below!
References And Resources
Serengeti Breed Standard, The International Cat Association, 2013.
Gough et al, Breed Predispositions to Disease In Dogs and Cats, Wiley Blackwell, 2018.
O'Neill et al. Longevity and mortality of cats attending primary care veterinary practices in England, Journal of Feline Medical Surgery, 2015.
Foreman-Worsely & Farnworth, A systematic review of social and environmental factors and their implications for indoor cat welfare, Applied Animal Behavior Science, 2019.